The COVID-19 crisis and the physical distancing measures to control it have forced educators to connect with their students remotely. As a result, digital tools have become a necessity, not just an accessory, in their pedagogical toolkit. In this article, Charu Dogra Rawat, an educator at Ramjas College, New Delhi, and a digital literacy champion provides an overview of some of the online platforms and resources that can help educators engage with their students in a bidirectional teaching-learning process, even remotely.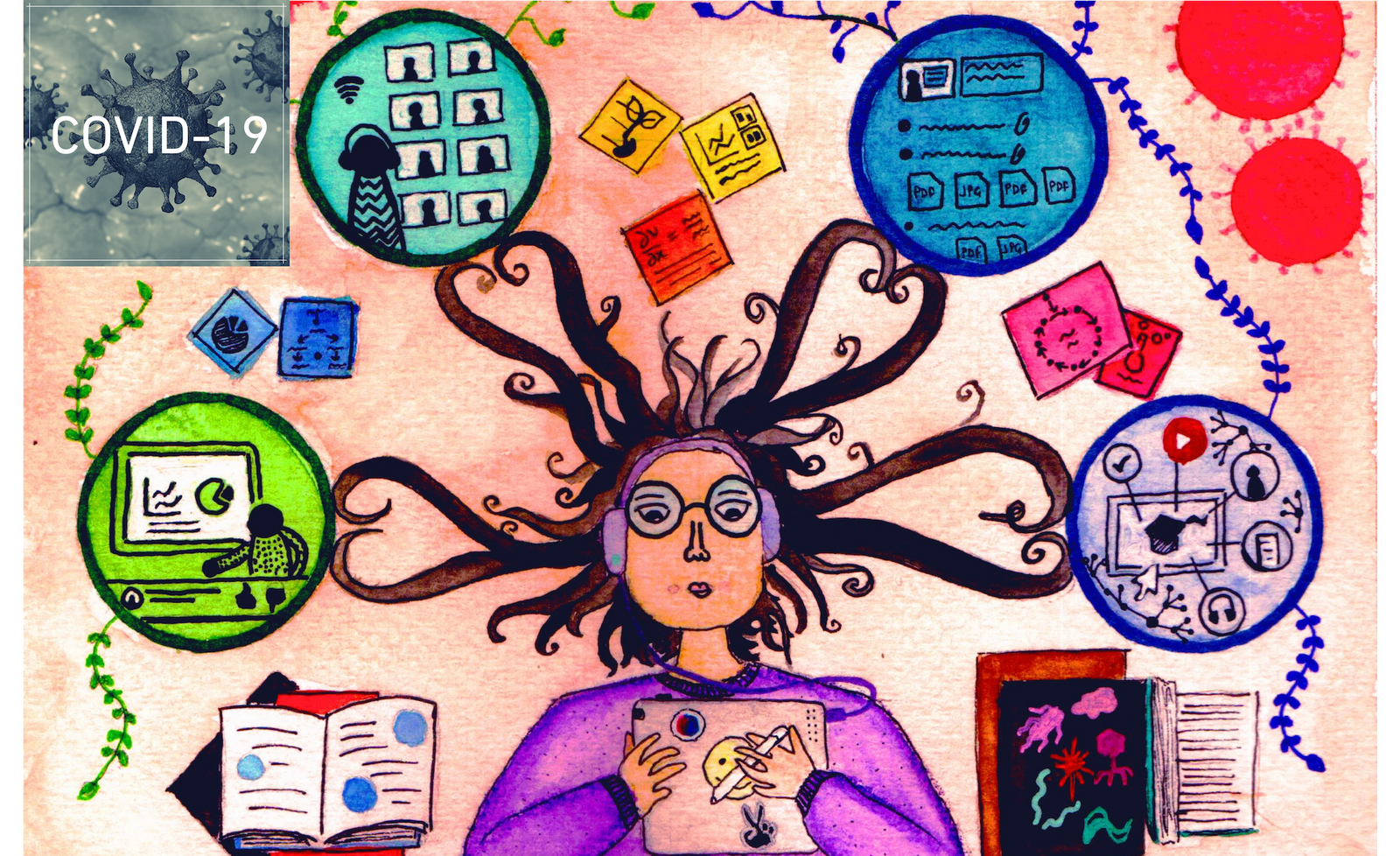 I was recently reminiscing about the year 2015- the year when I became aware of the importance of digital tools in teaching. An advanced week-long course in digital literacy at Edinburgh College, Scotland introduced me to a variety of digital tools that could be used in pedagogy. Thanks to the course, my digital toolkit was no longer limited to just PowerPoint presentations. I strongly felt the power of ​"anywhere, anytime" learning. On my return from Edinburgh, I quickly organized ​"Digital Literacy Teacher Training" at Ramjas College, University of Delhi. I wanted not only to disseminate the acquired knowledge to my colleagues but also to infuse new energy into the customary pedagogy. To my disappointment, few matched my enthusiasm. Many of the participants found digital literacy intimidating as it appeared to threaten their professional existence.
Even now, 5 years later, the employment of digital aids in pedagogy is very limited and faces many challenges. Apart from the not-so-receptive-to-change mindset of the stakeholders, inclusion and the spread of digital tools in pedagogy are hindered by ​'digital drought'- the scarcity of infrastructure and resources for digital dissemination of knowledge. Joined with it is the low digital literacy of both the students as well as teachers. Though they may be well accustomed to technology, they have limited to no knowledge of how to use it in learning. For some teachers, not being very tech-savvy adds another layer of complexity.
Today, however, we find ourselves in midst of a crisis — the global outbreak of COVID-19, and a nationwide lockdown to contain its spread. This has necessitated the teaching-learning process to run remotely. The only way for teachers and students to interact is through digital platforms. The medium that was once considered just an aid and accessory has suddenly become the only option available. It's a time of ​'digital awakening' in education.
Here, I list some free (with restrictive usage) and open-source digital platforms and tools (most of them are tried and tested) that can help during these challenging times to keep us connected with our students and ensure uninterrupted bidirectional teaching and learning.
Learning Management Systems (LMS) — Many schools, colleges and institutions have LMS in place. It is basically a virtual ecosystem of academic staff, students, management, as well as the institution's IT department that supports the development, delivery, assessment, and management of courses. For the ones who do not have LMS platforms, Moodle or Canvas can be employed. Teachers can set up ​"Courses" – workspaces where they can add learning resources, enroll students, disseminate information, assess learning (grading), communicate, interact and co-create content. Activities such as populating a wiki, generating a glossary, developing information databases, and discussion forums allow students to attain higher-order thinking skills in analyzing, evaluating and creating information.
Online Classroom — For simpler, day-to-day class activities, Google Classroom comes in very handy. The platform can be used for making announcements, sharing resources, collecting assignments and grading. One can sign in with a non-institutional google account, create a classroom, share the classroom code with students who then join the class, and that's it. You are good to go.
Live Class — Nothing can beat the face-to-face live interaction of a classroom. This can be achieved virtually by video conferencing, for which platforms such as Google Meet, Microsoft Teams, and Zoom are available.
G Suite for Education and Office 365 run Google Meet and Microsoft Teams, respectively, for free for schools/​colleges through the institution's administration. In case one wants to run a virtual class personally, Zoom comes in handy which offers to host a meeting of up to 100 participants with 40 min limit on group meetings (for the time being, the 40 min time limit for educational institutes has been lifted due to the COVID-19 crisis). During the live class, features supported by these platforms such as ​"Share Screen" for making the slides visible to the students, as well as ​"In-meeting Chat" for students to type in their questions/​doubts can be used.
While Google Meet and Microsoft Teams are safer to use when run by institutions, there have been security issues with Zoom meetings. The Cyber Coordination Centre (CyCord), under the Union Ministry of Home Affairs (MHA), has issued an advisory on the secure use of the Zoom Meeting Platform by private individuals, which should be followed.
Pre-recorded Video Lectures – If it's not feasible to run live classes, lectures can be pre-recorded and shared with students. High-quality lecture videos are recorded in recording studios where proper lighting, good microphones, better cameras, and technical experts are present. After recording, the videos are edited and then made available on YouTube. Video lectures can also be recorded personally with a mobile or camcorder (choosing a quiet place, neat background, microphone close to the mouth and blocking off all natural light). They can be edited using video editing tools (the simplest being the Windows Movie Maker) and uploaded on personal YouTube channels, which can then be integrated into LMS, or shared on Google Classroom. Indeed, one doesn't have to record lectures but can also use/​share pre-recorded lectures available online under the Creative Commons(CC) copyright licenses.
Online Courses/​Live Lectures/​Online Learning Resources — Major enforcement of digitalization in the Indian education sector came in the year 2017 when the Government of India launched SWAYAM, SWAYAM Prabha and National Academic Depository (NAD). Subsequently, the National Digital Library of India (NDLI), which hosts 47,917,213 learning resources (as of 21 April 2020), was launched in the year 2018. The resources include books, theses, audio and video lectures, etc.
SWAYAM is a Massive Open Online Courses (MOOCs) initiative. Nine national coordinators have been appointed to produce and deliver the courses. I have been associated for the past 5 years with one of the Centers, Consortium for Educational Communication (CEC), for undergraduate education. In addition to the SWAYAM courses, CEC makes content for the Vyas Higher Education Channel and manages 10 SWAYAM Prabha DTH channels for 24X7 learning. The live lectures broadcasted on the Vyas channel are uploaded on YouTube for ​"anytime, anywhere" learning. Their nationwide appeal can be estimated by the acknowledgement I got for one of my lectures on YouTube (recorded in Delhi) from a student in Bhubaneshwar when I went there to attend a conference.
According to a 2017 study by Google and KPMG, India – one of the leading providers of financial and business advisory among its various other roles – online education in India is expected to grow from 0.25 billion USD (2016) to 1.96 billion USD by 2021, with a 52% Compound Annual Growth Rate (CAGR). The growth drivers of online education are its cost-effectiveness, availability of quality education to potential students, increased internet penetration, and growing smartphone user base, to mention a few. Digital literacy thus becomes an important skill to be acquired to harness the potential of online education fully.
The list of tools described here is not exhaustive and there is a plethora of such platforms/​tools that can be utilized in education. I shall write about more digital tools in my next article. May we consider these challenging times as an opportunity to digitally update pedagogy so that when we are re-installed after the crisis is over, we come forth as technology-enabled, improved versions of ourselves – Charu Dogra Rawat 2.0.