An important component of fighting the battle against the mental health epidemic is creating accessible forums to raise awareness. Charu Dogra Rawat (Assistant Professor, Ramjas College, University of Delhi) and Sagnik Das (Student, Ramjas College, University of Delhi) write about a two-day workshop in their college which brought to light many of the mental health-related issues that students face, and allowed them to collectively brainstorm solutions on an open platform.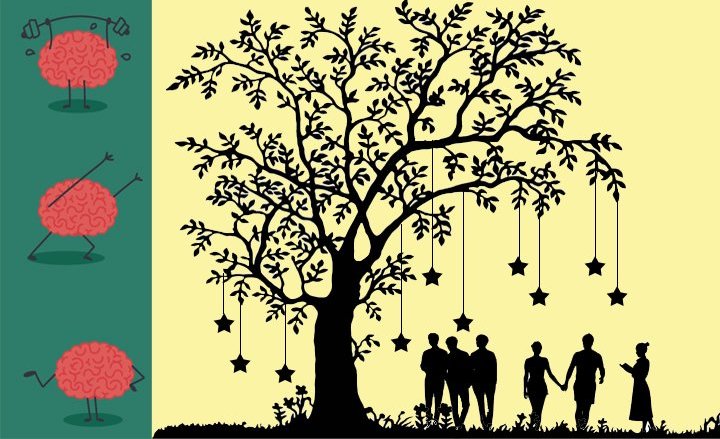 While the world celebrates the discovery of life-saving drugs and vaccines for diseases that have claimed innumerable lives, a new broad-spectrum ailment has already taken over the stage of global concerns. This ailment has symptoms that are hard to diagnose, conditions tough to stabilise, and cures that are completely temporary in nature. This global pandemic that is responsible for over 800,000 deaths every year is ​"Mental Distress" — a medical condition where an individual fails to realise his/​her own potential, cannot cope with the stress posed by daily life and is unable to make a full-fledged contribution to his/​her community.
As per the reports of the World Health Organisation (WHO), about 20% of all children and adolescents worldwide are in mental distress. In this era of spine-chilling terrorism, brutal wars and conflicts, failing economies, devastating man-made and natural disasters, and different forms of human right violations, mental health degradation and its cure is of profound interest to the global community.
Countries like India, with a flourishing population within the age-group of 12 – 30 years, witness some of the worst cases of mental health distress as the youth lies in the centre of most of the problems stated above. Hence, awareness and evaluation of mental health in youth rearing centres such as schools, colleges, and other educational institutions are of utmost importance.
Realizing this profound need and aiming to enable students to open up about mental health-related issues, The Wellness and Counselling Unit of Ramjas College, University of Delhi, in collaboration with the Department of Biotechnology (DBT) funded Star College Project, Ramjas Chapter (Department of Zoology), organised a two day mental health workshop in September 2019.
This was one of the first such workshops to be organised in an undergraduate college in recent times. It attempted to shed light on three main mental health topics – (1) Psychological Capital Efficacy, which focussed on realisation of the emotional and psychological potential vested in every individual which is essential for success, (2) Loneliness, that discussed the global pandemic of lack of efficient communication among individuals at the personal level and its widespread impacts on one's life, and last but not the least, (3) The trilogy of mood swings, anger and stress, that discussed the interconnection between these three issues and how to mitigate them.
The workshop witnessed overwhelming participation with more than 300 participants, including not only students but also teaching and non-teaching faculty, reflecting the dire necessity of such awareness campaigns.
When asked about why they wanted to attend this workshop, some participants stated that they wanted to find strategies for dealing with the stress they have been encountering, some mentioned that they were curious to find out whether they are stressed or not, and some quietly admitted that they were hoping to find others with similar issues who will be sensitive towards them. Some students were enthusiastic about the availability of platforms where they might be able to pose questions that have been troubling them but have gone unanswered as they had no one to ask them to.
Based on the idea that every individual is like a fresh canvas, which they paint themselves, the workshop was named ​"The Jolly Portrait". It aimed to counter one of the most prevalent stereotypes associated with mental health workshops (that impedes many individuals from attending them) – that they are gloomy affairs. The idea of painting a ​"jolly portrait" was implemented with sub-events such as ​"The Happiness Meter" – a fun-filled self-assessment of one's mental health, and ​"The Wishing Tree" wherein participants wrote their wishes on a piece of paper with an open heart and unfurled them to the world by tying it to a tree.
Navin Kumar, Associate Professor (Psychology), Dr Bhim Rao Ambedkar College, University of Delhi, presented his ideas and suggestions on living with proper psychological capital efficacy. He talked about various mental health challenges commonly faced by students such as peer pressure, fear of not doing well in life, homesickness, dysfunctional families etc., and together with the students tried to identify the key combat areas and probable strategies to ​'fight and win' in these. He put forward the need to balance thoughts through conscious efforts, especially when faced with difficult choices (for e.g. choosing a career stream or direction, or agreeing or disagreeing with their parents' choices).
B. N. Patra, Assistant Professor (Psychiatry) AIIMS, Delhi, enlightened the gathering on the emerging pandemic of loneliness which flourishes in spite of growing lists of friends on social media. He discussed the impacts and causes of this phenomenon and remedial measures that can be taken against it. He also stressed on the distinction between ​'being alone' and ​'feeling lonely' so that the participants could voice their inner fears of feeling the latter. The session brought to fore the emptiness that many in the audience felt.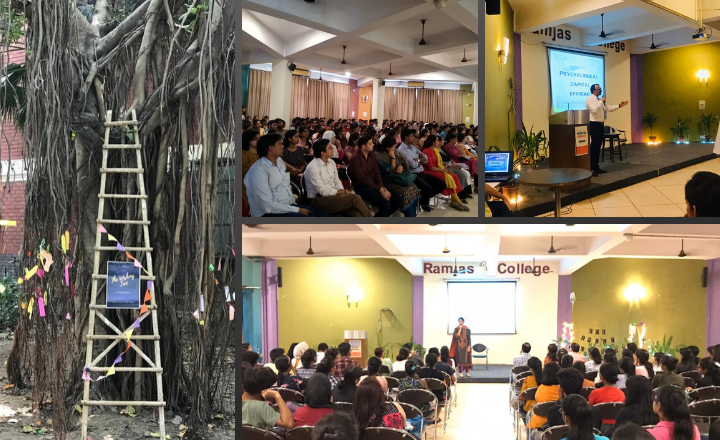 Later that day, Soumya Tandon, Associate Consultant (Psychiatry), Sir Ganga Ram Hospital, Delhi, hosted an interactive session on the interconnection between mood swings, anger and stress and possible ways to tackle them. She again gave the participants an open space to present their doubts, dilemmas, fears, reasons for their stress, reasons for their anger, and any other chaos that might plague their minds.
Many of the participants opened up to interact with the speakers and emphasised the need to address such issues with greater affection and maturity. Arunima Das, a student pursuing MA (Political Science) remarked, ​"The conduct of the mental health event was a really appreciable step. It was a wonderful experience attending it and enlightening ourselves with the much-needed talk of the hour. The topic is either shrugged off with callousness or much worse, romanticised by many, in the meanwhile depriving it of the much-needed attention it demands. Keeping a check on our mental health is as important as looking for and treating our physical injuries. So, people should come forward with more such awareness programs and event that will be beneficial to us all."
Manoj K. Khanna, Principal, Ramjas College, who believes that physical health and mental health are intertwined and both should be equally taken care of for better productivity, envisages the college hosting more such workshops and regular counselling sessions for students as well as the faculty. He also stressed on the need for greater communication between human beings.
As educators, we interact with a heterogeneous group of young students and witness various facets of their day-to-day struggles while trying hard to balance our own lives. So, in addition to the subject knowledge that we are imparting, we should attempt to nurture good mental state in students so that they can imbibe that knowledge in a more efficient and useful manner. The workshop provided an apt platform to facilitate this and going by the presentations, interactions, discussions and feedback, we strongly felt the importance and the need for holding more such events to help each other in moving towards building more efficient, unstressed, resilient and happier selves.
The stigma related to mental health is severe and unless mitigated, mental distress shall continue claiming lives bearing enormous potential. The need to open up about one's problems, to nurture an effective mindset, to interact effectively and affectionately, are the qualities that the present generation and the posterity must inculcate. Support groups, open discussion sessions etc. are some of the ways for people with mental distress to engage in introspection and mitigation of this devastating ailment.
This workshop has ignited a spark to address the burning issue of mental health with sensitivity and maturity. Hoping to keep the flame lit, the event concluded with the hanging of wishes on ​"the Wishing Tree"- a humble attempt to understand and communicate with ourselves.
---
Previous articles in the Mental Health Series:
---
Did you enjoy this article? Please let us know in the comments below.