IndiaBiospeaks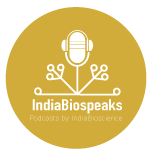 IndiaBiospeaks, podcasts by IndiaBioscience, was launched on Nov 12, 2018, as an audio-based medium to communicate science. IndiaBiospeaks serves as a medium to broadcast science news, science stories, history of science, and conversations on science careers among many other topics of relevance to the life science community.
Hosted on Libsyn, the podcasts can also be accessed through various podcast apps on iOS and Android, including Apple Podcasts, Google Podcasts, TuneIn and many others.

---

In this episode, meet Ramgopal Vallath, or RamG Vallath, TEDx Speaker, Keynote Speaker, Growth Mindset Coach, Bestselling Author, Co-Founder, and above all, the happiest person he has ever met!!

Visit his website https://ramgvallath.com/ & learn more about RamG. His Instagram handle is @ramgvallath.
---
Team IndiaBioscience chats about how as an initiative, it fills a unique niche in the ecosystem of life sciences in India.


This discussion addressed issues around mental health, particular those that are relevant to early and mid-career faculty. Featuring Sandhya Visweswariah, Maitrayee DasGupta, Imroze Khan and Hansika Kapoor, this discussion was moderated by Karishma Kaushik and Mayuri Rege. In part 4 of this conversation, the panellists and moderators discuss barriers to getting help.

Posted on in Other, Research, Young Investigators & Mental Health

---

This discussion addressed issues around mental health, particular those that are relevant to early and mid-career faculty. Featuring Sandhya Visweswariah, Maitrayee DasGupta, Imroze Khan and Hansika Kapoor, this discussion was moderated by Karishma Kaushik and Mayuri Rege. In part 3 of this conversation, the panellists and moderators talk about challenges around 'research funding' and 'organisational culture'.

Posted on in Other, Research, Young Investigators & Mental Health

---

This is the twelfth "informational interview" in the season on Crafting your Career in science. Here IndiaBioscience chats with Zeba Khatri, a Managing Editor at Cactus Communications. In this conversation, she discusses on her journey as a scientific editor and insights into the field- a professional space where she has donned multiple hats.


Posted on in Other, Career Development, Advice & Science communication

---

In this episode, Lakshmi, Shreya and Smita discuss the art of writing quality cover letters and the difference they make to a job application. They also discuss some practical tips to keep in mind while preparing and appearing for an interview.

---

IndiaBioscience brings to you the International Grants Awareness Program (iGAP) which aims to improve the success rate for Indian applications at international funding opportunities - for some of which India even contributes towards. Here we explore the DAAD's binational doctoral degree or sandwich scholarship.

---

IndiaBioscience brings to you the International Grants Awareness Program (iGAP) which aims to help Indian Life Science researchers seek and acquire international funding. Here we explore the Human Frontier Science Program (HFSP).

---

In this episode, meet Ramgopal Vallath, or RamG Vallath, TEDx Speaker, Keynote Speaker, Growth Mindset Coach, Bestselling Author, Co-Founder, and above all, the happiest person he has ever met!!

Visit his website https://ramgvallath.com/ & learn more about RamG. His Instagram handle is @ramgvallath.

---

In this episode, we talk to Abhigyan Arun, CEO of TNQ Technologies, a publishing technology, and service company headquartered in Chennai, India. Abhi has served as the CEO at TNQ Technologies since October 2016. Abhi's focus has been on aligning the business, technology, and product strategy of TNQ to the demanding needs of the publishing industry. In this episode, Abhi talks about his career journey, personal and professional growth, journey with TNQ, and vision for TNQ.


---

In the last episode of season 1 of IndiaAsksWhy, Utsuka and Jigyasa talk about the origins of the smell of rain!🌦
They discover how microbes and the winds together lead to this lovely Aroma! 💨

👨‍🔬In the Ask A Scientist segment, they both talk to Samay Pande, who studies the evolution of bacteria to understand why organisms help each other! 🧪


Posted on in Other, Science communication & School Education

---

Utsuka and Jigyasa, on their recent trip to the zoo🐯 wondered why tigers have stripes. 🤔 We're sure you must have had that question, too! Listen to this episode as they explore why!🐅

👨‍🔬In the Ask A Scientist segment, they both talk to Mihir Trivedi, a wildlife biologist, to know the purpose of these stripes in the wild. He also talks about his life as a biologist in the wild!🐾


Posted on in Other, Science communication & School Education

---