The increasing demand for virtual learning is making information and communication technologies (ICTs) an integral aspect of higher education. In this article, Aparna Dixit, Assistant Professor at Dr. B. R. Ambedkar Center for Biomedical Research, University of Delhi, shares her views on some of these technologies and how they can be used to enhance the learning experience of students.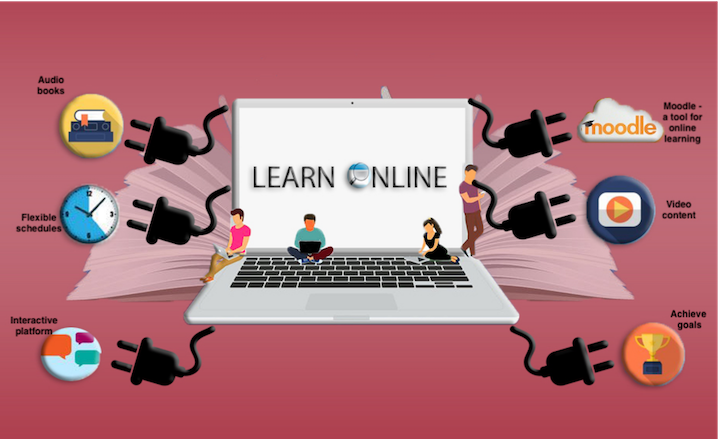 Online education and on-demand education are the need of the hour and the future of higher education. E‑teaching is a technology-based virtual pedagogy with a potent role in transforming higher education. A very famous quote of Alvin Toffler, an American writer and futurist who discussed the digital and the communication revolution and their effects on cultures worldwide, is now universally accepted in the field of education- ​"The literate of the 21st Century will not be those who can read and write but those who can learn, unlearn and relearn." Teachers need to unlearn the old teaching pedagogy and relearn the more creative digital teaching method for the holistic development of our students to make them better citizens.
Online teaching is unbiased and fits with the time and pace of all the students. Not only in the current COVID-19 pandemic scenario but for the betterment of higher education, more hands-on teachers' training programs on information and communication technology (ICT) and Massive Open Online Course (MOOCs) are required. Equally important is the participation of teachers in such programs.
Here, I am sharing my views on the role of ICT and MOOCS in transforming higher education with specific emphasis on the modular object-oriented dynamic learning environment (MOODLE) platform.
Need for Online Education and Govt. of India Initiatives
ICT competency is important for both teachers and students for better communication, learning, and assessment processes. In the current scenario as well as in the future, the process of teaching needs to be ​"blended" with video lectures and online study materials to make it more interactive for the students.
ICT competency can help in including blended and flipped learning methods in both online and offline classrooms. Blended learning can be both offline and online with additional study materials complementing the regular classroom teaching. It can help in achieving face-to-face classroom interactions based on available or self-generated online materials.
In the flipped learning pedagogical approach, the students can access the online educational resources beforehand, transforming the classroom learning into a more dynamic, creative, and interactive environment. ICT competency will also improve the ability to search open educational resources (OERs) (freely available to the public, or under Creative Commons licence) like good videos, good audio, images, etc., and bring these e‑contents to the classroom. This will also encourage the teacher to become an educator as well as a counsellor.
To accomplish this, various Government institutes in India, with funding from MHRD, have initiated several digital programs. Such initiatives include the National Mission on Education through ICT (NMEICT) by IIT Bombay, the National Program on Technology Enhanced Learning (NPTEL) by seven IITs (Bombay, Delhi, Kanpur, Kharagpur, Madras, Guwahati, and Roorkee) and IISc, Bangalore, ePathshala by NCERT, Study Webs of Active-Learning for Young Aspiring Minds (SWAYAM)- a (MOOC) platform, Swayam Prabha (a group of 32 DTH channels devoted to telecasting of high-quality educational programs 24X7 basis using the GSAT-15 satellite) , National digital library of India (developed by IIT Kharagpur), National Academic Depository and Spoken Tutorial (developed at IIT Bombay).
MOOCs are very structured courses providing high-quality education, open for all: anytime, anyone, anywhere, with mass enrollment and open access using the IT system. MOOCs offered across the world consist of platforms that are free as open-source or paid closed platforms. The Indian government is promoting the use of freely available open-source MOOCs platforms. Anyone can learn free of cost without registration, but to get a certificate the student needs to be registered under the course. A large number of MOOC platforms exist across the world. Some of the most popular MOOC platforms are edX, Coursera, Khan Academy, Udemy, Canvas, FutureLearn, Udacity, The Open University and our indigenous digital initiative SWAYAM. However Moodle is one of the best MOOC platforms for blended learning.
MOODLE — A Perfect MOOC platform for Online Teaching for Higher Education
Moodle is an open-source and community-driven platform with over 150,000 implementations around the world, and over 200 million learners using it (as of 15th June, 2020) . Moodle is the preferred platform for our technologically skillful post-graduate students due to its feature set, flexibility, intuitive and supportive environment, and its customisable nature. It has few limitations and endless possibilities. It is equally good for the slow and fast learners as they can learn at their own time and pace. Utilizing solutions such as virtual classrooms, gamification, and other methods can help create more dynamic courses and positively impact the engagement and overall success of your learners.
Moodle has several plug-ins and modules to increase student's engagement and success in higher education.
Instant messaging and message alerts provide faster and efficient ways to get in touch with peers and teachers. Moodle portal of the teacher can be used for enrolling students, make attendance lists, create courses, deliver learning materials, give quizzes, send feedback, and much more.
Moodle blog is one of the activity modules that can be used for discussions anytime. A post along with commenting parameters can be set up by the teacher, which allows the students to comment at their own time within the set limit. Besides, Moodle encourages collaborative teamwork through discussions, forums, and messaging, allowing students to work together, share ideas, and ask/​answer questions, which ultimately fine-tunes their work with the help of their peers. On the other hand, the lesson module in Moodle provides a method of adaptive and independent learning wherein the presentation as well as the questions can be customized for each student.
In Moodle, the learning materials and supplementary resources in the form of OERs, an essential component of higher education, can easily be uploaded and shared to complete the coursework and assignments, which can be accessed by the students as and when allowed by the teachers. Every student consistently receives access to all types of content and can also give feedback using comprehensive tools in Moodle. Further, the assignment can be submitted by the students and graded at any designated time by the teacher based on the pre-established criteria, whenever it is convenient and suits their busy schedules.
Moodle accommodates flexible learning as it is compatible with most devices, including smartphones, tablets, and laptops. The most important advantage of Moodle in higher education is that it can be integrated with existing systems and the institution can effectively keep all administrative and instructional activities more streamlined and organized.
On-demand education is the future of education. A student from any institution should have the opportunity to get registered for an online course from any other University, and also get credit for it. This will enable the students to develop themselves without the need for extra financial burden of coaching centers. A teacher can never be replaced. So rather than considering it as a threat, Universities need to be transformed to provide an online collaborative education system to empower educators to raise the standards of higher education in India.
MOOCs are an efficient mode of higher education providing creative learning, free education, increased participation, and open access for anyone, anytime. Besides, it is also believed that with the decreased cost of IT services, MOOCs will positively affect our economy by reducing the costs of teaching. It is quite possible that, in the future, faculties are also assessed and rated based on the student's feedback using any MOOCs platform. Thus, in a democratic and developing country like India, MOOCs would certainly pave the way forward for higher education.