From the IBS Desk
Dear Reader,
IndiaBioscience strives to build a strong and well-knit life science community in India. Promoting networking and collaborations within this community is not just one of the missions of IndiaBioscience, it is the goal upon which the organisation was founded and then diversified (a full story of the birth of IndiaBioscience is coming soon on the website).
After the successful completion of two networking events earlier this year ­– the Young Investigators' Meeting 2021 for new independent researchers (read the report of the meeting here) and the PDF Meeting 2021 for postdoctoral fellows – we hosted a panel discussion last month on the Importance of Networking, this time for undergraduate educators.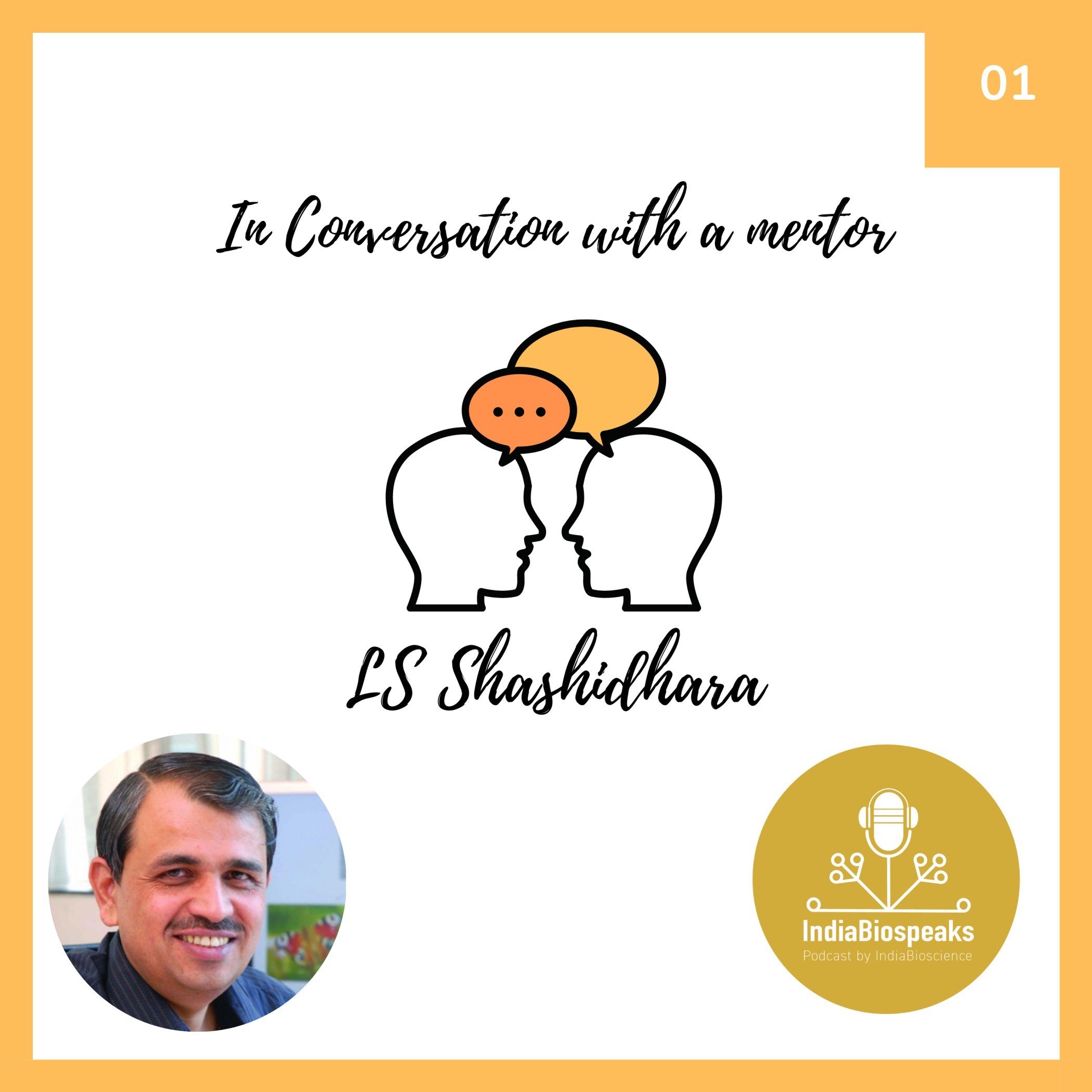 Speakers Shakila Shamsu, L.S. Shashidhara and Mayuri Rege drew upon their own personal experiences to emphasise the need for networking among educators and ways to overcome the challenges en-route. The recording of the webinar can be found here.
Shashidhara became candid with us later again as we recorded the first podcast of a brand new series, called "In conversation with a mentor". Scroll down to know more about the podcast.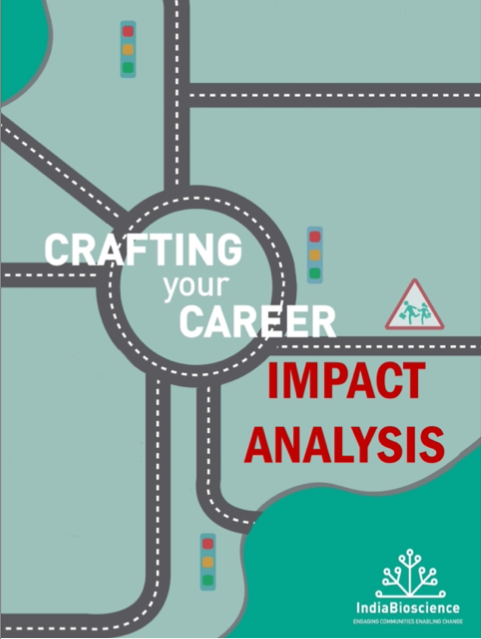 Networking is just one of the many skills required to build a successful career. Our "Crafting Your Career" (CYC) series of workshops and webinars aimed to develop many more skills in students, like how to write a CV, how to make an elevator pitch or how to align one's career goals with their core strengths and values – skills that are rarely taught in schools or colleges.
We conducted a survey to understand the impact of these workshops on the participants. We are happy to present the findings of the survey in this report published last month. Read this article to know more about CYCs.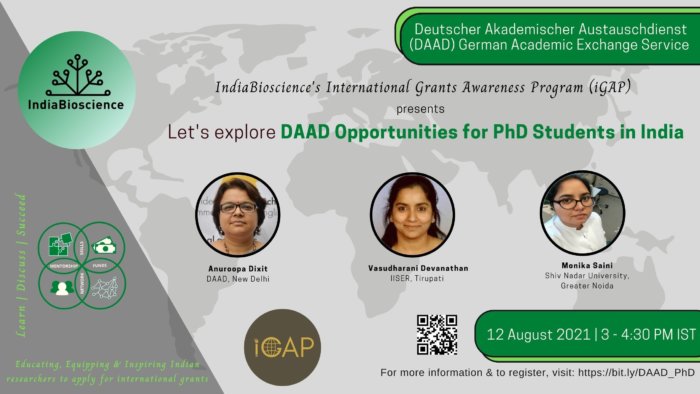 We are now working towards another exciting webinar that will explore the DAAD Opportunities for PhD Students in India. In this informational webinar, we will discuss multiple perspectives and provide insights on what makes for a successful application. The webinar is a part of IndiaBioscience's International Grants Awareness Program (iGAP), which aims to spread awareness of international funding schemes, impart skills to craft a successful application, and inculcate the confidence to apply by sharing access to a network of Indian mentors. Register here to join.
Scroll down for more highlights of our activities last month. We wish you to stay home and stay safe from COVID-19, while enjoying all our articles, podcasts and webinars, and tell us what you think of them through your comments. You can write to us at hello@indiabioscience.org and connect with us on Twitter, Facebook, LinkedIn and Instagram.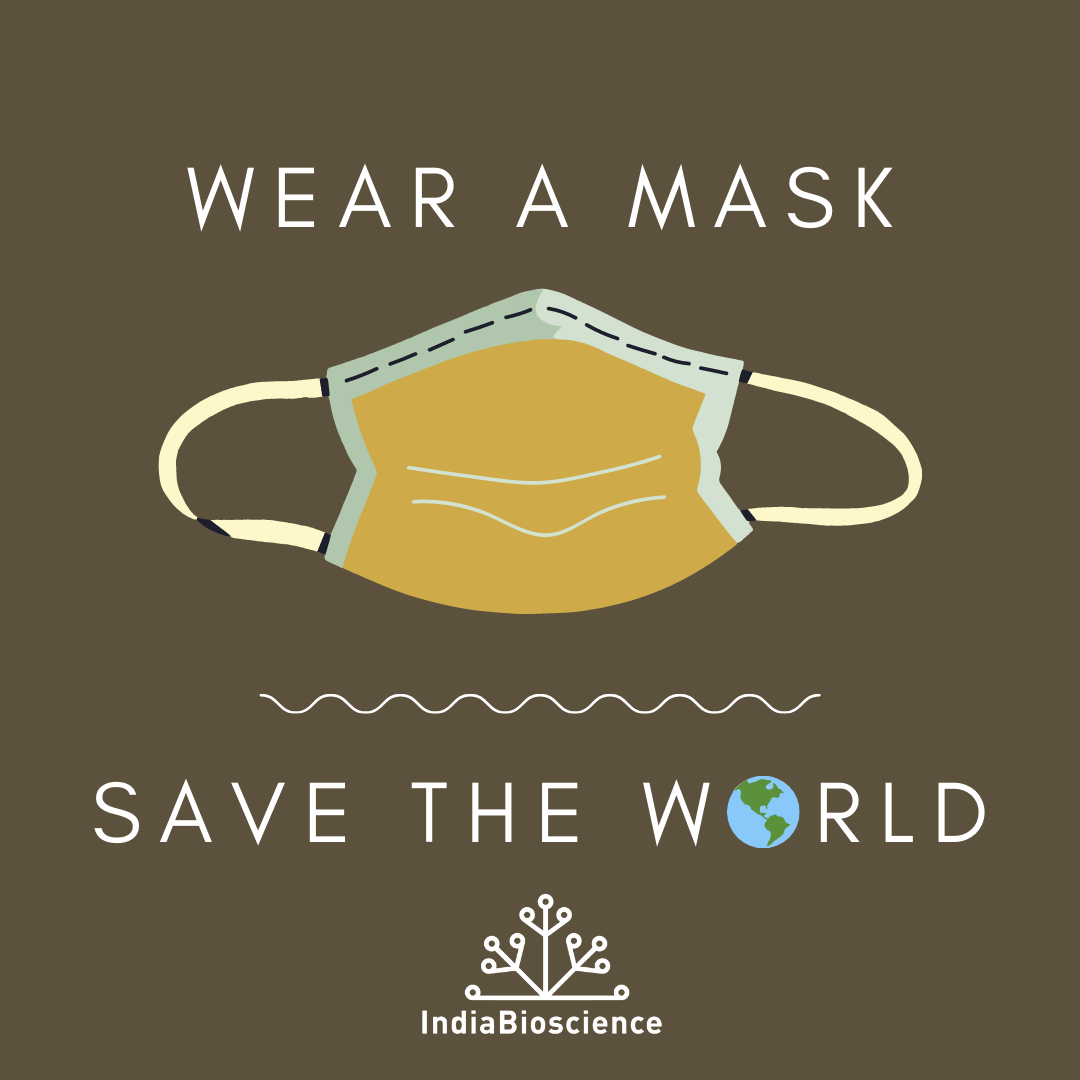 Stay Safe | Stay Connected
Other activities by Team IndiaBioscience
Talk To A Scientist
Karishma Kaushik, Snehal Kadam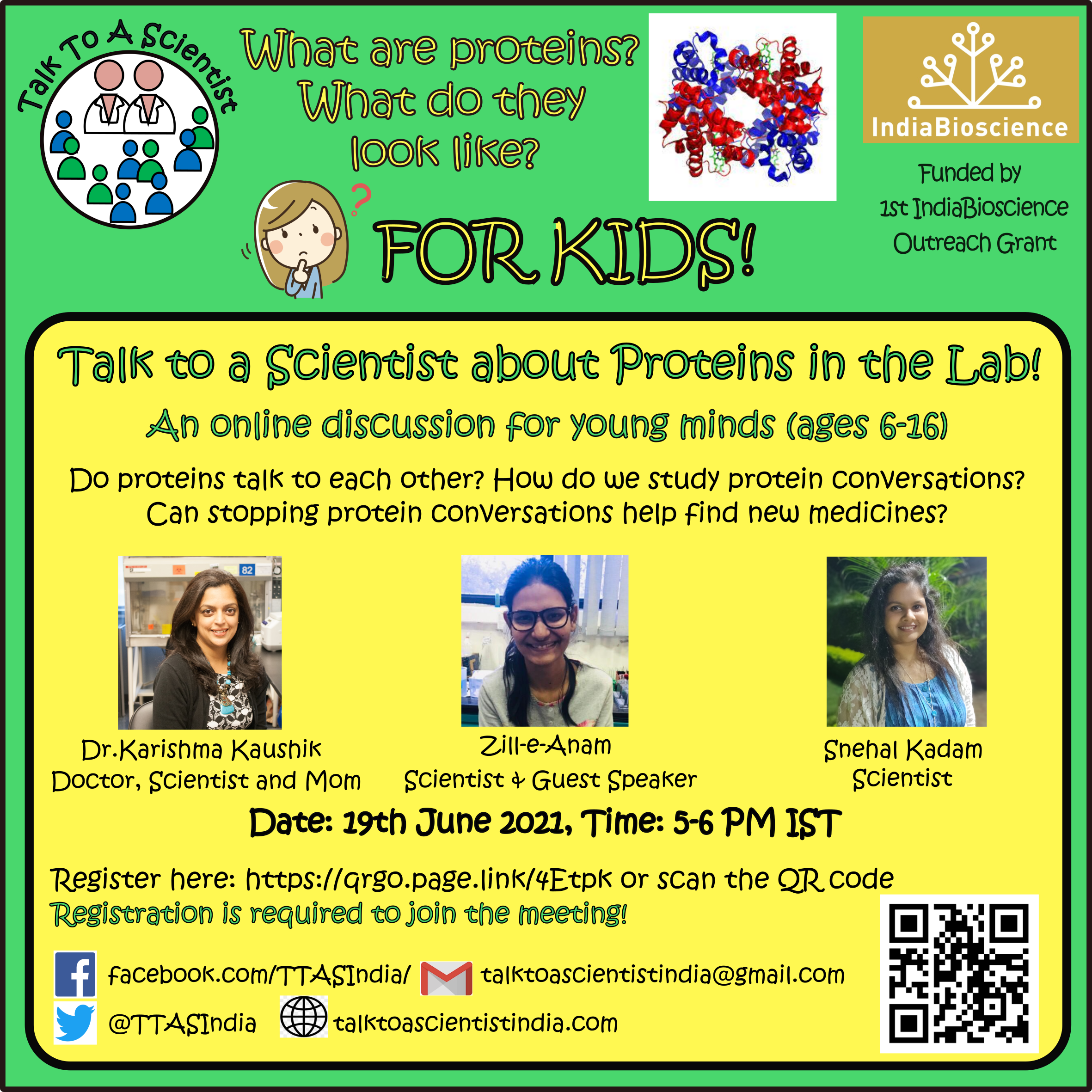 Zill-e-Anam, Senior Program Associate, IndiaBioscience was invited as a guest speaker at Talk To A Scientist. Zill-e talked to young minds about proteins in the lab, how we study the conversations between proteins, and how we find newer therapies by blocking these conversations.
Climate Change and I
Echo Network, Initiative for Climate Action, Guelph Institute for Environmental Research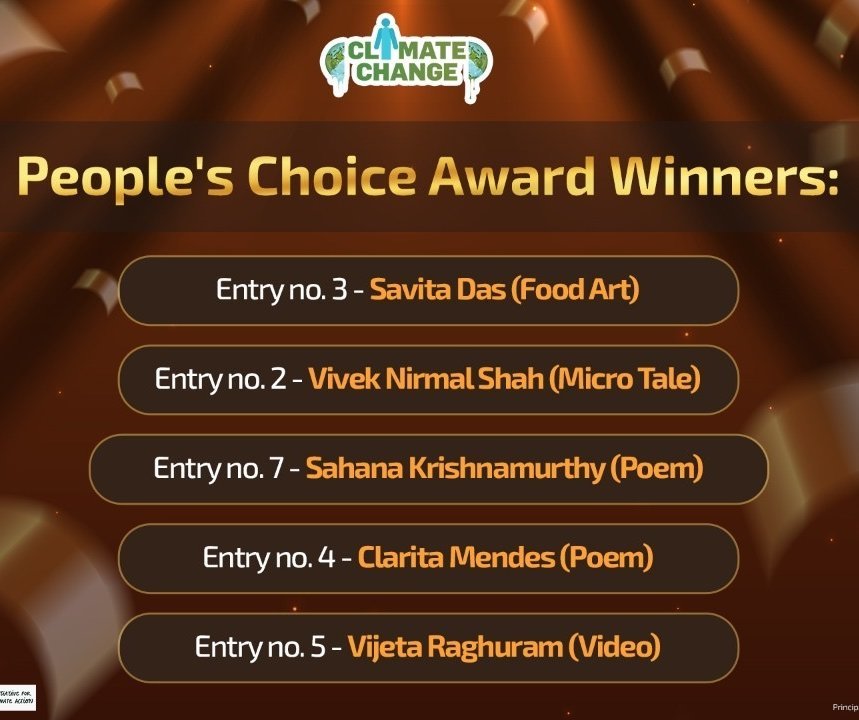 Vijeta Raghuram, Program Manager - Education, IndiaBioscience was declared one of the winners of the People's Choice Awards in the "Climate Change and I" contest. The contest was jointly organised by Echo Network, Bengaluru, Initiative for Climate Action, Bengaluru and Guelph Institute for Environmental Research, Canada. It was part of an ongoing campaign called "Climate Change and I". Participants were asked to express what climate change meant to them through an art form they preferred, like photograph, video, song, poem, painting, or short story, etc.
IndiaBiospeaks - Podcasts by IndiaBioscience
In Conversation with a Mentor | 01 | Interview with L S Shashidhara
Suchibrata Borah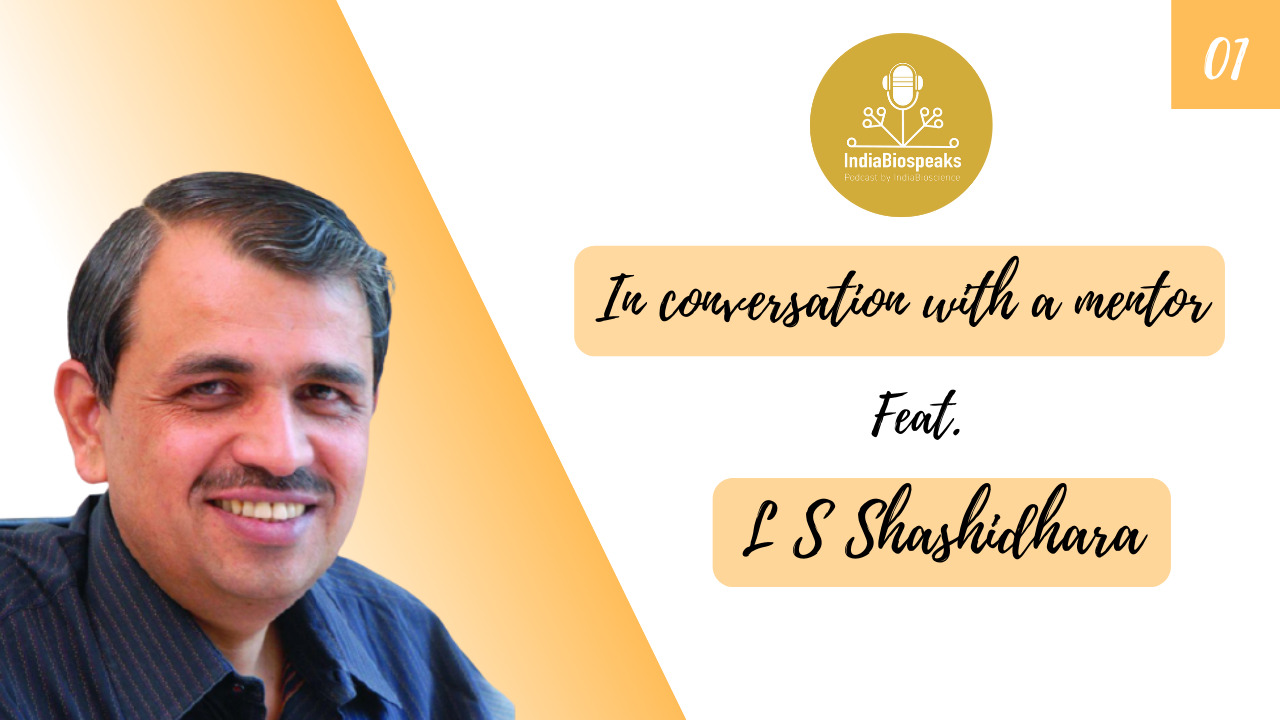 This is the first podcast of our new series 'In Conversation with a Mentor', featuring L. S. Shashidhara. He has been a phenomenal mentor not only for his students but also for many other science professionals. His insights into science administration & management will surely help those looking for a career in the diverse field of science. In this conversation, as we walked with Shashi through his broad-spanning career, he shares some of the major turning points in his life and the impact failure had in shaping his life & work. Listen to the full podcast here.
More from IndiaBiospeaks
Columns
YIM 2021: Zooming forward
Yashika Kapoor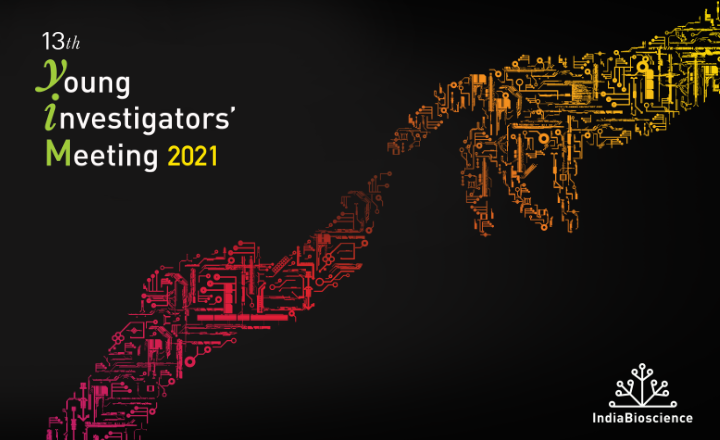 Earlier this year, IndiaBioscience organised the first virtual Young Investigators' Meeting (YIM), owing to the pandemic. The event's resounding success bespoke the enterprising strides IndiaBioscience undertook to continue providing a unique opportunity for young investigators and postdoctoral fellows from across the globe. They networked with mentors and experts to explore navigating the setting up of an independent research group in India. Here is a report on the highlights of the online event.
Science as a community enterprise: In conversation with Mriganka Sur
Shreya Ghosh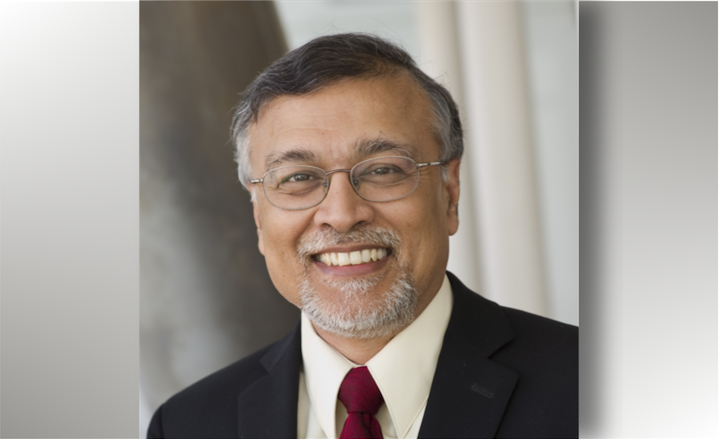 Mriganka Sur is the Newton Professor of Neuroscience and Director of the Simons Center for the Social Brain at MIT. He has also acted as the jury chair for the Infosys Prize in the field of life sciences for the past several years. IndiaBioscience recently had the opportunity to chat with him about the current status of life science research in India, some of the common challenges, and the road ahead for the community. The interview has been edited for clarity and brevity.
Reflecting on the journey and impact of the ​"Crafting your Career" program
Smita Jain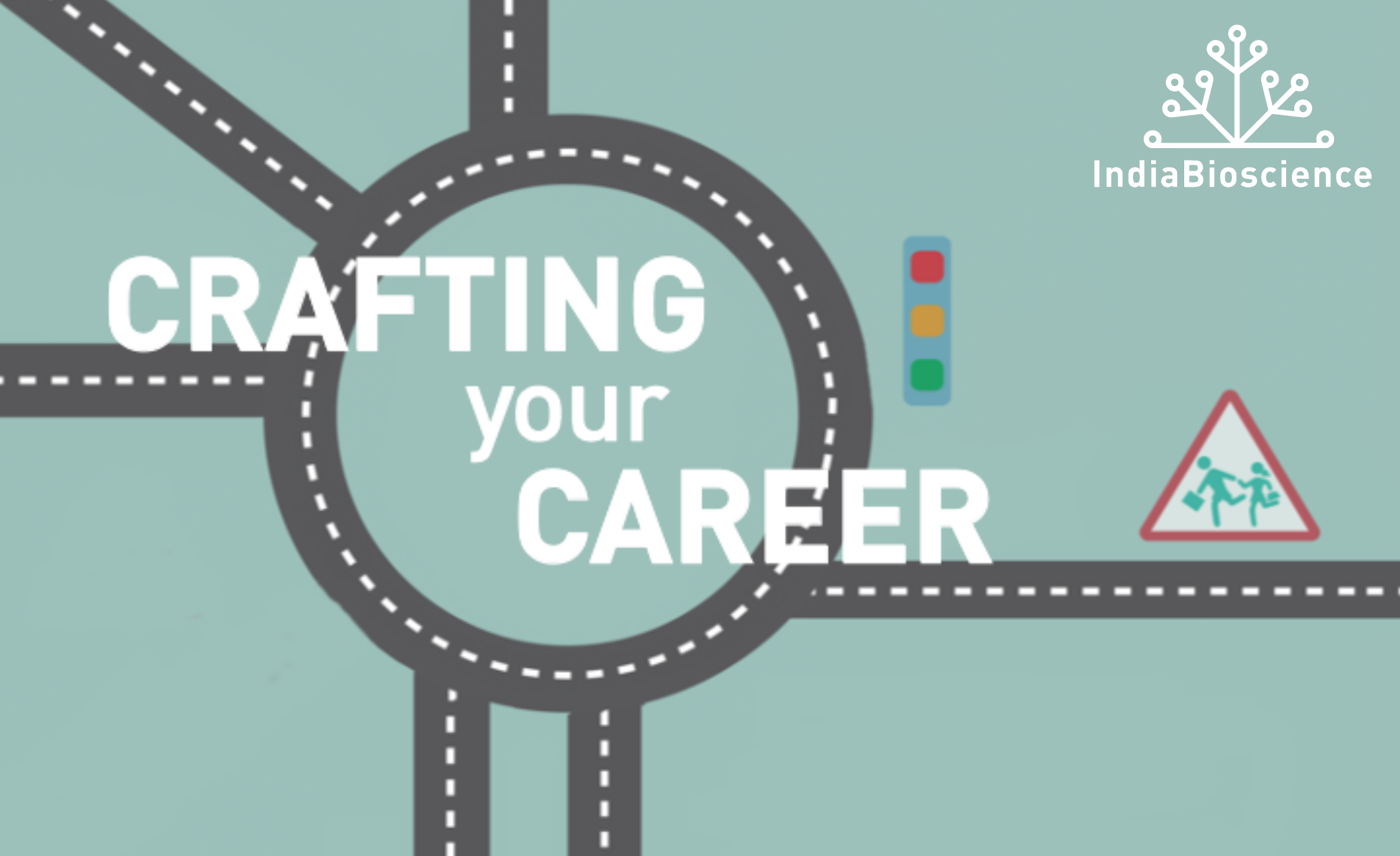 The Crafting Your Career (CYC) program started at IndiaBioscience in 2019. Its goal was to raise awareness among life science students and postdoctoral researchers about the different science careers in India, to help them identify their true calling and develop skills to navigate their career paths with confidence. Earlier this year, we did a survey to assess its impact on the participants of the program and received an overwhelming response. Here is the story of the genesis of CYC and its impact.
More Columns
Education
Webinar: Importance of Networking – A panel discussion for undergraduate educators

This webinar was an effort to explain the importance of networking for the betterment of education in the country and encourage more educators to venture into this activity.It featured eminent speakers such as Shakila Shamsu, former Officer in Special Duty (National Education Policy), Ministry of Education; L. S. Shashidhara, Dean of Research and a Distinguished Professor at Ashoka University, Sonipat; and Mayuri Rege, DST-Inspire Faculty, Ruia College, Mumbai.They shared their views and experiences with networking and offered solutions to the common hurdles faced by educators in the process of networking. The recording of the webinar can be found here.
Teaching with Twitter
Andrea Phillott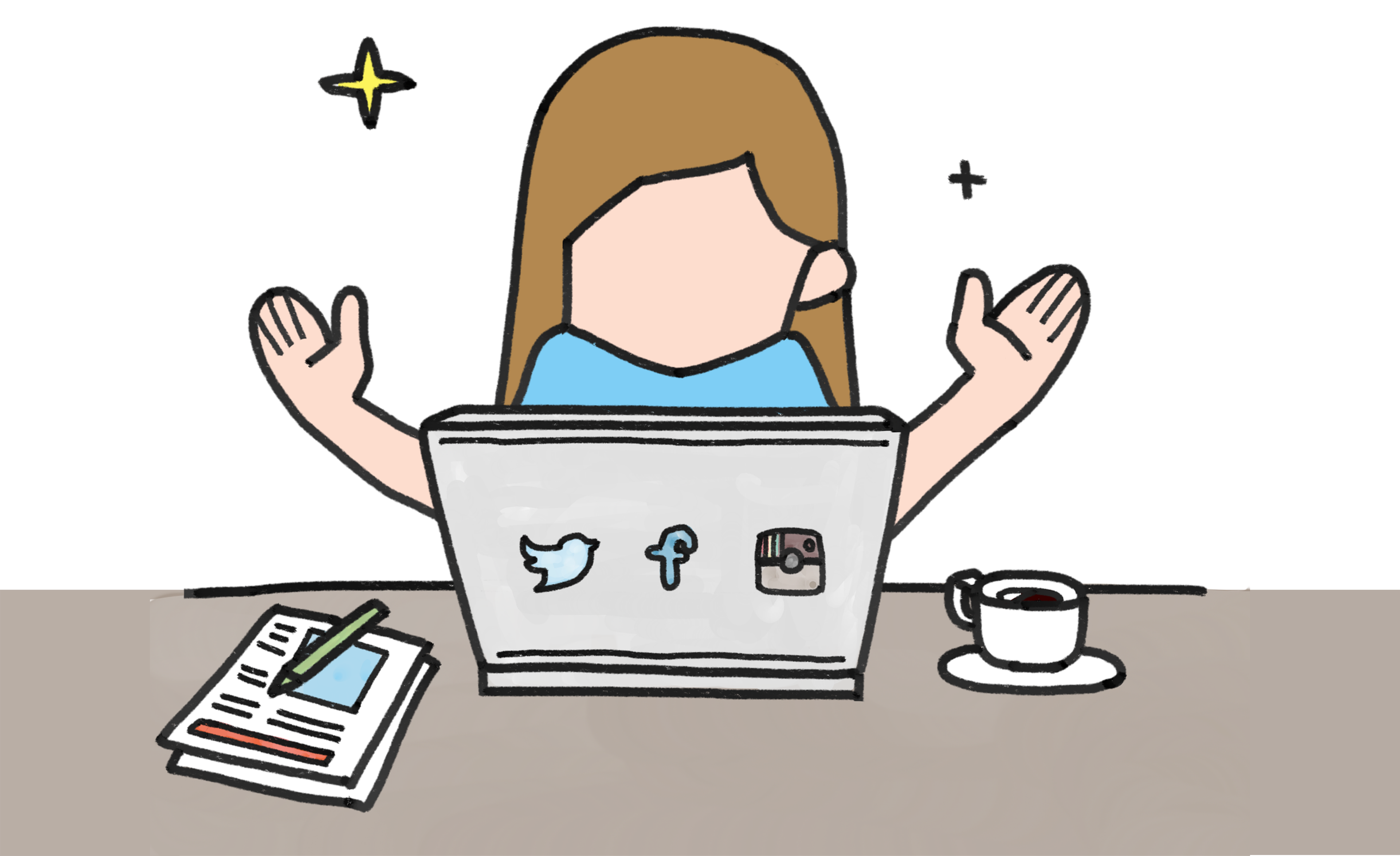 Social media platforms, such as Twitter, are increasingly being used by scientists to share their ideas and findings with a global audience. Younger users, such as #undergraduate students, could benefit from engaging with these messages, in more than one ways. In this article, @AndreaPhillott, a Professor of #ConservationBiology at FLAME University, Pune, describes how her students benefitted from an assignment with Twitter.
In a rat race for certificates
Hansika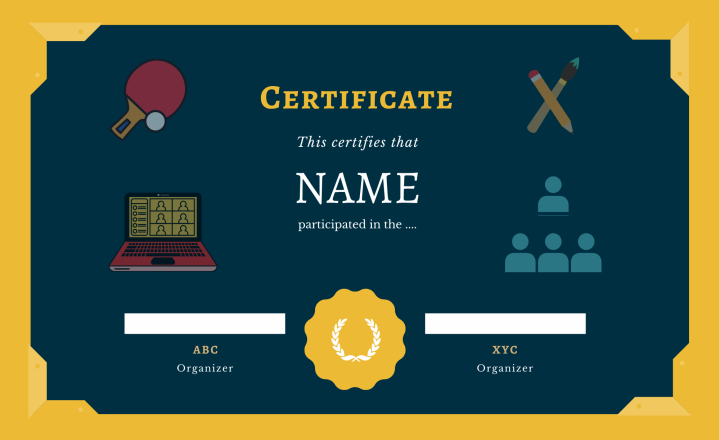 Receiving a certificate after an immersive learning experience or a job well done can be quite gratifying. But is a free-for-all distribution of certificates without evaluating the recipients justified? Are we chasing (or worse, fueling) a culture where certificates seem to trump learning gains? This article highlights the systematic spread of falsehoods associated with certificates in the Indian education system and the ways in which students can be protected from it.
Peer instruction in science education
i wonder... : Rediscovering School Science
Azim Premji University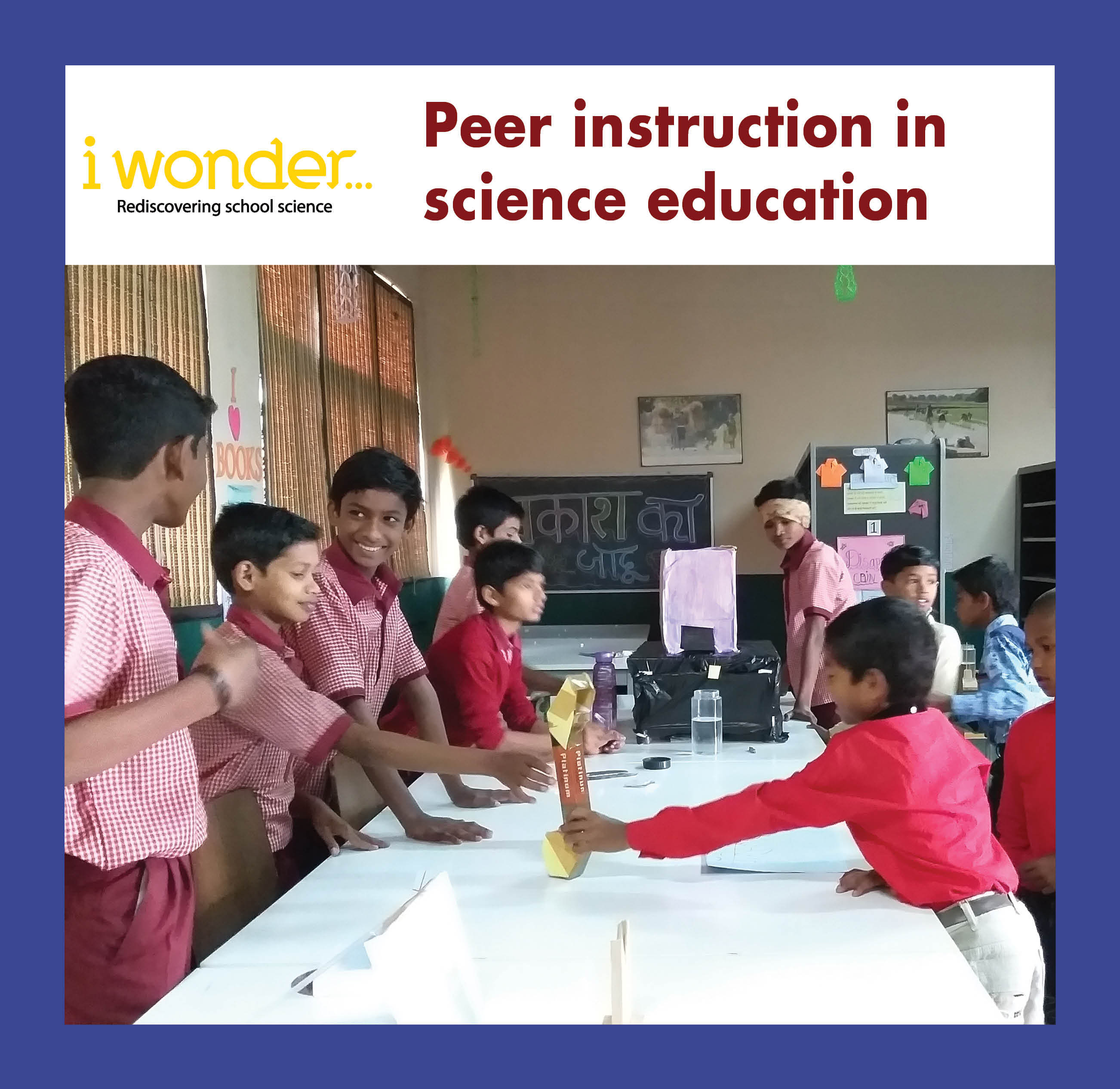 The process of science is not just about framing and testing hypotheses. It also involves review processes and convincing the scientific community about the robustness of new theories. Students often miss out on the latter component while learning about the scientific process in schools. Could peer-instruction, where students explain, argue and convince their classmates about their understanding of scientific concepts, make the learning whole? In a webinar that took place on June 16, we explored this question and other aspects of peer-instruction.
Register here to get updates on future webinars by i wonder... on topics around school science education.
More on Education
News
Study finds gene transfer from early microbes might have helped the evolution of land plants
Somdatta Karak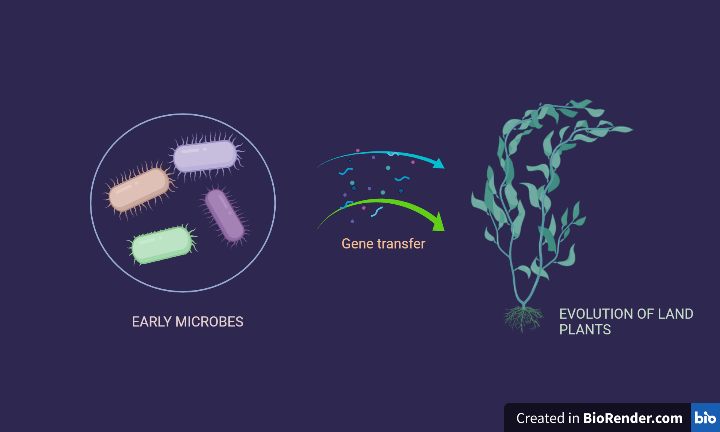 Streptophyte algae are considered the ancestors of land plants who shared habitats with primitive microbes. However, scientists have been intrigued by how the algae developed mechanisms to evolve as land plants and survive the soil conditions below the ground. In this exciting study, a team of researchers reveal that primitive microbes could have played a crucial role in the evolutionary process of land plants.
Research support and career enhancement in hematology
Shalini Roy Choudhury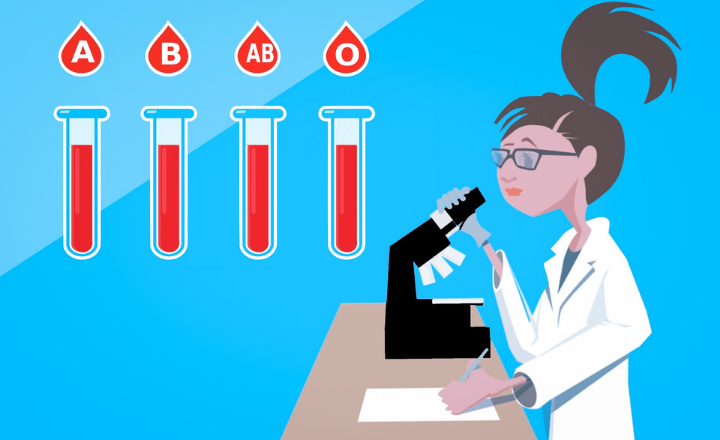 The American Society of Hematology (ASH) Global Research Award is a career-development award open to early-career scientists and doctors working globally in the field of hematology. It supports their research careers during transitioning from training to independent leadership roles in hematology. The deadline for this year's application is 31 August 2021.
More News
Events
International Webinar on Emergent Cellular Ecosystems in Melanoma Revealed by Single Cell Analysis
19 July 2021
Srujan: Science through Theater workshop
16 – 25 July, 2021
More Events
Jobs
Senior Research Fellow
Symbiosis School of Biological Sciences
Deadline 17 July 2021
Project Assistant
Christian Medical College
Deadline 30 July 2021
Research Fellow
Centre for Wildlife Studies
Deadline 30 July 2021
More Jobs
Grants
India | EMBO Lecture Courses
EMBO
DBT/Wellcome Trust India Alliance
Deadline 01 August 2021
Senior and Intermediate Fellowships in Basic Biomedical Research
DBT/Wellcome Trust India Alliance
Deadline 06 August 2021
Ignite Fast Grant Awards
Deadline 06 August 2021
More Grants