Earlier this year, IndiaBioscience organised the first virtual Young Investigators' Meeting (YIM), owing to the pandemic. The event's resounding success bespoke the enterprising strides IndiaBioscience undertook to continue providing a unique opportunity for young investigators and postdoctoral fellows from across the globe. They networked with mentors and experts to explore navigating the setting up of an independent research group in India. Here is a report on the highlights of the online event.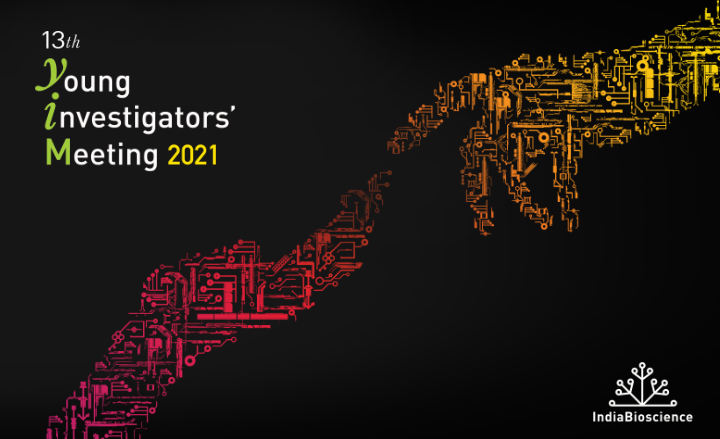 Undeterred by the challenges posed by the COVID-19 pandemic, the Young Investigators' Meeting (YIM) transitioned into a virtual format this year without compromising on its essence of enabling networking and mentorship within the research ecosystem in India. YIM 2021 — a flagship annual event of IndiaBioscience — brought together 53 Young Investigators (YIs) and 144 Postdoctoral Fellows (PDFs) from India and across the globe, connecting them to their predecessors, as well as to new mentors and advisors.

The meeting, held during 17 – 19 March, comprised mentor talks, panel discussions, special talks, and informal breakout sessions. The meeting allowed the attendees to gain a deeper understanding of challenges and changes faced by the scientific community with the help of experts brainstorming and sharing experiences to help the young researchers chart their career path. It also allowed the attendees to gain insights into India's scientific ecosystem, network with the larger community, build informal mentorship relationships, and most importantly, develop a sense of belonging and ownership in the Indian science research ecosystem.
This year's organisers were Imroze Khan, Ashoka University, Sonepat; Karishma Kaushik, Institute of Bioinformatics & Biotechnology, Savitribai Phule Pune University (SPPU), Pune; Vasudharani Devanathan, Indian Institute of Science Education and Research (IISER), Tirupati; Shantala Hari Dass and Smita Jain, IndiaBioscience, Bengaluru.
DAY 1: Inaugural note, a special message, mentor talks, and panel discussion
Satyajit Mayor, Director, National Centre for Biological Sciences (NCBS), Bengaluru, opened the meeting by appreciating the organisers for transitioning seamlessly to the online format. He mentioned that the purpose of this year's meeting, besides community building, was to help science and researchers transcend borders to connect with many more like-minded people.
In a brief address, Smita Jain presented the mandate and various activities of IndiaBioscience, whose motto is ​"Engaging communities, enabling change". IndiaBioscience acts as a catalyst in order to bring positive change in the life science ecosystem in India by engaging with the government, industry, and academia at various levels, she said.
Renu Swarup, Secretary, Department of Biotechnology (DBT), Govt. of India, emphasised nurturing future leaders in her special talk. She bade the attendees not view difficulties and challenges as pitfalls. Instead, she asked them to forge them into opportunities by building capacity and bringing strengths forward.

Taking the example of the pandemic, Swarup stated, ​"It gave us an opportunity to identify our leaders – to identify our young scientists who have taken on this task upon themselves to be able to deliver, who actually took on very important leadership positions during the last year." She said this demonstrated that we can do a lot in other areas too. She added that there has been a great emphasis on building teams and collaborations in the past years, moving from single institutions and agencies to multi-institutional collaborations following an inter‑, multi- & trans-disciplinary approach.
Swarup also encouraged the YIs to evaluate their leadership capabilities and the qualities they need to respond to challenges. At the same time, she urged senior researchers to take on the responsibility of nurturing the next generation of leaders.
Bushra Ateeq, Associate Professor, Indian Institute of Technology (IIT) Kanpur, presented the first mentor talk of YIM 2021. In her opening remark, she quoted Nobel laureate Thomas Cech: "…although you have been hired for your scientific skills and research potential, your eventual success will depend heavily on your ability to guide, lead, and empower others to do their best work."

Ateeq said that her approach has been to lead her mentees by identifying their strengths and aspirations in a stepwise fashion, both in formal and informal settings. She suggested that one should start with the resources at hand, and as the results start coming in, plan to move to better facilities while collaborating and networking with others. She also noted that a mentor should also have informal peer mentors who can help them get through challenges and give honest feedback about their work and what can be done.
Ateeq's talk was followed by a panel discussion on the impact of the pandemic on different aspects of research. The panellists included: Satyajit Mayor, NCBS; Ron Vale, Janelia Research Campus, USA; Sandhya S. Visweswariah, Indian Institute of Science (IISc), Bengaluru and Shahid Jameel, Ashoka University. Rashna Bhandari, Centre for DNA Fingerprinting and Diagnostics (CDFD), Hyderabad, moderated the session.
A mentor should also have informal peer mentors to help them get through challenges and give honest feedback about their work and what can be done
The experts reviewed the array of challenges faced by the scientific community due to the pandemic. They highlighted some of the difficulties faced at the individual level, such as the shrinking funding opportunities and uncertain career progressions. They also brought forth the changes that now await the community beyond these challenges.
Illustrating the impact of COVID-19 on changing research priorities and directions, Mayor discussed how the pandemic led to increased impetus upon the scientific community to respond to specific public needs arising due to COVID-19. He highlighted how the scientific community moved quickly, responding to the needs of the hour.
Jameel pointed out that the pandemic impacted both COVID and non-COVID research funding. To bring a balance to the situation, he suggested measures such as:
Ring-fencing a fund (restricting its use for a particular purpose) for a systemic change as the scientific community emerges from the pandemic

Developing partnerships to take research from discovery to deployment

Reforming funding processes to make them more agile, responsive and capable of dealing with surges

Improving the sustainability of the research ecosystem
Visweswariah pointed out how the pandemic disrupted university studies, research projects, and career progression. She said that while extending scholarships can help students, tenure extension can help researchers.
The world has now realised that it faces many international challenges, and science is a viable path to tackling these global problems.
Vale spoke about the impact of COVID-19 on global scientific collaborations and agendas. He highlighted how the pandemic created a spirit of public sharing of data among scientists with an enormous boost in pre-print publications. Moreover, the world has now come together on digital screens facilitating the representation of diverse voices in decision-making practices. He highlighted how the world has now realised that it faces many international challenges, and science is a viable path to tackling these global problems.

DAY 2: Leveraging the local, first-hand experiences and turning ​'pain points to gain points'
The second day of YIM 2021 began with a mentor talk by Aurnab Ghose, Associate Professor, Indian Institute of Science Education and Research (IISER), Pune, on ​"Leveraging the local". Ghose pointed out that the global and regional environments are profoundly interconnected, and awareness of local conditions influences and enables one to do better science. He added that to uncover the universe's workings, the researcher should first ponder about their local circumstances and the people they talk to or work with. These can shape the nature of the questions one asks and attempts to answer. Citing his example, he said that the connections forged in a Regional YIM helped him source materials and take on interdisciplinary research projects.
In the panel discussion, researchers from various types of research institutes and organisations shared their first-hand experiences in building a research group. The panellists included Bodhisatta Nandy, IISER Berhampur; Deepa Agashe, NCBS; Roop Mallik, IIT Bombay; Urmila Kulkarni-Kale, SPPU, Pune. Imroze Khan moderated the session. The panellists used their personal experiences to present some critical points that can make or break a research laboratory. They helped attendees understand the nuances of managing both institutional and human resources to bring out the best results.
Nandy discussed the importance of setting up the team with the right kind of people at the initial stages and calibrating one's expectations accordingly. He added that understanding the system one works in, balancing the duties of being a faculty and leader, and keeping the mind open for brainstorming are essential factors that allow one to work efficiently.
Agashe then discussed the importance of having a team with diverse skills that helps the Principal Investigator (PI) create a lab environment where people learn from each other. Additionally, setting the right expectations as a mentor, calibrating one's mentoring style according to one's scientific vision and plans of mentees, and having a feedback mechanism in the laboratory are helpful strategies.
Mallik discussed the need to be adaptable while progressing from a new lab to a well-established lab. He said that it is important to note how one is different from others and strive to do things in one's own way during this journey.

Setting the right expectations as a mentor, calibrating one's mentoring style according to one's scientific vision and plans of mentees, and having a feedback mechanism in the laboratory are helpful strategies.
Kulkarni-Kale shed light on the different hurdles one would face in setting up a laboratory in a state university instead of a research institution. In such situations, her advice is to ​"turn pain points into gain points". While high teaching demands require a lot of time investment on the researcher's part, they also give the opportunity to work with a pool of enthusiastic students. She emphasised the need to reward both teaching and research contributions in university ecosystems.
Sarah Iqbal, DBT/​Wellcome Trust India Alliance and Shane Rydquist, Impact Science, Cactus Communications, gave the special talks of the day. They pressed upon the need for inculcating and practising effective communication skills.
Iqbal emphasised how crucial it is to communicate effectively, purposefully, and empathetically. She highlighted the importance of communication in strengthening links between different stakeholders to foster science and make it more public-centric. She said that communication should help the public make sense of science based on their cultural context, religious beliefs, level of scientific knowledge, and language. She also added that the present age of digital communication allows the swift exchange of information. However, there needs to be an effort to ensure that the correct information reaches people in the right way.
Rydquist underlined the importance of avoiding jargon in written communications, as it prevents the discovery from reaching people other than those within the scientist's sphere of influence. He also explained the importance of presenting science in the form of a narrative, which helps take science from traditional journals that provide limited interaction with the audience to increased publication impact and reach peers, the public, and policymakers. Alternative content formats such as infographics and videos also help here. He recommends creating at least one social media account and getting into the habit of summarising one's research.
The special talks were followed by a panel discussion by A.V. Balachandar, Science and Engineering Research Board (SERB); Meenakshi Munshi, DBT; Sanjay Mishra, Department of Science and Technology (DST); Vasan Sambandamurthy, DBT/ Wellcome Trust India Alliance. Vasudharani Devanathan moderated the session. The discussion focused on the Indian and International funding scenarios & opportunities.

Munshi spoke about the various funding schemes offered by DBT India, such as the Ramalingaswami Re-entry Fellowship, the DBT-CREST Award, the BioCARe program for women scientists, the National Bioscience Award for Career Development, and the TATA Innovation Fellowship. She detailed DBT's initiatives to encourage innovation and entrepreneurship, including the BIRAC and Biotechnology Ignition Grant. Sambandamurthy discussed the different fellowships offered by India Alliance for researchers at different stages in their careers. On the other hand, Mishra talked about DST's SYST, NIDHI program, INSPIRE fellowship, and KIRAN fellowship for women. Balachandar brought forth the different schemes offered by SERB, such as the National Postdoctoral Fellowship and the overseas fellowship programs. SERB also provides start-up and core research grants, SUPRA scheme for high-quality proposals, and SERB-POWER scheme for women.
DAY 3: University ecosystems, ethical research practices, and equitable evaluations
Day 3 began with a mentor talk by Sharmistha Banerjee, Professor, University of Hyderabad. She spoke about balancing research aspirations with teaching responsibilities in a university ecosystem. Drawing parallels between her research and her teaching responsibilities, she highlighted the importance of building a strong collaborative network to become a better educator and researcher. She stressed how universities also allow one to be more inclusive in their thought process and evolve as teachers, researchers, and mentors. Banerjee says she finds solace and happiness in working with students, guiding them, and helping them understand their strengths.
In his special talk, Reinhard Jahn, Professor at Georg August University Göttingen, Germany, guided the attending researchers on carefully treading the landscape of ethical research conduct. He highlighted the difference between good scientific practice and scientific misconduct by explaining three fundamental research misconduct types: fabrication, falsification, and plagiarism. He added that scientific misconduct could be prevented by referring to rules and regulations laid out for good scientific practice by institutions and scientific journals, by educating students, and by having open discussions. He reiterated that the impact factor of a journal does not indicate the quality of a paper.
The day's panel discussion moderated by Mayor took on the issue of ​'equitable evaluation and assessment of research'. The panellists included: Anna Hatch, DORA (Declaration On Research Assessment) & Community Manager at the American Society for Cell Biology (ASCB); K VijayRaghavan, Principal Scientific Adviser, Govt. of India; Rahul Siddharthan, the Institute of Mathematical Sciences (IMSc); Satyajit Mayor, NCBS; and Shahid Jameel, Ashoka University. Satyajit Mayor moderated the session. The panel called for a systems-level change in how research and researchers are evaluated presently. They acknowledged the need to move on from purely metric-based systems of evaluation.

Hatch began the discussion with an introduction to DORA and a call to action in which researchers are assessed on their research merit instead of only metrics. With the help of its funders, discussion group, and resource library, DORA aims to bring a revolution in the way research and researchers are assessed. To date, more than 19000 individuals in 145 countries have signed DORA, including 25 institutes from India. She stressed that to bring actual changes in evaluation methods, instead of focusing on point interventions, we need to recognise this as a systemic challenge.
VijayRaghavan posited that the value of science should be assessed using context-dependent measures. Scientific outcomes impact society, stimulate creativity and hold cultural value. Hence, the evaluation should depend on dynamic feedback loops (between the public and scientists) where qualitative aspects also come into play. He added that purely metric-based evaluation is not desirable when science is funded via public money. Informing the public and assessing the potential impact becomes a must.
Drawing insights from his first-hand experience as a researcher who worked across disciplines, Siddharthan remarked how the current assessment system presents much scope for improvement. He said that with the stratification of journal publications and hard-to-read journals, scientists need to identify alternative ways to communicate their science. He called for systems-level changes in the assessment system that will improve reviewing processes. Also, he stressed the need for the scientific community to engage with each other actively and to publish research that is reproducible.
A purely metric-based evaluation is not desirable when science is funded via public money
Jameel put forth the assessment ideologies followed at India Alliance, a signatory to DORA. He said that the institute has put guidelines to practice by assessing research in terms of questions, potential, strengths, weaknesses, and track record of individual researchers and fellows. The review board also considers submissions to platforms such as bioRxiv as valid research contributions. Jameel emphasised that cultural changes need to come from within the institution, from those who sit on hiring and assessment committees.
Forging Bonds

Over the three days of the meeting, IndiaBioscience provided several virtual networking opportunities for the attendees on platforms like Zoom, Wonder, Slack, and WhatsApp. The participants could interact with each other and the mentors on these channels, which proved to be as beneficial as in-person interactions. These sessions gave the participants unique opportunities to network and benefit from the mentor's insights.
There were two breakout sessions where the attendees discussed how to steer research and mentor students. Mentor talk speakers along with B Nagaraj, IISER Pune; Lolitika Mandal, IISER Mohali; and Vidita Vaidya, Tata Institute of Fundamental Research (TIFR), Mumbai participated in the sessions. Each session had 20 YIs/​PDFs conversing with one mentor. The discussions included topics such as how to be a good mentor, work etiquette that fosters a work-life balance and encouraging practices in students such as taking the weekends off, or not responding to work emails beyond a certain time in the day, to name a few.

The mentors also shared nuggets of wisdom and personal mantras for a holistic approach to a research career. Mandal and Nagaraj emphasised the importance of having a work-life balance, urging the YIs to chalk out time for hobbies, arts, and family. They said it allows one to step away from the never-ending race of diverse academic, teaching, administrative, and research responsibilities. Above all, the time away from mainstream work responsibilities is helpful in the long run to avoid ​'burnout' and losing enthusiasm somewhere in the middle.

The meeting concluded with closing remarks by Mayor. He commended the extraordinary engagement of the community and remarked that the meeting will serve as a stepping stone for many of the attendees for where they wish to go. He then thanked the organisers for their brave enterprise in conducting the event successfully on an online platform.