Receiving a certificate after an immersive learning experience or a job well done can be quite gratifying. But is a free-for-all distribution of certificates without evaluating the recipients justified? Are we chasing (or worse, fueling) a culture where certificates seem to trump learning gains? This article highlights the systematic spread of falsehoods associated with certificates in the Indian education system and the ways in which students can be protected from it.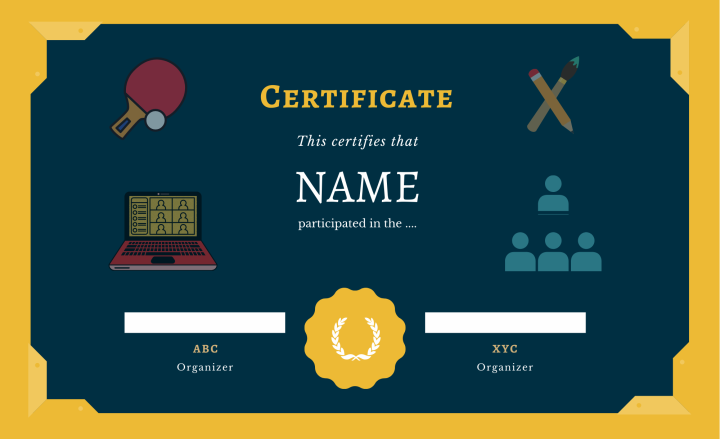 During the first year of my BSc, I was selected to work on a project under the ​"Delhi University innovation projects" scheme. The idea was to equip students with research training at the hundred or so colleges that fall under Delhi University. Of the three mentors for the project, two left the college within three months. The only remaining collaborator used the funds to buy equipment for his lab and then left. In the end, all I had was memories of our team trying to extract volatiles from medicinal plants by boiling them in a flask. We scavenged chemicals and worked without proper equipment and safety gear. Nothing was standardised. The resounding naivety of our methods, unfortunately, became obvious much later.
I had spent two summers on this project. I felt I had learnt nothing, but I wanted to add this to my CV to get a leg-up on future applications. This did not prove easy with all of the grantees being absent. I approached the principal's office to request her signature on a piece of paper attesting to my participation. After three days of camping outside of her office, I triumphed. I got what I thought would be the only thing I had to show to prove my enthusiasm for science — a certificate.
Cut to 2020 – 21, Twitter is bursting with online webinars and questions about the availability of certificates abound in the comments. Confused, wide-eyed and desperately lacking in mentorship, Indian undergraduates flit about from online workshops to webinars seeking a certificate for show of merit.
The discomfort of traditional education systems, unilateral evaluation criteria, and general instability in India's colleges contributes to a dampening of community morale. Our undergraduates feel obliged to prove, even during a global pandemic, that their interest in science is genuine and active through a trail of certificates.
Why do college-goers seek certificates at all?
It is possible that students today feel that a certificate for attending a seminar or a webinar compensates for a lack of practical knowledge and skills. Stuti Budhiraja, an engineering graduate, shares that she was among the many students who joined societies for the sake of adding a line to their CV. But she was never proud of it. She goes on to say, ​"This is especially more common to students who did not have access to internships. So, this may be the only low-hanging fruit to talk about to a recruiter in the interview during placements."
Small institutes and colleges worsen the problem by encouraging chasing certificates in multiple ways. Some colleges allow making-up attendance with the representation of the college in sports tournaments. If one wants to be compensated for missed attendance or retake a missed test, one must produce certificates of participation or get the professor in charge to issue a letter at the end of the year. Registration slips, tickets, and check-in passes are usually not admissible as proof; one needs it to be legitimised by the faculty or the principal of the institute where the event was held.
Extra-curriculars help to distinguish yourself from peers within the same league of marks…but only after you meet every other qualifying criterion – marks, rankings, courses, skills, etc.
Feeding on the desire for certificates, many private and governmental set-ups advertise certificates to attract audiences. If certificates are an essential tool to assess individual students for future opportunities, this encouragement makes it a vicious cycle. Many event organisers, however, find themselves uncertain about the perks of incentivisation for webinars and 1 – 2 day workshops. Offering certificates may boost participation, but given the lack of rigorous assessments, how would one judge learning?
Smita Jain, IndiaBioscience, expresses disappointment over a flood of emails enquiring about receiving certificates for one-off informational webinars. ​"It will be even more difficult to assess the level of understanding of an individual by e‑certificates that everyone has access to! Organizations should think twice before distributing free certificates in order to attract an audience," she says.
What about paid courses and virtual workshops, should they end in certification? With a lack of provision for internships in curricula, clashing academic calendars, and now a global pandemic, many students are unable to apply for summer internships. Some government and for-profit enterprises have tried to address this with virtual-only workshops. The perks of certification make a difference to the motivation of participants and organisers alike when it comes to pricing.
Jain warns of possible issues with their operation, ​"A business model to impart training by academic institutions, especially to generate funds, in return for a sub-standard training is not at all ethical. However, an associated fee becomes acceptable if the training provided is of high quality and helps a person gain experience and skills. It should be a conscious effort of the mentors and decision-makers at the systemic level to work in favour of the trainees who are spending their money in order to gain a skill."
Should a certificate be the only reason to participate in extracurricular activities?
"At the Indian Institute of Science (IISc), Bengaluru, no certificates are given for extracurricular activities. One must do it purely out of interest," says Rajas, a recent graduate of the BS-MS programme at IISc. ​"For instance, I was involved with Pravega (the annual fest) for 2 years straight in different positions, but Pravega does not offer certificates to volunteers." The neck-breaking focus on academics and the cut-throat competition leads to seclusion. Some students seek solace in films, music and dance groups, allowing for a few hours for banter and creative expression.
I asked a few professionals if certificates for extra-curricular activities made a difference in their success. They were either researchers in training or people who left STEM for other avenues.
Stuti Relan left science to pursue an MBA from IMT Ghaziabad in 2015. She was promptly placed in a top company in 2017. She confesses that certificates did not prove very helpful, but she did enjoy exploring and participating in extempore. ​"Extra-curriculars help to distinguish yourself from the peers within the same league of marks…but only after you meet every other qualifying criterion – marks, rankings, courses, skills, etc." She adds, ​"Your skills take precedence; being a jack-of-all-trades and master-of-none doesn't quite help. Since debate was my claimed forte, 3 – 4 wins allowed me to make a solid case for it."
A strong, yet simple statement of purpose and a cover letter written with honesty and clarity go a long way.

Juhi Arora is a PhD scholar at Pennsylvania State University in her fourth year. She told me she felt like she was missing out by not being active in extracurricular activities, but soon realised they were not at all important for her professional goals. ​"The selection committees look for candidates capable of independent critical thinking and problem-solving. One's SoP, recommendation letters and research experience matter the most. Publications are a big boost. So, maximising internships, conference presentations and writing reviews is key to making a good impression."
Certificate-chasing is becoming a cancerous culture, which may be up to the education sector to thwart. Since these can sometimes come at a heavy cost and tell us very little about the individual's quality of learning, they might be incorrect proxies for merit.
To stand out, there are alternatives to seeking certificates. Upskilling through online courses with open access to educational materials could be the way to go. If it's a job application, ​"A strong, yet simple statement of purpose and a cover letter written with honesty and clarity go a long way," advises Jain. She also suggests being active on networking platforms such as LinkedIn to seek experts and ask career-related doubts.
Can the evaluation process for higher studies be made inclusive and reasonable in their consideration of candidates? The burden falls on a community of evaluators and rigid selection committees to shake off comfortable definitions of ​'an excellent candidate' and look beyond scores and certificates. When asked about authentic sources for evaluation when being considered for a professional role, Jain adds, ​"Unless a prior supervisor or colleague writes a letter of recommendation, with an in-depth account of the personality (qualities and characteristics) and skills (capabilities), the document holds no value. The selection committee should demand inclusion of very clearly defined pointers in the recommendation letter (apart from what the person wishes to include in the letter) to judge candidature."
To be inclusive, the higher education system would have to focus on capacity building, increasing access to hands-on courses to complement theory and organising internships for large swaths of the student population. Until every student has equitable access to these opportunities, a change of evaluation criteria across the system may be a saving grace.
The National Education Policy 2020 states the intent to improve higher education through the formalisation of the above remediations. It makes provision for a 4‑year curriculum, wherein one year could be dedicated to research and lead to the ​"award of a bachelor's degree with research" on completion of a research project.
This would help level the playing field by allowing for more students to access skill-building and receive exposure to potential career possibilities, navigating the increasingly competitive terrain for most fields and enriching their knowledge in ways only hands-on, immersive learning can. However, potential problems could arise due to a lack of clear implementation plans and mentorship practices in Indian academia.
It's been six years since my undergraduate studies were completed. To this day, nobody has asked to see my certificate for the science project. There is no way of even knowing if it has contributed to helping me acquire any opportunities. I believe it came up during PhD interviews in India, but nobody was interested in hearing more than a brief description of what the project was trying to do. I wish they had asked me more, so I could illustrate just how desperate and tenacious I was towards building a career in science.