In this new series, we ask scientists from different backgrounds, disciplines and career stages to reflect upon their life in lockdown and how it has influenced how they approach doing science. In this article, Anand Krishnan from Indian Institute of Science Education and Research (IISER), Pune, writes about how his past experiences have played a role in helping him face the current scenario with equanimity and resilience. This article was first published on COVID Gyan.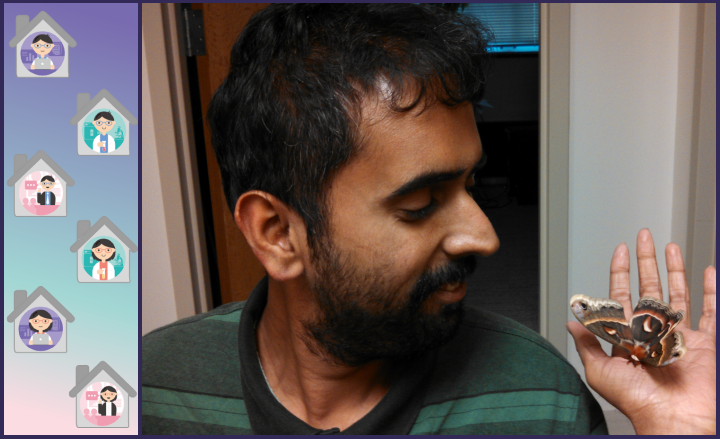 Trying to maintain an even keel during a long lockdown is hard, and researchers have been no exception. Because my research relies heavily on fieldwork, which has been cancelled owing to the current situation, some quick readjustment was necessary to make sure my lab's research program kept running during this pandemic. We have been able to weather this so far, and I have been able to keep working from home at a steady clip through the lockdown.
The situation has gotten me thinking a lot about resilience, and how human beings cope with the unexpected (which may be jocularly summed up as jugaad). This process is, of course, a highly personal one, and each of us copes with it in different ways. My personal experiences have been instructive when dealing with unexpected situations in my professional life.
Although dealing with loss in one's personal life is always difficult, the effects on one's professional life are also immediate and present. Having gone through the experience of personal loss some years ago, with the inevitable upheaval that it caused in my professional life, gave me some help when dealing with the present. Firstly, it has given me a sense of perspective, having seen what the abyss really looks like, which helps me keep calm. This enables me to avoid overdosing on the daily news, while staying disconnected from social media allows me to further tune out the noise. Learning to pace the flow of information to avoid being overwhelmed and regain control, was an important survival lesson I learnt all those years ago.
Secondly, it has taught me when to make a change to how I work, and to not fear big structural changes to my work schedule. Finally, it has helped me recognize when I have too much piled on my plate and to declutter my thoughts and actions. Getting through the previous system shock has given me some kind of playbook to deal with this current upheaval. However, the very nature of unexpected events makes it impossible to anticipate everything that may happen. That means there are still some days that are more difficult than others, but I have been better prepared this time to keep my work going.
With that preparation in mind, what work can we actually do to make sure we are prepared for what comes after the lockdown? The period immediately after I moved back to India proved very instructive to me in terms of figuring out how to keep myself intellectually occupied and plan for the future. At that time, I was very concerned about losing structure and discipline, so I stuck to a regimented work schedule. I made sure I kept up with reading, wrote down ideas (I may never get to all of them in a lifetime, but it is good to make sure everything is documented), and kept myself engaged in whatever scientifically-based progress I could manage. Even while travelling, I kept my eyes open for potential sources of instruction and inspiration, which I've always thought was very important for someone interested in studying animal behaviour. All that legwork was very useful further down the road and continues to be useful now.
Currently, even the access to the park behind my house is blocked off. The birds I study are everywhere, though, and I am lucky to have a variety of birds singing near my balcony every morning. Much has been written about how bird song has ​'increased' during the lockdown. However, having trained myself to listen, I hear the same birds I have always heard. I suspect that in the absence of the daily hustle and bustle and with not much else to do, people are finally awakening to the bird song that was always there. In the summer heat, I can hear three different parakeets, the beginning of the koel's summer calls, warblers, flycatchers, magpie robins, ioras, sunbirds, peafowl and many more. All these birds are getting ready to commence breeding as the monsoon begins. I have always drawn research inspiration from listening to bird song, and I continue to do so now, even if only on my balcony in the early mornings. Whether it's purple sunbirds feeding or a pair of starlings drinking water from a dripping tap, there are always fascinating animals and birds to watch, and new ideas to draw creative inspiration from.
Ruminating further on resilience, I feel those of us lucky enough to be doing research have much to be thankful for. We are never short of things to do, and new and interesting ideas to work on. This, in large part, is also due to resilience — the admirable strength of those on the frontline who continue to keep us and our families safe. Gratitude is a debt we will owe to them in perpetuity. By comparison, I certainly do not feel particularly resilient, and there is no way of telling what the future will bring.
With a clear roadmap and enough flexibility to make sure I am always intellectually occupied, I think I (and my group) should be able to make the most of this period. In particular, as some members of my lab are ecologists studying bats, our work now is both timely and necessary, as we hope to demonstrate the utility that these fascinating animals provide to the public. We can, therefore, hope that the research done during lockdown will make a substantial and tangible contribution to public opinion and policy as the storm of the pandemic wears on. From weathering previous storms, I have every hope that the changes to our lives will eventually turn into a positive, and that the training we get now will stand us in good stead for the long term.