In this new series, we ask scientists from different backgrounds, disciplines and career stages to reflect upon their life in lockdown and how it has influenced how they approach doing science. In this article, Geetanjali Sundaram, an Assistant Professor from the University of Calcutta writes about her experience of mentoring students during the lockdown. This article was first published on COVID Gyan.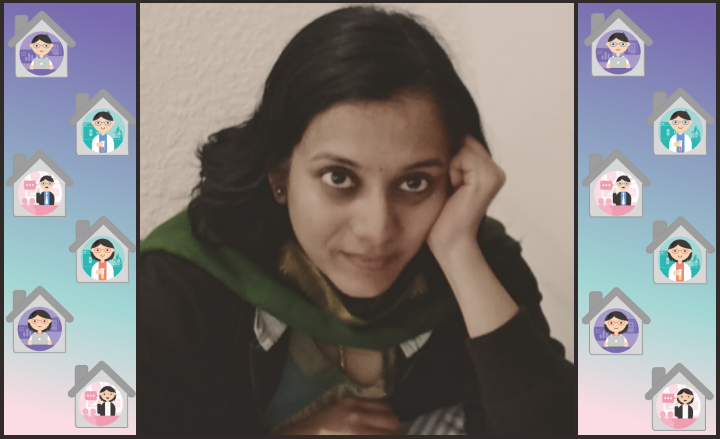 Picture this. You have just communicated a manuscript you are very excited about. You have just had a discussion with a senior research fellow in your lab about the next ambitious experiment that she has planned. Her energy reinforces yours and like always, you can't wait to get back to work the next day. This was exactly the situation in which I got the news about the lockdown.
Optimistic as always, I tried to think that work really could not stop and there would soon be a solution that would allow us to get back to work. But…we all know what happened next.
I have two final year PhD students in my lab. My first reflex was to put myself in their shoes and think about what this meant to them and their plans, and my heart went out to them. The other two students in the lab were at the brink of becoming less dependent on my instructions and this lockdown would be delaying their take-off. The next thing I was worried about was whether they would get paid on time as the fellowship release at the university requires paperwork every month. As some of them were the main earning members in their families, the situation would be quite difficult for them. At the same time, I had to think about keeping the science in the lab alive and kicking.
Staying away from the workbench has never come easy to me or my fellow researchers in the lab. I feel, as a group, we think better when we hold a pipette in our hands. It's like a magic wand that helps us discover life's mysteries inside tiny microfuge tubes and 96-well plates. Looking at these tubes and plates before leaving the lab every day is like a ​"sleep meditation" that we need before letting our minds relax every night. So, the first week away from the lab was quite depressing.
The first thing we did to kickstart the reorientation process was to start online Journal clubs and to schedule them more frequently than the offline ones. This helped us regain our focus over time. This is one thing that I plan to continue even after we get back to the lab. Then we split the lab into two groups and each group started working on writing a review article. The discussions related to the reviews added to the frequency of our virtual meetings and we started to look at this time away from the lab as an opportunity to be twice as aware of the latest research. The lockdown also provided us with opportunities to attend many scientific webinars encompassing our research interests, helping us utilize our time more efficiently. Some of the lab members started taking online courses in coding. It was also a great time to sharpen our writing skills. So, all of us are using this ​'down' time to ​'up' our skill set.
A good friend once told me, ​"Even a tigress takes a step back before she leaps forward" and I am looking at this lockdown as that step back for my lab. I hope that when we get back to our ​"soulmate" – the workbench, we will be able to work more productively than ever before.
In the meantime, the manuscript we had submitted came back for revision. But it was hard to address any of the concerns raised by the reviewers with additional experimentation. Still, fingers crossed, hoping for the best.
Similar reorientation was required in my teaching responsibilities as well. Classes had to be arranged online and we had to take care that postgraduate students didn't lose touch with the subjects. But online classes are quite different from classroom teaching. Classroom teaching is like a performance. The teacher's presence, gestures, movements and the scribbling on the blackboard are all integral to efficient knowledge dissemination. So, when I started taking online classes it was almost like trying to fly without wings.
Besides, all the students did not have access to high-speed internet, especially those who went back to their hometowns in semi-urban areas. So, in addition to online classes, I created WhatsApp groups to allow them to connect at their convenience. I soon realized that being available on WhatsApp groups meant that I had to be ready to face questions 24×7. I am quite proud of the fact that our bright students, kept me on my toes making me answer their queries and resolve their doubts. Sometimes the questions would flow in at midnight or at 4 a.m. in the morning. Together the students and I worked on assignments and tried to make the best of the situation despite its limitations. I sincerely hope that I could live up to their expectations.
I have somehow adjusted to teaching online, but it doesn't give me the same satisfaction I get while delivering lectures offline. However, since this situation has been felt by everyone in academia, I am really looking forward to seeing a revolutionary change in teaching methods and hope that this would create a world of opportunities for the students.
At this time, when the society at large is suffering, I cannot help but count my blessings and be thankful that I am among the lucky ones who were not hit hard by the pandemic and the lockdown. Perhaps what I am going to say now might sound selfish, but a few days into the lockdown I realized that it was also a once-in-a-lifetime opportunity for personal growth. Never again in this life will there come another time (I really hope it doesn't) when I would be the BOSS of every one of the 86400 seconds that life gifts me every day. I decided that I would make the most of this time. I could now indulge in all the things that I thought I was missing out on due to lack of time.
The list goes on but if there's anything that comes close to my passion for science, it's my love for working out and practising pilates. Also, if I had to point out just one regret I have in my life, it would be giving up dancing. And all my life I have had well-wishers asking me to try meditation to tone down my ​"hyper" personality. With these thoughts, I signed up for online courses on pilates, guided meditation and dance. I am thoroughly enjoying my workouts twice a day- it's blissful and heavenly. As for meditating, well, maybe someday in another life I might be able to do it. And dance! Well, I realized that I now have two left feet.
But all in all, I am enjoying having the time for these opportunities. I am also loving being able to be there 24×7 for my son and being able to fulfil all ​"quality time" demands that he has. With all of these, I am recharging my batteries and waiting to get back to work soon with more vigour than ever before, and praying that the paper gets accepted soon.