In this series, we ask scientists from different backgrounds, disciplines and career stages to reflect upon their life in lock-down and how it has influenced how they approach doing science. In this article, Ashutosh K Singh writes about how the pandemic should inform our research directions, especially when it comes to finding innovative solutions to new problems. This article was first published on COVID Gyan.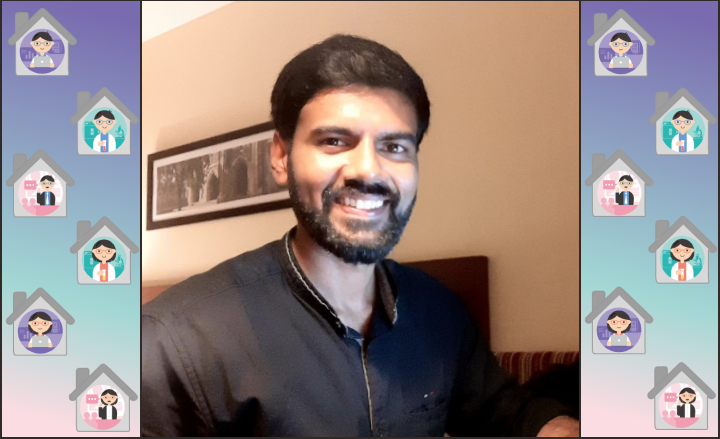 COVID-19 is an infectious respiratory disease caused by a novel coronavirus (SARS-CoV‑2). The rapidly growing number of COVID-19 cases in India led the government to send the country into lockdown, halting our regular professional work and affecting the economy at large.

Talking from a scientist's point of view, our usual research has come to a standstill due to the absence of human resources. PhD students and R&D assistants who are our primary workforce have been stuck at home, just like everyone else. It may appear that this pandemic has put science across the globe on an indefinite break.
But, let's look at the positive side of this situation. This pandemic has challenged the scientific community in India to break from our conventional research problems, in which we are well-trained and comfortable, and think differently. It has motivated us to use our knowledge, training, and experience to solve the various problems that humanity is facing at the present moment.
As scientists, we should try to identify the problems that have not been solved yet and come up with solutions for the same. This is a war for existence for humanity, with the scientific community acting as its warriors. The majority of the Indian science community, however, is still in its comfort zone. Only a nominal effort has been presented so far against this situation. Despite the fact that many scientists have enough space to work in their laboratory along with fellow scientists without breaking social distancing or hygiene-based protocols, I feel that we are not putting in enough effort to fight this pandemic.
The government, through its funding agencies, is seeking the help of researchers in facing this challenge by floating and promoting various short terms projects against COVID-19. However, many researchers are hesitating to join this cause because we fear that we are not trained and qualified to work on COVID-19 or other infectious diseases.
Personally, I strongly disagree with this mindset. Many virologists and other life science professionals are contributing towards the development of vaccines and therapeutics. Other experts and scientists can help in various ways — material scientists and chemists can design and develop effective Personal Protective Equipment (face shields, face masks, etc.), which common people can afford. Mathematicians, statisticians, and computer scientists can construct mathematical models that try to predict the course of the pandemic. Similarly, a plethora of problems and fields have emerged; we need to open our eyes and mind and find the right opportunity to become a solution provider.
In this context, I would like to present an example of a collaborative effort which came from my research institute — Centre for Nano and Soft Matter Sciences, Bangalore, an autonomous institute of the Department of Science and Technology. When the lockdown was first announced in the initial days of the pandemic, we were instructed to work from home. Being an experimental scientist, it was really uncomfortable to keep myself away from the laboratory and stay at home. Fortunately, G.U. Kulkarni, our institute director, asked all the faculty members to come up with ideas that can help our society in this situation. My colleague Pralay K. Santra and I came up with a plan to design a cost-effective facemask and presented the idea in front of the committee. The very next morning, we met the director at his office in JNCASR Banglore, who added further innovative ideas to our facemask design, making it much more straightforward and effective.

Immediately, we started working as a team on this combined idea and designed experiments. We came up with an innovative technique for making face masks (called Tribo E Masks) that can hold electric charges without any external power to restrict the entry of infectious agents. We have also developed a unique design for the mask and filed a patent. This snug fit design helps create enough space in front of the mouth while speaking. This mask causes no speech distortion, no fogging on glasses due to leaking of exhaled breath, and leaves practically no room for leakage while breathing. Another significant advantage is its high breathability allowing one to wear it without any discomfort.

We have transferred this technology to Camellia Clothing Ltd., a Bangalore-based garment company which wishes to produce[1] [AS2] and sell around one lakh masks per day through different distribution channels throughout India. This whole process, starting from identifying the problem to discussing, collaborating, doing experiments, transferring technology, and producing masks, took place during the lockdown period.

By citing the above example, I want to emphasize that the Indian scientific community must keep in mind that it is the time to collaborate rather than compete. Every scientist has an opportunity to be flexible and work on a new idea, or help and support other scientists doing so. Redefining our research problems and collaborating are the key solutions to overcome an adverse situation like the present.