From the IBS desk
Dear readers,
Welcome to our first newsletter of 2023!
After two virtual meetings in the past two years, we're thrilled to host our 15th Young Investigators' Meeting (YIM 2023) taking place from February 13th to 17th at Ahmedabad University and IIT-Gandhinagar, Gujarat.
YIM is IndiaBioscience's flagship networking event, bringing together life science investigators from across India. Since first YIM in 2009, over 600 young investigators/ postdoctoral fellows, more than 170 science professionals (as mentors and panelists) and about 75 institutions have participated altogether.
With YIM2023 just around the corner, we asked all the young investigators selected for this meeting to share their amusing anecdotes and inspirational journeys with us. To celebrate YIM 2023, we have featured seven stories in our 'Journey of Young Investigators (JOYI)' series. You can find the recent articles in this JOYI series linked below, and browse through the entire series here.
Get ready to be inspired! We're thrilled to unveil the 3rd IndiaBioscience Outreach Grant (IOG) video that showcases the outreach efforts by our award-winning projects. Immerse yourself in the world of science outreach by watching the video here. And that's not all! January 2023 marked the end of the exciting season two of #FundaySunday with an artful series of illustrations on women scientists by the talented Aditi Mishra. Stay tuned for season three and keep submitting your entries here. Check out all the previous entries here.
If you'd like to contribute an article, produce a podcast or organise a joint event with us, drop a mail at hello[at]indiabioscience[dot]org. Connect with us on social media (Twitter, Facebook, LinkedIn, Instagram, YouTube) and join our mailing list to stay in the loop.
Before you step away, scroll down for a quick peek into upcoming events at institutions from across India, our latest activities, and updates including jobs and grant opportunities.
Stay Engaged and Enable Change!

Journey of a Young Investigator
From being alien to native: my journey and everything in between
Ratna Ghosal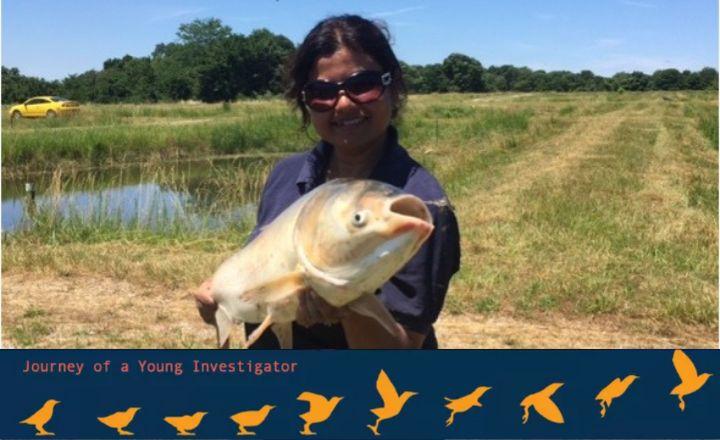 Ratna Ghosal is an Assistant Professor at Biological and Life Sciences division of Ahmedabad University, Ahmedabad. She is one of the organising committee members of 2023 in Gandhinagar/​Ahmedabad.
Returning home and integrating with Indian Science
Subramanian Sankaranarayanan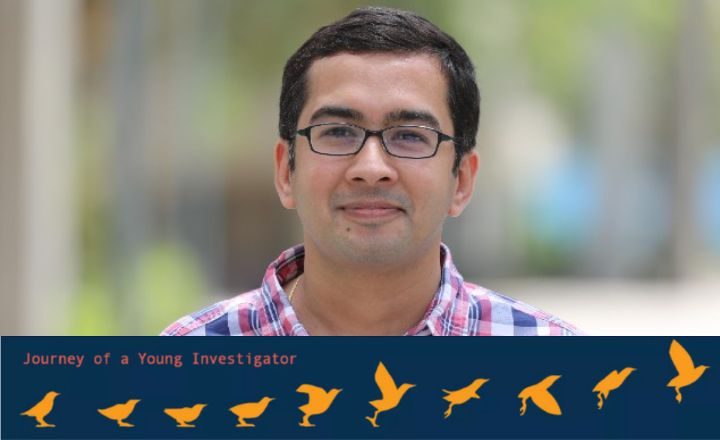 Subramanian Sankaranarayanan is an Assistant Professor at Biological Engineering department of Indian Institute of Technology Gandhinagar, Gandhinagar. In this invited article, he describes his challenges and exciting opportunities as a young investigator returning to India to contribute to Indian science.
The journey to the state of disequilibrium!
Neetha Balaram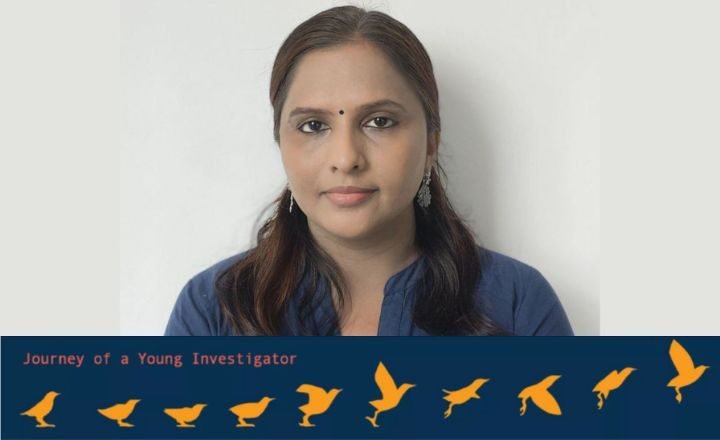 Neetha Balaram is an Assistant Professor at Department of Neurology in Government Medical College, Kozhikode. She is currently the lead for epilepsy subsection including paediatric epilepsy. In this invited article, she shares her experiences of navigating medical research outside her comfort zone as a clinician turned researcher.
A tale of two labs and one home
Nirmalya Sen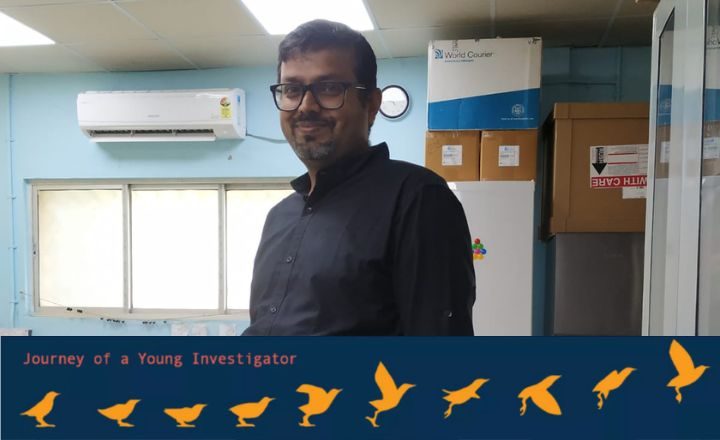 Nirmalya Sen is an Assistant Professor at the Division of Molecular Medicine of Bose Institute, Kolkata. In this invited article, he writes about his research journey as a young investigator that took him through two labs in India to a place he calls home.
Learning from a joint lab culture
Prasoon Kumar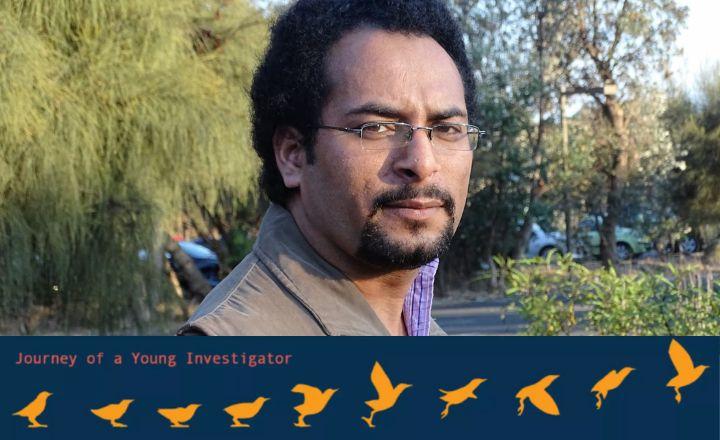 Prasoon Kumar is an Assistant Professor at Department of Biotechnology and Medical Engineering in National Institute of Technology, Rourkela, Odisha. In this invited article, he shares his experiences navigating multidisciplinary research as a young investigator in India with a joint engineering-science foundation.
It has been a great Wellcome back!
Sudarshan Gadadhar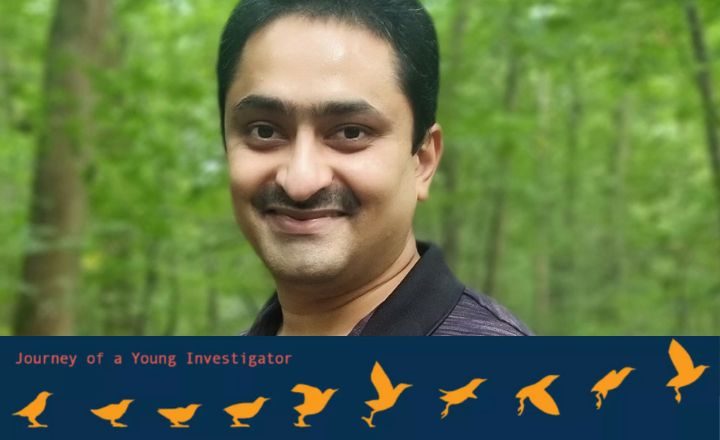 Sudarshan Gadadhar is a Scientist at Centre for Inflammation and Tissue Homeostasis of inStem, Bengaluru. In this invited article, he shares the significance of mentorship, collaboration and networking in establishing an independent research group as a young investigator in India.
Isolation enriched: Setting up a lab during the pandemic
Pavan Agarwal
Pavan Agarwal is an Assistant Professor at the Centre for Molecular Neurosciences of Kasturba Medical College, Manipal, Manipal Academy of Higher Education (MAHE). In this invited article, he recounts his rollercoaster journey of setting up an independent research group during a pandemic as a newly returned young investigator in India.
INDIABIOSPEAKS: PODCASTS BY INDIABIOSCIENCE
In Conversation with a Mentor
Suchibrata Borah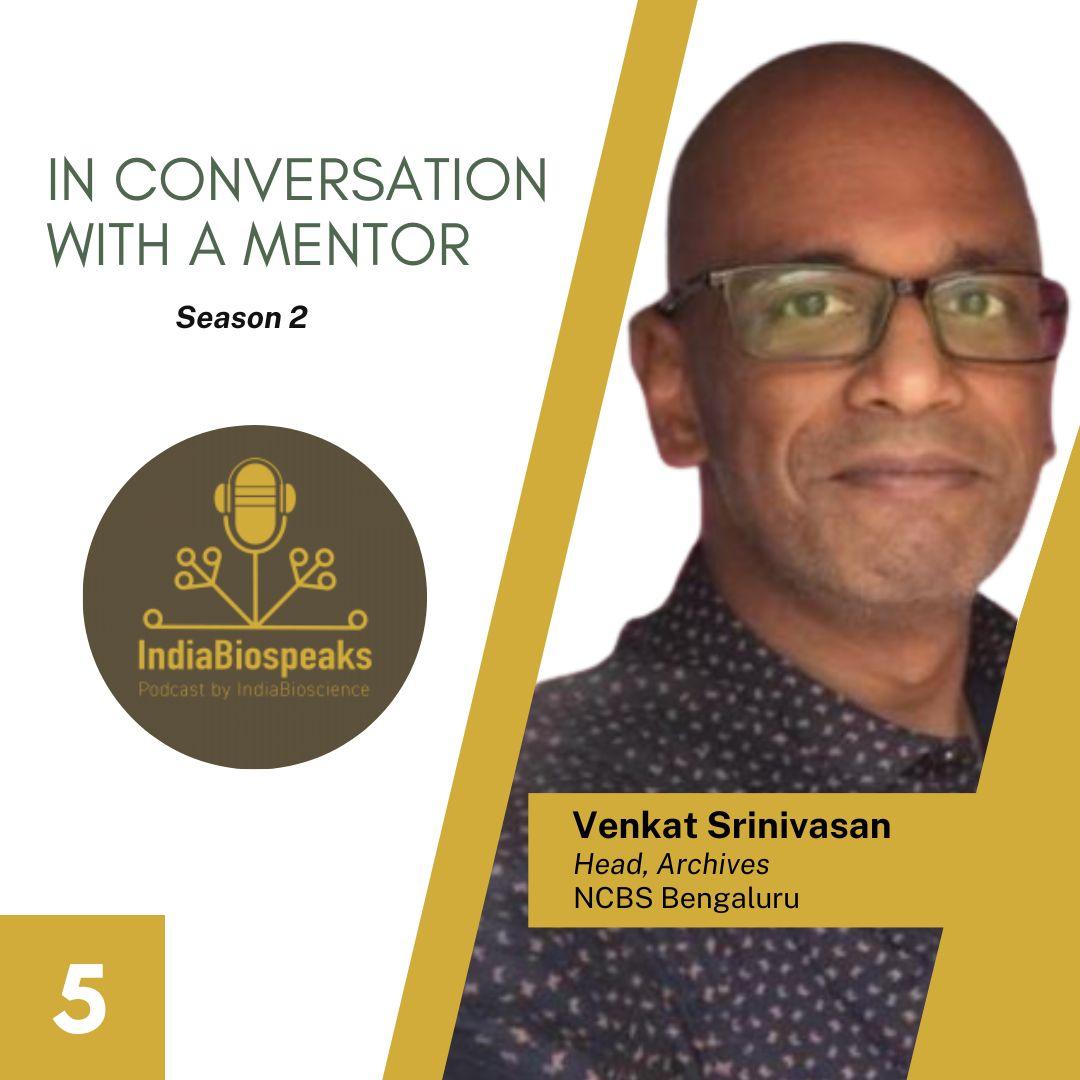 The guest of the fifth episode, season two of ​'In Conversation with a Mentor' was Venkat Srinivasan, who is an archivist at the Archives at the NCBS, Bengaluru. He also serves on the institutional review boards for the archives at the IIT-Madras, ISI-Kolkata, and the NID, Bengaluru.
Listen to his podcast here.
INDIABIOSTREAMS: WEBINARS BY INDIABIOSCIENCE
IN CONVERSATION with IGNITE
Suchibrata Borah
Along with Ignite Life Science Foundation and CACTUS Communications, we co-hosted the sixth conversation with a well-known American researcher, author, speaker, and consultant James J. Collins in the 'IN CONVERSATION with IGNITE' series on January 18th, 2023. The session was moderated by Shahid Jameel, Fellow OCIS, and Green Templeton College, Oxford.
Watch the recorded video on YouTube here.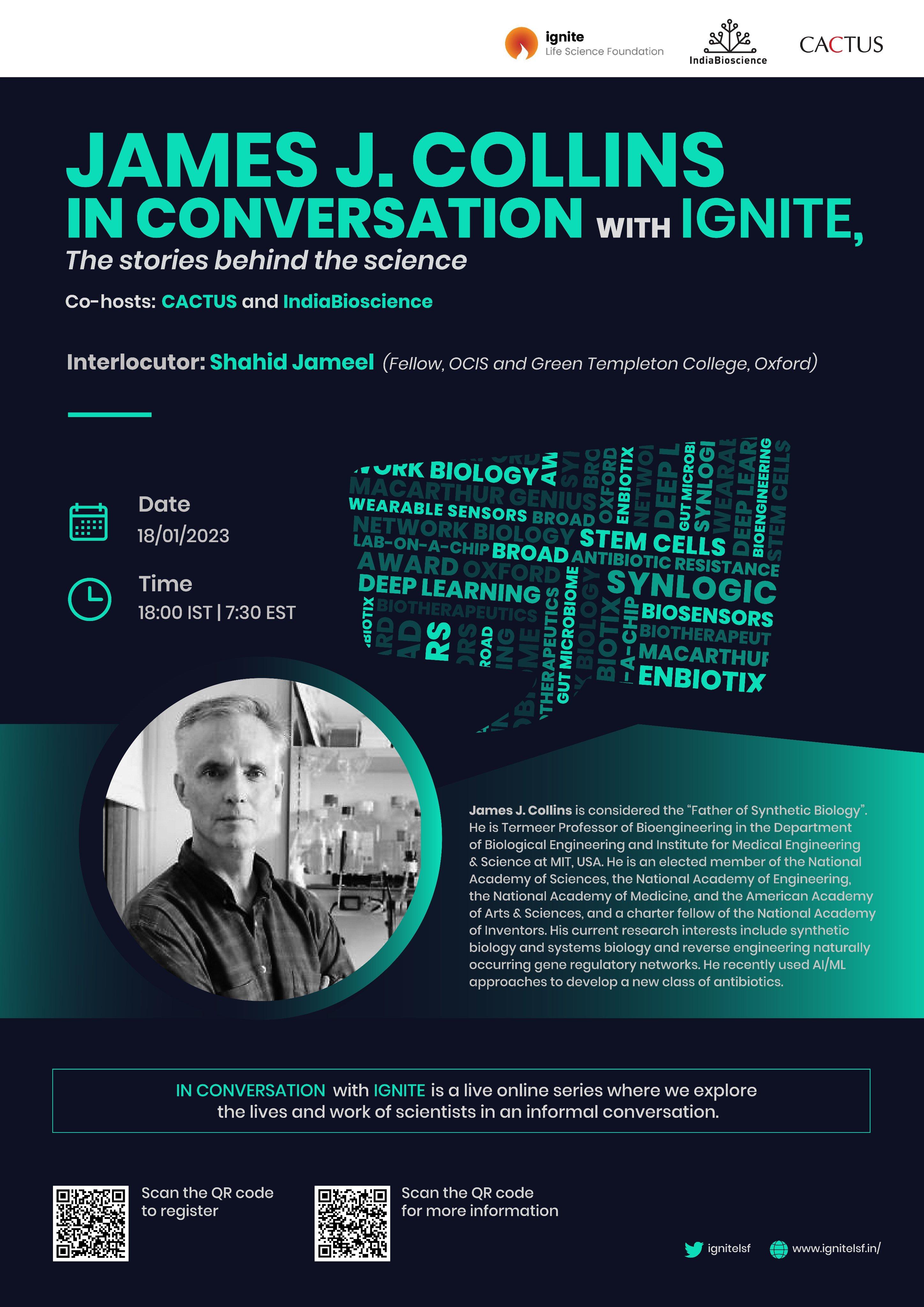 COMMUNITY BUILDING
Interactive Database of Life Science Researchers in India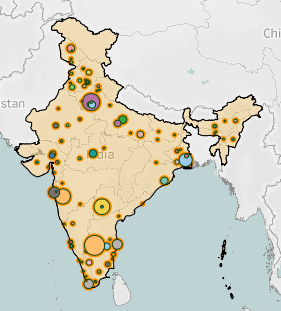 Our Life Scientists' database is growing! It currently has 700 plus life scientists, thanks to all the contributors who chose to be a part of this national database. If you wish to become a part of this interactive database and find potential collaborators from a specific part of India or area of research, use this form to sign up and add or update your information.

NEWS
Friendzymes wins gold at the iGEM 2021 Jamboree
Sana Jalili, Scott Pownall, Ahmed Hussain, Gargi Saraf & Harini Sudha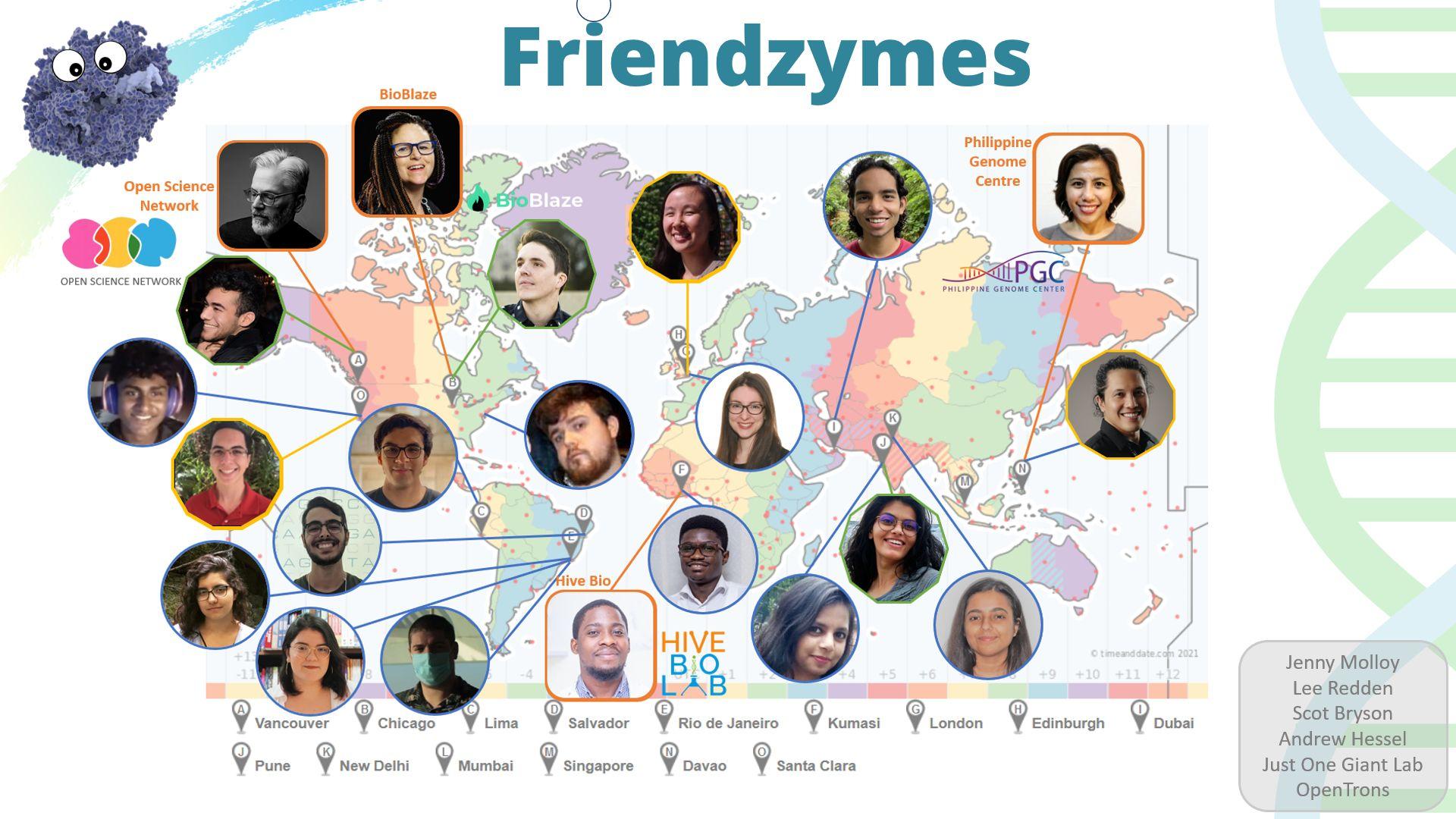 Friendzymes, an international team made up of students from different countries, won gold in the International Genetically Engineered Machine (iGEM) synthetic biology competition 2021. This article shares their winding journey to democratise enzyme production through frugal means.
Traversing the offbeat tracks: A Report on 5th National Post-Doc Symposium in India
Asha Mary Joseph, Rashmi Agrata & Shridhivya AR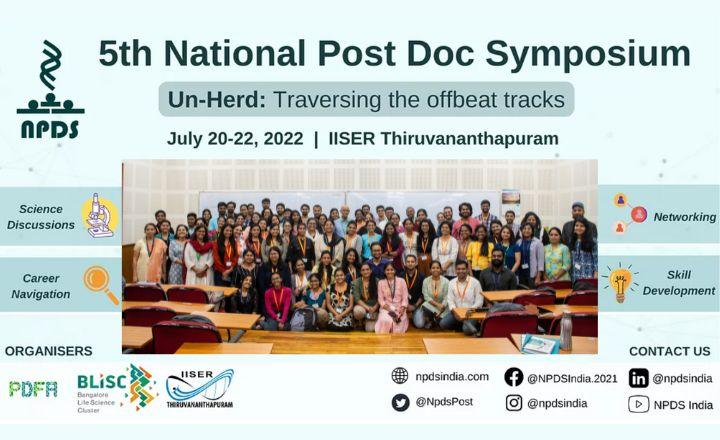 The 5th National Post-Doc Symposium (NPDS), a three-day event, was held from 20 – 22 July 2022 at the Indian Institute of Science Education and Research, Thiruvananthapuram (IISER-TVM). It was organised by the Post-Doctoral Fellows Association (PDFA) at the Bangalore Life Science Cluster (BLiSc) and members of IISER-TVM, in partnership with IndiaBioscience. This article discusses the highlights and recommendations emerging from the symposium.
COLUMNS
Navigating the early-career track as a faculty fellow in the Indian science ecosystem
Karishma Kaushik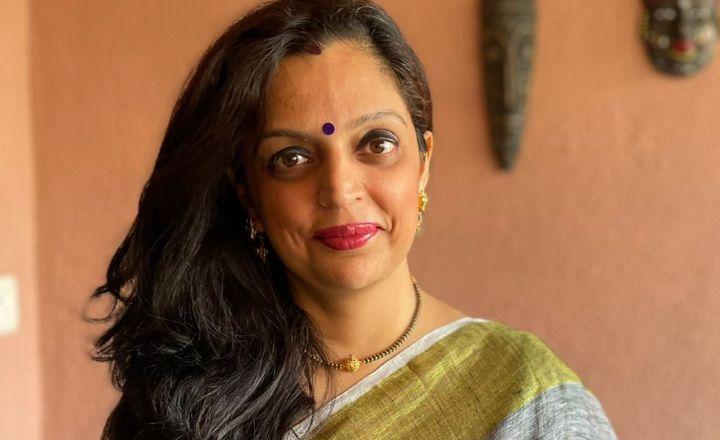 Karishma S Kaushik returned to India in 2018 as a Ramalingaswami fellow to start her independent research group at Savitribai Phule Pune University. Now, as a fifth-year faculty fellow in the Indian science ecosystem, in this article, she shares specific considerations to enable colleagues in navigating this professional opportunity.
UPCOMING EVENTS
HFSP symposia on opportunities for frontier research collaborations
Symposia on opportunities for frontier research collaborations by the Human Frontier Science Program (HFSP) is happening from February 10th to 15th 2023 at different locations in the country to provide detailed information on HFSP programs to the Indian research community. This will include talks by HFSP officials and grantees followed by Q&A session to address queries related to programs, applications etc. Find more details about the event here.

Developing Indian Physician Scientists 2023
The upcoming Developing Indian Physician Scientists (DIPS) Workshop 2023 will be held from February 17th to 19th at Jawaharlal Institute of Postgraduate Medical Education and Research (JIPMER), Puducherry. The DBT/​Wellcome Trust India Alliance has organised this workshop since 2017 with the aim of igniting scientific curiosity in young doctors while promoting an understanding of the frontiers of medicine and related sciences. More details here.

Hands On Training in Flow Cytometry
A hands-on training workshop in flow cytometry is being organised by University of Hyderabad from February 26th to March 4th 2023. The workshop will provide advanced training on cell sorting and FlowJo data analysis in addition to skill development on its applications. Register before February 14th, more details here.
Grants
IGNITE ACORN-AMR FAST Grants 2023
Ignite Life Science Foundation
Deadline 15 February
National Biotechnology Innovation Awards-2023
Department of Biotechnology
Deadline 28 February
JOBS
JRF/​Project Assistant
Ashoka University
Deadline 15 February
More Jobs