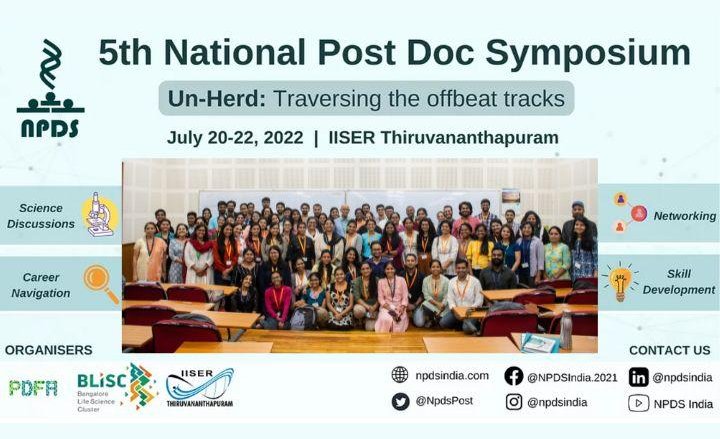 The National Post-Doc Symposium is an annual event organised by Post-Doctoral Fellows Association (PDFA) at the Bangalore Life Science Cluster (BLiSc) in collaboration with different host institutes across the country (IISER-Kolkata in 2021 — virtual, IISER-Pune in 2019 and CCMB-Hyderabad in 2018) to promote networking, collaboration and career interests of post-doctoral fellows and late-stage PhD students pursuing Life Sciences research in India.
This annual symposium reflects the challenges of early career researchers from India navigating diverse academic and non-academic career avenues. The vision of this annual event is to provide Indian postdoctoral scholars with the skillset and contacts they need to capitalise on the opportunities available in India by partnering with employers and policymakers. The conversations at this year's symposium were centred around the theme, ​'Un-Herd: Traversing the offbeat tracks'.

Proceedings of the 5th National Post-Doc Symposium
The symposium was inaugurated by JN Moorthy, Director, IISER- Thiruvananthapuram and the keynote address was delivered by K VijayRaghavan, former Principal Scientific Advisor (PSA) to the Government of India. He highlighted the roles and responsibilities of the Indian research community in the context of global challenges like climate change, pandemics and wars. The symposium was structured to provide insights into the ​'what, why and how' of diverse career paths. It encompassed 5 panel discussions, 18 talks, 5 workshops, and many facilitated networking sessions and was led by 35 resource persons representing diverse career paths.
What: Unravelling diverse careers, challenges and opportunities
Early career researchers were exposed to a range of career options through panel discussions and talks by experts in diverse fields. The panel discussion on science communication was led by Poonam Thakur (IISER-TVM), Sandhya Shekar (Mongabay India), Cheryl Travaso (communications professional) and Prasenjet Yadav (science photographer) who shared their personal journeys and highlighted the scope and diversity within the science communication field.
A panel discussion on academic transitions, opportunities and challenges was led by Chandrabhas Narayana (RGCB), Sandhya Ganesan (IISER-TVM), Nishad Matange (IISER-Pune) and Aditya Parekh (Anant University). Following this, there were talks by Santosh Podder (IISER-Pune) and Madhankumar Anandhakrishnan (IISc, Bengaluru) who shared the significance of technical support system in academia and the challenges of building a career in research management.
A panel discussion on industry and entrepreneurship included Rajarshi Pal (Eyestem Research), Bindu Nishal (IKP Knowledge Park), Sriram Parameswaran (Thermo Fisher Scientific), Neelanjana Janardan (Centre for Cellular and Molecular Platforms) and Prajwal Bhat (Entrepreneur First). They shared valuable information about emerging career prospects and ideas for smooth career transitions. Moreover, two talks were given by Lipika Sahoo (Lifeintelect Consultancy) and H S Sudhira (Gubbi Labs) on scientific intellectual property and empowering societies with science, respectively.
Why: Understanding values, significance and scope
Besides the keynote address inspiring researchers to build a futuristic perspective towards sustainability, the symposium also discussed and debated the core values, scope and significance of different career paths. Panellists for a discussion on the art of mentorship and attributes of effective mentors included Smita Jain (Cactus Communications), Hema Somanathan (IISER-TVM), SC Lakhotia (BHU) and MK Mathew (NCBS). A special lecture by SC Lakhotia enlightened participants on good ethical practices in research, followed by a brainstorming session on ​'shaping policies — with science, for science' by Chagun Basha (Office of the Principal Scientific Advisor, Government of India).
How: Enabling growth with skills beyond the bench
Tools, skills and a growth mindset required to succeed in diverse careers were delivered through workshops, talks and discussions. The talks on research funding (Samrat S Kumar, EURAXESS), enlisted grants and fellowships (Gerlind Wallon, EMBO), tools to empower researchers (Dina Mukherjee, Cactus Communication), and ways to make science work for India (Swami Subramaniam, Ignite Life Science Foundation) were extremely informative and valuable to participants.
The symposium also included workshops on skill development (Shantala Hari Dass and Suchibrata Borah, IndiaBioscience), grant writing (Divya Singh, India Alliance), professional development (Shivanee Shah, Cactus Communications), storytelling (Karishma Kaushik, SPPU), and scientific illustrations (Rafeeque Mavoor, Scidart Academy), which were appreciated by all participants.

Introducing new ways to initiate healthy discussions
As part of lunch and dinner networking sessions, participants interacted with resource persons of their choice, an activity that led to extensive networking and knowledge transfer between participants. A series of lightning talks or science slams were organised this year to facilitate participation where presenters experimented with their science communication skills to showcase their research.
An informal session on ​'Celebration of Errors' allowed participants to share failures in their personal journeys. Designed to facilitate experiential learning and ensure that a psychologically safe workspace is cultivated, this session received overwhelming responses from participants.
Finally, a panel discussion on ​'Importance of Mental Well-being' was moderated by Neha Panwar (NCBS) and led by Karishma Kaushik (SPPU), Nishad Matange (IISER-Pune), and Arathy K Nair (Consultant Psychologist). This session enabled participants to share challenges and experiences, encourage them to seek help when necessary, and emphasise the importance of a positive and resilient outlook.

Participation and feedback
The symposium was attended by a total of 70 participants (60% senior PhD students, 25% postdocs and 15% career break PhD graduates) with a fairly balanced gender representation (60% women and 40% men) from across 11 Indian states working under diverse biological themes. About 95% of attendees rated the event 9⁄10 or above in their feedback. Networking and informal interactive sessions were most appreciated, followed by workshops, panel discussions and lightning talks.
Most participants found out about the event through social media platforms and emails circulated to their parent institutes. Also, social media platforms were created to facilitate networking and communication between participants post-symposium. Major feedback received was to address additional career themes and extend the symposium's duration for further discussions.

Takeaways for participants
Aside from benchwork, participants were encouraged to reflect on additional skills acquired during research training for diverse career prospects.
PhD holders and post-doctoral fellows were empowered to make informed career decisions based on their strengths and interests.
Participants were inspired to work towards the holistic development of India's STI ecosystem through their future roles.

Recommendations and the way forward
Based on feedback from participants, and valuable inputs from resource people and organisers, the following recommendations were put forward:
The symposium must be held annually at different research institutes across India.
Early career researchers would be provided with exposure and opportunities by facilitating frequent engagement between research institutes and STI sector organisations.
In addition to the annual symposium, we plan to conduct short seminars and workshops to enable the professional development of early career researchers.
We encourage registering for a National Postdoctoral Fellow Association and setting up an advisory board comprising mentors for guiding future events.

Funding and support
The organisers acknowledge the generous funding from IndiaBioscience, IndiaAlliance, Cactus Communications, Ignite Life Science Foundation, SPARC, Bugworks and BLiSc (TIGS, C‑CAMP, NCBS and inStem). The organising team is grateful for the enormous support and hospitality extended by the host institute, IISER-TVM, and the encouragement from the administrative heads of IISER and BLiSc in making this event successful. Special thanks to mentors- Anjana Badrinarayan, Hema Somanathan, Praveen Vemula, Smita Jain, and Shantala Hari Dass for giving the organisers guidance and suggestions to implement our vision. Last but not the least, the symposium was made a reality by motivated postdocs, PhD students and several faculty members.

Note on Authors
The authors have been listed in alphabetical order (first name). All authors contributed equally in writing the symposium report.