Friendzymes, an international team made up of students from different countries, won gold in the International Genetically Engineered Machine (iGEM) synthetic biology competition 2021. This article shares their winding journey to democratise enzyme production through frugal means.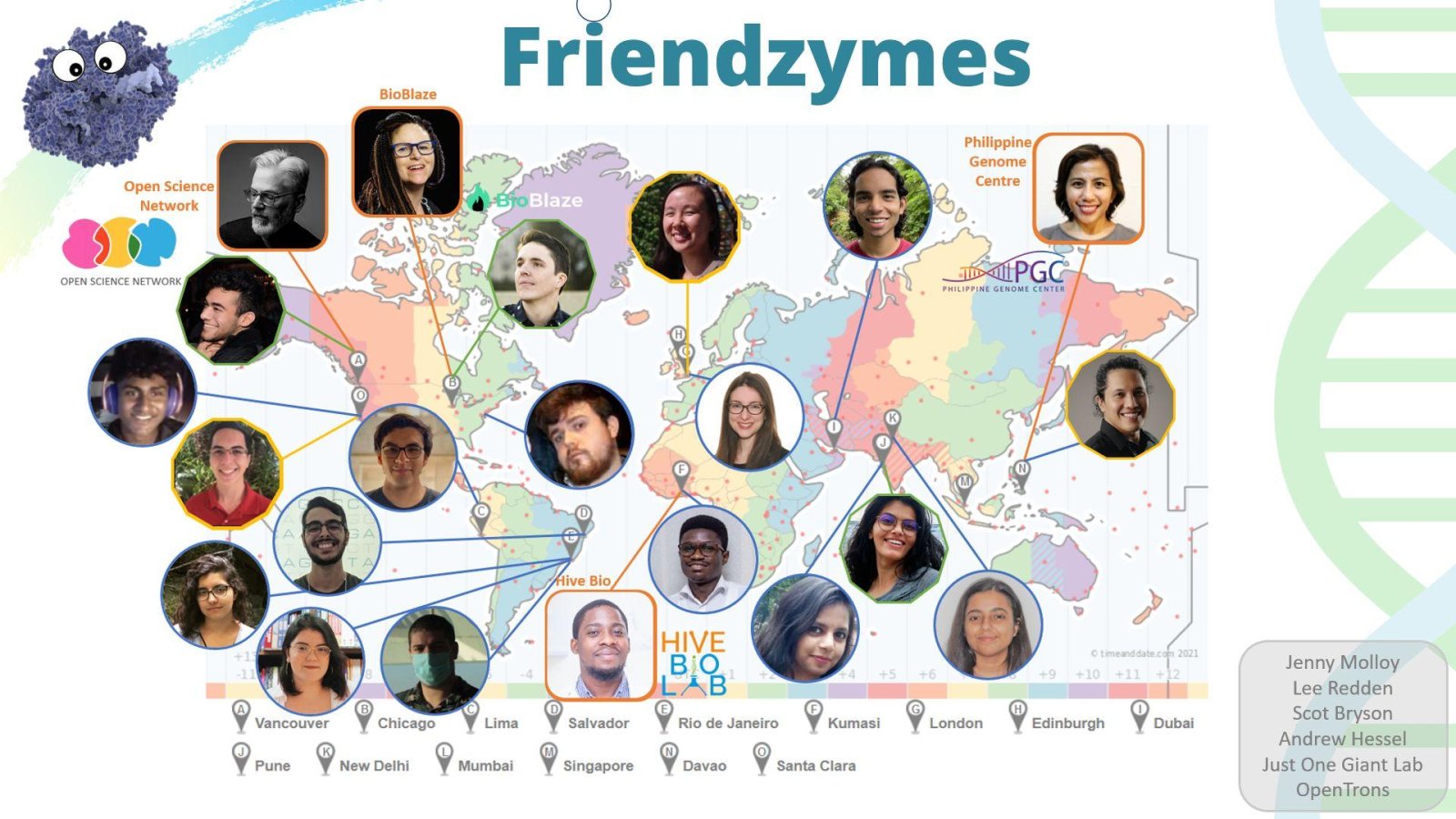 Life takes you places you never expect. Growing up, I was passionate about biology, and this led me to join a gold medal-winning global team in the International Genetically Engineered Machine (iGEM) synthetic biology competition in 2021.
The iGEM Foundation, an international non-profit based in Paris, organises this annual competition to advance synthetic biology education and encourage collaboration through an open community. Since its beginning nearly 20 years ago, the competition has challenged university, high school, and community lab teams to design biology projects that are safe, reproducible and have a realistic approach to solving local scientific problems.
Here is the story of our winding journey to iGEM 2021 gold.

Frugal Science course: a start
In 2020, I took an online course called Frugal Science, taught by Manu Prakash at Stanford University. The course taught us that science doesn't need expensive equipment. Here, we created a team called Friendzymes, made up of students from different countries. We focused on developing frugal approaches to synthesise enzymes for biotechnology applications using cheap ingredients.
Due to the COVID-19 lockdown, we couldn't use traditional wet laboratories so we came up with a way to make enzymes at home as suggested by our team leader Isaac L. We also found a way to make inexpensive equipment for protein extraction using plastic tubes with lids filled with silica (as a replacement to sophisticated chromatography columns!), which we presented as a prototype in the Frugal Biocourse. Our focus was specifically on a protein called Phusion polymerase, which is used in a process called Polymerase Chain Reaction to amplify DNA.
We also created a virtual platform called Friendzymes Notion to gather protocols for protein production. Our goal was to have a ​'DIY Protein Production Lab' that could synthesise and distribute enzymes for free to science enthusiasts and researchers around the world, similar to FreeGenes which locally distributes genetic circuits and DNA sequences at no cost.

Funding to register in iGEM 2021
After the Frugal BioCourse ended, we wanted to make our prototype a reality. We found a competition called iGEM competition 2021 that focuses on synthetic biology projects around the world. We needed funding to register but were initially unable to get it.
Around this time, JOGL (Just One Giant Lab), a community-driven non-profit organisation, announced grants for sponsoring teams (and communities) affected by the pandemic wave called OpenCovid19 Initiative. We were fortunate to receive $200 as grant money to kickstart our project funding.
To raise more funds, we also created a GofundMe page but it didn't bring in much money.
Fortunately, we found additional sponsors who were willing to support us through team members' connections. The sponsors were Jenny Molloy (Shuttleworth Fellow, Open Bioeconomy Lab, Cambridge UK), Lee Redden (Co-Founder and CTO, Blue River Technology), Scot Bryson (Founder, Orbital Farm), and Andrew Hessel (author and co-executive director, Genome Project-Write). These sponsors helped us pay the $6000 registration fee for the competition! Our team was officially named ​

'

Open Sci Global' in 2021.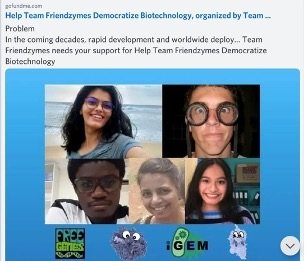 However, we were still lacking the iGEM Jamboree fee of $2,500. This expense is required for presenting our team's model in the iGEM competition. Fortunately, we were able to get one of the iGEM Open grants called as Team Impact Grant for USD $2,500 provided by the Frederick Gardner Cottrell Foundation. This covered the expense for iGEM Jamboree.
Additionally, every registered team was provided with a budget for 30,000 base pairs of DNA synthesis genes, sponsored by iGEM partners Integrated DNA Technologies Inc. and Twist Biosciences Inc. as a gift!
We took Kahlil Coroza's Project Management Classes which helped us to work in a systematic manner across different time zones.

The wet-lab experiments
After successfully completing our funding and project management classes, we moved on to the practical laboratory work of our team. Our team was in the Foundational Advances track of iGEM, which focused on novel DNA synthesis. We re-modified our project objectives to focus on two model organisms, Bacillus subtilis and Pichia pastoris. To overcome the challenge of expensive tools for protein production, we used frugal approaches.
Our proposed implementation roadmap was designed for the extraction of frugal enzymes. To conduct our wet-lab experiments, we used four different laboratories:

As outlined in our roadmap,
we aimed to grow specific organisms in our labs. It was primarily led by Scott and Ahmed conducted the experiments (Part I to Part V) in Canada.
Additionally, protein production required a bioreactor in the lab-scale downstream fermentation process. To address this, our team member Diego built a frugal DIY bioreactor with temperature-sensitive controls (find more about it on our hardware page) that cost only $82.11.
We also tested another frugal bioreactor (version 2). It was based on David Ischee's model, and built by Sarah Ware (our secondary PI) at the BioBlaze Lab.
We also made a frugal chromatography column consisting of a glass pipette, glass, sand and a towel sheet. This work was done at BioBlaze Chicago wet lab and helped us to extract pigments such as carotene and chlorophyll.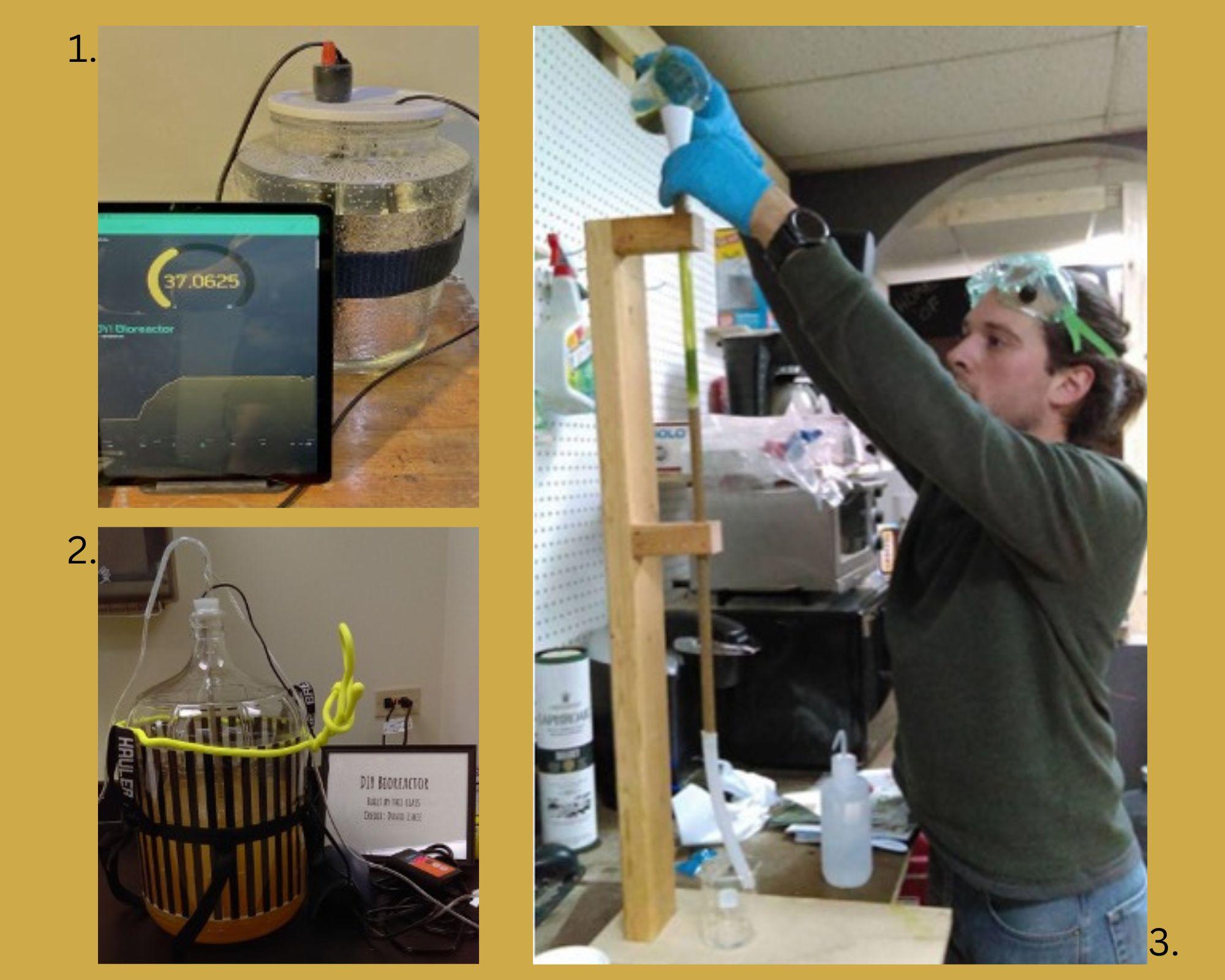 Overall, this advanced our hardware and allowed us to accomplish our proof of concept as per iGEM's medal criteria!

Beyond lab bench
Since I had no lab access during the lockdown in India, I managed our collaboration objectives by connecting virtually with our team members around the world (an essential silver medal criterion).
Our collaboration included a SynTrack Podcast with IISER-Tirupathi and eight teams including MIT MAHE Manipal BioMachines, team UPenn and team Aachen to name a few. While collaborating, I was more focused on the teams using Bacillus subtilis as model organisms. Eventually, this would help our transformant colonies to extract frugal proteins through it!
Another team member Gargi, our Sci-Com expert mentioned that iGEM provided her with a platform to improve her graphic design skills and enhance her social media skills.
Also, Harini, the team leader from India, was involved in managing the overall documentation of the project's model, handling the wiki data, and overseeing the entrepreneurship model for the team.
Ahmed played a vital role in the success of the project as the student team leader. His involvement in laboratory experiments, project management, networking and submitting the project promotion video was instrumental in meeting the requirements for the iGEM competition.
Overall, it was the collective effort of the entire team which made us reach Gold.
We enjoyed this Friendzymes journey as much as the amazing people we met along the way. We are proud of our accomplishments and are always looking for willing contributors to help democratise enzyme production through frugal means!