A recent study led by Anindita Bhadra at the Indian Institute of Science Education and Research, Kolkata, has analysed the foraging behaviour of stray dogs scavenging in groups in West Bengal. The findings have implications for understanding dog behaviour in stressful environments and potential conflicts between dogs and humans or among dogs in group settings.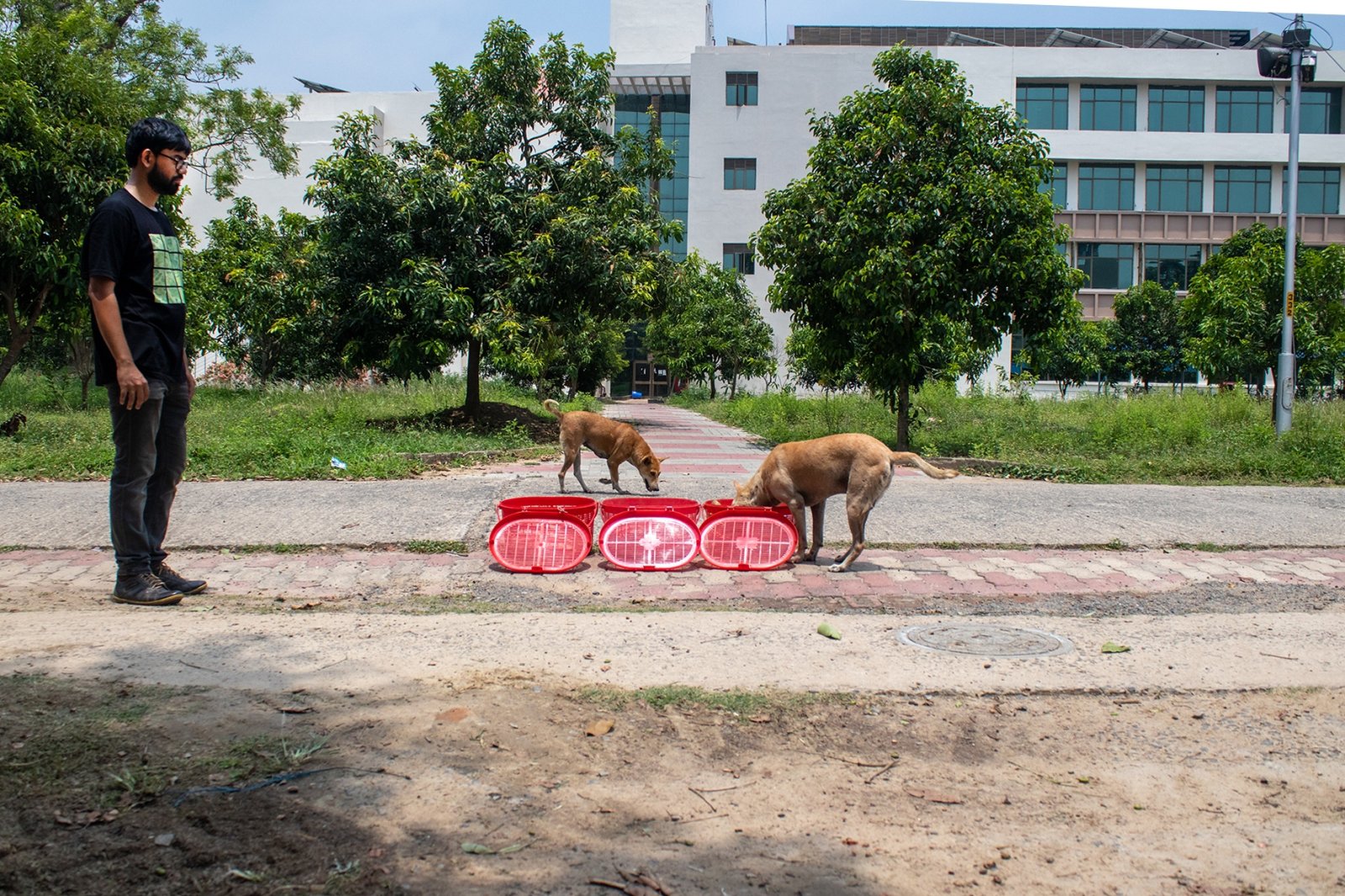 With a long-term goal of understanding the survival of large mammals in hazardous environments, the stray dogs living at the site of the 1986 nuclear disaster at Chernobyl, Russia have recently been studied. Messy Indian streets are home to millions of stray dogs. Relying upon human-generated waste, how are they surviving in a human-dominated stressful environment? It is also worth studying with varied implications.
A recent study led by Anindita Bhadra, Associate Professor at the Indian Institute of Science Education and Research, Kolkata reported the foraging behaviour of stray dogs scavenging in groups.
Simulating dustbins, the researchers exposed the dogs at a time to three boxes that contained dry waste along with edible items, which were either meat (protein box), bread (carbohydrate box) or bread and meat (mixed box), and recorded the foraging process. Thus they statistically analysed the scavenging behaviour of 136 groups of dogs compared to 68 solitary dogs residing in 22 urban or semi-urban neighbourhoods in West Bengal.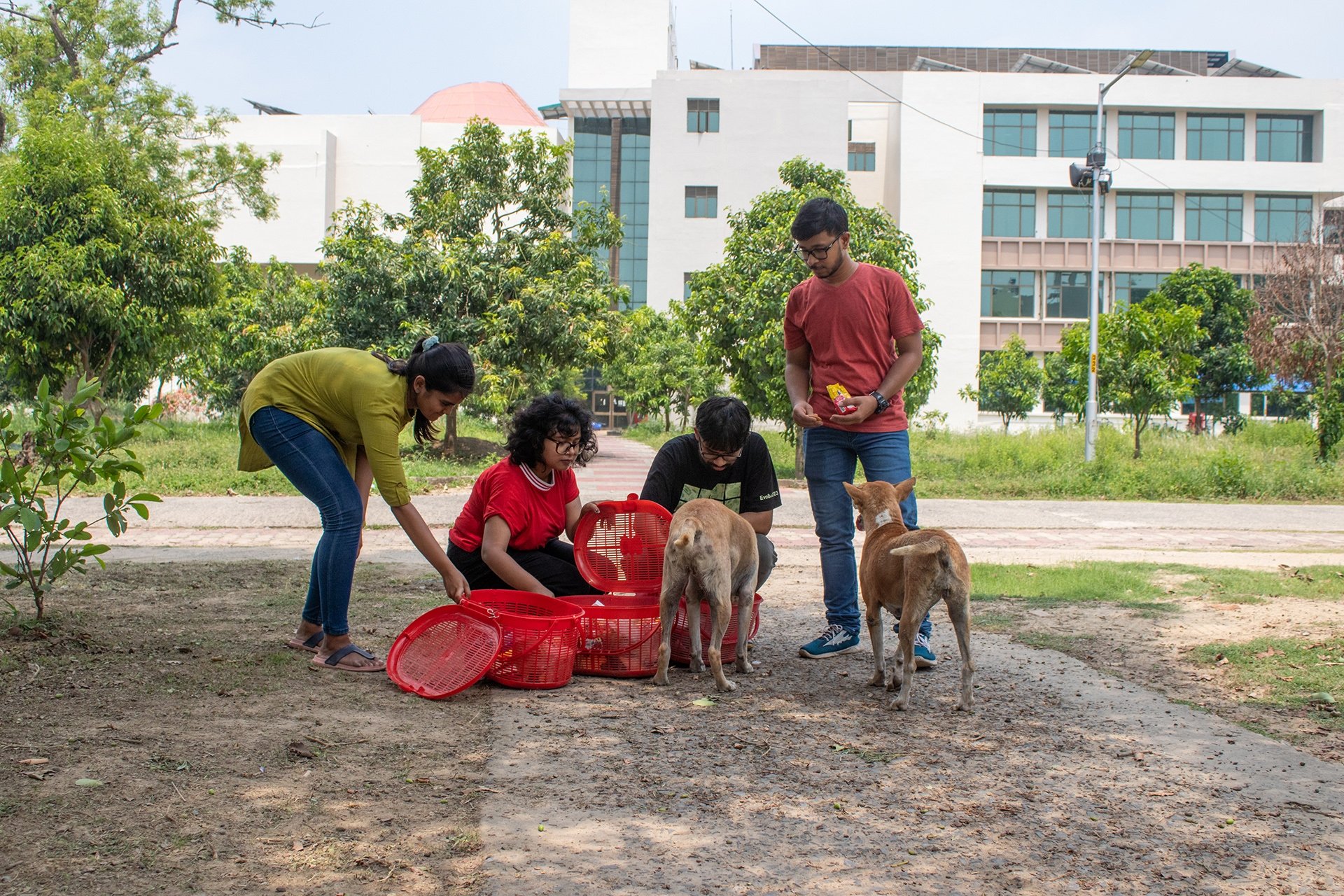 Rohan Sarkar, the first author of the study says, ​"Starting with the first dog from a group sniffing one of the boxes, we chose a one-minute window in which we broke the dog's behaviour visible in our videos into major steps predicted by the optimal foraging theory of animals like sampling, handling, foraging, and risk management".
They discovered that dogs in groups were less vigilant, quick to respond, and also to eat first and search afterwards if they encountered the protein box or at least the mixed box first. Notably, solitary dogs finished their sampling first and the protein box was their first preference. However, in both scenarios, the dogs were ready to compromise if necessary. Bhadra explains ​"Whatever you get, you maximise it, is the optimal foraging strategy of these dogs as they don't always get their chosen food."
What are the challenges of studying stray dogs in the streets, which is neither like studying wildlife nor experimenting under controlled laboratory conditions? Bhadra says, ​"Besides the unpleasant climate, one of the biggest difficulties we face is the people. Thus some would come and say that we can't give food to dogs, then they will look for more food, while some others are overenthusiastic and unhelpful again." Sarkar adds, ​"Thus we have done experiments on close to 200 groups of dogs but could keep data from 136 groups only".
Bhadra further noted that ​"The (feeding) experiments done on stray dogs, which are not wildlife, are completely ethical under the animal rights act of India. But international journal authorities don't understand that and ethical committees here don't understand what exactly we need clearance for!"
Dog-human conflict is rising In India. Abi Tamim Vanak, Senior Fellow (Professor), Ashoka Trust for Research in Ecology and the Environment, Bangalore studies behavioural and disease ecology of stray dogs besides other animals. He comments that ​"What this study does show is that dogs behave differently in groups when it comes to handling foods. This has potential implications for understanding whether they are more likely to initiate an ​"attack" when they are in groups vs. when solitary. Do dogs in group bite first and ask questions later? — i.e. eat first, sample later?"
Bhadra says, ​"We have shown earlier that dogs perceive threats from humans more when they are solitary and tend to be bolder when in groups. Dogs in groups are likely to be more aggressive toward each other if they are competing for food. We are indeed looking into this as a follow-up study."
They are also planning to understand how these dogs interact with people for instance by begging, in response to petting or different human gestures, and also their potential competitors. ​"These interactions are other important aspects that shape their foraging behaviour", Bhadra notes.