Science festivals can be great platforms to motivate people to science. This January, the Foundation for Advancing Science and Technology (FAST India), a non-profit private entity, conducted a virtual mode, two-week-long science festival called India Science Festival 2022. The free-for-all annual event received a whopping global response. More than 50 carefully crafted events fascinated the all-age-group participants and inspired them to engage in science. Here are excerpts from the mega event.
CONTINUUM – where have we come from, where are we going? was the theme of the third edition of the India Science Festival 2022 (ISF 2022), organised by FAST India and held from 8 – 23 January 2022. The online free-for-all event was designed to take the participants through the past, present and future of science and technology; to discover its vital and intriguing intersections with culture, history, politics and society through talks, panel discussions, and fireside chats, games, contests, workshops and demonstrations.
The annual event drew an overwhelming global response from more than 15000 registrants. For many, it was a first-time experience of a science festival. During the two weeks, the participants had the opportunity to interact with over 80 eminent international speakers from various fields and expertise. ​"This made for interesting events and different perspectives, many of which I would not have been exposed to otherwise," said an attendee.
Here are highlights of a few popular events from the 50 diverse events organised at the festival.
The kids' corner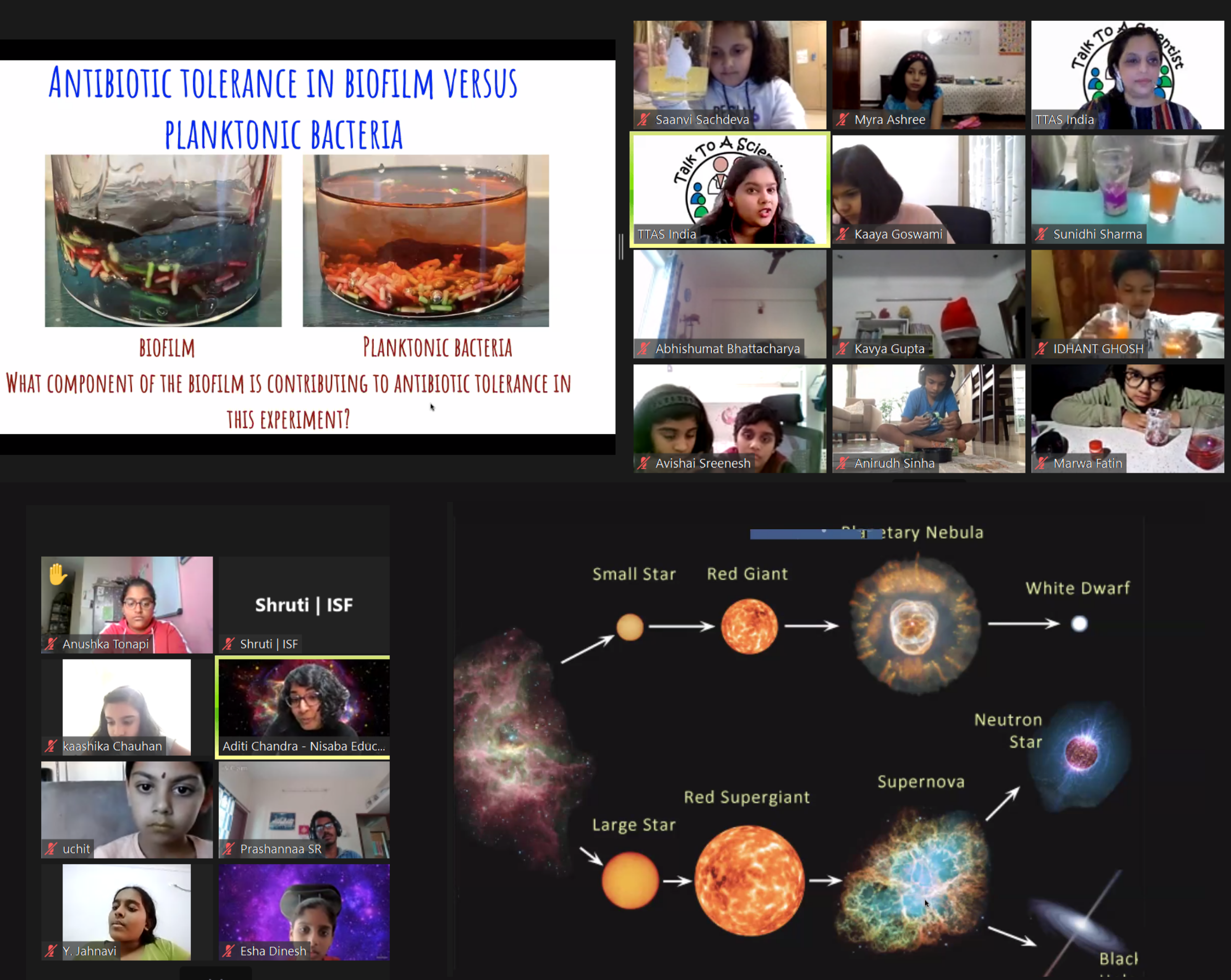 Science festivals provide a unique opportunity for children to interact with scientists and get hands-on experience. Despite the limitations of a virtual medium, the ISF 2022 organised a plethora of imaginative and interactive sessions, creative workshops and popular science talks to whet the curious young minds.
The children had a field day decoding the mysteries of the human brain with Piyali Bhattacharya (Presidency University). They traced the birth and evolution of supernovas and stars with Aditi Chandra (Nisaba Education). While deciphering the good, bad, and ugly aspects of microbes with Karishma Kaushik and Snehal Kadam (of Talk To A Scientist) captivated their attention, a fun online puzzle hunt organised by STEM games experts Luma World tickled the young brains and left them wanting more.
The psychology behind magic
When an event starts with a person on the screen making a coin disappear, you know there's magic unfolding ahead. Renowned psychologist and magician Richard Wiseman (University of Hertfordshire, UK) spoke about his research on understanding the psychology behind magic and performed magic tricks as he explained the science of visual illusions and their relevance in our daily life.
Robots at ISF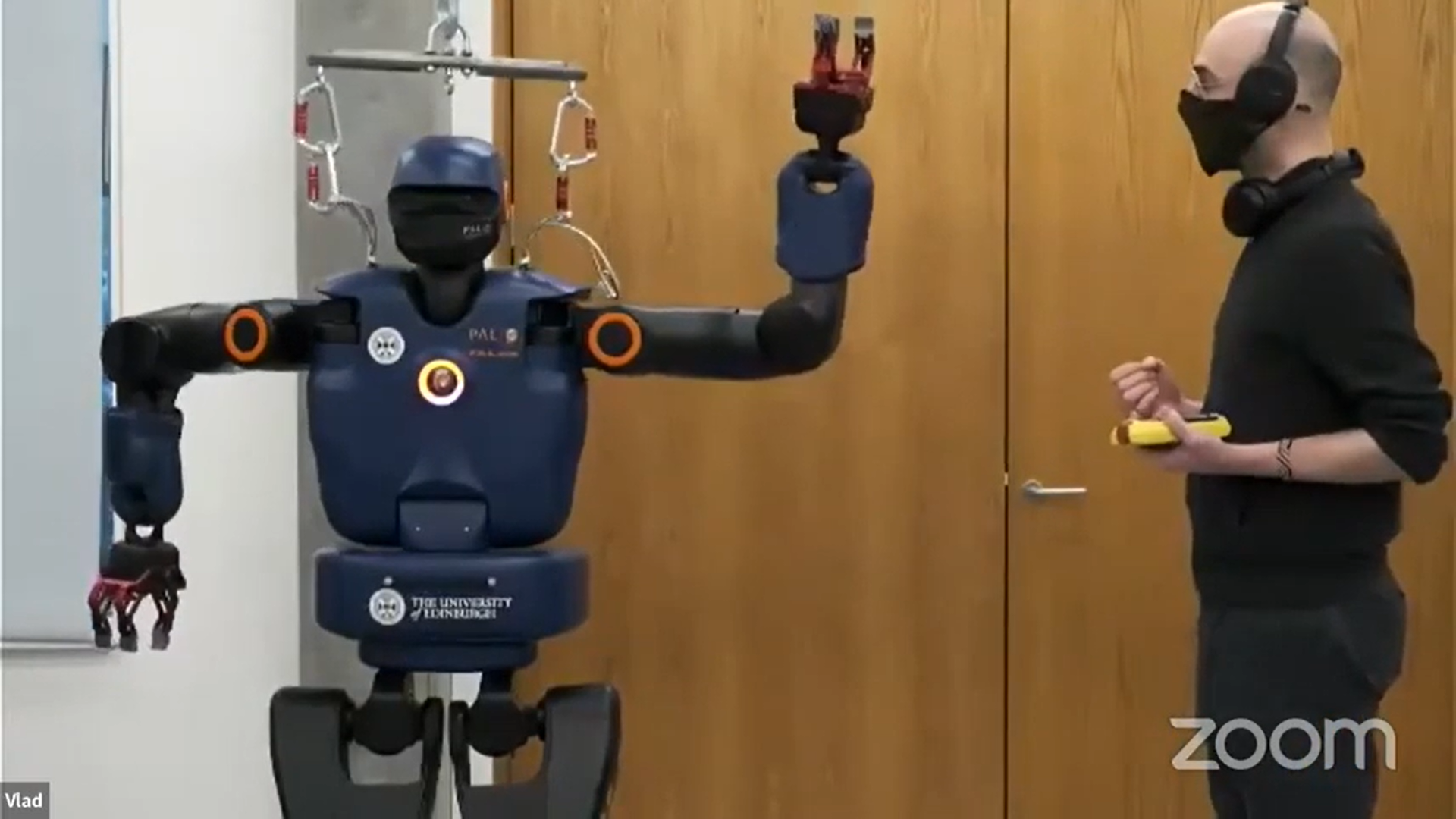 Haven't we all wondered if robots will take over our planet? Sethu Vijayakumar (University of Edinburgh, UK) put our worries to rest as he unravelled the current applications and the future of automated robots in various industries. What's more, the audience got to see a humanoid robot, a dual-arm unit, and a quadruped robot in action!
Spurring imagination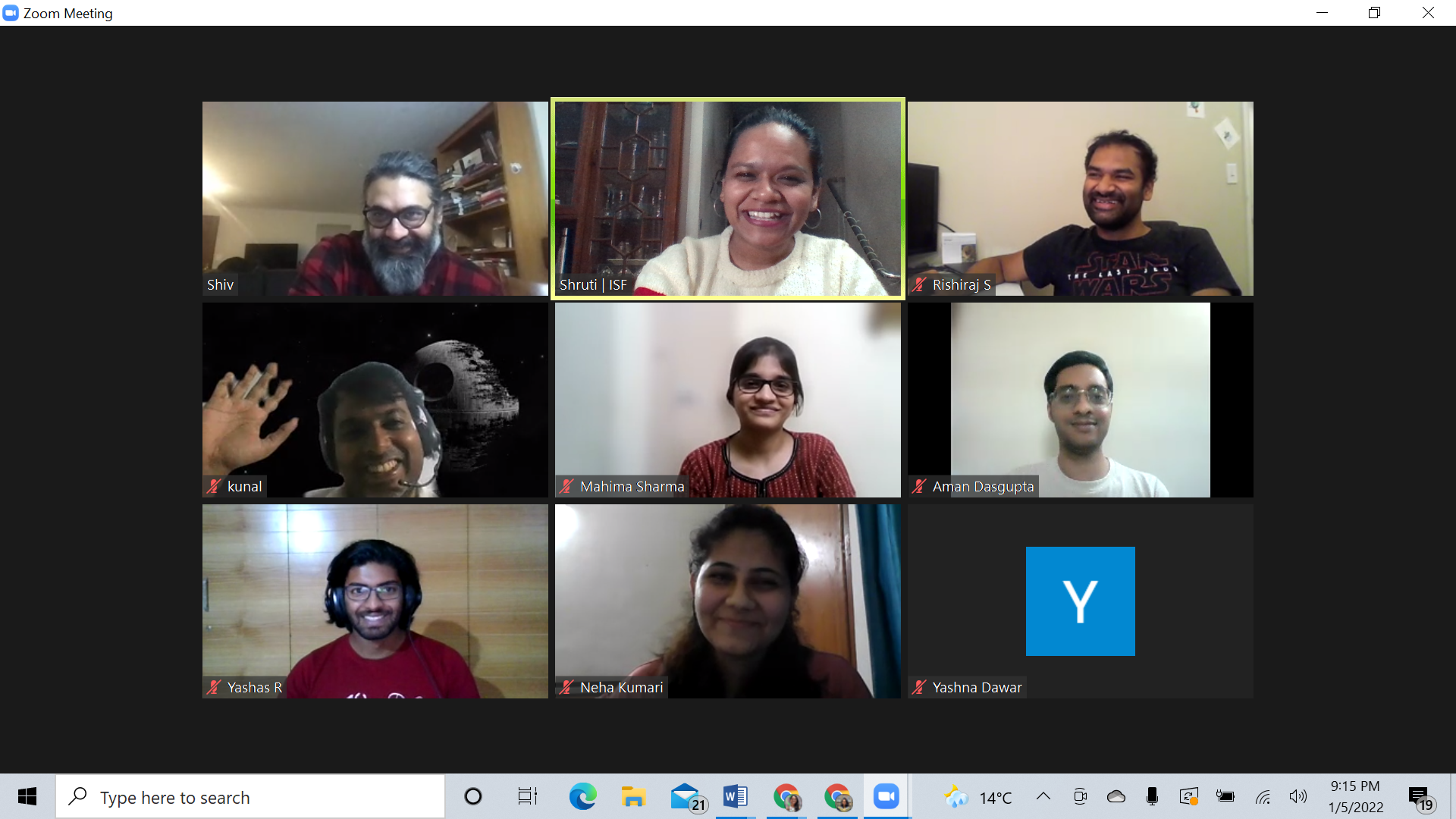 Isaac Asimov, a noted sci-fi novelist once said, ​"Science fiction stories are extraordinary voyages into any of the infinite supply of conceivable futures."

As if on a cue, Spin Your Science, a science fiction writing competition, saw entries pour in from aspiring sci-fi writers from India, Bhutan, Sri Lanka, Indonesia, USA, and UK. Celebrated science fiction writers Shweta Taneja, Max Gladstone, Shiv Ramdas, and filmmaker Arati Kadav evaluated the entries and gave feedback to the finalists to help them hone their writing skills. ​"On reading these wonderful entries and after interacting with the finalists in the sci-fi writing workshop, it's safe to say that the future of science fiction writing is in capable hands!" quipped Ramdas.
The festival also featured a curtain-raiser event with Ramdas and Kadav, which covered the key elements and process of science fiction writing and its representation in Indian literature and cinema.
Surely, you're joking?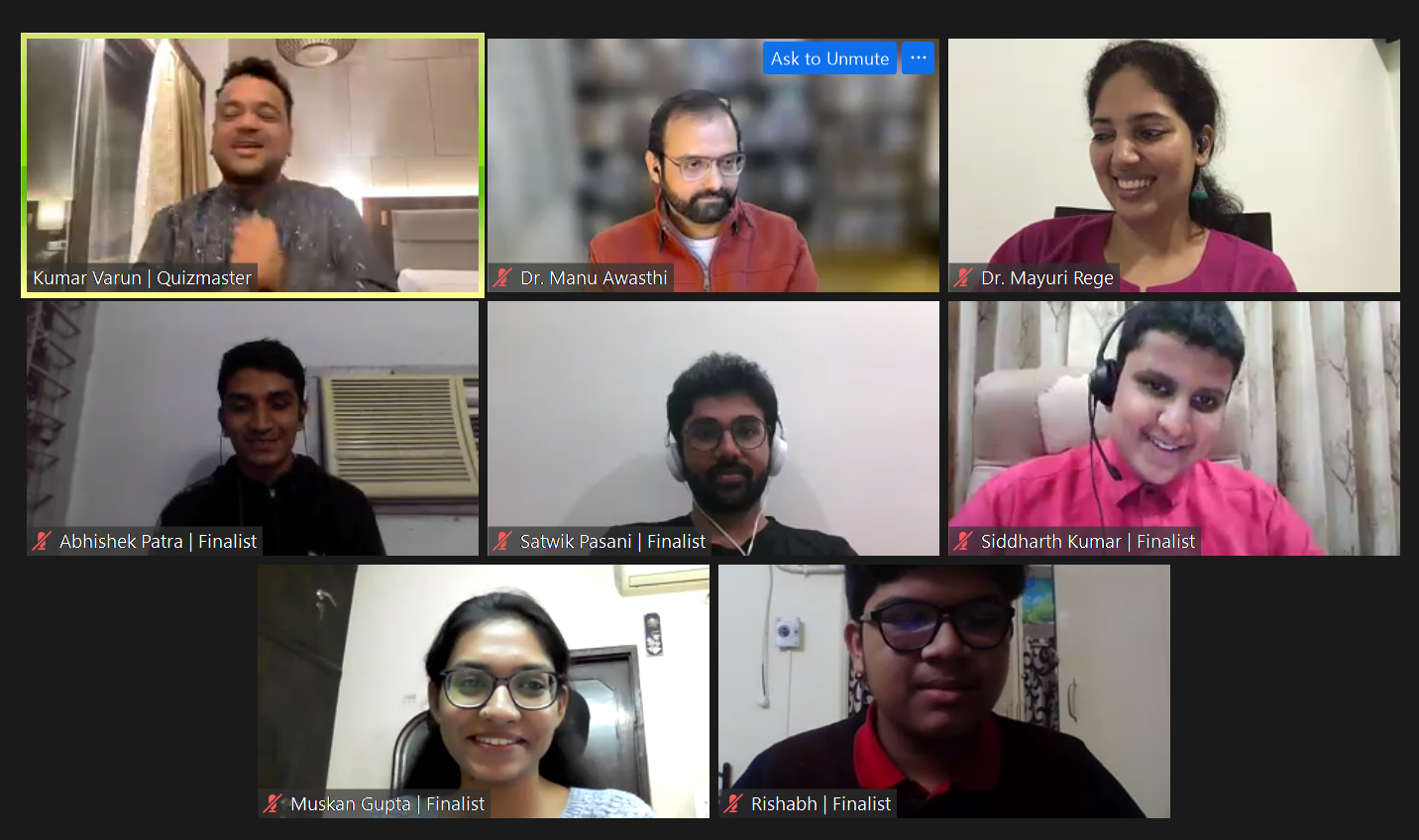 Who said science is serious and boring? ISF 2022's Inquizitive India brought together the rare combination of quizzing and comedy. Author and comedian Kumar Varun hosted a fun science quiz that had the audience in splits. Each round was more exciting than the other. The audience was on the edge of their seats as computer scientist Manu Awasthi and microbiologist Mayuri Rege cheered the finalists and provided crucial clues at difficult moments.
Where there is comedy, improv (improvisation) and memes are not far behind. Mohit Kumar Jolly's (Indian Institute of Science, Bengaluru) Science Improv workshop discussed how improv could help scientists communicate science effectively.
Book talks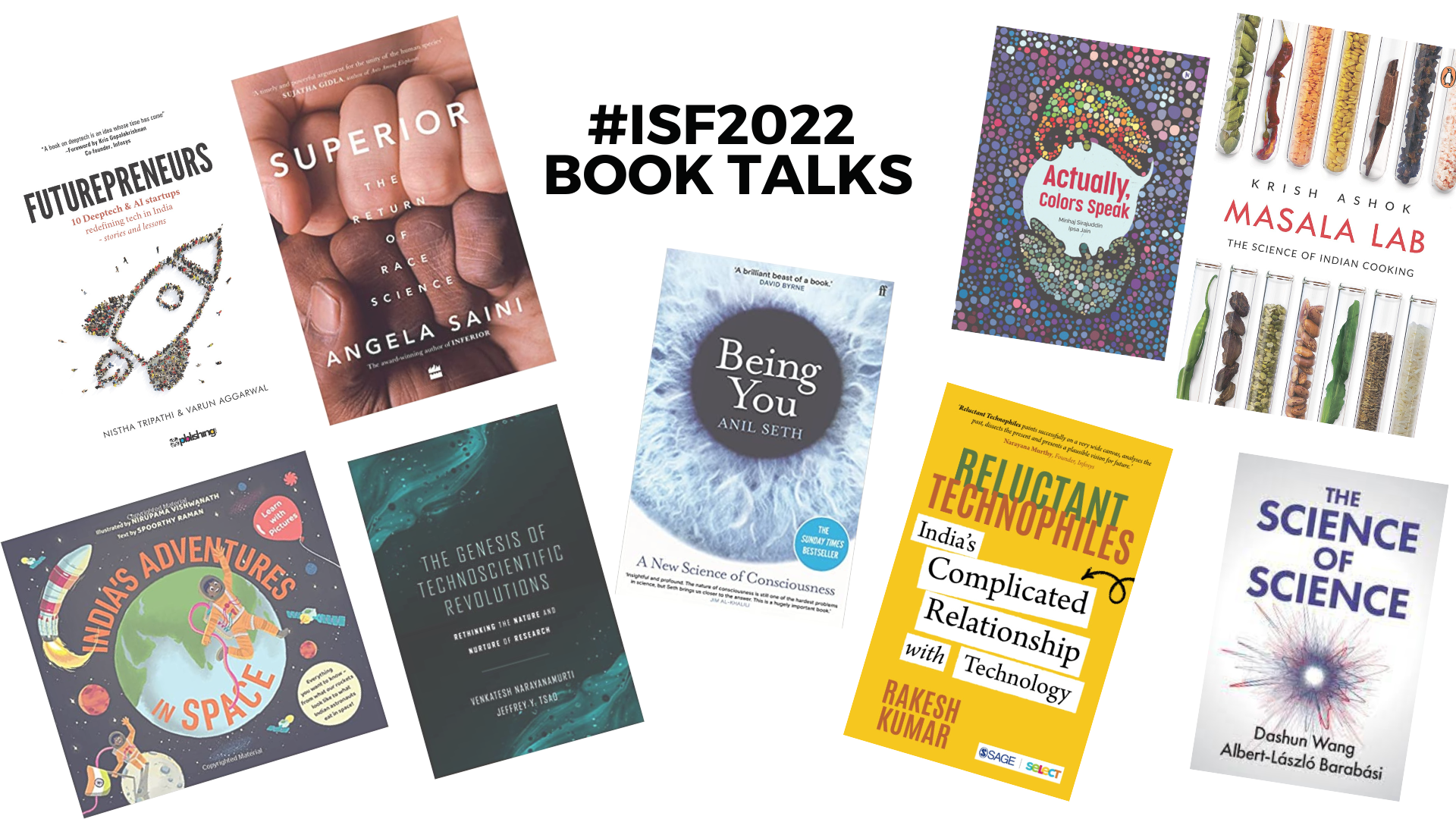 Popular science books help bring science out of academic journals into engaging stories. ISF 2022 featured an eclectic mix of talks on recently published science books. The topics covered deep tech, space science, human consciousness, the science of Indian cooking, the history of scientific racism and even the science of science.

The audience was drawn to the authors' talks as they shared their experiences of the genesis of the ideas that shaped their book, their societal relevance, and the ups and downs of book writing.
Science and media
Science reporting is serious business. Keeping up with the latest trends in the coverage and representation of science in mass media, a diverse range of sessions with leading science journalists were held at the festival. They discussed science reportage, risk communication, fake news and related themes. In a fireside chat, author and journalist Angela Saini discussed gender, race, and caste-based discrimination in science and the role journalists can play in uncovering these unsettling realities and making science a more inclusive and impactful human endeavour.
Deborah Blum (Director, Knight Science Journalism Program, Massachusetts Institute of Technology, USA) spoke about the challenges of reporting science during a crisis like the COVID-19 pandemic. Independent journalist Brooke Borel conducted a workshop on fact-checking and its relevance in science journalism.
Further, in a talk titled What Makes Us Believe In Fake News?, neuroscientist Sumaiya Sheikh (Editor of Science, Alt​News​.in) decoded the scientific basis of believing and debunking fake news.
Careers in science

ISF 2022's events also exposed youngsters to careers in science and the key skills needed to pursue them.

An engaging session titled ​'How to Crack a Career in Science,' organised in collaboration with IndiaBioscience, featured industry, media, academia, and government experts, highlighting the multiple careers in science. The session also included an exercise for the audience to reflect on their areas of interest to help determine their next career move.
The PhD Program Booth, a three-part workshop organised with Cactus Communications, focused on upskilling PhD students in academic and popular science writing and networking, for their career development and advancement. Additionally, the Talk Your Thesis competition allowed PhD students to present their thesis in a lay-person-friendly and engaging format; they, in turn, received feedback from experts.
The one-of-a-kind science festival had something for everyone as it presented myriad ways one can explore, learn, and engage with science.