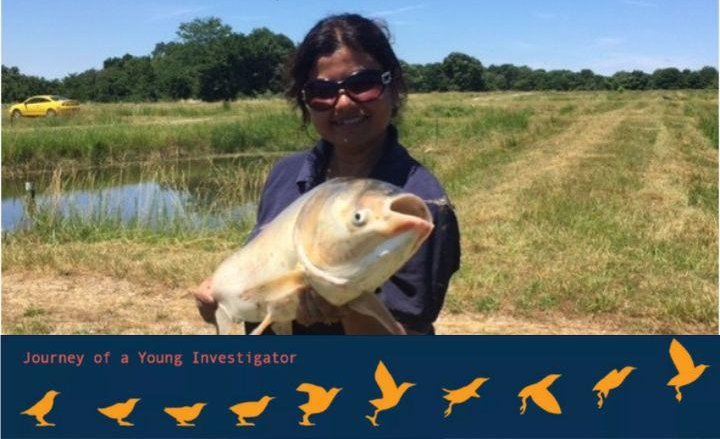 During my childhood I liked being outdoors, enjoying nature, and indulging in inquiries about natural beings. It was during the undergraduate training that I was exposed to the awesome world of ecological science. That was it, I had found my passion in doing and teaching ecological science. Being a woman in field ecology, the journey has been tough but it has not deterred me from following my dreams.
While doing a Ph.D. at the Centre for Ecological Sciences, Indian Institute of Science with a field ecologist, I had dreamt of starting a lab of my own. Working on the Indian ecosystem was my calling; India is the heavenly abode for ecological field science. I knew I wanted to be back in the country even while I was working along the Mississippi river in the USA for 6 long years. In January 2018, I joined the Biological and Life Sciences division of Ahmedabad University and have been on an exciting journey toward my goals.
Ecology was a field new to my university. This invited a few critical questions on my plan for teaching and funding, for example:
"Why do you need a bench lab since you are a field ecologist?"

"Students have to attend classes on the campus and why or how do you think they will join your field trips?"

"How will you go and do fieldwork as you have to be on campus for teaching and administrative needs?"
I am thankful for these questions as they stirred critical thinking on my part.
However, the naivety was reflected in some undeserving questions, such as:
"Since doing ecology doesn't need a lot of intellect, did IISc have a low cutoff for admissions in Ecological Sciences?"

I often faced the question, ​"any animal will adapt to the environment-Why do you need to study them?"

A hilarious one, ​"I want to do your kind of work to enjoy the travel and vacations (ecologist's definition of field work=non-ecologist's definition of vacation)".
My response to the questions above was an eye roll. An advise I would pass on to young PIs: pick your battles (as time and energy are expensive resources) and hold your ground.
Setting up the lab was made possible due to my start-up internal grant, a national, and an international external grant. These grants helped me acquire space for my fish lab and a laboratory room for my hormone and DNA work. A word of caution — space acquisition is not the end all, there is a continuous battle to retain it!
Often, my peers have wondered about the strategy to attract talented and enthusiastic students to a new lab. Active outreach is a strategy that worked for me. In the first two years of my joining, I traveled to Indian institutes and universities, advertising my lab. These visits were often uninvited, but I could work through the expenses through the faculty development allowance from Ahmedabad University. The outreach initiative led to the first two Ph.D. students passionate about ecology joining my lab. They were committed to hard work in the field while most of their friends leaned towards cancer biology and stem cell research. To gauge the aptitude of doctoral candidates, I also included an assessment on ecology in the department's entrance examination. In the initial two and a half years, I invested a lot of time in the lab in training and nurturing my students and assisting them in completing the Ph.D. coursework. As a young PI, I realised one has to tread difficult paths with their students by paying attention to their academic problems and training them on practical and intellectual concepts.
I was eager to introduce Undergraduate and Master's students to ecology. When I joined Ahmedabad University, the Biological and Life Sciences division had a successful integrated Master in Life Sciences program, a five-year (BS-MS) program for the students. I developed courses on animal behaviour and conservation biology for the program. I also included on-campus and off-campus trips to nearby bird sanctuaries and wetland ecosystems. Facilitating the University's authorisation for field trips was a roadblock. I am thankful to the dean of the undergraduate college, who understood the need for ecological research and revised the attendance policy.
The trips and short projects during the course helped me connect with students and nudge them towards questions on nature and natural beings. I integrated several aspects of my lab's research into the course outline, making ecology attractive and popular. Students from a tapestry of fields (engineering, management, and humanities) are now working on mugger crocodiles and freshwater fishes for their thesis in my lab. It was probably an outcome of my discipline-agnostic course on environmental science that ignited several ecological and behavioural questions.
I had to adjust my teaching responsibilities to my time away from the campus. I negotiated with the division (and the University) to be on-field from Friday to Monday and organised my teaching responsibilities from Tuesday to Thursday. I also utilised my summer and winter breaks for fieldwork. This one was not an easy battle, ​"when the going gets tough, the tough get going"- Billy Ocean. Another piece of advice — enjoy the small wins and celebrate them — I rewarded myself with ice creams and fashion earrings!
In 2021, the University initiated a research cluster on Ecology, Environment, and Climate Change (EECC) and hired two new ecologists as faculty. For the first time after completing 4.5 years at the University, I felt naturalised. I told myself I was no more an alien but a native. In this journey of belonging, I might have been grumpy, annoying, and branded as ​"a difficult woman". But the triumph of ecology made it all worth it. From here on starts the native phase of my journey. I shall be back with that narrative, stay tuned!