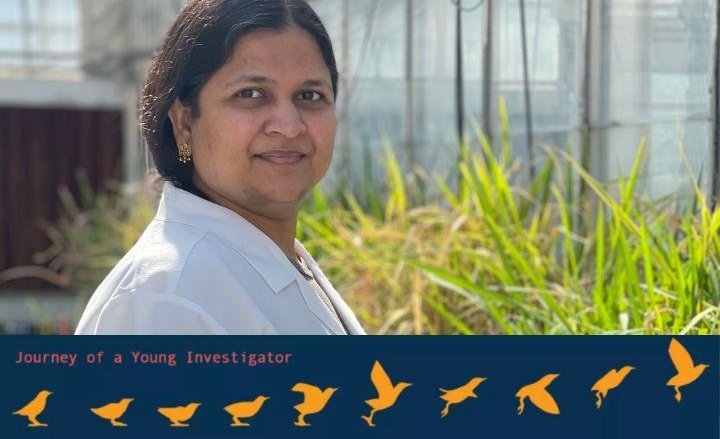 I grew up in the planned city of Gandhinagar, the green city of bushes and trees. In the springtime, I mastered the art of capturing up to five butterflies in one hand, eventually releasing them in the wild. A mango orchard near my home sprouted yellow flowers in spring and green mangoes in summer, sparking my curiosity about nature. These experiences were foundational in my determination to become a scientist at the tender age of nine.
Following this passion, I opted for botany in my undergraduate degree at Sardar Patel University. At that time, I was the only student to choose plants as a field of study. But with the firm support of University trustee C.L. Patel, more students enrolled. It was also an opportunity to interact with scientists at the Anand Agriculture University who sparked my interest in agricultural science.
Post my Master's in Biotechnology, I moved to the University of Florida where I studied calcium signaling in groundnut seed development. This underground growing legume can be severely affected by low soil calcium. Post my Master's, I worked on the metabolic engineering of sugarcane for diverting carbon flux for triacylglycerol production as a lab associate for four years. This research led to the foundation of the Center for Advanced Bioenergy and Bioproducts Innovation, funded by the U.S. Department of Energy (DoE). I pursued my doctoral and postdoctoral research on rice genome editing at the University of Arkansas, which complemented my knowledge of crop improvement at both molecular and phenotypic levels.
An unexpected event marked my decision to move back to the country. In early 2020, my parents visited me in the United States, just before the pandemic. Three days before India announced the lockdown, my mother was diagnosed with cancer. It was a testing time as travel and healthcare services froze. Fortunately, with the support of Washington Regional Hospital (Fayetteville, Arkansas), my mother could undergo a successful surgery. With help from the Indian Consulate, the Indian Embassy, and the Ministry of External Affairs in the Government of India, my parents could travel back on the first Vande Bharat Mission flight to Ahmedabad. The unpredictability of life modified my perspective and I decided to look for opportunities close to my hometown (in Ahmedabad and Gandhinagar).
Before 2005, the Gujarat region did not prioritise plant biotechnology research. However, in the past one and a half decades, with efforts of state and central government agencies, several premier academic institutes were established. As a plant biologist with an agriculture and plant science background, this seemed that home was calling!
I attended a faculty recruitment webinar organised by Ahmedabad University and the Indian Embassy in Washington D.C. I presented a vision of my research during the interview. It was a perfect fit for my experience as Gujarat is the leading producer of the country's groundnut oil crop. Additionally, the University was extremely supportive of the unpredictive nature of travel during the pandemic and accommodated my requests for joining date changes.
Although India is an agriculture-based economy, plant biology research has been underfunded. In the past decade, however, investment in plant biology research has increased by more than 50%. With generous support from the state funding agency (Gujarat State Biotechnology Mission) and the University start-up grant, we aim to improve the quality of groundnut fatty acid composition through genome editing.
As Ahmedabad- Gandhinagar is an emerging research hub, I have networked with my peers in this region. It resulted in successful collaboration at IIT-Gandhinagar, with an old schoolmate at the ICAR-National Research Center for Grapes, and with a groundnut breeder at Junagadh Agriculture University.
I believe biotechnology-based research in crop improvement is not yet at the field scale. However, our government's decision to delimit the SDN1 and SDN2 category crops (the crop category that does not contain transgenes, only edits for trait improvement) has boosted research in this field. This decision enables a relatively speedier translation of crops from plant to plate.
I attend to the call of my home with all research opportunities falling in place. I am now returning what I earned.