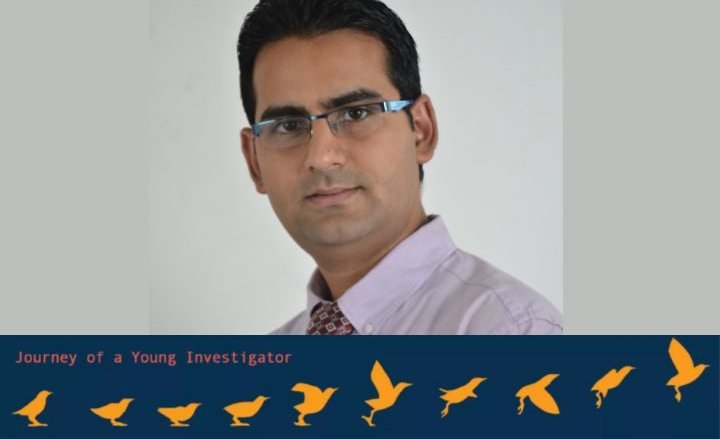 My journey in the field of pharmacology and toxicology began back in 2000 as an undergraduate pharmacy student at Birla College Campus of Hemwati Nandan Bahuguna Garhwal University in Srinagar Garhwal, nestled amidst the breathtaking Himalayas of Uttarakhand.
After a postgraduate degree in pharmacology, I kicked off my research career as a Research Associate at Nicholas Piramal Research Center, Mumbai. My interest in pain neurobiology led me to pursue a Ph.D. at University Institute of Pharmaceutical Sciences, Panjab University, Chandigarh. I was motivated by the immense suffering caused by chronic pain disorders, which fueled my desire to advance my research in this field. Eventually, I got an opportunity to work with Srinivasa N. Raja, professor and director of pain research, at Johns Hopkins University School of Medicine in Baltimore, Maryland, States, where I worked for four and a half years.
Although Srinivasa N. Raja wanted me to continue and grow at Johns Hopkins, I had always wanted to come back to India and contribute to the Indian Pain Research. My father's deteriorating health also made this decision easier for me. In July 2016, I finally returned to India and set up my own independent research lab at National Institute of Pharmaceutical Education and Research-Ahmedabad before joining Indian Institute of Technology (Banaras Hindu University), Varanasi as a full-fledged independent researcher.
Being a Principal Investigator (PI) mentoring young Masters and Ph.D. students came with a unique experience and great responsibility. My goal was to provide the best guidance possible and help my students achieve their dreams. Drawing from my dual research experience in India and the United States, I quickly realised that conducting research in the Indian academic environment can be challenging.
Establishing an independent pharmacology-toxicology research laboratory that I can truly call my own was challenging yet exciting experience that came with its own incredible range of opportunities:
Initially, I struggled with the slow pace of paperwork and bureaucracy within the institute. The process of ordering supplies and receiving them often took almost 2 – 3 months, which hampered the ongoing lab experiments and the overall research output of the students.

Additionally, we had limited equipment needed for projects, and I had to customise my experiments according to the available instrumentation and facilities in the department and the research institute.
Thanks to funding agencies, fortunately after a few failures, I successfully secured early career and core research grants from SERB, SPARC grant from MHRD, ECD grant from ICMR and a few consultancy projects from the pharmaceutical industries. This support helped me in setting up a functional Neuroscience and Pain Research Laboratory at Department of Pharmaceutical Engineering & Technology, IIT (B.H.U), Varanasi.
I also faced hurdles while setting up an approved animal house facility in my engineering institute, it was tough to convince them. But with persistence and teamwork, in 2020 we finally succeeded in establishing our own institutional animal ethics committee — a crucial step for any institute conducting biological research and drug discovery.
Work-life balance becomes a bit demanding at times with a young child and a spouse who's also a working researcher. But my 10-year-old son is a shining ray of sunshine in our lives, he loves to visit my lab and office when his school is closed or operating in online mode. I'll look back on these moments with fond memories in the years to come makes it all worth it!
What I have learned from my experience is that persistence and motivation are key to thriving in this field.
Currently my lab is having one post-doctoral fellow, six Ph.D. research scholars, two project fellows and four Masters students. So far, I have supervised 4 Ph.D. and 18 master students and all of them are well settled in industry or academia in India and abroad. I have been blessed with a team of hard working and motivated students who left no stones unturned and made sure that our lab gets established in no time.
During my initial research exposure in the pain field, I found that treatment with best available analgesics leads to inadequate pain relief at the cost of severe toxicities including sedation, drug addiction, respiratory depression and many more. That's where we started to seek answers for the development of novel anti-pain therapeutics devoid of adverse effects and CNS toxicities. Students in my lab are currently working on dissecting the cellular and molecular intricacies associated with chronic pain disorders and formulation-development of novel therapeutics devoid of central toxicities and drug addiction.
Message to Young Colleagues:
The key to reaching your goals lies in hard work, focus, and motivation.

Keep updating your knowledge by reading new articles and holding weekly journal clubs in your labs.

Take the time for bench work in your new lab, as this not only inspires young minds being trained in your team, but also gives direction to new interesting findings.

Acknowledging your team's good work and avoiding criticism for simple mistakes helps cultivate a positive, supportive environment in the lab where everyone works and helps each other.

Make sure you train them well and spend time with them discussing their projects and problems. I guarantee they will cherish the experience and appreciate your role in their professional and personal growth for a lifetime.
As a mentor, you have a great responsibility to the young students who look up to you with hope and expectations. I know that the Indian academic landscape still faces challenges, such as limited funding and slow administrative processes. But I am confident that with our collective efforts and as times change, the future of Indian Science will be brighter.
Lastly, don't forget to carve out time for yourself and your family. This journey of learning is not one to be taken alone, and it's important to have a balanced life.