A positive highlight of the COVID-19 situation has been the large number of grassroots-level innovations brought forth by Indian start-ups, entrepreneurs, and researchers to counter the pandemic. A thriving culture of innovation and entrepreneurship is necessary to nurture this spirit. In this regard, the fourth edition of the National Bio Entrepreneurship Competition (NBEC), a one-of-a-kind launch platform for bio entrepreneurs in India, is currently open for applications.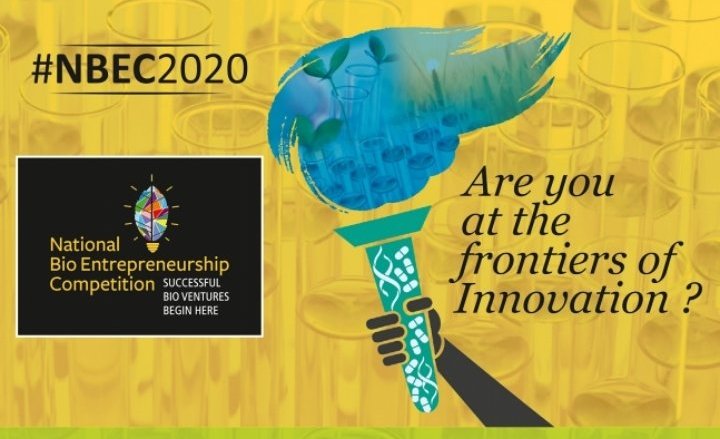 The National Bio Entrepreneurship Competition (NBEC), a contest that identifies and nurtures bio-entrepreneurs in India, is organized every year by the Centre for Cellular and Molecular Platforms (C‑CAMP). The fourth edition of this competition is currently inviting business ideas in life sciences, covering agriculture and allied fields, healthcare, antimicrobial resistance, digital health, medical devices, environment, industrial biotechnology, and personal care products. The last date to apply is October 7, 2020.
NBEC is a joint initiative of C‑CAMP with Biotechnology Industry Research Assistance Council (BIRAC) and is supported by industry partners. It aims to attract and support bio-entrepreneurs in the country with novel, scalable, deep-tech business ideas that have social impact. ​"NBEC has become a national platform to amplify the spirit of bio-entrepreneurship across India, with young and exciting innovative ideas being assessed and supported through NBEC and further with industry and investors," says Taslimarif Saiyed, CEO and Director, C‑CAMP.
The competition has two application tracks: (i) student teams, (ii) start-ups and individuals. A student team must have four members who are Indian citizens currently pursuing a graduate, postgraduate, or PhD degree. If the students have formed a company, the company must be less than two years old at the time of applying.
In the ​'start-ups and individuals' category, start-ups, Micro, Small, and Medium Enterprises (MSMEs), large companies, post-doctoral researchers, faculty, scientists, working professionals, and aspiring entrepreneurs can apply. The applicants must be citizens of India. Companies that apply must be registered in India and have a majority Indian ownership.
The competition, held online this year, has four rounds which will be spread over the next four months. In round one, an expert panel consisting of members from the industry, academia, and investor community will screen the proposals. In the second round, the selected applicants will present their idea to a jury panel that will choose the best few business ideas. In round three, the selected candidates will attend an entrepreneurship development boot camp for two days, following which they will present their business plan before a jury panel. In the fourth and final round, the finalists will pitch their ideas before a grand jury, who will select the winners based on the scientific validity of the idea, feasibility of the proposed solution and business, and novelty of the approach.
For the winning student teams, the competition offers total cash prizes of up to Rs 10 lakhs. The winners in the ​'start-ups and individuals' category will take away total cash prizes of Rs 7.1 crores, as well as investment opportunities.
"A unique feature of NBEC is that it doesn't just end the day when winners are announced; it then serves as a launchpad for the competitors with the best ideas," write Nisha Holla, Technology Fellow, and Taslimarif Saiyed, CEO and Director, C‑CAMP, in an article published in Financial Express in February, 2020.
The winners of the 2019 edition of NBEC included Divanshu Kumar of Alcheme Robotics, Mayur Shetty of Blackfrog Technologies, Ragul Paramasivam of Chimertech Innovations LLP, Shomeshwar Singh of 4S Medical Research, Prakhar Jain of MicroX Labs, Rajesh Nandipati of Oncosimis Biotech, Asawari Kane of PadCare Labs, Arindam Ghatak of Biomoneta and Halagappa Eswarappa Shashidhar of Cultiva AgriTech.
Some of the winning ideas were robotic solutions to clean septic tanks, portable battery-powered refrigerators for last-mile vaccine delivery, smokeless sanitary napkin disposal units, assistive technology for hearing-impaired individuals that converts their speech effort into a visual pattern, and solutions for sugarcane cultivation.
Beyond the awards, NBEC paves the way for mentorship and networking with industry leaders. Partners like Biocon, Kotak, Novozymes and Ankur seeds have continued to mentor some of the winners after the competition.
"This year, we have added new categories to specifically encourage young students' innovative ideas and new start-ups. These categories would be in addition to the main category which is open to all other start-ups and applicants. We hope that this will further widen this national platform's impact across all India," says Saiyed.
"When I applied for NBEC 2019, I had barely any idea about entrepreneurship in life sciences. I had only applied to it thinking it's an idea competition and that there would be prizes. But the journey with NBEC 2019 so far has been so enriching in terms of discussions with peers and mentors here that it really moulded me into taking up entrepreneurship," says Aparna Nair, a finalist in NBEC2019.