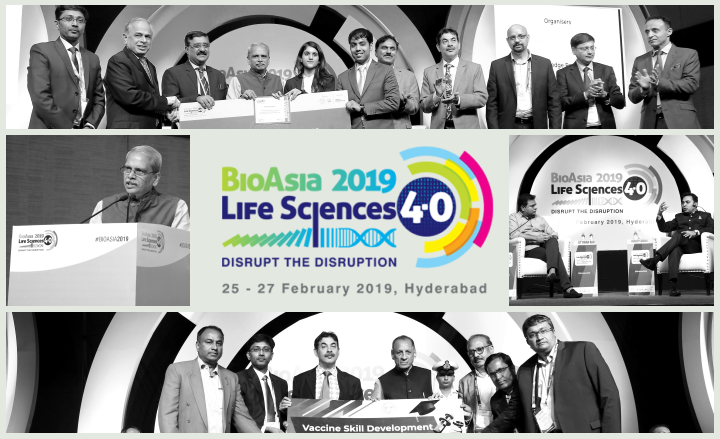 BioAsia, one of the largest annual biotechnology conferences in Asia, was held at Hyderabad from 25th ‑27th February 2019. With this year's theme being ​"Life Sciences 4.0 – Disrupt the Disruption", BioAsia addressed roadmaps, policies and economic changes required for the progress of biotechnology, particularly with regards to applications like digital healthcare, personalized medicine and new-age therapeutics.
Spread over 3 days, the meeting was a confluence of 2,400 participants from academia, pharmaceutical companies and industries from the life science, healthcare and IT sectors. Interestingly, in addition to startups and companies, many academic institutions also set-up stalls to get feedback and showcase products designed on campus. For the first time, an ​'Experience zone' was created at BioAsia, exhibiting the immense potential of technologies like Artificial Intelligence, 3‑D printing and virtual/​augmented reality to provide effective healthcare services in the future.
Leaders of several Biopharma companies and R&D laboratories present at BioAsia emphasized the importance of research and development in the life sciences sector for the betterment of the Indian economy in the future. India, being one of the top six producers of pharmaceuticals in the world, is seeing a boom in innovation-based industries. The rapidly increasing number of pharmaceutical Industries, R&D facilities and scientific talent gives India a clear advantage. In addition, India's low manufacturing costs result in cheaper drug prices for the same quality of product.
As a result, India is predicted to reach ahead of USA and China in the global pharmaceutical race in the next 10 years. The key to this disruption in the life sciences sector is the plethora of start-ups that have popped up all across the country, supported by both private (venture capitalists/​angel investors) and government (e.g. BIRAC programme) funding. BioAsia 2019 held a start-up-stage event where a number of start-ups showcased prototypes of their products and received feedback for their future goals.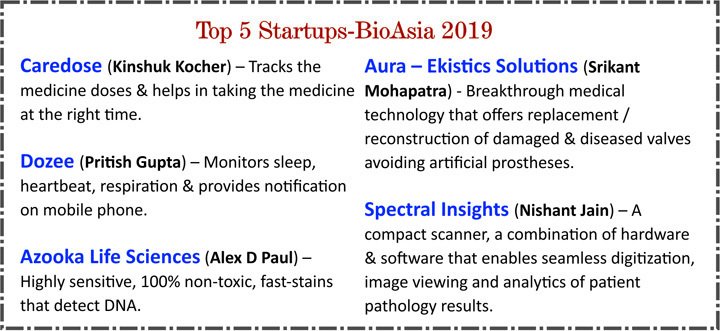 The CEO session panelled by directors/​founders of top biotechnology and pharmaceutical companies brought out some concerns that could be a hurdle in India's path to pharmaceutical glory. The majority of the panellists agreed that even though India has all the basic requirements to succeed, getting the right funding and being able to bring it into the market without hindrance from existing government policies is the main issue. This dictates the need for flexible policies that keep in mind the uncertain nature of innovation while protecting the economy. They also felt skill-building programs along with industry-academia partnerships can help us move forward.
Raising the issue of rural healthcare policies, KT Ramarao, Telangana Rashtra Samithi (TRS) President, stressed the importance of making sure that fundamental policy decisions regarding rural healthcare percolate to the remotest rural villages and be adaptable to local environments. He suggested that some of the best healthcare programs run in Telangana (e.g. Kanti Velugu, Telangana Diagnostics Central Hub, Telangana Dialysis Centres etc.) can be replicated in other states to form a unified system that can be implemented across the country. Ramarao also urged that scientific research should be prioritised and policies drafted wherein government and private players can jointly participate in healthcare and pharmaceutical research.
In an effort to enhance skill-building to supply the workforce required in the fast-growing industry of vaccines and biologics, E S L Narasimhan, Telangana State Governor, launched a Vaccine skilling program funded by Telangana government where selected students will receive training by Telangana Academy for Skill and Knowledge (TASK), a non-profit arm of Govt. of Telangana, with the aim of subsequently getting absorbed into companies.
BioAsia 2019 also witnessed an MoU signed between the Government of Telangana and Taizhou Medical Hi-Tech Development Zone (Taizhou Zone) supported by the Government of Taizhou, China. Under this 2 year MoU, the Chinese Medical Zone and the Telangana State Government have agreed to support research in life sciences, assist with identification of new technologies and industry requirements to facilitate public industrial service platforms in India.
BioAsia 2019 brought together experts in industry, academia and policymakers to brainstorm effective solutions to problems in the biotechnology sector. Such events can go a long way towards helping bridge the Industry-academia gap and creating a sustainable economic plan for the growth of the life science sector in India.
---
Did you enjoy this article? Please let us know in the comments below.