Priyangshu Manab Sarma, an academician turned entrepreneur, shares his journey from being a Professor at The Energy and Resources Institute (TERI) to heading a company, Innotech Interventions, which is growing mushroom that can supplement vitamin D. Innotech is also involved in projects dealing with bioremediation, waste water management and clean energy, and aims to work towards a better and sustainable future.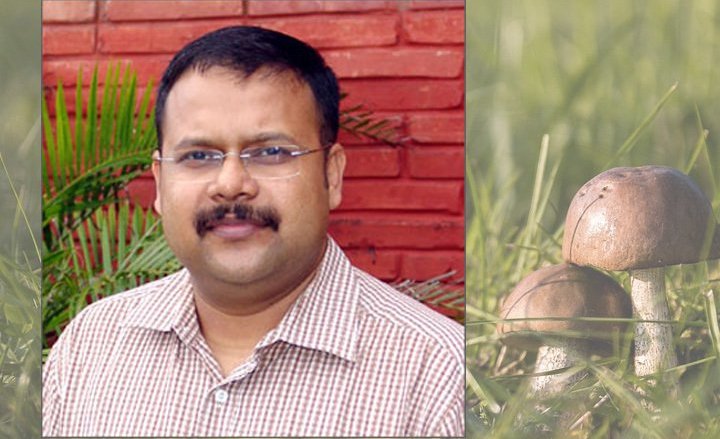 How did you decide to leave a full-time academic position at The Energy and Resources Institute (TERI)and start your own company, Innotech Interventions?
In the beginning, while I was working on academic projects, guiding PhD students, publishing papers etc. at TERI, I was very fortunate to be associated with three projects that were subsequently commercialised and became a major revenue earning source for TERI. In the process, apart from designing experiments, I learnt facets of tech transfer, technology licensing, forming of joint ventures etc. This made me realise that there are immense opportunities and research leads available in Indian Labs that need to be tapped. With this objective in 2015 I started a joint venture with my co-founder, Hamendra Das, that would facilitate in translating and commercialising laboratory innovations – Innotech Interventions.
What were the initial challenges you faced after you transitioned from academia to industry?
The initial challenge was to convince myself that I don't belong to pure academia anymore. When we try to commercialise innovations, there are a different set of challenges that needs to be considered. I have also realised that academia is well-funded but the scope of getting funding to set up a company is far less. At TERI, I had the backing of a huge institution, but it is difficult to establish credibility when you are a small 4 – 5‑member organisation. Fortunately, the start-up initiative kicked in and there were some good opportunities that we would avail.
You are involved in the production of a mushroom fortified with vitamin D. How did you arrive at the idea? How does this project aim to improve agricultural economy?
Over 70% of India's adult population is suffering from Vitamin D deficiency. We have conceptualised and developed a simple yet scalable technology for producing organic mushrooms fortified with Vitamin D. Our intervention for vitamin D supplementation targets a natural property of mushrooms and can enhance vitamin D by over 200%. This agro-venture will not only counter the nutritional deficiency of the masses, but also enhance the profitability of mushroom growers. We will attempt to promote mushroom cultivation in an altogether different platform, wherein it serves as a potential business venture for generation of skill-sets, wealth creation, nutrient supplementation and subsequent application in nutraceutical companies. We have planned a marketing strategy to enhance the product value, ensuring a higher rate of return to the farmers. This model can encourage entrepreneurs to take up this venture for enhancing profitability upon implementing different agri-business strategies.
Can you elaborate on your bioremediation/clean-energy project and share some of its benefits?
Exploration and extraction operations of conventional fossil-based energy resources like petroleum and natural gas, as well as the newer non-conventional resources like coal bed methane, shale gas and gas hydrates, generate significant amount of waste water. This huge volume of water brought from the subsurface along with the fossil resources is also known as produced water (PW). Conventional treatment processes fail not only in handling the volumes of PW, but also in meeting the regulatory standards of the effluents due to its unique composition.
The concept developed by Innotech is focused on the very same properties of PW that renders conventional systems unfit for its treatment. The low organic content and high salinity that makes PW unfit for most conventional systems, turns out to be ideal for the prototype developed by Innotech. Our technology integrates an electrochemical process with controlled microbial conversion of sulphate to sulphides. Apart from generating water that is fit to meet the regulatory standards, caustic soda will be generated as second value-added product during this process.
How did you get your funding at different stages? Did you face any struggles in the process?
Funding was never easy. We initiated the process by bootstrapping and investing some of our own money. The first major break was received from IKP Knowledge Park, Hyderabad. The data generated at IKP helped us pitch the concept and its applicability for a much larger start-up fund from Oil India Limited. Our concept also won the Indo-Israel Innovation Challenge, jointly organised by the Indian and Israeli governments. This gave us necessary credibility. In 2018 we got the Water Digest Award in the Best Research Innovation category in Waste Water Treatment. This generated immense interest among the investors.
The story is similar for our Vitamin D fortification project on Mushrooms. It started with our personal money. There were more rejections for this project. At one point we thought it may not be a feasible idea but we went on with the initial experimentation with help of a friend and a cousin who spared some land and resources to start the production. I had sent in applications and given presentations to over 30 different funds and organisations, but all in vain. Finally, I encouraged my colleague to apply again in Biotechnology Ignition Grant (BIG) for the same project. We cleared the BIG hurdle and received a 50 lakh seed fund from them, a major breakthrough. Later we were winners of the Economic Times Power of Ideas competition, and received another seed grant of 5 Lakhs from the Centre for Innovation, Incubation and Entrepreneurship at Indian Institute of Management, Ahmedabad.
How important is the role of incubators and start-up grants for setting up a company?
Incubators are extremely important to set up the experiments to either establish the proof of your concept or to scale up the concept. It provides not only the lab place but an ecosystem with like-minded people. Start-up grants are equally important in the early stage. They are the best bet after the bootstrapping phase, as they normally do not seek equity. Investors at early stages may take a significant amount of equity in your venture and this may become an issue at later stages of funding.
What would your message be to a young scientist who wants to become an entrepreneur?
This is the right time. When we completed our PhD (2004), we use to hear about start-ups and spin-offs only during our visits abroad. However, with the start-up ecosystem growing rapidly in the country, this is just the right time to dive in. Personally, I think most of us are afraid because of the financial insecurity and risks involved. Therefore, I would urge the youth to become financially literate as soon as possible, which is not usually the case in our country. One more point I would like to make is that help and assistance are available, one just has to ask and seek. Most importantly, if you have the passion and a good idea, it will be noticed and appreciated. Passion is the best way to get other people involved in your dream. I believe the rest falls in place automatically.
What is the one lesson you have learnt from your journey so far that you would like to share with everybody?
A good team that can take care of all the aspects of the business and pure passion of the founders would be the key to start as well as sustain a venture.