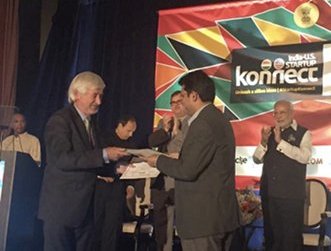 The Centre for Cellular and Molecular Platforms (C‑CAMP) and the California Institute for Quantitative Biosciences (QB3) will collaborate to create an Indo-US life science innovation hub. The two organisations signed a Letter of Intent (LoI) during the Prime Minister Narendra Modi's recent visit to California.

C‑CAMP, a part of the Bangalore BioCluster, which includes NCBS and inStem, is an enabler of life science research and entrepreneurship that has worked with about 50 bioscience startups across India. Based in the Bay Area, QB3 is a research and technology commercialization institute jointly set up by, and across, three University of California (UC) campuses — UC Berkeley, UC San Fransisco and UC Santa Cruz. It promotes innovative research in the ​"quantitative biosciences" and assists life science entrepreneurs. ​"The idea is to connect two ecosystems, which are promoting life science innovation in their own cultures, and by doing so, to connect their startups and bring them a global perspective," said Taslimarif Saiyed, Director and COO, C‑CAMP.
At the ground level, the innovation hub will act as a gateway to help startups from India understand the US scenario — the emerging healthcare and life science trends, IP transfer procedures, regulatory hurdles and joint venture possibilities — and vice versa. This kind of knowledge is not documented anywhere in the literature and is largely dissemintated through these kinds of hubs. C‑CAMP and QB3 plan to co-invest in startups, co-incubate, facilitate exchanges between scientists and entrepreneurs at both ends, and also offer immersion programs. These programs will allow startups from the US to come to India (and vice versa), and spend a few weeks understanding the needs and nature of the local market. They will also gain insight into whether their technology has potential and whether they can find partners, and how they can get investment. While investors are largely present in the US, there are social impact investors in India who will be willing to invest in US startups addressing Indian needs in the field.
A lot of Indian startups focus on affordability of the technologies they develop. Saiyed feels that an equal focus on quality could help them reach and compete in markets beyond India. ​"One of the reasons to tie up was to bring that global perspective to our ventures and ask where we stand," he said.