From the IBS Desk
Dear Reader,
A few days ago, we announced the winners of the 3rd IndiaBioscience Outreach Grants (IOG). Let's give a big round of applause to the lead applicants and their teams for their outreach projects!

Megha Kumar: IndiaAsksWhy – A science podcast
Neha Jain: Engaging youth to fight against antimicrobial resistance
Chandana Basu: Genetiks4U
Bittu K Rajaraman: Discover Learning
Mayuri Rege: Aamchi Prayogshaala
Ishwariya Venkatesh: Let's talk life
Tuli Dey: Back to the future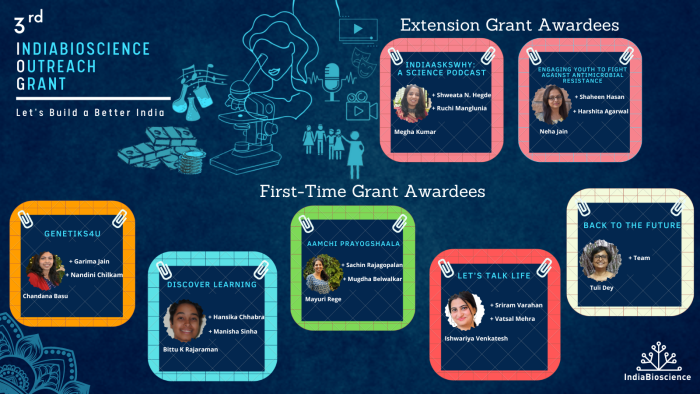 These projects feature comics, podcasts, videos, hands-on activities, trips to research labs, and other ways of making science accessible to children and adults, including students who are economically or physically challenged. You may count on some very interesting activities to emerge from these projects in the near future. Click to know more about IOGs and how to apply for them, and the works of the past awardees.

Our other big announcement this month is the 4th lecture in the IUBS Centenary Webinar Series, happening on 15 November at 1400 GMT/ 1930 IST. Ecophysiologist Yvon Le Maho will talk about the new technologies used to investigate Antarctic penguins without disturbing their habitats. Register here to join.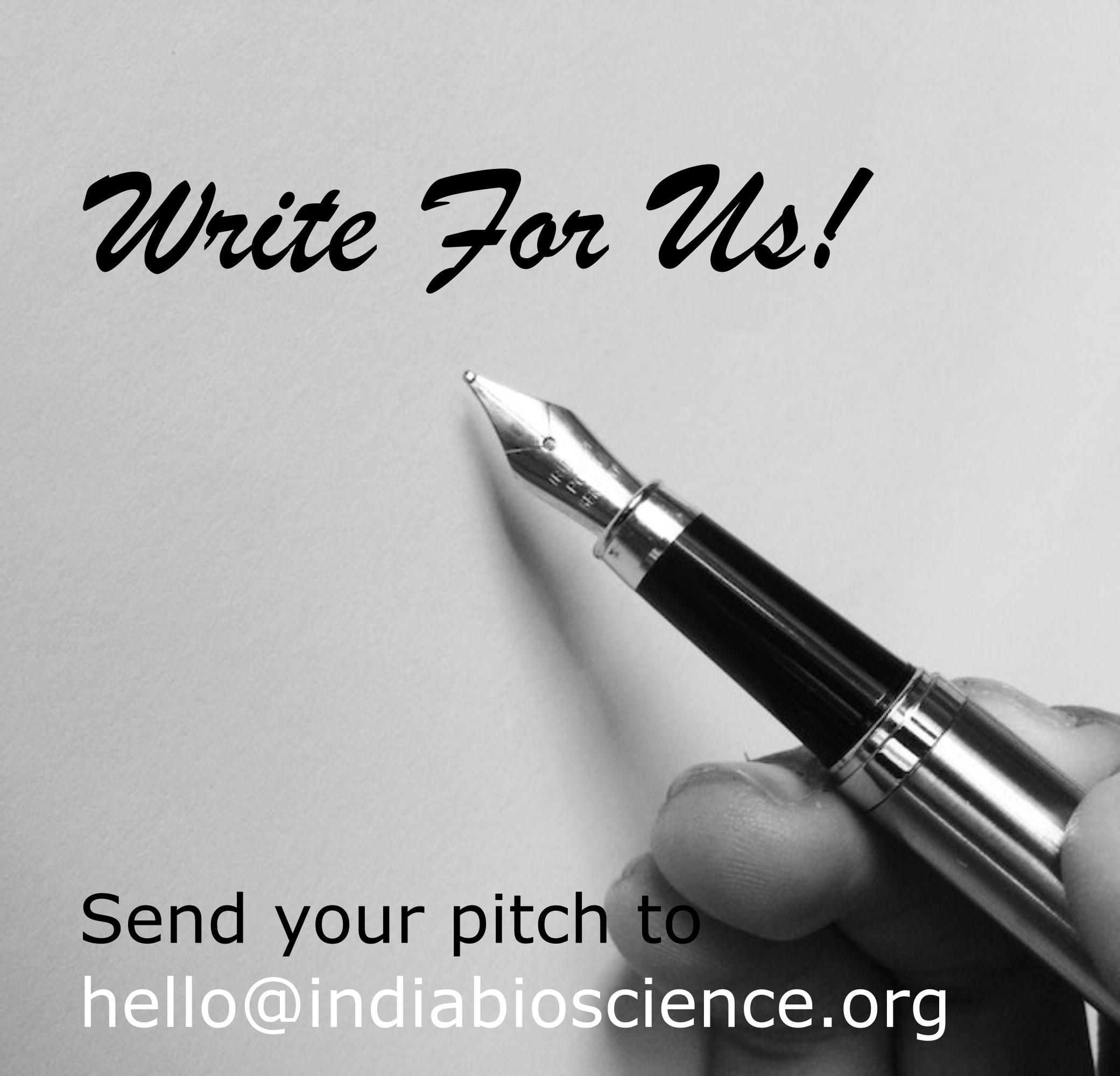 Are you a student, researcher, educator, or enthusiast of biology with a flair for writing? Then, write for us! Send us your pitch for a story on any aspect of pursuing the life sciences in India, in ~100-200 words, and get a chance to publish it on our website.
You can also reach out to us with new ideas to engage with the Indian life science community. Write to us at hello[at]indiabioscience[dot]org, or connect with us on Twitter, Facebook, LinkedIn, Instagram, YouTube, and listen to our podcasts on your favourite podcast apps.
Scroll down for updates on our latest activities.
Outreach activities by Team IndiaBioscience
Emerging Trends in the Life Sciences
IndiaBioscience and NMKRV College for Women, Bengaluru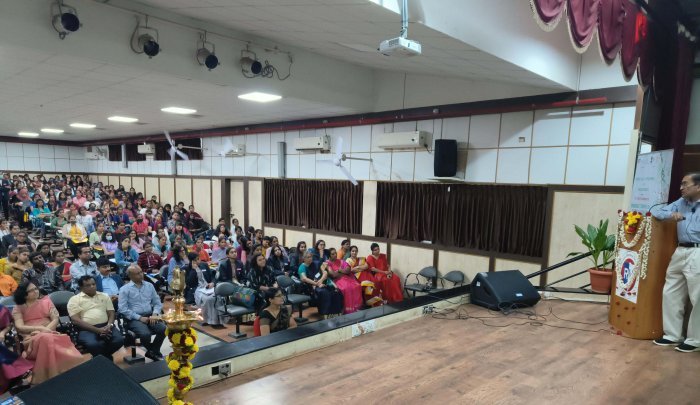 On 4 November, IndiaBioscience, in collaboration with NMKRV College for Women, Bengaluru organised a one-day seminar at the College for UG and PG students and faculty from in and around the city. The event offered the participants a bird's eye view of some of the most exciting problems in biology.

The seminar featured talks by upcoming and eminent scientists and leaders, including P. Balaram, former director of IISc; Shruthi S. Vembar, Assistant Professor from IBAB; Deepa Agashe, Associate Professor from NCBS; Aravind Penmatsa, Associate Professor from IISc, and Annapurna S. Kamath, Founder Trustee of JaLa Poshan Trust, Bengaluru.
The event was convened by Suman Prasad (HOD, Dept. of Biotechnology) and Shashikala K. B. (HOD, Dept. of Zoology) from the College, and Vijeta Raghuram (Program Manager-Education) from IndiaBioscience. The event was sponsored by DBT, Govt. of India and UGC STRIDE Govt. of India.
If you are an educator and wish to have such events organised in your college/institution, contact us at education[at]indiabioscience[dot]org.

IndiaBiospeaks: Podcasts by IndiaBioscience
Rewind Podcast | In Conversation with a Mentor
Speakers: L S Shashidhara, Deepanwita Chattopadhyay, Sanjay Mishra, Bimalendu B Nath, and Manju Bansal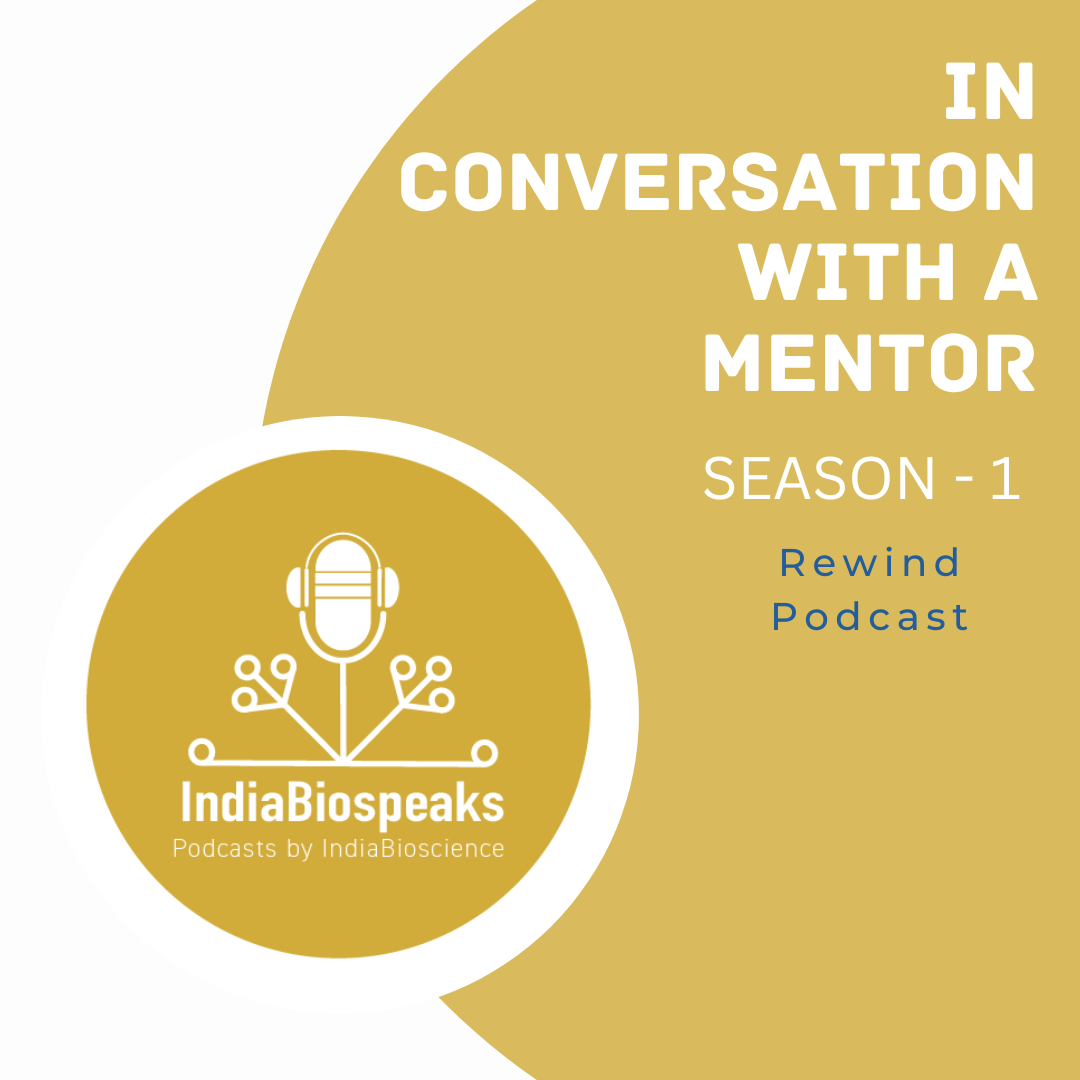 Five mentors, their journeys, experiences, and thoughts on mentorship and guidance; listen to all of them, with a single click! We bring you a rewind podcast episode with hand-picked segments from five individual episodes of ICM Season-1, featuring stalwarts in life sciences L S Shashidhara, Deepanwita Chattopadhyay, Sanjay Mishra, Bimalendu B Nath, and Manju Bansal, together in one episode.
Don't forget to check out the individual episodes at https://​indi​a​bio​science​.org/​i​n​d​i​a​b​i​o​s​p​e​a​k​s​/​i​n​-​c​o​n​v​e​r​s​a​t​i​o​n​-​w​i​t​h​-​a​-​m​e​n​t​o​r​/2021
More podcasts
#FundaySunday
S2 | 04 | Mrunal Kulkarni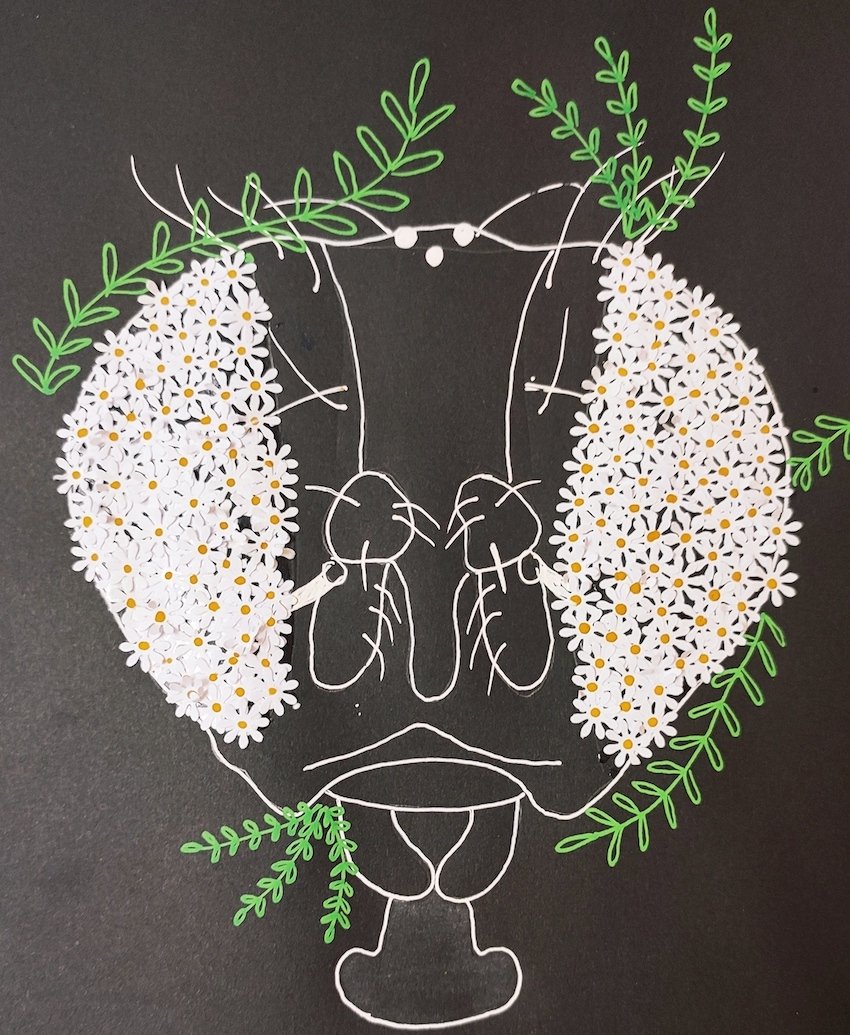 This entry is by Mrunal Kulkarni, a Drosophila biologist and a neuroscience enthusiast. In this illustration, she portrays a drosophila mutant w1118, which was named after the day it was discovered, Nov 18, which fly biologists across the world now celebrate as 'fly day'. This white-eyed mutant is one of the most widely used strains for the generation of transgenic flies, and the white gene has functions much more than just giving the eye color. Click on the image to expand it.
S2 | 05 | Nabnita A Maiity
This entry is by Nabnita A Maiity, who is pursuing a Ph.D. in the field of oncoimmunology from Assam University. In this piece of art, she is trying to portray the concept of amensalism by portraying a venus flytrap plant as a woman who has engulfed an insect. Click on the image to expand it
More #FundaySunday entries
Events
Winter School on Epidemiological and Genomic Methods for the Study of Human Diseases, Kalyani
NIBG and ISI
28 November - 3 December 2022 | Registration deadline: 12 November
India Science Festival 2023, Hyderabad — Flagship Competitions
FAST India
Submission deadline: 15 November 2022
3rd International Conference on Bacteriophage Research and Antimicrobial Resistance (ICBRAR – 2022), Dharwad
Department of Applied Genetics, Karnatak University, Dharwad;
Society for Bacteriophage Research and Therapy, India
26 - 27 November 2022 | Registration deadline: 19 November
More events
Jobs
Project Associate-II
Dr. Reddy's Institute of Life Sciences, Hyderabad
Deadline: 21 November 2022
Research Associate/ Project Assistant
Ashoka University, Sonepat
Deadline: 30 November 2022
More jobs
Grants
Overseas Visiting Doctoral Fellowship
Science and Engineering Research Board
Deadline: 18 November 2022
Pratiksha Trust Extra-Mural Support for Transformational Aging Brain Research (EMSTAR)
The Pratiksha Trust
Deadline: 21 November 2022
More grants