From the IBS desk
Dear readers,
We welcome you to the August edition of our monthly newsletter!
As we step into the month of September, it's exhilarating to look back on the accomplishments of the past month. From the launch of a captivating DEI poster to the success of our 'Crafting Your Career' workshop and the much awaited 4th IndiaBioscience Outreach Grant (IOG) announcement, we've been embracing growth and learning at every step. But the momentum doesn't stop here. The month ahead promises even more excitement, including an engaging YI Huddle, Big Question Scientific Talk, a book reading event and the anticipation of the Regional Young Investigator Meetings (RYIM) in Lucknow and Srinagar.
We're eager to continue this journey with you and share the stories, experiences, and opportunities that lie ahead. To stay connected and informed, make sure to follow us on social media (Twitter, Facebook, LinkedIn, Instagram, YouTube) and subscribe to our mailing list for direct access to our latest endeavours.
If you have an inspiring story to share, an insightful article to contribute, or a collaborative event idea, we invite you to reach out to us at hello[at]indiabioscience[dot]org. Your active participation contributes immensely to our shared journey.
Stay Engaged and Enable Change!

Networking and Mentorship
Save the Date for YIM 2024!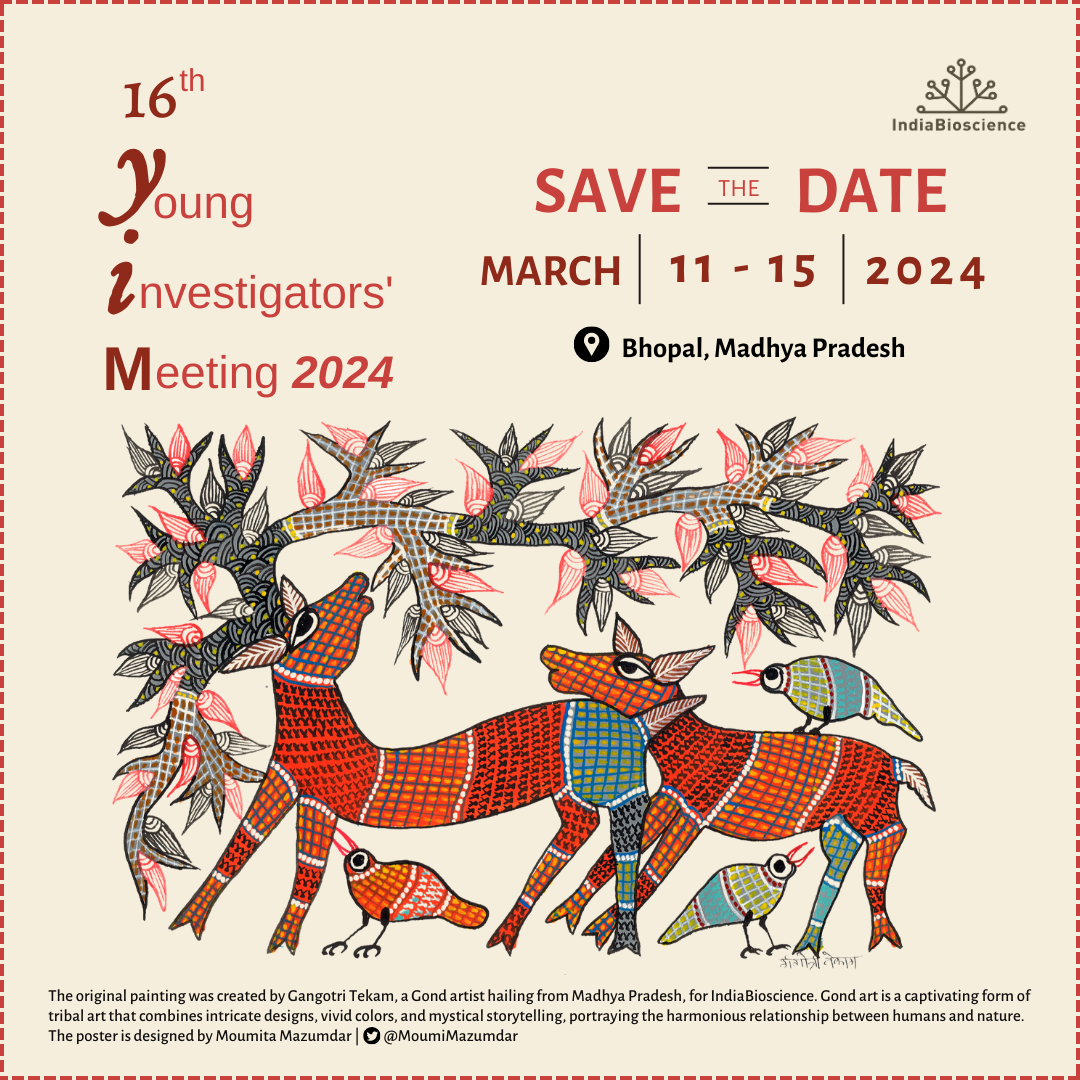 We are excited to announce that the 16th Young Investigators' Meeting will be held in Bhopal, Madhya Pradesh from March 11-15, 2024.
The meeting will open soon for applications from YIs and postdoctoral fellows, and we look forward to your response!
If you are an organisation, university, institute or company, and want to engage with YIM 2024, get in touch with us at hello[at]indiabioscience[dot]org to find out more. We look forward to hearing from you!
RYIM Srinagar 2023
The second edition of the Regional Young Investigators' Meeting (RYIM) for 2023-2024 will take place from September 19th to 21st, 2023. This event will be hosted at the University of Kashmir in Srinagar, in collaboration with the Central University of Kashmir and Cluster University, Srinagar. The theme for this 3-day event is "Igniting Curiosity and Training Young Scientists of J&K for a Sustainable Future." It will provide a unique networking platform for early-career scientists from Jammu & Kashmir, Ladakh, Himachal Pradesh, and Uttarakhand.
The IndiaBioscience team will also be conducting a Crafting Your Career (CYC) workshop on September 21st, 2023. You can find more details about the meeting here. We look forward to seeing you at RYIM Srinagar 2023!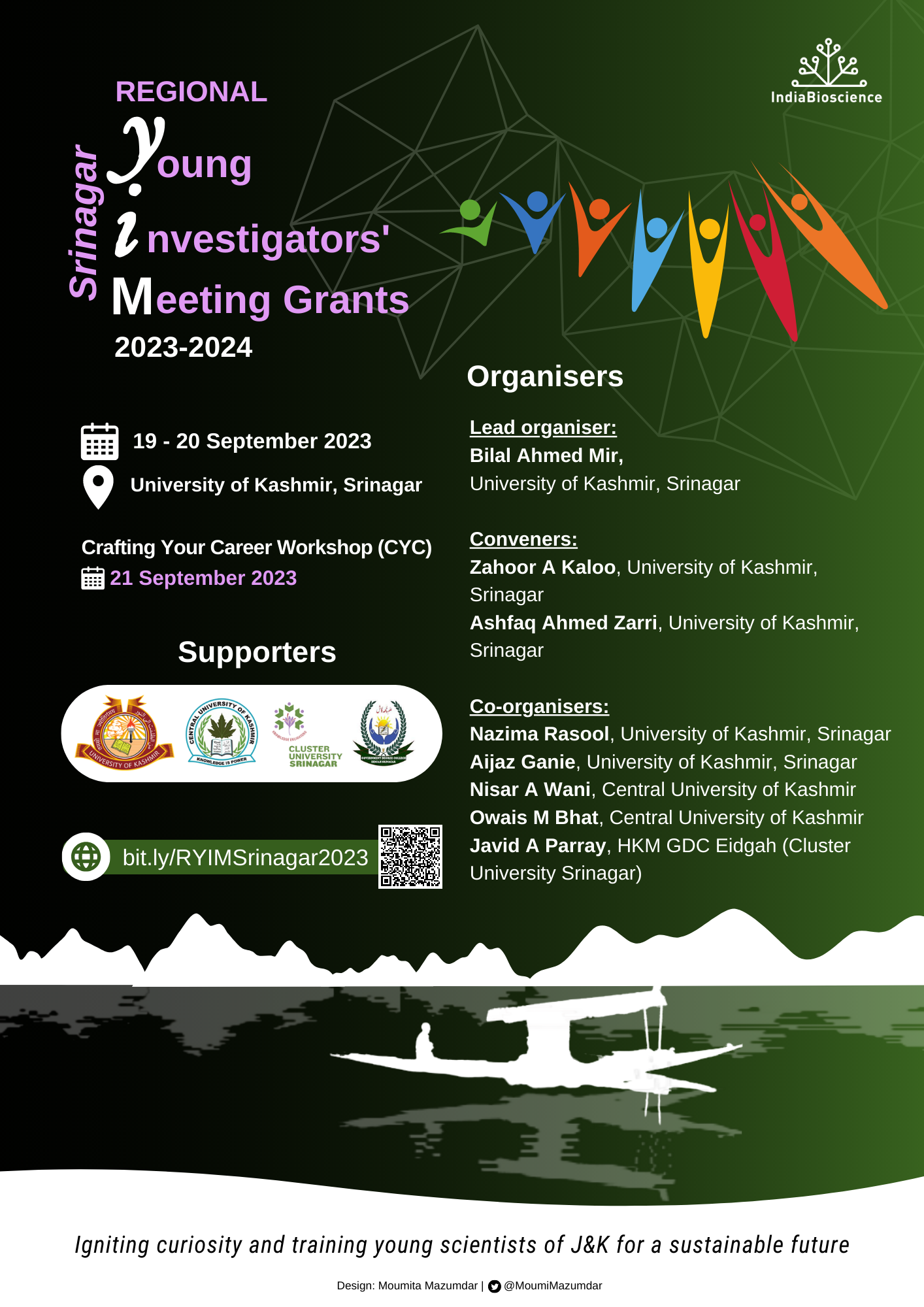 COMMUNITY BUILDING
4th IndiaBioscience Outreach Grants (IOG) awardees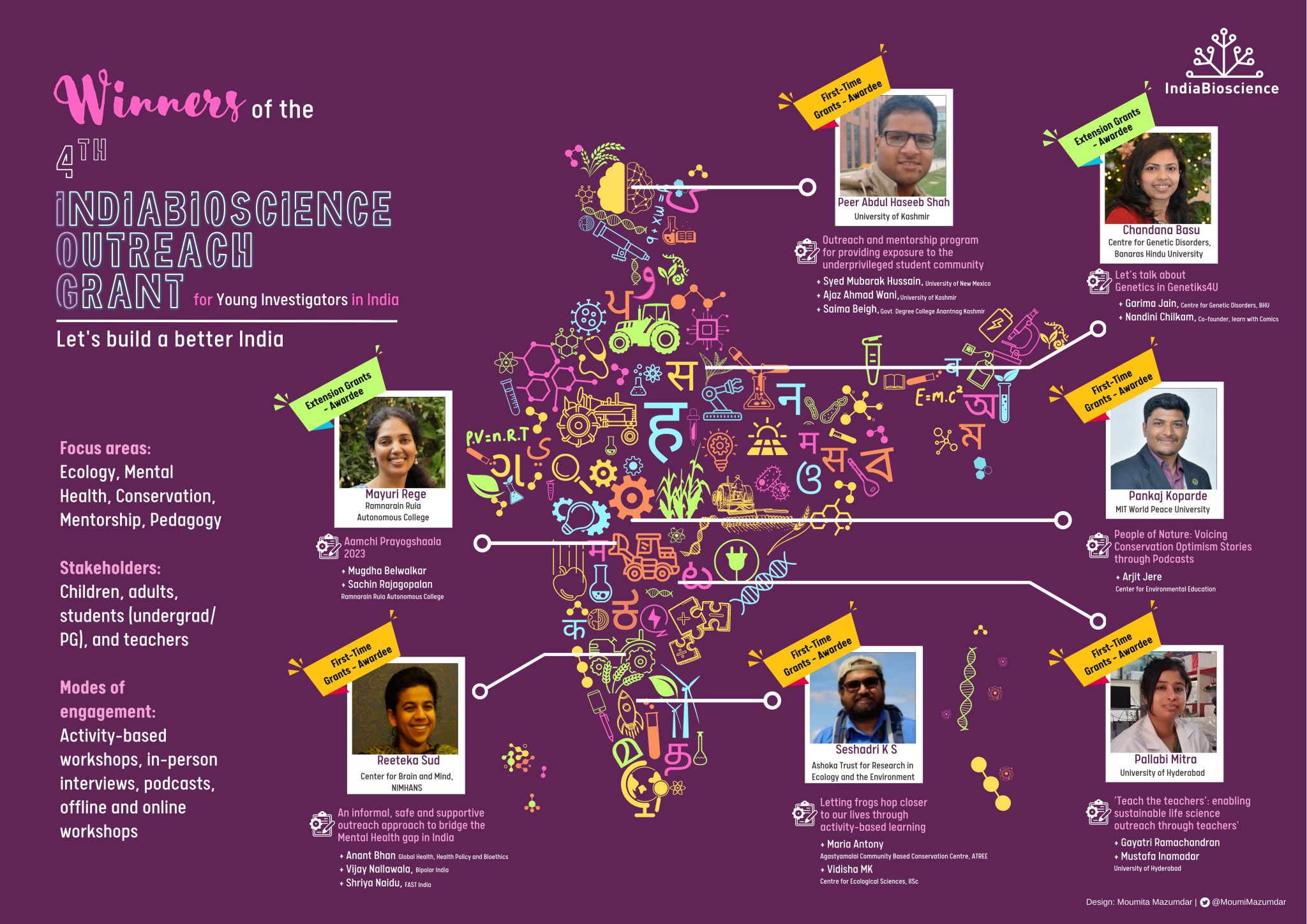 We are thrilled to announce the recipients of the 4th IndiaBioscience Outreach Grant (IOG). Congratulations to all the awardees for their outstanding proposals! We extend our heartfelt gratitude to everyone who submitted their applications for this grant, showcasing their dedication to science outreach. While we couldn't fund all the remarkable proposals, we encourage you to explore and support these deserving initiatives as they continue their outreach endeavours. Here are some noteworthy proposals that didn't receive funding this time:
1) "Using squirrels as sentinels to document biodiversity and change in Northeast India" by Nandini Rajamani (IISER Tirupati) and Pooja Gupta.
2) "BAMP IT!" by Ragothaman M. Yennamalli (SASTRA Deemed to be University) and Suchitha Champak (SciRio).
3) "Phone-o-Scope" by Jaya Lakkakula (Amity University Maharashtra) and Nilesh Wagh/Karthic A (Amity University Maharashtra/Serum Institute of India).
We have compiled here the outputs of community engagement and outreach efforts by IndiaBioscience Outreach Grant awardees. We encourage everyone to explore these innovative projects and remain passionate about science outreach. Your support and engagement can make a significant impact on promoting science education and awareness in our community.

Digital Initiatives
Big Questions, Innovative Approaches
We were thrilled to host Frances M Brodsky from University College London, UK in our third scientific talk. If you were not able to attend the live webinar, don't worry! You can find the recorded session here.
For more information on this series and to stay updated, click here.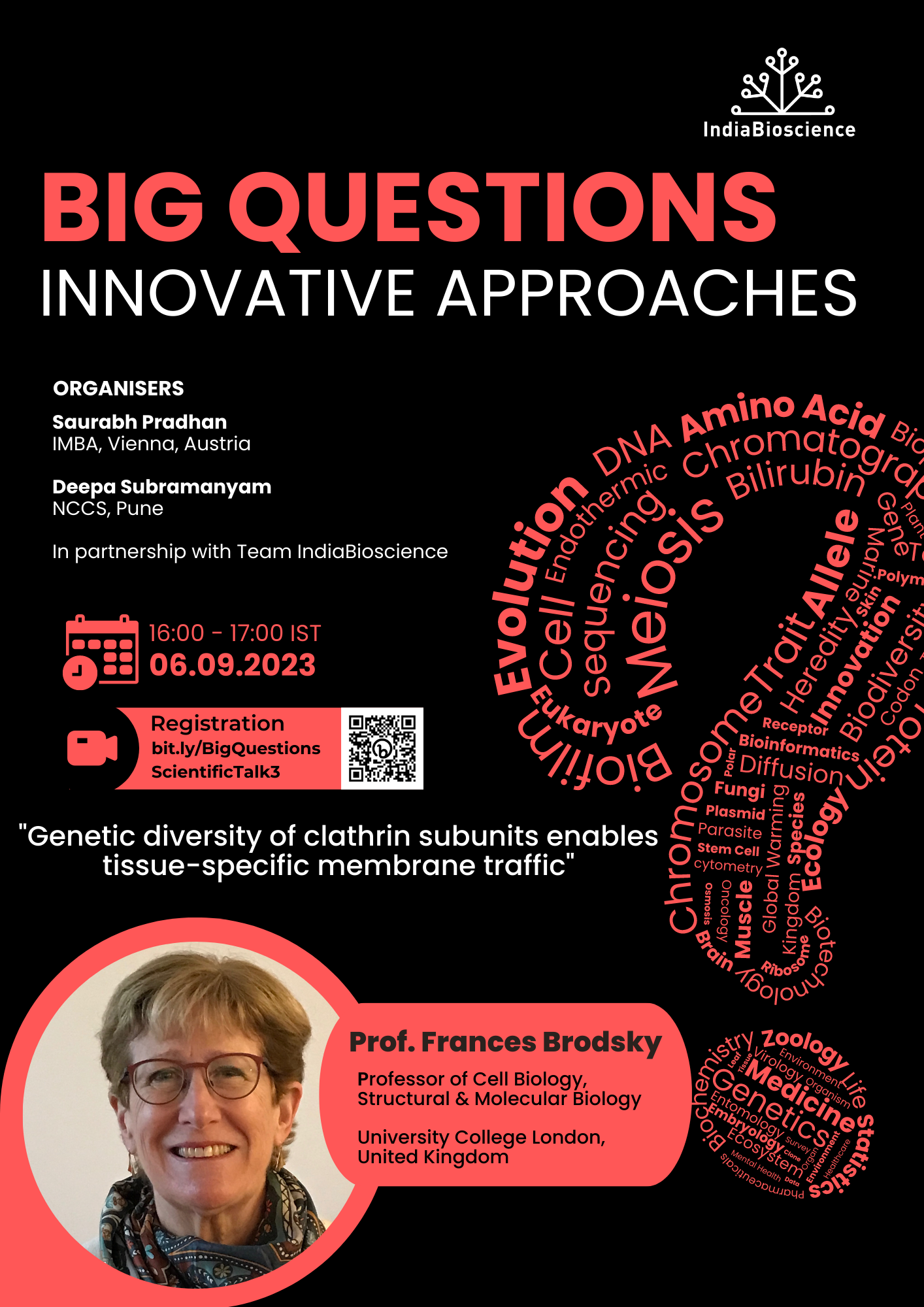 YI Huddle (IndiaBiostreams)
In our fourth YI Huddle, titled, 'Publish, But Don't Perish: Navigating Academic Publishing for YIs', we discussed the current status of academic publishing with a key takeaway: the scientific community needs to regain perspective on why we publish science. You can now access the complete recording of the webinar here.
Our next YI Huddle is just around the corner. In the upcoming webinar titled ​'Like it or Not: Social Media and Digital Networking for YIs', we are excited to present our guests, Jen Heemstra from Washington University in St. Louis and Manu Awasthi from Ashoka University. They will talk about digital networking and how we can leverage social media for professional development. So, get ready and mark your calendars for September 29, 2023, from 4:00 to 5:00 P.M. IST.
While this webinar series is primarily intended for Young Investigators in India, it is open to all interested participants. To register, click here. We are eager to engage with you!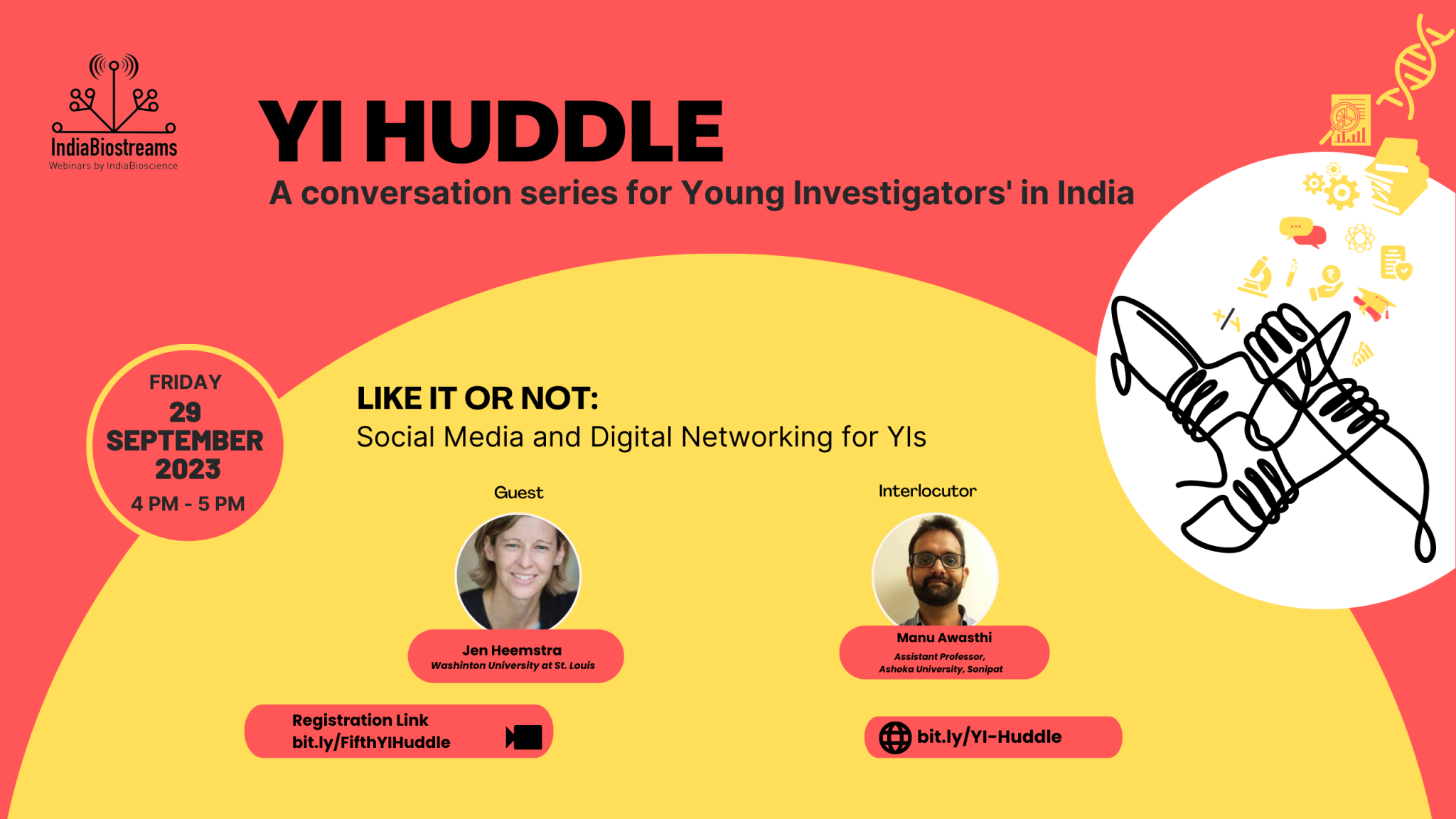 Let's chat about teaching graduate biology
On 28 September, we invite you – the biology educators from colleges and universities from across India – to join us in a virtual meeting to celebrate our latest compendium Teaching Graduate Biology (Vol-II). Join us online to have an informal conversation with other educators from India on the different aspects of higher education covered in the compendium. Click here for registration and more details.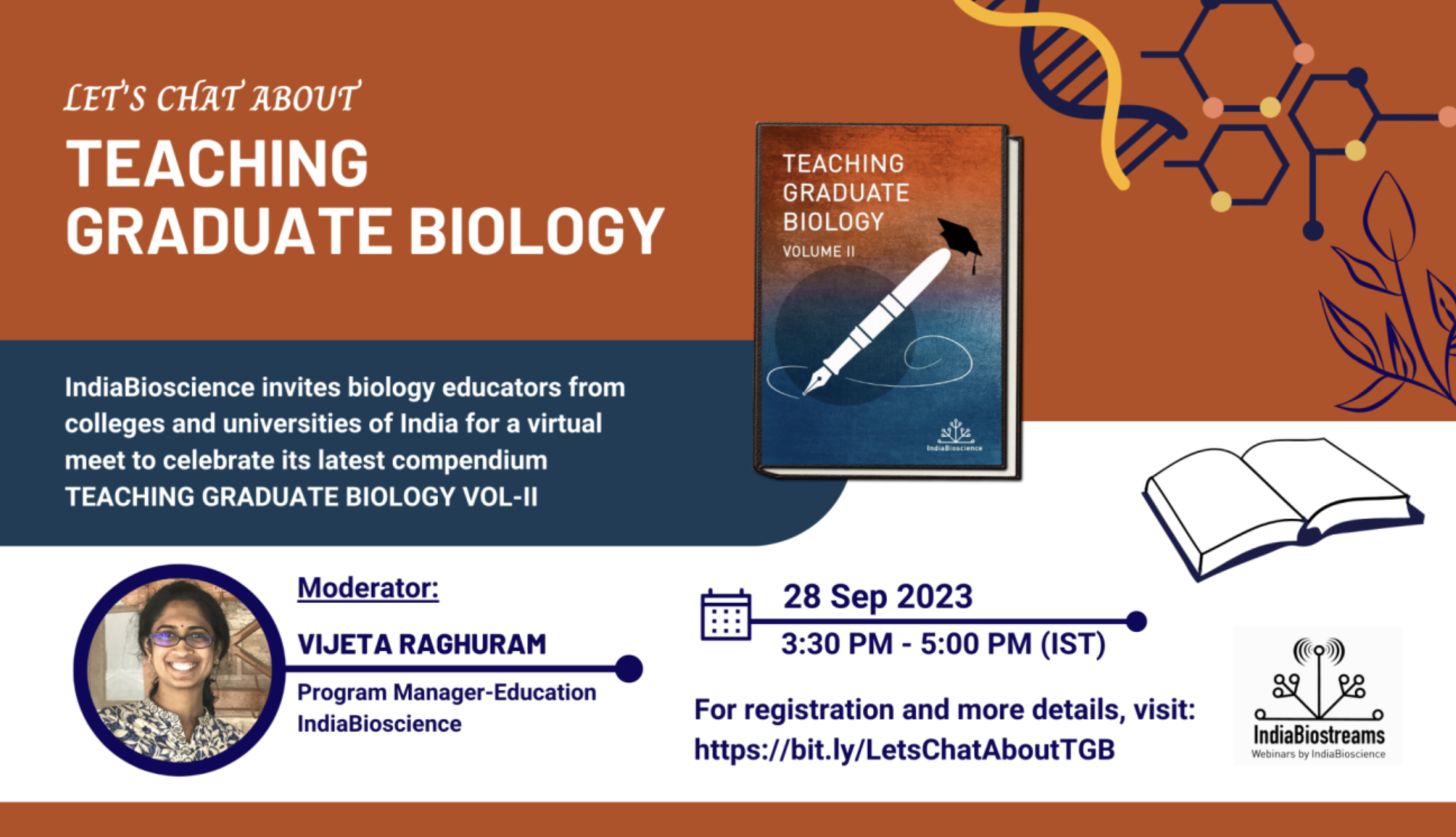 SKILL BUILDING
'Crafting your Career' workshop at NCBS
We conducted a 'Crafting Your Career' (CYC) workshop for Masters' students and PhD researchers at NCBS, Bengaluru on August 24, 2023. Students from educational institutions across Bengaluru, such as the Jawaharlal Nehru Centre For Advanced Research (JNCASR), Ramaiah Institute of Technology, The Institute for Stem Cell Science and Regenerative Medicine (DBT-InStem), Indian Institute of Science (IISc), and NCBS, participated in the workshop. The CYC program was started by IndiaBioscience in 2019, with a goal to raise awareness among life science students, and PhD and postdoctoral researchers about different science careers in India and help them develop skills to navigate career paths.
Do you want us to conduct this workshop at your institute? Write to us hello[at]indiabioscience[dot]org.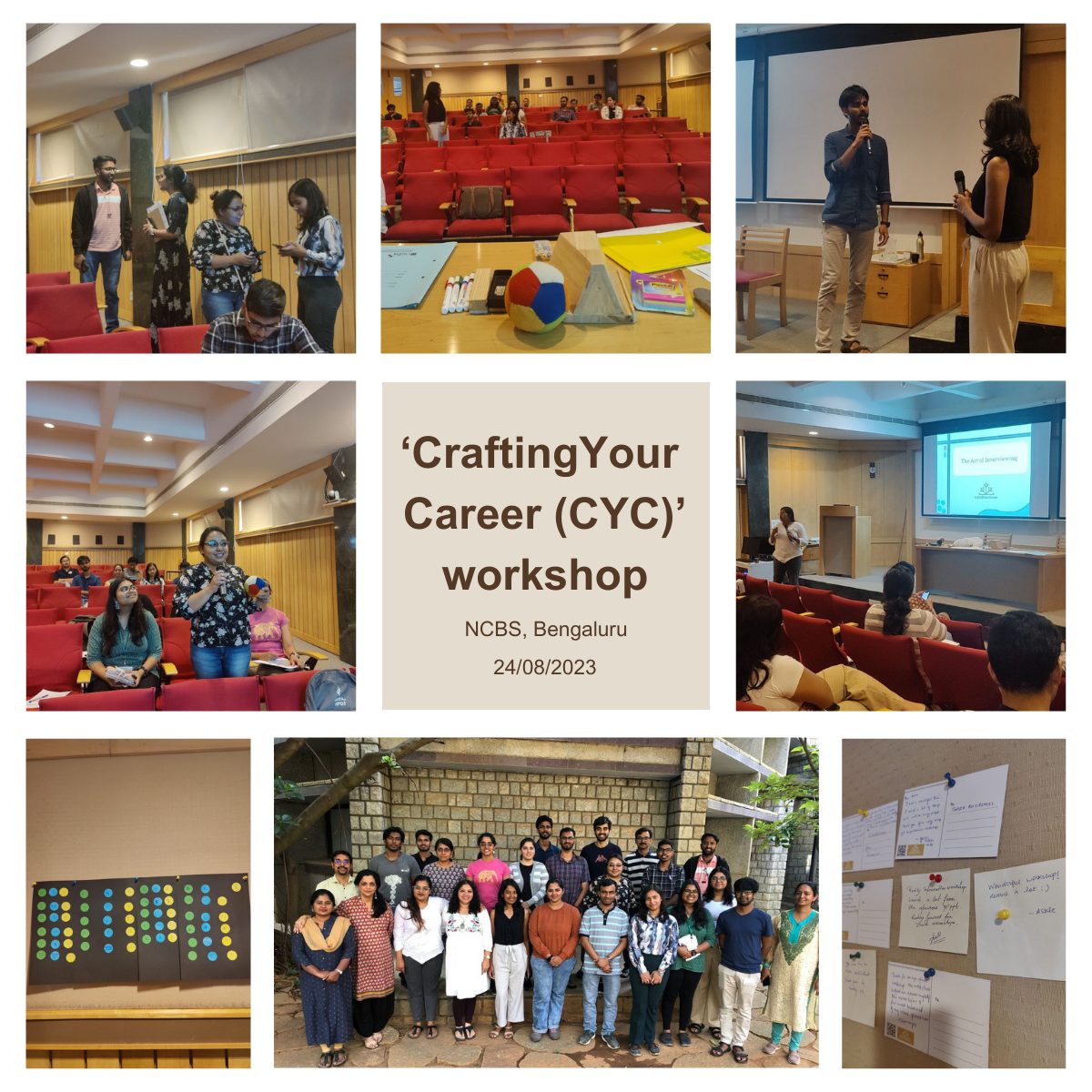 SCIENCE COMMUNICATION
In our science communication vertical, we published several columns and news articles last month. We even published our second PhD Cafe article of this year.
Scroll down to get a glimpse of these articles below!
COLUMNS
How AI is changing research and education in life sciences
Joel P. Joseph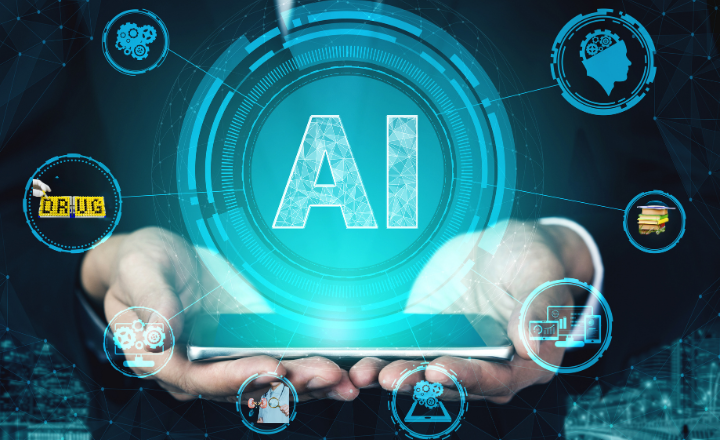 This article discusses how Artificial Intelligence (AI) is revolutionising various aspects of life sciences, from drug discovery and disease diagnosis to education, showing great promise in improving healthcare and enhancing learning. But, caution is needed in its application, considering challenges like lack of generalisation across patient populations and the risk of over-reliance, as human collaboration and thoughtful use remain essential for its successful integration.

Work-life balance during a PhD: Reframing the narrative
Karishma Kaushik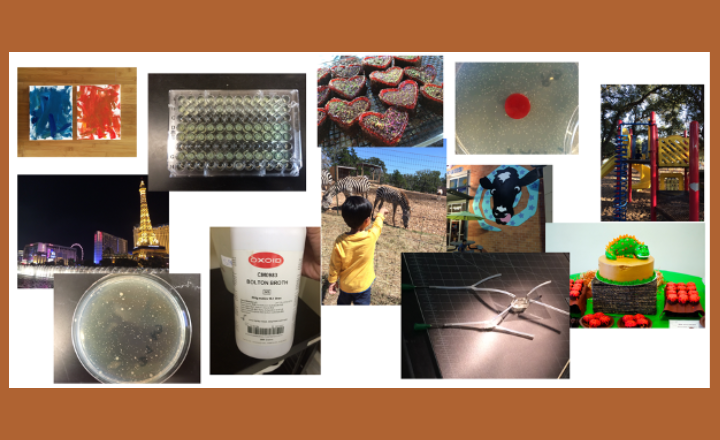 In this PhD café article, Karishma S Kaushik, IndiaBioscience, reflects on her unique journey as a ​'non-traditional' PhD candidate who juggled personal and professional commitments, including motherhood. Karishma explores the dynamic nature of work-life balance, and discusses the challenges of applying one-size-fits-all solutions for achieving balance across different phases of personal and professional growth.
The MindGala Initiative — Exploring the wonders of the brain!
Jhillika Trisal, Poonam Thakur & Sai Dharsini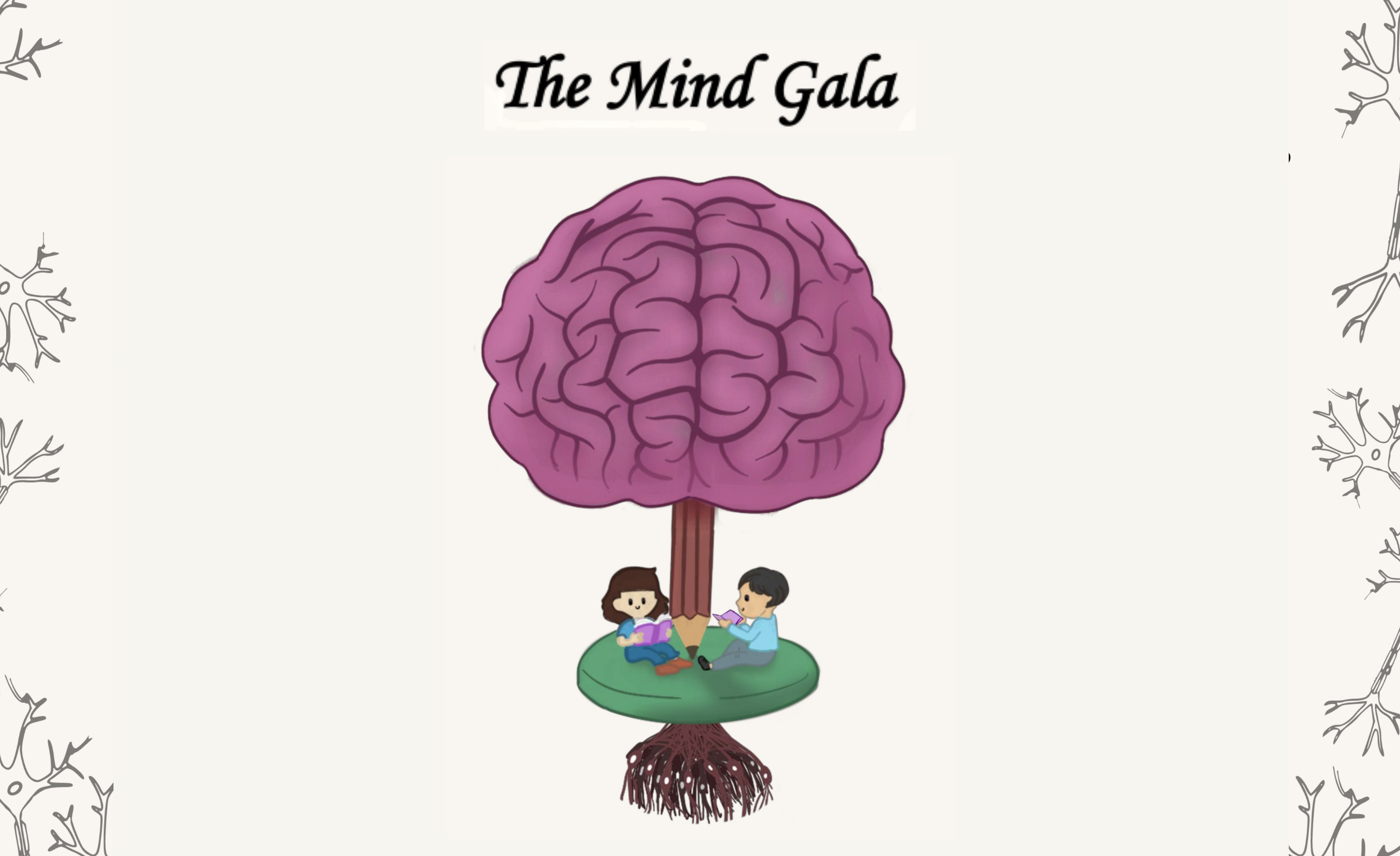 Mind Gala, a 2nd IndiaBioscience Outreach Grant awardee, is a pan-India neuroscience outreach initiative co-founded by Poonam Thakur, Assistant Professor, IISER Thiruvananthapuram, and a team of passionate neuroscience enthusiasts from Project Encephalon. The initiative aims to cultivate a deeper understanding of neuroscience and make brain sciences more accessible to high school and college students through its diverse array of webinars, workshops, and mentorship programs.
NEWS
Mosquitoes on the hunt: the role of olfaction in finding human hosts
Rohitesh Gupta & Debraj Manna
A recent study led by Nitin Gupta, Associate Professor, Indian Institute of Technology (IIT), Kanpur, have questioned how mosquitoes can detect hundreds of odourants to find human hosts. In contrast to dedicated neural pathways for every odourant, the team of researchers discovered that a combinatorial action of multiple neurons for each odourant is the key to solving the puzzle.
Picolinic acid: A potential therapeutic against pandemic viruses
Jeenisha Dabreo Rumao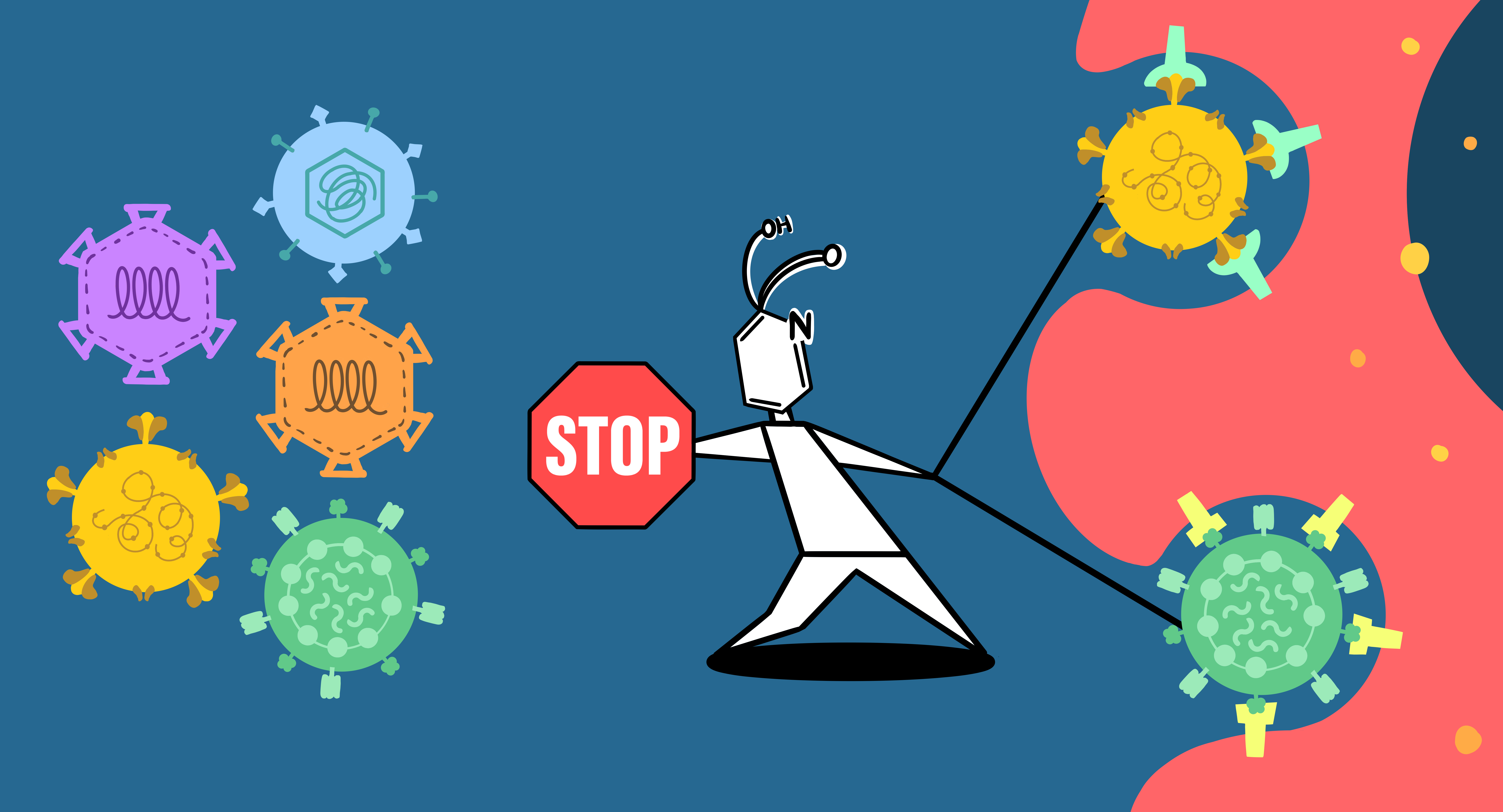 Researchers from the Indian Institute of Science, Bangalore, have demonstrated Picolinic acid's (PA) potential against pandemic viruses, specifically SARS-CoV‑2 and Influenza A, through broad-spectrum antiviral activity and immune response enhancement. The study emphasises PA's promising therapeutic role and its unique mechanism targeting viral entry and immune modulation.

Near-tumor injection of a new nano-drug exposes an ​"eat me" signal
Navodita Jain
A research group working on packaging antitumour drugs from Regional Centre for Biotechnology, Faridabad, and Amity University, Haryana, has successfully trained immune cells to attack tumour cells. They have developed a hydrogel-based anticancer drug delivery system that reduces toxicity and targets tumours directly. This innovation shows promise for more effective cancer treatment pending further research and clinical trials.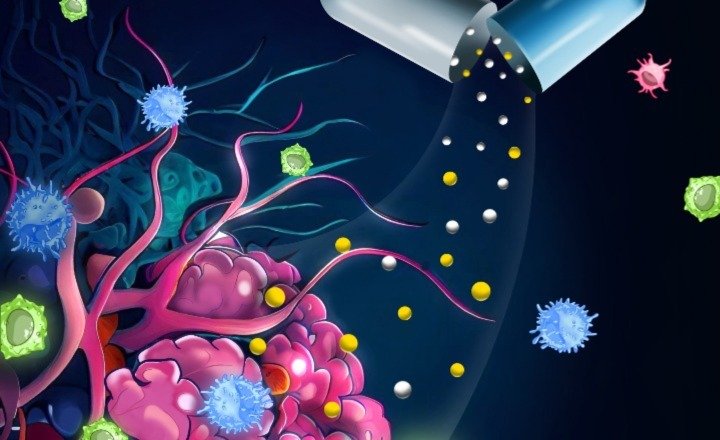 Using peptides and lipids to deliver RNA interference safely into cells
Rohini Subrahmanyam
A team of researchers from Indian Institute of Science Education and Research (IISER) Kolkata and IISER Pune engineered a lipopeptide-based siRNA transporter, ensuring that siRNAs could efficiently enter the cytoplasm of the cells in functional form and perform gene silencing.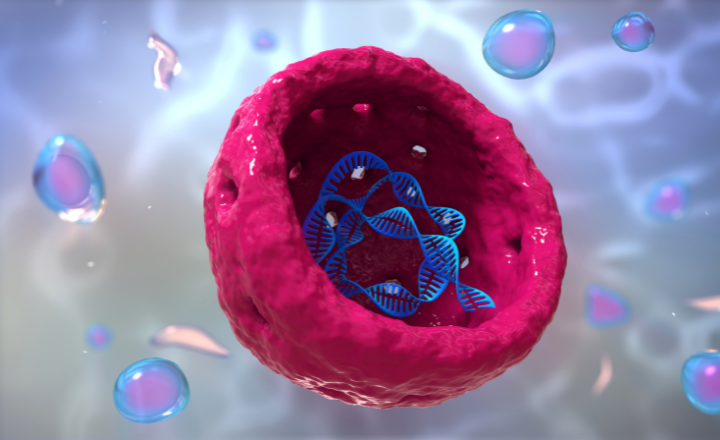 EDUCATION
Teaching Graduate Biology (Vol-II)
We are excited to present our second compendium of resources for college biology educators, called Teaching Graduate Biology (Vol-II). It features select online articles, webinars and podcasts published on the website of IndiaBioscience between 2019 and 2022. And they cover a wide range of themes, including interviews with educators; innovative pedagogical techniques; student misconceptions; undergraduate research; virtual learning; education policies; and mental health. Download the booklet for free.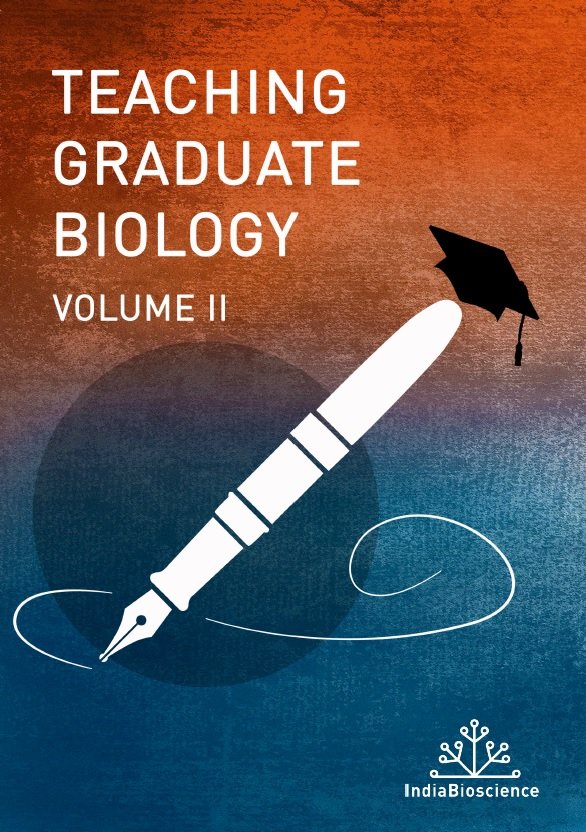 Anandi: Using print medium to close knowledge gaps
Rohini Karandikar
In India, millions of children dropped out of school during the pandemic. The loss of learning due to the pandemic-induced closure of schools was particularly severe for children from rural and tribal areas, who had little to no access to online learning. Anandi, a newsletter in Marathi, published by the Homi Bhabha Centre for Science Education (HBCSE), Mumbai, hopes to reduce their learning gaps via the print medium. In this article, Rohini Karandikar, a former visiting scholar at HBCSE writes about the newsletter and what makes it special.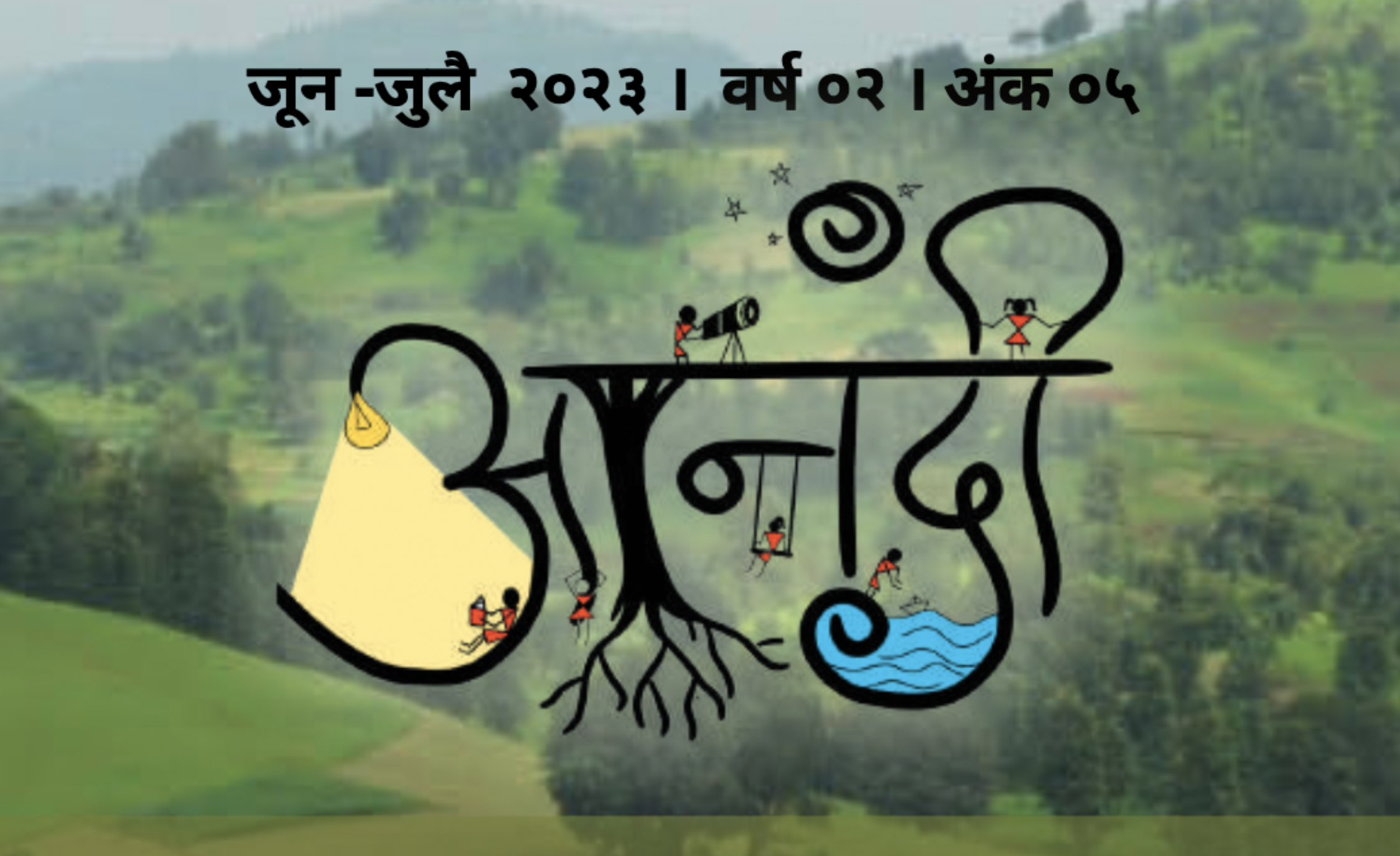 #EDUCATORSMONDAY on last Monday of every month
This is the first post from our latest initiative to engage college biology educators on social media, called #EducatorsMonday. On the last Monday of every month, we will post a question for you on all of our social media handles. We invite you to post your answers, see responses by others, and enjoy the thread of conversation. The question for August is: Why did you choose the life of an educator?
Post your answer on Twitter, Facebook, LinkedIn or Instagram.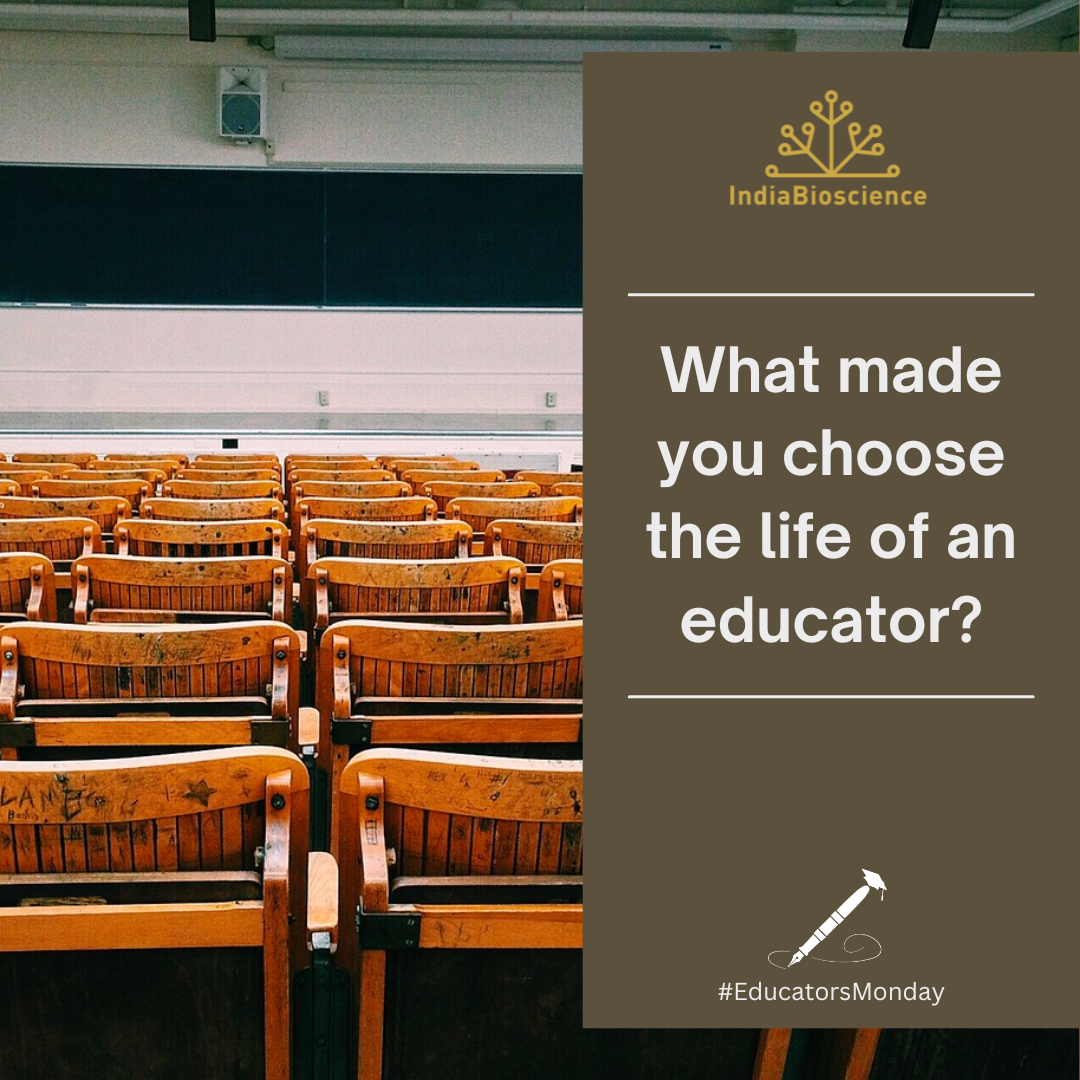 IndiaBioscience writes for 'The Hindu' on Science Education at State Universities
In the second article for The Hindu (Science), Karishma Kaushik from IndiaBioscience discusses how we can re-envision state-managed universities and colleges to fulfill the needs of higher science education in India. She opines that State Universities and colleges, from where most of the graduates come, "could be reimagined as hubs for skill-based science education, with teaching, training, and research that aligns with employability in the scientific sector". Read the full article here.

Write for our Education vertical
Do you wish to write an interesting article on education? Then pitch us your story in ~100-200 words. Have an idea for a workshop, webinar, meeting or podcast for educators? We are all ears! Reach us at education[at]indiabioscience[dot]org.
ACTIVITIES AT INDIABIOSCIENCE
Manjula Harikrishna promoted to Program Manager-Community Building
We are thrilled to share that Manjula Harikrishna has been promoted to the position of Program Manager - Community Building! This achievement is a testament to her dedication, hard work, and unwavering loyalty to IndiaBioscience. We extend our heartfelt gratitude to her for remarkable contributions, and we eagerly look forward to continued collaboration and engagement with us. Congratulations, Manjula, on this well-deserved milestone!
Here's a sneak peek into how we pulled off a memorable celebration with the IndiaBioscience team lunch!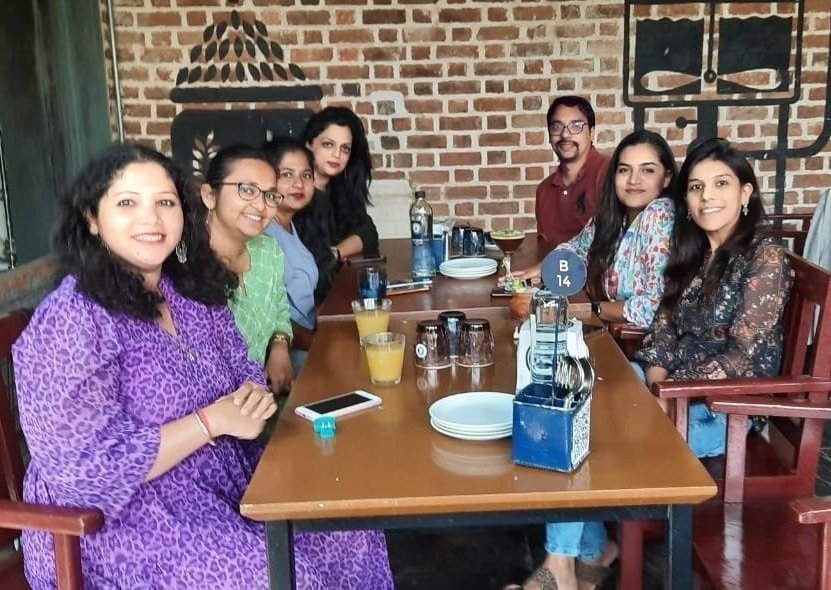 Special Initiatives
DEI Infographic by IndiaBioscience: 'Tenets of our Laboratory'
DEI (Diversity, Equity and Inclusion) is not a 'one size fits all' plan. While it is encouraging to observe DEI in science in India becoming a part of open and honest conversations, our narratives and depictions of DEI are largely driven by dominant global conversations. These narratives clearly do not completely capture the complexity of DEI in India, and therefore appear largely performative when put into practice. This infographic by IndiaBioscience aims to capture the essence of DEI in India, through vivid and thought-provoking illustrations and DEI statements.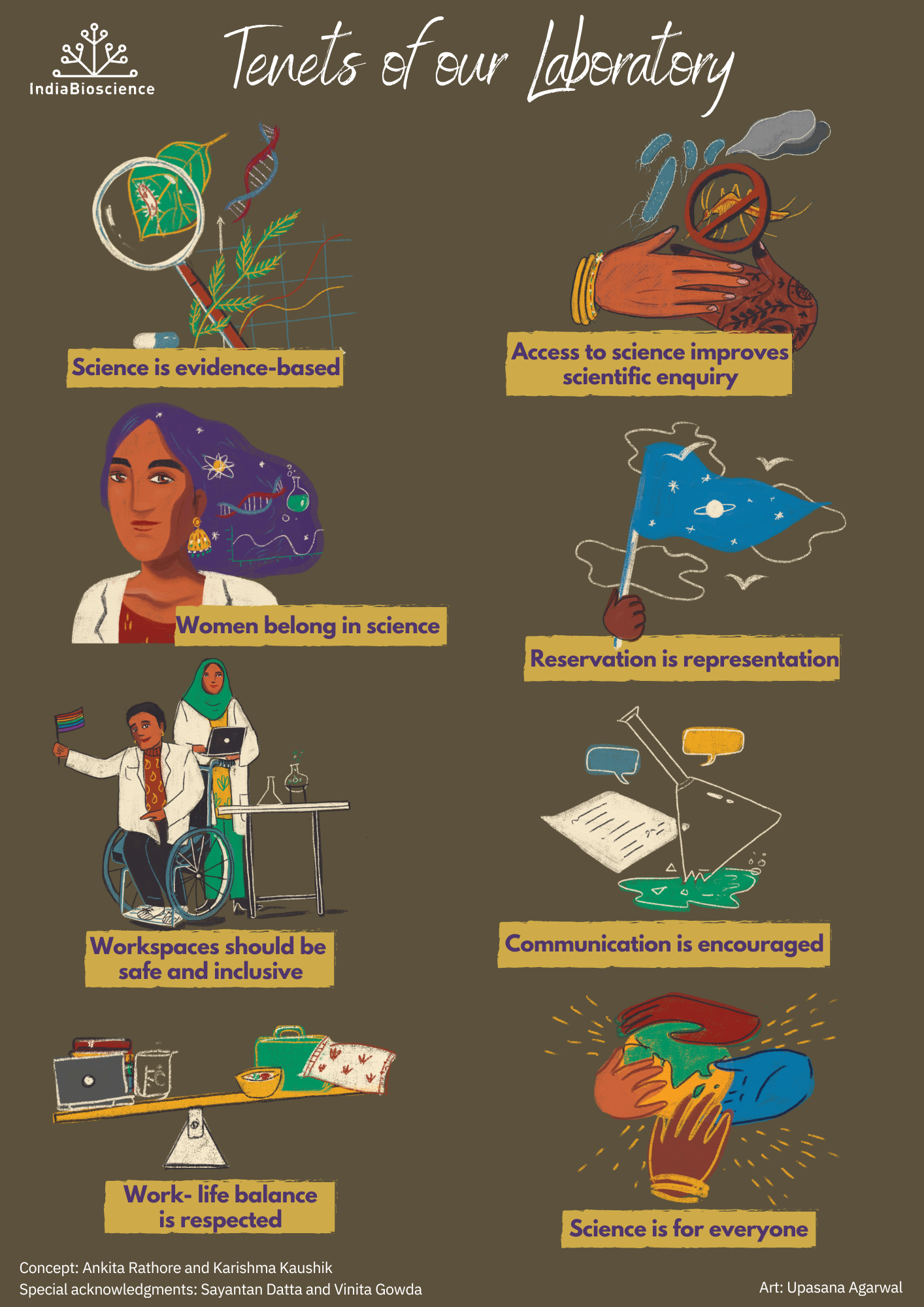 To celebrate the uniqueness of 'Diversity, Equity, Inclusion' (DEI) in India's scientific landscape, we present to you the DEI poster titled "Tenets of our Laboratory" by IndiaBioscience. We also launched a giveaway campaign on Twitter to distribute 50 high-resolution prints of this poster to laboratories across India. While the giveaway is now closed, you can still download a copy of this poster for your lab.
We would love to see this DEI poster on your research lab door/notice board, and your selfies/pictures with the poster on social media as well. Use the hashtag #DEIIndiaScience to share with the life science community in India. Do tag us on Twitter, Facebook, LinkedIn, and Instagram. You can also download this poster from our website for display. Thank you!

Jobs, Events, Grants and Fellowships
For Jobs, Events, Grants and Fellowships visit our website. You can also subscribe to our dedicated Jobs and Internships newsletter here.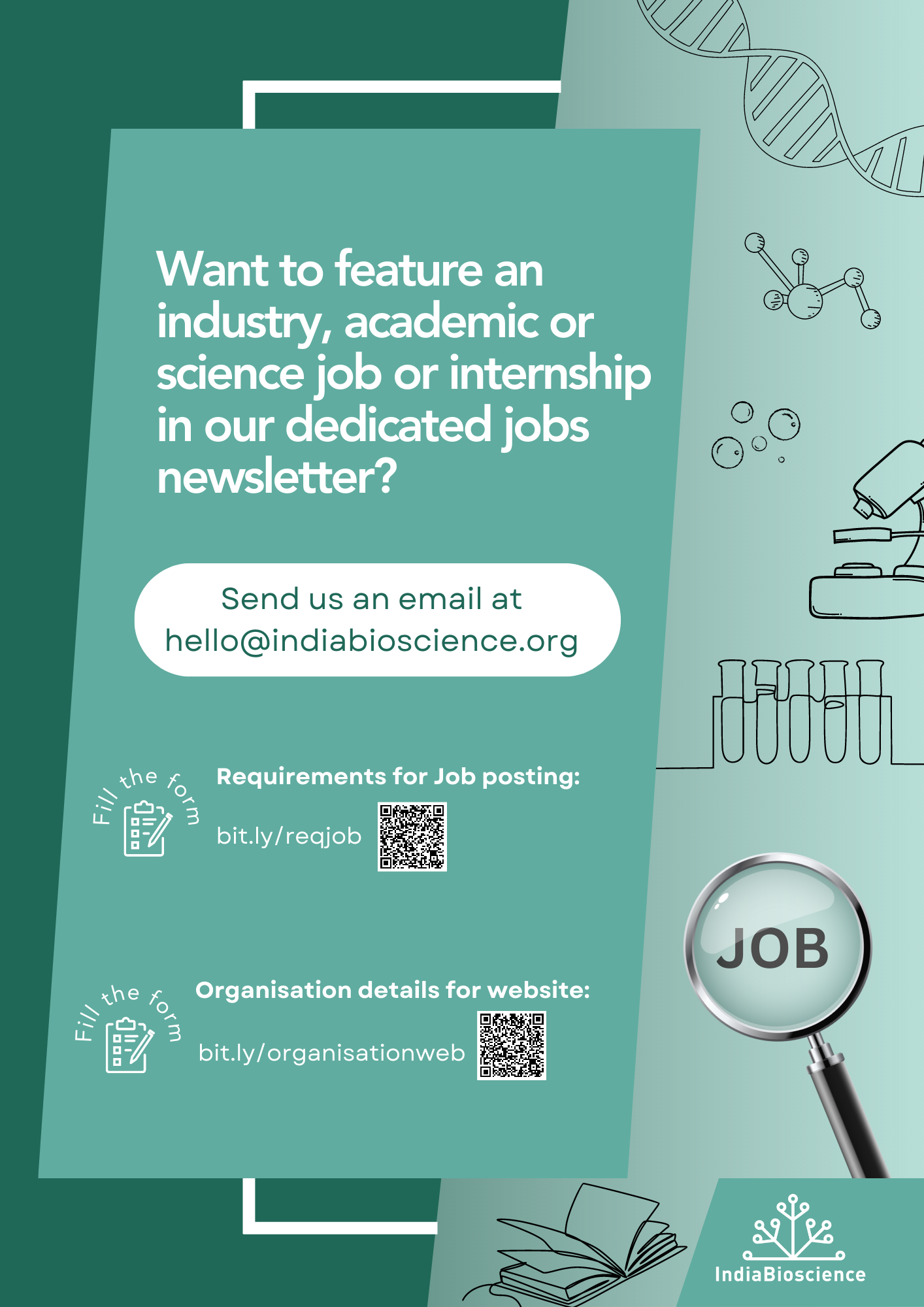 Signup for Jobs and Internships newsletter