Science Administration and Management Workshop for Women in Science 2017 – 18
Event Details
COESME at IISER Pune in association with the Newton Bhabha Fund (British Council) are organising: Workshop on Science Administration and Management for Women.

The workshop aims to open up new avenues to retain trained women in science by targeting those who are making a transition from education to scientific careers. The programme is planned to generate a trained workforce to take on emerging roles in the growing scientific enterprise and to raise awareness about alternative career options in STEM.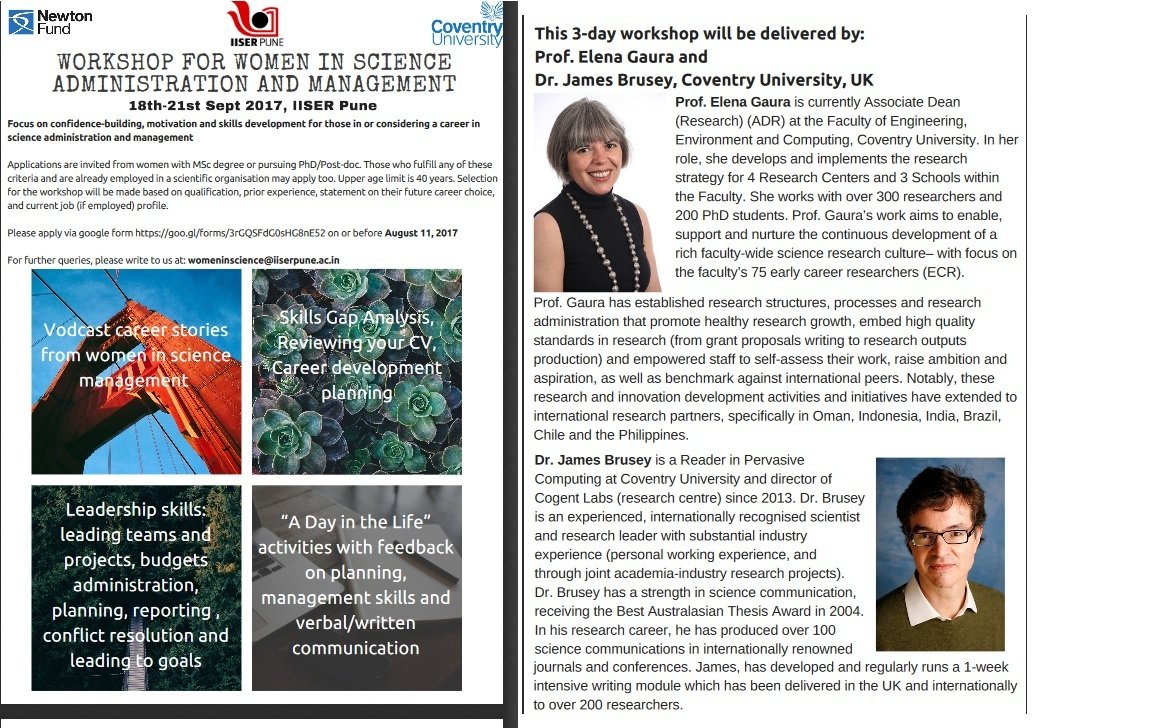 On September 18, 2017, one day prior to the workshop, there will be an Orientation Session on Careers in Science Administration and Management with speakers from India working in related areas. This session will be free and open to everyone. Details will be posted closer to the date.

Date: September 18, 2017 Venue: Sir C.V. Raman Auditorium, IISER Pune

Eligibility for the Orientation Session: Open to All
Workshop
The workshop will be in two levels. The first level of the workshop will be for selected participants and will involve in-depth discussions and assignments. Some of these participants will have the opportunity to attend a second, advanced level of the workshop.
Trainersand Organisers: This workshop would be conducted by a team of experienced faculty from Coventry University, UK. The workshop is sponsored by the British Council, through the Newton Bhabha Fund and organized by MHRD's Centre of Excellence in Science and Mathematics Education with support from the Science Management and Communications Team of IISER Pune.
Click here to register online (Last date for Application: August 11, 2017)

Dates:
Level 1: September 19 – 21, 2017
Level 2: January 8 – 9, 2018


Venue: IISER Pune