Anita Mary George, a Fulbright-Nehru Academic and Professional Excellence fellow, Stony Brook University, New York, shares insights into her current research, focusing on investigating sponge microbiomes and metagenomics to advance ocean research. In this interview, Anita takes us on an unconventional journey through her experiences as a marine biologist and offers invaluable guidance to aspiring women scientists.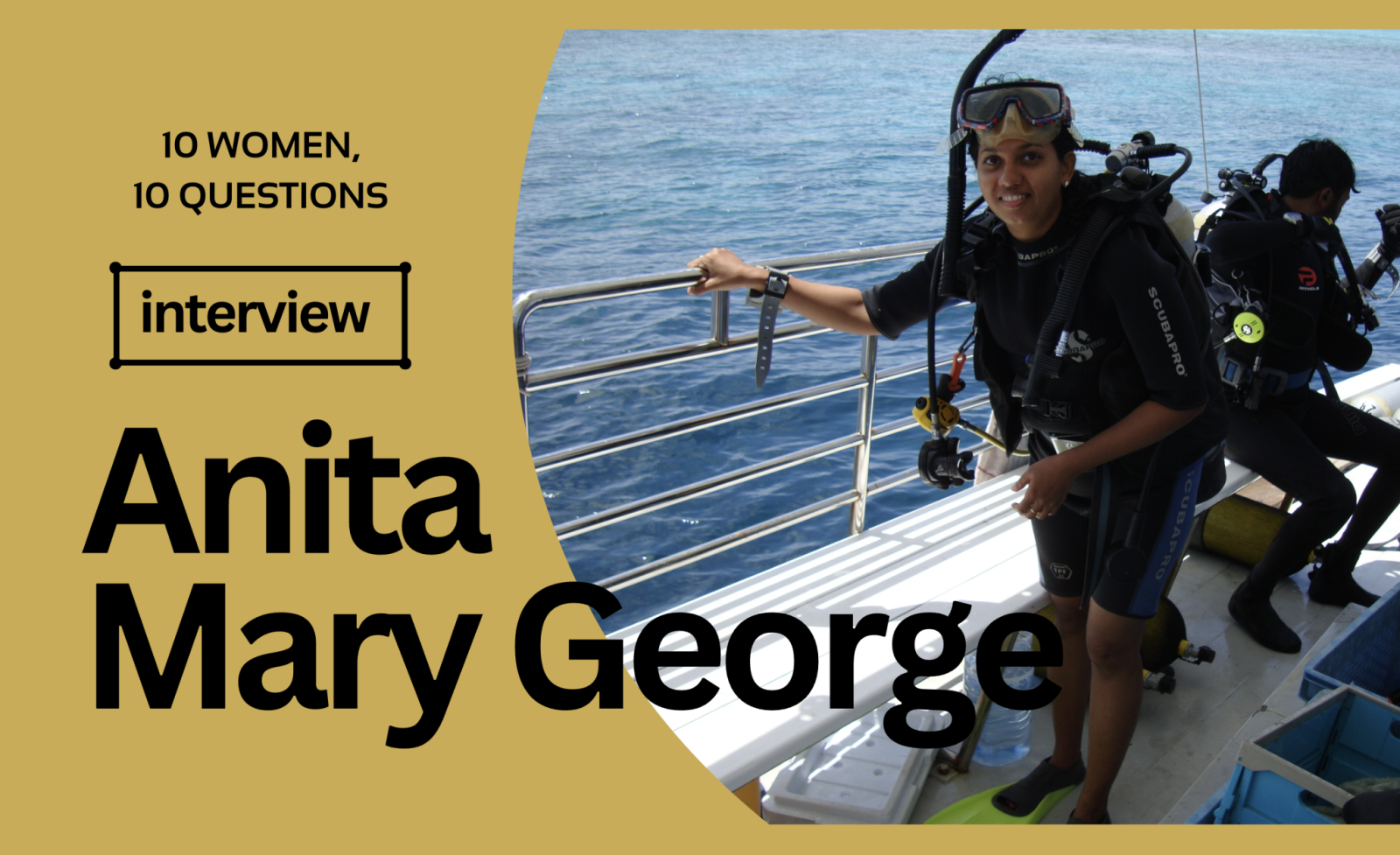 1. What inspired you to pursue a career in marine biology?
I had an innate interest in science since young. At five, I asked my dad about the hidden wonders beneath the ocean, curious if it held more than just the fish, mussels, and lobsters I had seen on my plate. Throughout my school days, I tossed between pursuing medicine or environmental studies.
After earning a degree in Zoology, on one sunny day, I stumbled upon an advertisement for a Master's course in Marine Biotechnology. Without hesitation, I met S. Lazarus, the institute head, who later became my doctorate supervisor. Despite his initial skepticism on if I could wait for a year, I enthusiastically committed to the program by embarking on my marine science journey in 1995 through a Postgraduate Diploma in Coastal Aquaculture.
2. What has been the most exciting research project in which you have been involved?
Throughout my career, I've had the opportunity to work on fascinating marine projects involving lobsters, octocorals, and sponges in places like India, the Maldives, Oman, and Australia. However, my current project as a Fulbright-Nehru Academic and Excellence fellow at Stony Brook University, New York, is the most striking. This project involves investigating the existing sponge microbiome and metagenomics over different latitudinal gradients. It will undoubtedly reveal fresh insights that can contribute to the advancement of ocean research.
3. Tell us more about your research as a Fulbright-Nehru Academic and Excellence fellow?
The sponge-microbe symbioses play a crucial ecological role. About 40 – 60% of marine sponge biomass comprises of microbes that contributes to host carbon metabolism. Furthermore, the symbionts of marine sponges almost mimic the functions of mammalian guts and plants. Despite their importance, the ecological factors and the functional potential of sponge microbiome remain a mystery. In Robert W. Thacker's lab, we aim to investigate the specific sponge-microbe consortium, their ecological and biological functions, as well as the divergence and evolution of sponges across different latitudes.
This exploration involves utilising microbiome sequencing, metagenomics, and metabolomics techniques. Additionally, we plan to develop a comprehensive database on sponge systematics, including microbiome details of Indian and Long Island species. As a Fulbright-Nehru Academic and Professional Excellence fellow, in addition to grasping the advanced macromolecular analysis and eDNA techniques, I teach sponge systematics and Geographic Information System to scholars of the Ecology and Evolution department.
4. What are the intriguing facts about sponges and the importance of your taxonomy research?
Sponges are one of the ancient life forms on Earth and play essential functional roles in our oceans. They possess intriguing characteristics and are popular with their biomedical properties, especially in cancer research. Despite lacking complex organs, they exhibit unique features, such as diverse skeletal structures called spicules, which make them truly remarkable. As an exceptional filter feeder, they efficiently recycle nutrients and facilitate connections between different marine habitats. Their totipotent nature, adaptability to diverse ocean conditions, and flexibility to change shapes in response to adverse environmental conditions make them valuable subjects for climate change research. Hence understanding their taxonomy is tremendously imperative for any research on sponges.
Through SCUBA diving, I have been fortunate to explore pristine locations in South and Central-West India, including breathtaking islands like Lakshadweep and the Gulf of Mannar. As a taxonomist, I have documented and described numerous sponge species, some of which were previously unknown in India and discovered for the first time along the West Coast. However, what continues to astonish me is the puzzle of different sponge species exhibiting similar appearances but possessing distinct anatomies. This fascinating enigma never fails to captivate my attention in the realm of sponge taxonomy research.
5. What is your impression of marine biology research in India?
Peninsular India stands out as a remarkable hotspot for marine biodiversity due to its unique environment, currents, and wind patterns. The abundant resources present in India offer great potential for uncovering significant marine discoveries that can contribute to solving complex environmental challenges. However, it is important to note that most maritime expeditions and fish distribution studies conducted in India have focused on depths over 1100 meters.
Having had the opportunity to work in marine institutes and laboratories across various countries, I strongly believe that India needs to attract and support talented scientists who can lead marine research initiatives. With the Ministry of Earth Sciences' ​'Deep Ocean Mission' in place, I am optimistic that several marine projects can be implemented to explore remote locations and greater depths of the Indian marine region. This would unveil the mysteries hidden within our ocean resources and align with international standards in marine research.
6. As the first Indian woman scientist with a diving certificate in 2003, tell us about your diving experience ?
It's interesting to note that I didn't know how to swim until I pursued my master's degree. However, driven by a sheer desire to explore the underwater world, I started enjoying being in the pool and the sea. Initially, my diving capabilities were limited to a depth of 20 meters with my first Open Water diving certification. Later on, I obtained an advanced certification in Maldives allowing me to dive upto 40 meters. At the current Rescue diver level (certified in Australia), I acquired additional skills as a marine researcher.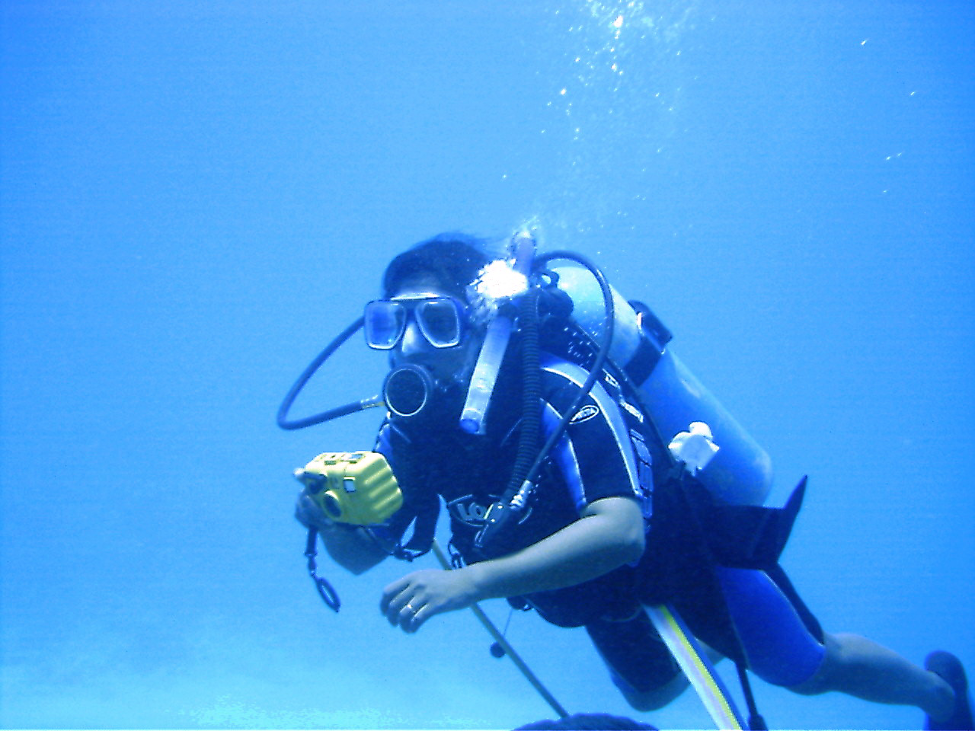 With over 300 research dives under my (dive) belt, each dive feels like a new life, and everything I encounter in the sea is cardinal to me. I fathomed that when we surrender ourselves to the water, there is an unimaginable oneness with the ocean. It is a sort of ​'Water Meditation' in which we start observing life around us and feel like a tiny grain of sand in the vast ocean. The vastness of the ocean, its diverse flora and fauna, always serve as a reminder that there is so much more to discover, comprehend, and preserve for future generations.

7. How can a woman turn her passion into work and carve a niche in the field of science?
With determination and resilience, women have the power to transform their passions into fulfilling careers, even in the face of challenges. As a curious child, I enjoyed collecting shells, observing animal behaviour, and immersed myself in ocean documentaries on Animal Planet and Discovery channels. The vastness of the ocean enthralled me, and I often wondered if I could explore it myself. This childhood allure served as a driving force, motivating me to pursue a career in science as I grew older.
It is important to remember that when you focus on a particular desire, the universe responds to your stubborn determination. In my case, I could venture into the sea, explore its wonders and carve a niche in marine science.
8. Are there any Indian women scientists who have acted as your role models?
I am inspired by Janaki Ammal​'s ground breaking work in cytogenetics, Kiran Mazumdar-Shaw​'s entrepreneurial achievements in biotechnology, Kalpana Chawla​'s incredible journey as an astronaut, and Aditi Pant​'s trailblazing participation in the Indian Antarctic expedition — they all ignite my admiration.
9. What is one change that, in your opinion, would hugely benefit aspiring women scientists?
The attitude towards oneself and science is crucial. In conflicting debates or scenarios, whether at work, home, or within the family, it is important to adopt the mindset of an observer and absorb information like a ​"sponge." This does not imply that we should become passive receptacles for others' opinions. As women, we possess the strength to make well-founded decisions and channel our passion in a positive manner. This empowers us to reach limitless horizons, much like the vastness of the ocean.
Ships don't sink because of the water around them;
Ships sink because of the water that gets in them;
Don't let what's happening around you get inside you and bring you down.
10. As a scientist, how do you find yourself mentoring young women who want to work in the field of marine biology?
I am deeply passionate about supporting and guiding young women who aspire to leave their mark in the field of marine biology. I encourage them to step out of their comfort zones and pursue their dreams, as the realm of marine biology is vast and brimming with endless possibilities. It is truly astonishing to contemplate that we have only explored a fraction, less than 10 percent, of the ocean. This realisation leaves ample room for young researchers to embark on their own journeys in marine science.