"A child can ask a thousand questions that the wisest man cannot answer."
~Jacob Abbott, children's book writer
Every child is unique. Some love the outdoors and are in constant awe of the natural world around them, drinking in every natural element. Others love books and board games, create art or work on their little projects. Then there are those who combine the best of the both worlds — even while seemingly tucked away in a corner with a book or, or these days, an educational tablet, they traverse the entire world within their minds.
Every such bookworm dreams of writing a book at least once. It is the natural progression after devouring many books. Once in a while, such a dreamer meets an encourager, and a book is born.
The Origin
Shreyas Maiti, son of a Neuroscientist and Chemical biologist, grew up listening to the wonders of the biological world. Maiti has always loved animals, with fishes being his favourites. One of his hobbies has been building aquariums and sharing his enthusiasm about this hobby, any chance he gets. It was during one such exchanges that Mitali Mukerji, then a Chief Scientist at the CSIR-Institute of Genomics and Integrative Biology (IGIB), Delhi, asked him ​"Have you ever wondered why each fish is unique?"
Maiti was, of course, familiar with the term genomics— the study of the whole set of genes, also called the genome. Mukerji, a genomics scientist for over two decades, nudged Maiti to think about how the genomes of the animals that so fascinated him could hold the answers to his curious queries about those animals. She invited Maiti to intern at her lab during the summer, introducing him to the concepts of genomics. Maiti was the youngest summer intern at Mukerji's lab: he spent the hours in the lab completely unravelling his curiosity. At some point, Maiti pondered aloud if there could be a book on animal genomes. Mukerji took this as a cue, and encouraged him to write one, and she would of course partner with him to delve into the scientific literature and find the answer to his queries. Maiti even suggested dedicating the book to Samir K. Brahmachari, a pioneer in Indian genomics, and to Maiti himself, as the person who helped him understand many scientific concepts in the most interesting ways.
Putting the pieces together
And so began a journey, with this school-going teenager sifting through online articles, videos from the National Geographic channel, and sometimes even TED talks. They decided to name the book ​"Genome Jaunts," somewhat inspired by the rather directionless yet organic exploration of animal genomes, led by Maiti. During the book launch a few summers later, Maiti confessed that he initially considered writing about these animals as a mere practice for his creative writing, and never anticipated it would evolve into a real published book read by teens like him, across the country.
As winter made way for spring in 2020, neither of them could have known that words like ​'genome' or ​'sequencing' would become mainstay in popular media. The pandemic and consequently the lockdown swept across the country. It was during this time, Mukerji reached out to Samatha Mathew, then a PhD student with Sridhar Sivasubbu at CSIR-IGIB, to gauge her interest in joining the adventure that was ​"Genome Jaunts".
Hence the duo became a trio. ​

"

We," the authors of Genome Jaunts got together- a curious animal-loving kid, a seasoned genomics scientist, and a young researcher with a penchant for science communication.
We worked remotely, with the fascinating and enthusing animal facts compensating for the horror of the pandemic and absence of in-person interactions. Soon, the book had taken its shape. We decided to confine the book to 50 animal descriptions by Maiti, each accompanied by its corresponding answers from genomes. By the end of the year, the book was compiled, with the gracious support from Maiti's mother Beena Pillai, who also penned the foreword. Thus, the first version of ​"Genome Jaunts" was ready to be introduced to the world.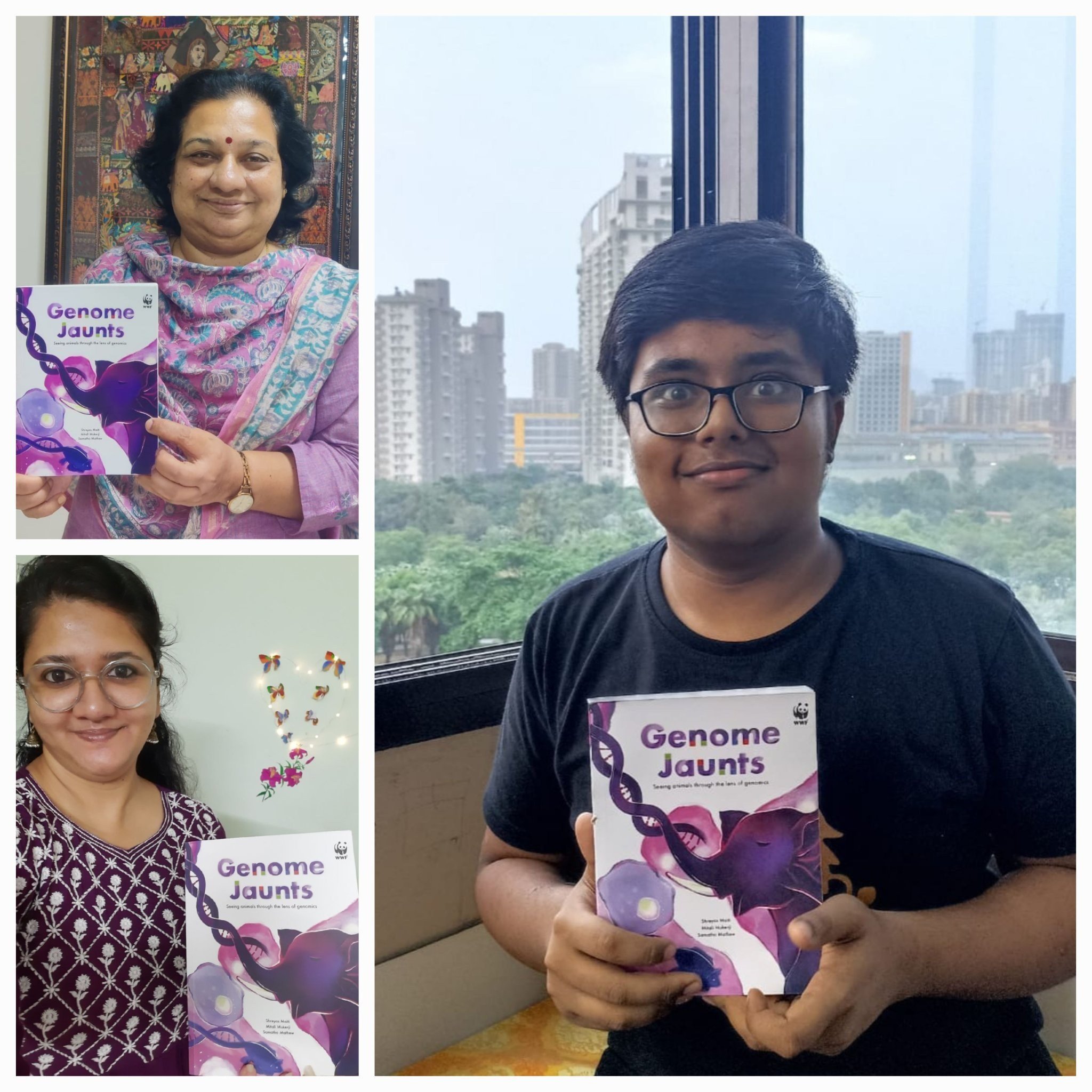 Packaging the right way
Now came the dilemma. We were uncertain about who would be interested in publishing such a book. We reached out to folks within our networks. Although everyone who came across the book lauded the idea of a teenager leading the project, we struggled to identify a clear path to publishing it. A fortuitous discussion with another graduate student from CSIR-IGIB gave a direction for Genome Jaunts: approaching the Environment Education department of World Wildlife Fund for Nature (WWF)-India. The WWF is a not-for-profit organisation, doing exemplary work in the field of wildlife conservation.
We took our chance and reached out to their Environment Education team with the first compiled draft of Genome Jaunt. The response from the team was extremely positive; in all of their publications this would be the first time they would link genes to the behaviour and adaptations of animals. Our book draft of course had to undergo copyediting and Neha Raghav, now the head of Environment Education WWF-India promptly put us in touch with Bijal Vachharajani, children's book author and editor, for very valuable critique for tuning our content to the right audience. We now set to work, once again entirely remotely, with the WWF-India team, for several rounds of copy-editing and of course, illustrations. Shreya Bhat, senior content and training manager with WWF-India used a fine-toothed comb and worked with us meticulously to clarify every point made such that our book could be palatable to anyone 10 years and above, without any particular exposure to advanced science topics. Surbhi Bhadani, our illustrator and design consultant with WWF-India, worked on the layout with the aim of transforming of our book into an entirely illustrated science book for our young readers. And deliver she did!
It was then time to find a suitable publishing house keeping in mind getting the widest reach possible- Neha putting her shoulders to the wheel for this endeavour. This is where we really did seem to hit a wall. All the regular publishers of children's books had a set format in mind, and our book was a tad too unconventional. After encountering several closed doors, WWF-India decided they would publish it under their sole branding, along with other publications of theirs. This also meant that all the proceeds from our book would go to WWF-India, for their diligent efforts of wildlife conservation.
Releasing into the wild
When the date of the virtual book launch was fixed, we were beyond excited- it was also a mixture of disbelief and happiness. We had eminent guests including renowned scientists: Raghavendra Gadagkar, Santanu Chaudhury, Harini Nagendra and Samir K. Brahmachari himself, to whom the book is dedicated. The launch was exhilarating and at times emotional for us, owing to the many kind words of appreciation and the fact that the guests highlighted the greatest USP of our book- our young author with the curious questions and the senior authors answering those. That while we gradually grow up with our curious questions being snubbed by the current education system, an effort like Genome Jaunts was the alternative they would have suggested as an antidote so that many young curious minds question and critique things around them.
There are few take aways that us authors have had during the journey of putting this book together and publishing. Even when India has several biodiversity hotspots, our book highlights animals mostly found in or described by researchers in other countries.
This points to a gap and a potential opportunity for the animal behaviour researchers in the country to package their science more for a general audience. So the next time someone like Maiti searches for ​

'

fascinating animals', animals found in the country also pop up on their screens.
From Mukerji's perspective, ​'Genome Jaunts' represents an apt approach for scientific problems- letting the younger generation to lead by asking the questions. A key realisation Mukerji had during all the discussions and till the writing of the book was how Maiti was never inclined to think of whether genomes could answer something about humans. To Maiti, all animals are intelligent. This completely non-anthropocentric view of Maiti, or any other kid his age, is a fresh take on asking questions for researchers. As someone pointed out once, we also hope that our book encourages many young curious minds to turn to science, especially girls, taking lead from Mukerji. WWF-India has given us a unique branding which makes sure our book reaches the right audience, and we are excited and in much grateful anticipation to see the ripples our book creates in the years to come.