'Back to the Future!' is a virtual lab series making advanced biology engaging and accessible for students across India through exciting episodes and interactive discussions. This virtual lab series was awarded the 3rd IndiaBioscience Outreach Grant. This article showcases the team's filmmaking journey, their growth and impact, with plans to continue expanding public awareness of science and research.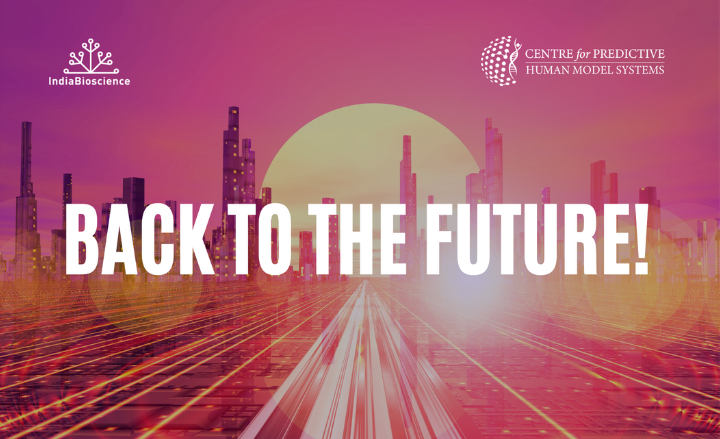 In the winter of 2022, the Centre for Predictive Human Model Systems team received some exhilarating news. Our lead collaborator, Tuli Dey of Savitribai Phule Pune University, had just shared an update with us; after not one, but three attempts, we had finally been awarded the IndiaBioscience Outreach Grant! Our winning proposal was a Virtual Lab series that would transport students all across India, into the heart of some of the most cutting-edge and futuristic biological technologies. Advanced science does not always have to be complicated! We aimed to break down the behind-the-scenes of the fancy experiments, give tips and tricks from laboratory peers, and render a hands-on feel to each episode. Simply speaking, we were determined to make science exciting, engaging and accessible to students from every walk of life.
In the past few months, our Virtual Lab series has released three thrilling episodes of ​'Back to the Future!' or B2F. Armed with nothing but a love for all things ​'filmy' and a knack for science communication, I dove headfirst into the world of videography, editing and video production. My teammate, Kadambari Patil, took up the mammoth task of curating insightful content for B2F Workbooks and made sure it had engaging graphics to prevent it from being boring. And whenever we hit a roadblock, our trusty teammates, Kasturi Mahadik and Surat Parvatam, swooped in to help us out! From starting out as rookies to becoming a well-oiled machine (with only occasional hiccups here and there!), we've come a long way.
Episode 1: Wound-Infection-On-Chip
We began the New Year with a trip to Savitribai Phule Pune University, to film our very first episode with Karishma Kaushik and her lab (Karishma has now transitioned to serving as the Executive Director of IndiaBioscience). It was my first time in the director's seat, and I had to deal with a steep learning curve. Learning how to find the best light for filming was a challenge, as well as figuring out how to frame a cell culture hood without any obstructions in the shot and ensuring a quiet set. Eventually, I settled comfortably into the director's chair; that's when the bossy director in me took over! I found myself asking Karishma for retakes, guiding researcher Shreeya Mhade on how to deliver her lines in the best way, and motivating research fellow Nizam Shaikh when he found himself unable to control a fit of giggles.


In Episode 2, we split the filming into two parts. The first part took place at Tuli Dey's tumour biology lab. It was impressive to see PhD researcher Abhishek Teli's professionalism on set; he had memorised all his lines, and we managed to wrap up his segment in just one day.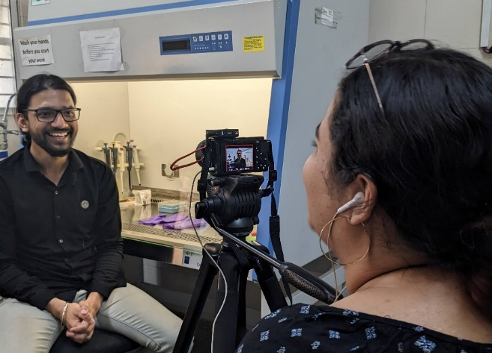 While at her lab, I took the opportunity to interview Tuli about her experience and her thoughts on how the series was shaping up. Tuli expressed,
It was a refreshing break from the day-to-day work and I particularly enjoyed interacting with students at the Discussion Circle.

She hoped that future episodes would include more open-ended questions to encourage deeper intellectual engagement.

Moving on to the second half, we shifted to Indumathi Mariappan's retinal organoid lab at LV Prasad Eye Institute in Hyderabad. Kadambari was absolutely thrilled to witness Divya Pidishetty, Trupti Agrawal and Sudipta Mahato expertly handling reagents and growth media, which she had only seen as icons while using the illustration application BioRender! As the director, I faced an interesting challenge during this shoot. I needed to position my camera close to a biosafety hood to get the perfect shot without interfering with an ongoing real-time experiment. The solution? Meticulous sanitisation! I wiped down every part of the camera with disinfectant and donned a biohazard gown, scrub cap and gloves.

Episode 3: Mathematical Modelling and Biology
In Episode 3, our filming journey took us to Chennai, where we explored computational biology tools at Vantage Research. We were anxious as we weren't as acquainted with the topic, but the team at Vantage made us feel right at home. They patiently explained the intricacies of PK-PD, QSP models, virtual populations, etc. giving us renewed confidence about tackling unfamiliar territories. We had insightful conversations with Rukmini Kumar and Vikram Prabhakar, which added depth to our understanding of their work as co-founders. Finally, even though mathematical modelling may seem like serious business, Dinesh Bedathuru, Maithreye R and Prakash Packrisamy managed to keep things light and enjoyable, spoiling us rotten with delicious food, fun stories, and friendly attempts at making each other laugh during filming.


Looking Back, Moving Forward
I sat down with Kadambari to chat about our journey so far, and what the future holds for Back to the Future (B2F):

Anushka: Hey partner!
Kadambari: Hey there, Farah Khan junior!
A(laughs): How has this entire experience been for you?
K: Honestly, it's been exhilarating. Creating B2F has given me valuable insights into the day-to-day
workings of a lab, how scientists plan their experiments, and how complex (and intimidating) technologies are built on simple scientific principles. I'm grateful for this opportunity.
A: Absolutely! Coming from a research background, the work wasn't entirely new to me. But the challenge of simplifying and visually presenting the scientific concepts while maintaining aesthetics has been incredibly rewarding. I never thought I'd be able to combine my passion for filmmaking and science!
K: I too enjoyed being the ​"creative director" on sets, ensuring the lab space looks visually appealing on camera. It's surprising how small details like tubes in the background or gloves lying around can make a difference in the final video! Filming has been quite a challenge, hasn't it?
A: Definitely. I never realised how much effort goes into creating a 30-second scene, or how many shots you have to take. And then there's the editing!
K (sighs): Oh boy, the editing.
A: Première Pro was my biggest enemy, but I'm happy to report we're friends now (laughs). Another
challenge was making script changes on the fly during filming. We often ended up scrapping our original plans entirely!
K: Can't believe we're nearing the end! What comes next for us?

A: Well, episode 4 is the first thing! (laughs) I'm really excited to show our community how researchers answer intriguing questions on attention spans and brain behaviour! Beyond that, we're already planning a Finale Lab Visit for the winners of our discussion circles.
K: It all began with a mere idea to make contemporary science and its people accessible, but now look at our baby! Can you believe we have reached 19 Indian states, 4 Union territories and 12 countries? We're going to cross a thousand views on our channel as well, and the feedback has been overwhelming!
A: The best part was learning that students had looked-up breakthrough biological advances online after watching our videos, discussed them with friends, family and teachers, and even searched for internships in these fields!
Even the Discussion Circles have been incredibly fun and filled with smart questions from our participants. Some of our best-performing students come from smaller towns across India! It certainly drives home the message that science is for everyone.
K: I'm grateful for this impact. In the big picture, I'd love to see this initiative transform into a program where we travel across the country, involve governments, inform students about India's scientific edge and convince them that they could be a part of such fantastic research too! Public awareness of science is crucial. If people learn about these topics, they'll understand their impact on their daily lives, be more informed, and support such research.
A: Power to the people! Science for everyone!
K (laughing): Okay, okay! We better get to it, there's a lot of work left for episode 4!
A: Haha, you're right. Let's go!