Anuradha Lohia is currently the Vice-Chancellor of the Presidency University, Kolkata. She served as the founding Chief Executive Officer of the DBT/​Wellcome Trust India Alliance from 2009 – 2012. She is the recipient of several national and international awards: the National Award for Young Women Scientists, the Stree Shakti award, and the Rockefeller Foundation Biotechnology Career Award, to name a few. Seminal research on infectious diseases has earned her prestigious grants and fellowships from the Government of India, the National Institutes of Health (USA), and the Global Network for Molecular and Cell Biology. She is an elected fellow of the Indian Academy of Sciences and has served on the editorial board of many prestigious journals. In this interview, she chats with IndiaBioscience about her thoughts on leadership.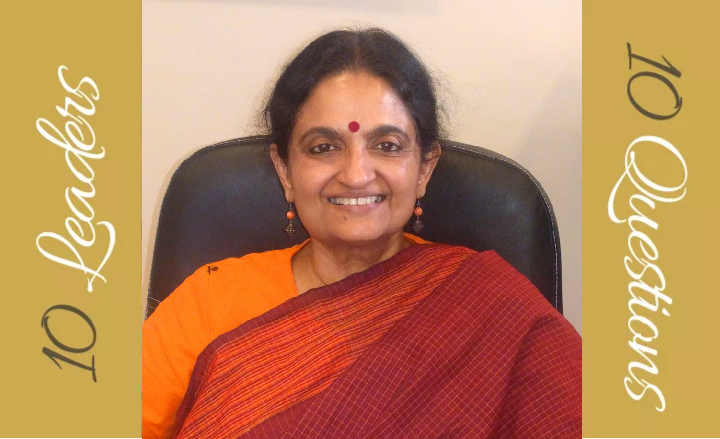 According to you, what are the key qualities that a leader should have?
A leader is a person with dreams and the desire to make a difference. A leader will always act first, even if they don't know the outcome. I think taking risks makes a leader. A leader jumps right ahead with instinct, intuition, and responsibility.
How and where did you pick up the leadership traits/​skills necessary to bring you where you are now? Was there a point in your career that made you realise that you were on the path to becoming a leader?
I did not dream or plan to be a leader. It just happened that I was put in leadership roles. So whenever people ask me questions about leadership, I say I just did what I had to do.
Leadership is about daring to do unconventional things
Professionally, it isn't easy to decide what to do when you set out to become a scientist. First, you go after what attracts you; later, you may reject it. But if you have the courage to discard what you once thought was worth it, that gives you the strength to build on what you really want to do; it allows you to grow with the changing landscape of your own evolution.
I also think that leadership is about daring to do unconventional things. For example, when I was offered the CEO position at Wellcome Trust/​DBT India Alliance, I was not sure why I was selected because I did not have any experience as an administrator. However, I accepted it because I thought I could make a difference. I believed we needed that kind of an organisation in India where we could have competitive funding and Grants to carry out quality research to support scientific excellence.
I had to set up an office in a city I had never lived in and start from scratch —find an office space, recruit staff, and implement the program. So, this kind of role teaches you a lot because it takes you out of your comfort zone, and you must strive to learn. So, I realised that leadership might come with a lack of specific knowledge in new areas.
The next challenge I had to take up was when I was asked to become the Vice-Chancellor of Presidency University — something very different from whatever I had done previously. The steepest learning curve of my career came after I became the Vice-Chancellor. I think that a lifetime of experience and the opportunity to do something unknown inspired me to take up this challenge.
What would you consider your biggest success?
My biggest successes have been in facing completely unknown territories. When I started as a PhD scholar, I had no clue about what I was heading in for. The PhD and postdoc years were difficult, but it was even more difficult to set up my lab, get grants and guide students. I think reaching the level where I successfully published papers with graduate students was one of my earliest successes.
Then, setting up the Wellcome Trust/​DBT India Alliance had its share of challenges. Apart from that, Presidency College had just become a university, and I had to lead a new university. These were all challenges that I think I succeeded in (at least partly).
What are some instances where you faced failure, and what have these taught you?
Failure has been a part of my life every single day! But it's only for that one day. The moment you fail, you will find ways to overcome it because you now understand what doesn't work.
Failures are as you perceive them
I remember the first ​'failure' I had in the first three years of my PhD tenure. None of our experiments or data proved the hypothesis. Later it turned out that our initial assumption was incorrect. Failure taught me to pursue a different approach.
So, failures are as you perceive them. But, if we take the time and have the patience to read the data without preconceived notions, we can truly turn them around into a success.
How much value, as a leader, do you give to human relationships?
You can't do anything without people. The hardest thing that you learn in the process is how to manage and understand the people you're working with. I like building teams and allowing individuals the independence to perform responsibly so that they learn and grow.
I have always relied heavily on my team, and they have relied on me.
How do you manage to keep your team happy and motivated?
By letting them participate and take risks.
Everyone is important; they should feel they are a part of what you are doing. Avoiding a person never works because you end up crippling one arm of your organisation. You have to spend time with different people, and sometimes you have to give them more attention. A leader must have enormous resilience, patience, and the desire to be inclusive.
How do you deal with difficult people or situations?
While working in a team, you must first learn how to identify who will be difficult to work with! Rejecting a person because they are difficult never works. If you do that, you make them feel humiliated, and they will not function that way. Instead, it is best to subtly coax a person to be interactive and to perform. Help him overcome his challenges without confrontation.
What do you think would be the best way to learn leadership skills for an aspiring leader?
There is no textbook for it. Every person has to face a different path. But if you think about the common denominator in leadership, it is to have a desire and to act on that desire without measuring the difficulty. If you desire to do something, you will instinctively find a way to do it, and along the path, you will also see that a lot of support and help comes to you.
One cannot be a leader by wanting something and sitting on an armchair just talking about it
A true leader should not bother with the ​"ifs"; they shouldn't keep questioning if they will be accepted. They deal with challenges even if they don't know how to deal with them. People should be courageous dreamers who desire to do things and then go ahead and try to accomplish those dreams. Leaders must be energetic. One cannot be a leader by wanting something and sitting on an armchair just talking about it; one has to do the work. People will give you advice and offer criticism, but doing the actual work is tough work, and you are the one that has to do it.
Most leaders don't know they are leaders; they do it just because they have a desire and an intuition to do something. And if that particular dream is ​'the right dream', it cannot be something far removed from reality where people don't benefit from it.
For scientific and academic environments, what role do you think leadership plays, and how important is it to have an able leader at the helm?
For scientific or academic environments, I think whoever is in a leadership role must have clarity. It would help if you had a roadmap of where you want to see your organisation. The leader as an individual does not matter; it is the institution that matters. For example, it was with this purpose that I took up this role in Presidency – to deliver a university with academic excellence. If it was academic excellence that we are striving for, then, in that case, I cannot make compromises on it because of any other peripheral factors that might create pressure.
At one level, you have to accept that you will be a very unpopular person, but I found out that unpopularity doesn't matter. So along with academic excellence, I maintained that there should be freedom of expression, a transparent faculty selection policy, and a fair recruitment and student admission process. All these things promote good ethical practices.
So, to sum it all up, what would be the most important principle of leadership according to you?
To have the courage and honesty to implement your vision or dream!