The 15th Young Investigators' Meeting (YIM 2023) is taking place from February 13th to 17th, 2023 at Ahmedabad University and IIT-Gandhinagar, Gujarat. We asked the organisers of the YIM 2023 (Dhiraj Bhatia, Indian Institute of Technology, Gandhinagar; Nishad Matange, Indian Institute of Science Education and Research (IISER), Pune; Ratna Ghosal, Ahmedabad University, Ahmedabad; and Shantala Hari Dass, IndiaBioscience, Bengaluru) a few questions about the upcoming meeting. Here is what they had to say.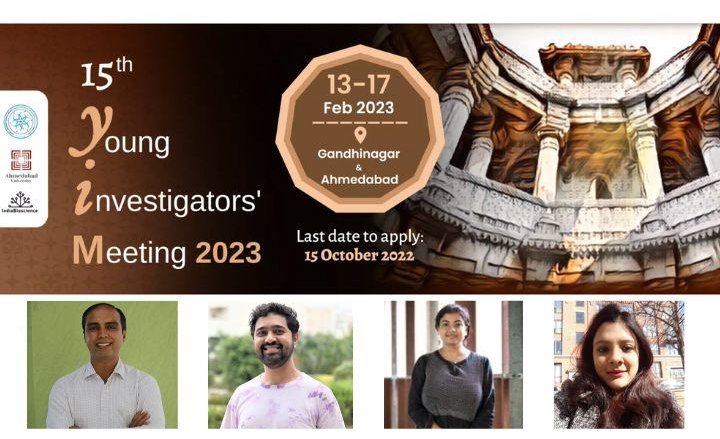 After two virtual meetings, YIM 2023 is being held in-person again. What are you excited about the most? How will this experience be different from the two virtual meetings before?
Dhiraj: The in-person YIM 2023 meeting will be much different from the virtual ones. The joy of meeting people face-to-face and sharing experiences cannot be replaced by virtual meetings. Also, it will facilitate wider discussions and create more opportunities for networking.
Nishad: While virtual meetings have their own advantages, such as allowing people from different locations to instantly connect and exchange ideas, they lack the platform for informal interaction. I've always believed that a lot is learnt from words exchanged between conversations. This is where in-person meetings win, hands down! I am most excited about the unstructured interactions, brief exchanges during sessions, and conversations over tea. This YIM meeting is extra special as it will be held at campuses of Ahmedabad University and IIT-Gandhinagar. Having a networking meeting at a campus bustling with students is going to bring a new energy to YIM 2023.
Ratna: Although I have not attended a YIM virtual meeting, I believe that physical meetings provide a more immersive interactions.

Shantala: The virtual YIMs were much needed. They were a way of keeping the YIM platform going during unprecedented circumstances. We enjoyed experimenting with ways to add interactivity to a virtual event. I agree with Nishad that what virtual meetings fail to capture is the unscheduled and informal interactions. There is a certain magic born out of having all the meeting participants under the same roof.
Tell us how did you decide to join the YIM 2023 organising team?
Dhiraj: I have been a part of YIM since 2019 in different roles and had a desire to host and bring the same passion to Gandhinagar. Thankfully, the IBS board supported our request.
Nishad: I believe YIM has established a significant place in the life sciences landscape of India. I was once an attendee, and the experience opened my eyes and gave me access to a network of researchers facing similar issues. I joined the organising team to give back to the Indian life sciences community and shape YIM in a way that would be relevant to young investigators and postdoctoral fellows.
Ratna: Joining the YIM 2023 organising team was an exciting opportunity, as YIM is a prestigious event. I wanted to contribute by bringing together young investigators, postdoctoral fellows, and mentors from the under-represented area of ecological research.
Shantala: Being part of the YIM 2023 organising team was a natural decision, as the annual event is IndiaBioscience's flagship networking event. I am honoured to be a part of the 15th YIM, and proud of the community that has grown from the first YIM in 2009, with 600 young investigators and postdoctoral fellows, over 170 science professionals, and about 75 institutions participating (including YIM 2023).
This is a phenomenal community to have grown- one that is very core to IndiaBioscience's activities. The journey of YIM has been incredible and inspiring, with young investigators from the first event now in senior positions, continuing to engage and advance the life sciences community.
Are there any particular sessions you are looking forward to the most?
Dhiraj: All of them. I am looking forward to welcome all the guests to our new campus and interactions in all the domains.
Nishad: I am really looking forward to all the panel discussions that we have planned. We have put together four themes that I hope will make attendees think about the directions that young labs need to move in to sustain healthy growth.

Ratna: Yeah, the break-out sessions, where the participants can unwind a bit and share their real concerns.
Shantala: The organisers have put the programme together with great thought to provide avenues for structured and unstructured discussions. I am looking forward to exciting set of ​'Mentor Talks' featuring honest and insightful discussions around how scientists in India and abroad have navigated the journey to setting up their own research groups. I hope that the Keynote and Special Talks will give the younger and more senior scientists a chance to think beyond their current circumstances on how they can contribute to the life science community in the long term.
Have you attended any YIMs before? How was your experience?
Dhiraj: Yes, I attended the 2019 meeting as a Young Investigator and the 2021 and 2022 meetings were virtual, with the Director as the Institute representative. My experience was one of the best ones.
Nishad: I was a Young Investigator at the Goa YIM in 2017. Besides being captivated by Goa itself, the YIM experience was fantastic. Networking, combined with science and lots of fun made it an excellent way to get acquainted with Indian academia. I couldn't have asked for a better experience!
Ratna: Yeah, it was a very good experience.
Shantala: Yes! Anecdotally, I first learned about IndiaBioscience through the YIMs. The 2022 YIM will be my fifth time participating. I participated in the 2017 YIM as a post-doctoral fellow, in the 2020 YIM as part of the IndiaBioscience team, and in the 2021, 2022, and now 2023 YIMs as part of the organising committee. It's a full circle moment — I have seen the YIMs from different perspectives and the YIMs have seen me at different stages in my career.
Any advice for the participating YIs and PDFs?
Dhiraj: Participate with an open mind, ask as many questions as possible to mentors, and I'm sure everyone will take something valuable home from this meeting. I look forward to welcoming you all at IIT Gandhinagar.

Nishad: Be honest, speak openly, and don't be afraid to ask mentors and resource persons some tough questions.

Ratna: Interact and network as much as possible.

Shantala: Don't hesitate to seek help with your career trajectory. This is a unique opportunity to be surrounded by such a diverse group of science professionals, many of whom are gathered to support researchers who are just starting or on the brink of independence. Familiarising yourself with who is attending the YIM and networking with your peers is equally important. Ask questions, express your concerns, attend all sessions, and most importantly, have fun!