In this conversation, Vid Nukala, Senior Community Engagement Officer and Head — Government Relations, Global Activities at EMBO, Heidelberg, discusses the interplay between science and policy, the key actors and issues in science policy, and how researchers can get involved in science policy.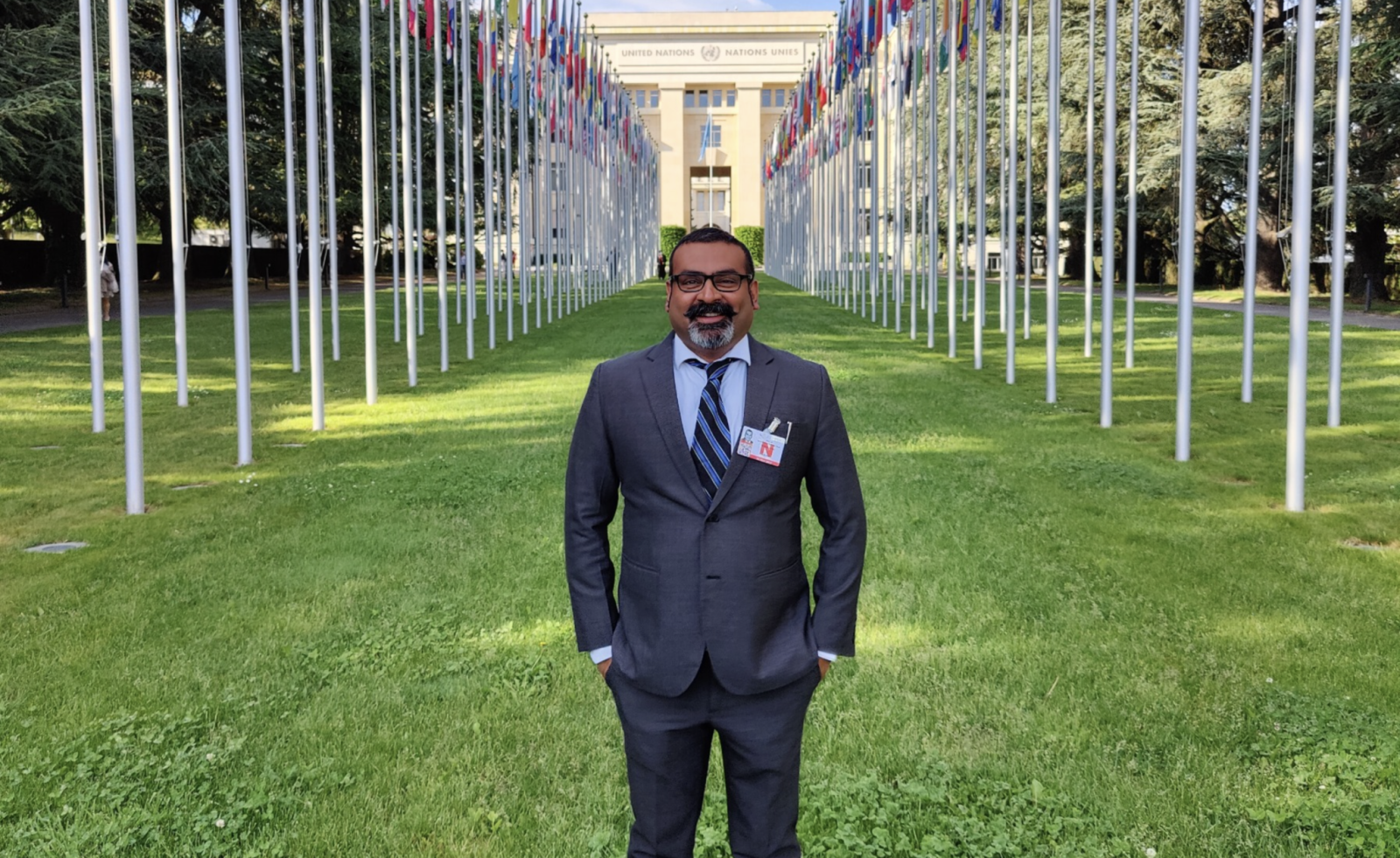 1) Tell us something about your professional path in science policy, and how that ties into what you are doing now.
I have spent the last 15 years working in international biomedical science, technology, and innovation cooperation, and let me tell you, it's been an exhilarating ride with no set destination. My academic journey started with a Bachelor's degree from Osmania University in India, and then I ventured out to the United States to pursue a PhD in Neurobiology at the University of Kentucky. But as I approached the end of my degree, I realised that while I loved science, I didn't necessarily want to spend my days at the bench. Looking to better understand science policy, I pursued a Masters of Arts in International Science & Technology Policy at The George Washington University.
While this equipped me with the necessary theoretical frameworks related to science policy, to gain practical experience, I worked at the Institute for Alternative Futures, the Potomac Institute for Policy Studies, and the Indo-US Science & Technology Forum. I wanted to delve into topics like foresight & governance, emerging and dual-use technologies, and facilitating international collaborations. After a decade, I returned to India and joined the DBT/​Wellcome India Alliance, where I administered fellowships to promote ​'brain-gain', and developed draft research integrity policies — good research practices, scientific misconduct, conflicts of interest & commitment.
I moved to the U.S. Embassy, where my work included analysing policy developments in the U.S. and India, organising high-level policy dialogues, and setting up collaborations i.e. bilateral diplomacy. In my current role, I am with EMBO, an intergovernmental international organisation where I support and engage with the life sciences research community across Europe and beyond, including India. My role is to enable life scientists interested in science policy, facilitate dialogue among various stakeholders, and build bridges between the scientific community and policymakers.


2. We hear about ​'Science for Policy' and ​'Policy for Science'. Can you tell us more about it?
In simple terms, ​'Policy' can be understood as an interplay among choices, decisions, and their consequences. Science, technology, and innovation (ST&I) policy is influenced by, and influences, developments in a range of sectors such as energy, space, information and communication, or life sciences. When we talk about ​"Policy for Science," it means that the government or policymakers are creating plans, laws, and programs to support scientific research and development. This includes providing funding, training, and resources for scientists, as well as monitoring programs and evaluating outcomes in ST&I.

On the other hand, ​"Science for Policy" means that scientific evidence is being used to inform policymakers when making decisions about policies. For instance, scientists might conduct research to understand how air pollution affects our health and the environment. Policymakers can then use this information to create regulations and laws to reduce air pollution and protect public health. While the distinction helps us better understand the topic, we know that reality is more complex than a simple dichotomy.

ST

&

I and policy need each other. Scientists can provide the evidence needed to inform policy decisions, while policymakers can create the conditions for science and technology to flourish.

3. Who are the key actors and what are key issues in science policy?
Governments are usually the major funders in ST&I Policy in most countries, but industries and philanthropic organisations can also have significant influence. In a few countries, learned societies, professional associations, and think tanks also provide independent advice and perspectives. Regardless of the actors involved, evidence ought to be the key factor in ST&I policy making.

ST&I policies require keeping up with fast-paced emerging scientific and technological advancements, as they can be interdependent and can sometimes have irreversible consequences. Public concerns over health and safety, and challenges to deeply held beliefs about human identity and dignity add to the complexity.
It is not just about science, either. ST&I policies are shaped by social, economic, and political values and interests. Ethics can play a crucial role in helping to balance these competing forces. Responsible research and innovation, open science, and issues of privacy and confidentiality are all important considerations. Access, affordability, and equitable benefits must also be taken into account.

4. How can early career researchers and scientists get involved in science policy?
Getting involved in ST&I policy does not necessarily mean leaving the lab bench behind. Start by identifying your interests and finding ways to lend your scientific expertise or volunteer your time. This could be through your institution, a professional organisation, or by participating in consultations with government or policy bodies.
Keep an open mind, broaden your network, understand policy issues, stakeholders, processes and context, and learn to communicate effectively to non-scientific audiences. The key is to make yourself available as a resource!

Straying from the traditional path may seem unsettling, but it can be an exciting journey brimming with possibilities. The world is vast enough to carve a new path and make a mark for yourself!
5. What are some paths for science graduates and scientists to build careers in science policy?
ST&I policy can benefit immensely from a cadre of scientifically-trained, policy-oriented researchers and can be a viable career option if you are willing to explore and take risks. The first step is self-reflection — to pause and evaluate your career trajectory so far. Identify your interests, strengths and seek opportunities to enhance your knowledge and skills through continuous learning.
Critical thinking, methodological approach, data analysis, and communication skills are transferable from science to policy, which are essential skills required for a career in ST&I policy. You can explore several options from summer courses, immersion programs to diplomas, degrees and fellowships, depending on your career goals.
Before taking the plunge, it is essential to be pragmatic, and carry out due diligence about the job market, finances, security clearances, citizenship/​residence requirements. Decide on your role in the ST&I policy spectrum, whether you want to be involved in analysis, formulation, implementation, or evaluation. Wherever you start, be curious and willing to move out of your comfort zone, whether it is in different subjects, sectors, or countries.