The 14th Young Investigators' Meeting (YIM 2022) is being held in a virtual format from 4 – 12 May. We asked the organisers of YIM 2022 (Felix Bast, Central University Punjab, Bathinda; Megha, The University of Trans-Disciplinary Health Sciences and Technology, Bengaluru; Mohit Kumar Jolly, Indian Institute of Science, Bengaluru; Shantala Hari Dass, IndiaBioscience, Bengaluru) a few questions about the upcoming meeting. Here is what they had to say.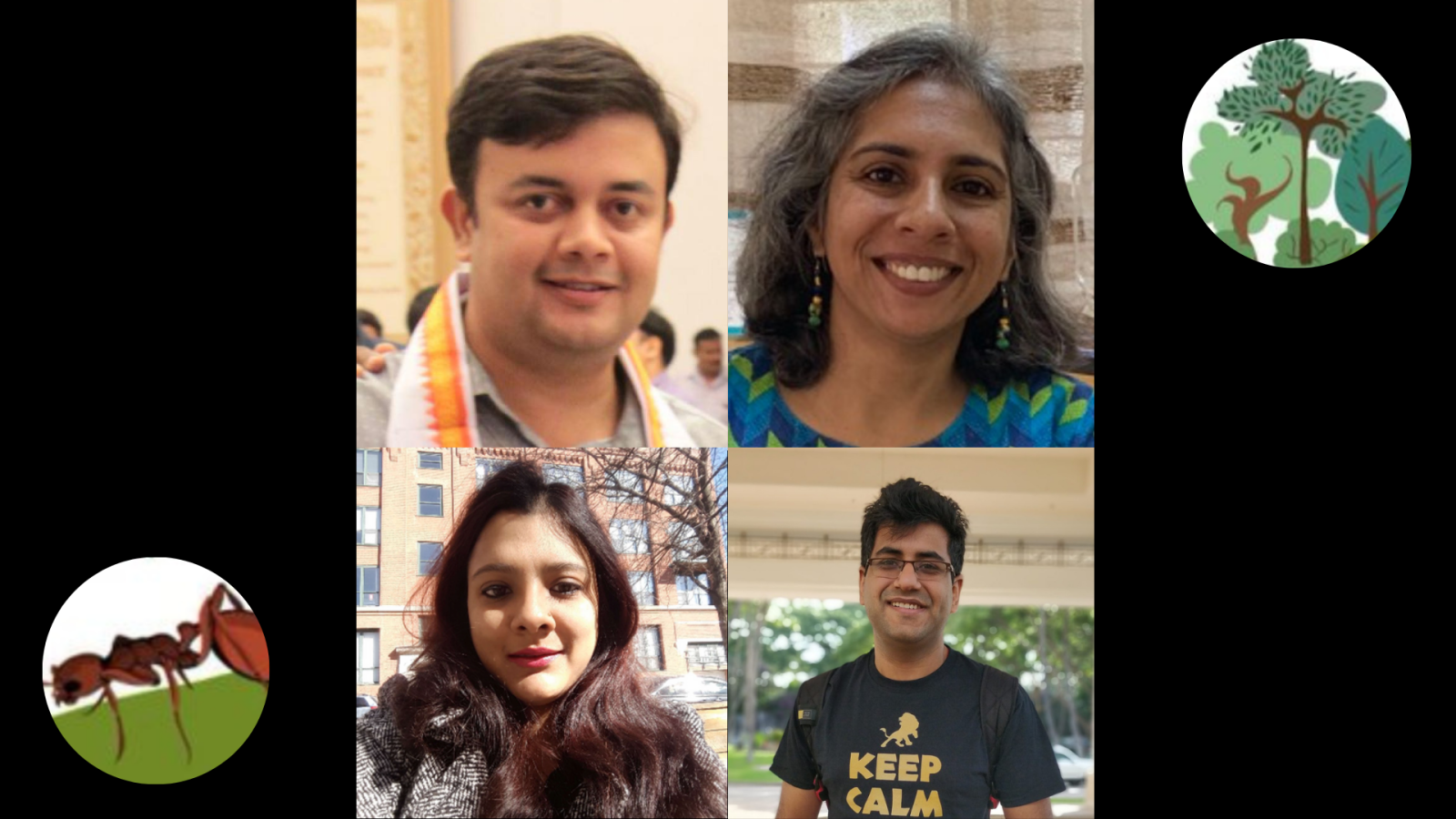 Have you attended a YIM before? What was your experience?
Felix: Yes, YIM 2016. It was an amazing experience. I had made several new acquaintances, and many of them are now my close friends. If there is one thing that connects almost all attendees and organisers of YIM, it is their energy and a yearning to make science in India better. It was in this meeting that I first listened to the talk by Satyajit Rath, and was literally carried away by his rebellious yet super-creative approach to science. The talk by Ron Vale—an American scientist with great love for India and Indian science — was also very memorable.
Megha: I have had the privilege of attending YIMs as a funding agency representative, participant and today, as an organiser. My earliest memory of YIM was listening to M. K. Bhan speak about the challenges of doing science and the cool manner in which he handled the many complaints about our funding system. Regretfully, these still persist! But, the YIMs are not a platform for solving funding woes, but to network. On that front, the YIMs continue to be one of the best meetings in India. It was at YIM that I first broadcast the theme of my independent lab and I am grateful to my mentors for shaping my narrative. YIM is a chance to reflect on our personal scientific journeys, where we want to be and how we can shape the national narrative as a member of India's scientific community.
Mohit: I attended YIM 2020 in Mahabalipuram as a young investigator (YI), and it was a great experience to interact and network with colleagues in similar career stages as well as listen to senior colleagues and mentors who have excelled in their research trajectories. Learning from these different perspectives was crucial, and the multi-faceted candid discussion about science and science communication was very refreshing.
Shantala: Yes! Anecdotally, it was through the YIMs that I first got to know about IndiaBioscience. YIM 2022 is the fourth YIM that I will be a part of. I participated in YIM 2017 as a post-doctoral fellow (PDF), YIM 2020 as a part of the organising team, and YIM 2021 as a part of the organising committee. A full circle moment – I have seen the YIMs from different perspectives, and the YIMs have seen me at different stages in my career. I have made many friends through YIMs and grown my professional network by leaps and bounds. Many of these connections continue to support and engage with IndiaBioscience beyond the confines of YIM, and I am excited for this to continue through YIM 2022.
Why did you choose to be a part of the organising team for YIM 2022?
Felix: Set against the pandemic, I organised a Science Leadership Workshop, which attracted massive participation of over 20,000 members. Since then, I started an open academy for science enthusiasts—Young Academy of India—to foster professional networking. I am glad to have received an invitation to be an organiser of YIM 2022. Having this YIM held in virtual mode is something I look forward to, given my online presence in the last few years! I hope this will be a good learning experience for me, and a platform to connect with curious minds, the future of science in India.
Megha: I have always enjoyed learning new science. YIM 2022 is an opportunity to learn about science questions and the people who are asking them. Professionally, because of time and expenses, I pick meetings that are niche or closely aligned to my research interests. YIM is a good chance to meet people outside my field and learn about those who will be shaping Indian science in the future.
Mohit: I have been passionate about interdisciplinary research and effective science communication. Through YIM, I saw a platform to bring up these topics for discussion among the larger community, given their increasing importance around us. Moreover, the opportunity YIM brings to connect with excellent mentors and colleagues is a unique one. As an attendee of YIM 2020, I felt honored to be asked to be an organiser for YIM 2022, and thought of it as an opportunity to pay it forward.
Shantala: The annual YIM is IndiaBioscience's flagship networking event (actually pre-dating the organisation), and my involvement is automatic. I am especially proud of the fac​t that despite circumstantial restrictions in recent times, a YIM has happened every year since 2009.
Las​t year was the first time we took the YIM online – a fight or flight response to the pandemic. The YIM 2021 organisers (Imroze Khan, Karishma Kaushik, Smita Jain, Vasudharani Devanathan and I) were thrilled at the engagement levels and extent of meaningful interactions. This year, we continue to push the bar and see just how interactive and participatory an online event can be. We might even dedicate some time to musing on the sweeter aspects of life!
Which sessions are you looking forward to at YIM 2022?
Felix: I am looking forward to every session in YIM 2022, in fact three days of sheer excitement! Having read Indica: A Deep Natural History of the Indian Subcontinent, I am excited to listen to the talk by Pranay Lal, and looking forward to reading his new book Invisible Empire: The Natural History of Viruses. I am also eager for Panel Discussion 3 on building and sustaining a research group that touches the very theme of this YIM, and Panel Discussion 4 on science communication.
Megha: I am looking forward to the outreach and engagement session. Personally, I enjoy these activities, and I am amazed at how academics find the time to do things that require sustained time commitment outside of teaching and research. Yet, it is activities like these that get non-scientists excited about our work and funding us!
Mohit: It is hard to single out one session, given how diverse and complementary they are. Most importantly, I am looking forward to participation and engagement from YIs and PDFs in terms of their questions during the panel discussion and breakout sessions.
Shantala: I am looking forward to the entire course of YIM 2022, but in a nutshell, the discussions. We were hyper-aware of minimising the chances of sending the YIM 2022 attendees into Zoom fatigue.
Some of the spaces for discussions/​conversations are:
Question – answer sessions (talks and panel discussions).
Breakout sessions – chance to have off-the-record and in-depth conversations. Some members from the Indian National Young Academy of Sciences (INYAS) who recently conducted a survey on issues faced by young faculty members will be present at these sessions.
An ice-breaker session at the end of Day 1.
Networking sessions for the PDF participants with institutional representatives – the number of sessions has been doubled this year.
Do you have any advice for the participants of this YIM?
Felix: Generally speaking, YIM is an excellent avenue for networking. Meet as many people as you can by initiating short talks during ice-breaker sessions. Post meeting too, maintain the network with interesting participants through social media. A tip is to be proactive; attend the meeting well-prepared. When you meet someone new, give them some tips, for instance, potential avenues for grants, fellowships, or awards. Be a great giver; it will pay great dividends, I tell you!
Megha:
It is important to remember that not everyone, alas, is as excited about your research as you are. Listen carefully to the questions that people ask. It will help you recalibrate your pitch and choose the right words.
Try to make friends with at least ten people outside your area of science with whom you can share other interests. And get savvy with WhatsApp, India's favourite communication tool!
Have a stimulant and energy source at hand to get the most of the meeting. For my time zone, I am going with beer and masala peanuts!
Mohit: YIM is a great opportunity to get a glimpse into the Indian life science research community, and you will see diversity in various aspects of their research challenges as well as their persona. YIM offers excellent source(s) of inspiration, networking, collaboration, synergy and outreach that you can imbibe/​absorb from.
Shantala: Ask questions, interact with peers and mentors, attend all sessions and most importantly, have fun!
My advice for the participants of YIM 2022 is to participate in this meeting with the same level of energy, attention and preparedness as they would in an in-person meet. This meeting has been carefully curated for an online platform – a shorter program that still brings to you all that the traditional YIM has to offer. This is a great platform to connect with the community — peers and mentors — of the life science research ecosystem in India. Having said that, the full impact of the meeting can only be experienced with continuous and active participation. If that means stepping out of your comfort zone, so be it!
Finally, something that I wished I had done more effectively during my first YIM as a PDF was to interact more with the organisers and the IBS team – it would have given me an extra layer of understanding about how to best-utilise the meeting space to build connections.