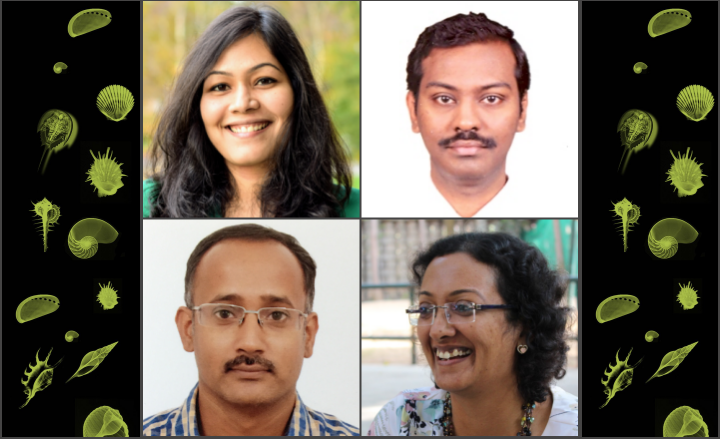 How did you decide to join the YIM2020 organising team and how has your experience been?
Athi: I received a phone call one fine morning last March, if I remember correctly, and was asked if I am willing to be part of the YIM organizing team. Honestly, I did not think much and I just said yes, having attended YIM before as a PDF. Looking back, it is good that I did not think much! The journey till now has been quite enjoyable and informative in many ways and I credit this to the IndiaBioscience team for their professional and meticulous approach.
Vaishnavi: I received an email from IndiaBioscience board members Rashna Bhandari (CDFD, Hyderabad) and Roop Mallik (TIFR, Mumbai) in early 2019. I didn't need any convincing – having been part of YIM 2014 (Hyderabad) and benefitted greatly from that outing, I wanted to be able to facilitate similar experiences for other YIs looking to unravel the Indian academic landscape.
Aravindhan: This happened when I attended YIM 2015 which was held at Srinagar, Jammu. I have always felt Chennai, as a city, is lagging behind with respect to life science research and needs greater scientific visibility. A major event like YIM, when held at Chennai, would bring in the desired visibility to the city. Hence, I volunteered myself to be part of the organizing team in case IndiaBioscience ever decided to hold a YIM at Chennai.
Smita: YIM is a flagship-networking meeting of IndiaBioscience. The responsibility of organizing YIM was given to me when I joined the program in 2016. YIM 2020 is my 4th YIM as an organizer and all I can say is that each YIM has made me richer in terms of my understanding of the research ecosystem in India and the issues pertinent of the young researchers. I have made some great friends over these years and grown my professional network manifold. Also, we have been successful in bringing many positive changes to the format of the meeting based on the feedback that we receive every year.
Have you attended a YIM before? How was your experience?
Athi: Yes, I attended YIM way back in 2011 as a PDF. The overall experience was very good – in fact, the very next year I joined IIT Madras. I loved the fact that there were open discussions on starting a career in India. In some cases the institute directors were very frank about what they expect, the reality that is present before them, and how to marry orthogonal requirements.
Vaishnavi: Yes, I attended YIM 2014 that was organized by Rashna Bhandari, Madika Subba Reddy, and Subba Rao Gangi Setty. I had just heard from DST that my INSPIRE Faculty Fellowship application had been successful. I had three months to look for a host institute and the YIM was instrumental in my joining IISc for the INSPIRE fellowship.
Aravindhan: Yes. I previously attended YIM 2013 and YIM 2015.
Smita: It is one of the most wonderful meetings I have ever been part of. As said earlier, YIM 2020 is my 4th YIM as an organizer and 5thas a participant. It has been a wonderful journey – I have made many new friends, increased my network manifold and learnt many new things with every passing year by being part of the YIM. The most rewarding is to know how a large number of participants have benefitted from YIMs and how this has served as a stepping stone for them to get into their desired career paths.
What do you think the participating Young Investigators (YIs) can hope to gain from this YIM?
Athi: For a YI anywhere across the globe and particularly in India, the first few years are critical as they attempt to establish themselves in a niche that is already populated by other scientists. The expectations that YIs have for themselves and how the department or the institute sees them need not necessarily agree. This YIM, as it has been consistently done before over the last years, will attempt to broach this through open discussions and via talks from senior scientists who will give a perspective of how they navigated through rough times while being involved in teaching, research and administrative activities.
Vaishnavi: YIs will specifically benefit from the mentor talks, breakout sessions on ​'Setting up a lab' and the panel discussions. More generally, YIs will get to network with peers from across the country and become part of the rapidly-expanding YIM community. This community will like serve as any YI's go-to when in search resources, information or general advice.
Aravindhan: This would be an open forum wherein we can discuss several issues impeding the progress of science in India and especially YIs. It would open up excellent networking and funding opportunities for the YIs.
Smita: The participating YIs will get to meet their peers coming from length and breadth of the country. This is a great way to grow their network, learn from each other, find collaborators, and new friends. They will get not just an opportunity to interact with some of their future colleagues but also a chance to mentor them during the meeting and afterwards. The mentor talks, carefully planned panel discussions on pertinent issues, and breakout sessions will give a chance to learn many new topics of relevance. It would also allow them to pick up some new skills/​ideas/​practices in order to bring a positive change in their own work atmosphere.
How will this YIM be useful for the attending post-doctoral fellows (PDFs)?
Athi: The PDFs, in my view, will be the ones who will benefit the most from this meeting. They will be exposed to the various institutes' hiring and requirements, YIs' experiences in their first few years, the politics and hierarchy within the Indian system which is oftentimes the ​'elephant in the room', and finally the multiple re-entry fellowships and granting schemes available to kickstart their career.
I strongly believe that the science and research landscape in India is rich and constantly evolving in the right direction, and I hope the PDFs can follow the footsteps of many of the YIs by returning to India and giving back to the country. It is also important to recognize the fact that doing good science is challenging anywhere in the world and that the PDFs would really be well-advised to make the most of their time here by frankly discussing many of their questions and doubts.
Vaishnavi: In addition to the talks and interactive sessions, PDFs will be able to capitalize on the opportunity to meet with several heads/​representatives of institutes that will be part of the meeting. The YIs attending the meeting will also provide a first-hand account on all aspects of carrying out research in India and at their respective institutes/​universities.
Aravindhan: YIM 2020 would open up potential job opportunities for PDFs.
Smita: Our PDF colleagues are preparing themselves to get into the research ecosystem in India in an independent role. YIM will provide an excellent platform to explore and gain knowledge of this ecosystem and the role that lies ahead of them. It would also give them an opportunity to meet YIs, mentors, institutional representatives and people from funding agencies. These interactions would give PDFs a first-hand perspective of the ground realities – some mantras with respect to a successful career path, a broad perspective about the kinds of institutions that exist, along with the functioning and hiring process of each of them and much more. Trust me, each interaction is helpful and one should make the most of it before, during, and after the YIM.
The PDFs have already formed an informal group where the discussions on very pertinent issues have already begun. This ​'buddy group' should continue to serve as a platform to discuss these issues in a positive manner in times to come.
Which session (s) are you looking forward to the most?
Athi: Easily the breakout sessions, panel discussions and poster sessions, in that order.
Vaishnavi: I am looking forward to the mentor talks, breakout sessions and panel discussions on ​'Breaking Barriers in Science'.
Aravindhan: All the sessions.
Smita: The whole of YIM – new people, new interactions, new ideas! That's what excites me and that's what I look forward to every year.
Do you have any advice for the participants for making the most of this YIM?
Athi: Interact with your peers, start building a network with the participants, make yourself known (in a good way!) and enjoy the time, ambience, science, and journeys of scientists on offer.
Vaishnavi: Do seek out individuals that will help you in your career trajectory, but also network with as many attendees as possible. Every experience is unique and you never know what you may end up discovering. Most importantly, have fun!
Aravindhan: Kindly let go of your inhibitions and participate actively in panel discussions and break-out sessions. Your inputs are most valuable for having a fruitful session.
Smita: Stay engaged throughout, discuss, ask questions, and raise concerns to make the most of this YIM. The EMBO grant awareness workshop on Day 2 is a new addition to YIM and we hope that all the participants will find the session useful. Also, make the most of the poster sessions as that's the best platform to network, talk about science and find future collaborators (and friends). We would appreciate getting feedback from all the participants, as that would help us make necessary changes in future editions of YIMs.
I wish you all the very best and look forward to meeting you all in person.