We asked the organisers of the Young Investigators' Meeting (YIM) 2019 (B Anand, IIT-Guwahati, Dipyaman Ganguly, IICB-Kolkata, Richa Rikhy, IISER-Pune and Smita Jain, IndiaBioscience) a few questions about the upcoming meeting, including how the participants can make the most of the experience. Here is what they had to say.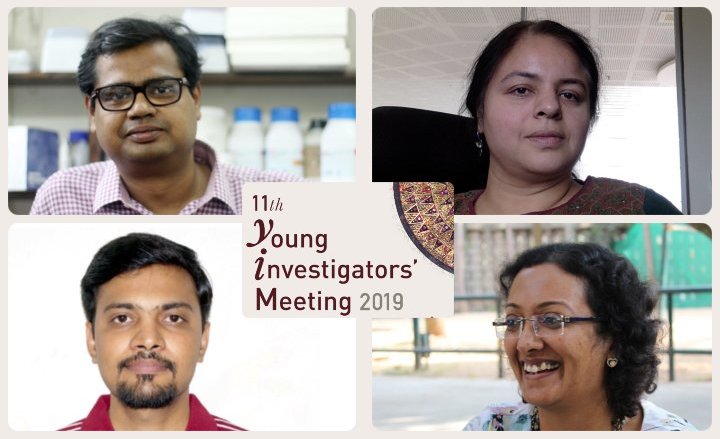 How did you decide to join the YIM 2019 organising team?
Anand: I'm an alumnus of YIM. It is a great pleasure to give back to YIM by hosting the event at Guwahati.
Richa: YIMs have played a role in bringing together budding scientists at different stages of their career in the Indian biology research scene. They have provided a comprehensive insight into different aspects of research in biology, from how support is available in the country to aspects of running science. I had attended YIM2011 after just starting my lab in IISER, Pune, and it was very educative to meet so many peers at the same stage of their career and exchange some ​"gossip" about setting up a lab. This was a memorable meeting and I have been enthusiastic to be a part of the YIM2019 organisation team and a part of discussions on events that could be added to such a meeting.
Dipyaman: It was a call from Dr. Roop Mallik that got me into this exciting confluence. Actually I had never been to any of the YIMs as a PDF or YI, but had heard a lot about them. So when Roop asked me to be a member of the organizing team I was excited. I mentioned to Roop that I had never been to one, in response he was like ​'That's a good enough reason to be an organizer yourself, you can bring new ideas!' I did find this response very encouraging and was excited to take part.
Smita: IndiaBioscience has been organizing YIMs for more than a decade now and they have become flagship meetings, helping build a strong knit network of researchers across the country. Both myself and YIMs have been an integral part of IndiaBioscience and thus, I am part of the organizing team :). Being part of the organizing team not only gives an opportunity to make new friendships with the other co-organizers but also allows me to influence and bring in new themes/​topics for deliberation at the meeting. Also, it is a great way to learn.
What do you think the participating YIs can hope to gain from this YIM?
Anand: When it comes to science, one tends to overtly celebrate the impact of outcome. However, it is the journey that is more memorable than the destination. Therefore, YIM lays more emphasis on the underlying scientific process and soft skills that are often overlooked. By adopting best scientific practices, we can naturally elevate the quality of scientific outcome.
Richa: To my anticipatory stress about whether I could be a faculty or not, a mentor once said, ​"You will not know if you can do it until you do it, so just go ahead, take the opportunity and do it!". The participating YIs should look forward to hearing from mentors and peers about aspects of a research career that may have been challenging and those that have been full of fun.
Dipyaman: This YIM has an exquisite blend of mentors from different fields of biomedical sciences and thus should interest YIs who represent those different fields. Organizers took special care to accomplish that. The YIMs have been happening for long now and has its ingrained modus operandi, but the present organizing committee is very keen on incorporating new ideas and helping the YIs with their individualistic requirements as and when necessary. Several break-out sessions are spread over all three days and will offer great opportunities to get to know each other. The panel discussions have been designed after a lot of deliberations and organizers believe they will offer many new facets of being and YI and managing it well.
Smita: We have a great line-up of mentors and special invitees, both for talks and panels, who are going to share their journeys and thoughts with the audience. We have picked up a vast range of topics, keeping the very ethos of YIMs in mind, for the panel discussions and breakout sessions. Each of these is very critical and important for the success of YIs, who are getting initiated in the scientific journey. Apart from science, there will be lots of other important issues that will be deliberated upon during YIM. It is up to the YIs to participate and interact wholeheartedly in these discussions and gain the most out it. Also, the meeting will provide ample opportunity for everyone to network. Everyone should make the best use of this opportunity and grow a strong network, which is again a key factor for growth leading to success.
How will this YIM be useful for the attending PDFs?
Anand: The landscape of the academic job market in India is quite complex. Apart from networking and mentoring support, YIM offers a one of a kind opportunity for potential PDFs to explore the job prospects with prospective employers. This could be a starting point to plan for their career advancement.
Richa: The participating PDFs could look forward to coming closer to solving the ​"Que sera, sera, whatever will be, will be…" conundrum for their opportunities in science. The participating PDFs will meet other PDFs thinking of becoming YIs in the future and hopefully find a group that they will forever share experiences with. They should look forward to chatting with YIs who are just back and have initiated a lab and most of all they should look forward to meeting the Directors from different institutes looking to hire new faculty.
Dipyaman: Several heads of the institutions from all over the country will be attending the PDF meeting and people who are looking forward to getting independent positions will have ample opportunity to know about different institutes. Institutes all over India are on a hiring spree and thus this meeting can be great catalyst for the best matches, which is one of the most important factors that should influence one's choice of institute.
Smita: PDFs are a group who are getting ready to get into the scientific ecosystem and are in the exploration mode. YIM provides an excellent platform to explore and gain knowledge of this ecosystem where they get an opportunity to meet YIs, mentors, institutional representatives and people from funding agencies. YIs give them a first-hand perspective of the ground reality; mentors, by sharing their life stories, provide an insight about the journey ahead that is awaiting them; and institutional representatives give a broad perspective about the kinds of institutions that exist along with the functioning and hiring process of each of them.
We are going to have a really large number of such talks by institutional heads who represent different types of institutions. It will be a wonderful opportunity for PDFs to not just gain vast amount of information that will be shared during the meeting but to also build networks for the future. Deepa Subramanyam from NCCS had said in one of her interviews that YIM helped her form a ​'buddy group', and so my suggestion to all the PDFs attending YIM2019 is to look for their buddy group and make the most out of it. It is for the first time that there are ~20 PDFs joining us from Indian labs which in itself could prove to be a game changer.
Which sessions are you looking forward to the most?
Anand: Mentor talks and Panel discussions are my favourites.
Richa: The YIM sessions have a great set of mentors from India and abroad. There are sessions on funding in science; this year there is a special session on outreach in science and science communication and I am looking forward to the discussion by the panel members in these sessions. And hey, let us not forget, that there is an outing on a cruise in the great Brahmaputra river!
Dipyaman: I am actually looking forward to the panel discussion on March 6 on ​'Direction of Indian research, Collaborations, Publishing in science' which I believe will bring a lot of not-so-discussed but very pertinent topics to the table, e.g. ​'Good' science vs ​'Bad' science, ​'Basic' research vs ​'Translational' research, ​'Organismal' biology vs ​'Molecular' biology, ​'Biomedical' problems vs ​'Biological' problems; and then ​'Paywall' vs ​'Open' publications, ​'Society' journals vs ​'Publishing house' journals as well as a discussion on ​'Preprints'. I also look forward to listening to the excellent line-up of mentors who are going to share their thoughts on becoming an independent investigator and what it takes to be one.
Smita: Very difficult question to answer! I am looking forward to almost everything that is going to be part of YIM2019. All the mentor talks — listening to success stories of others is not just motivating for me but a great way to learn; Panel discussions — they give an opportunity to hear different viewpoints and loads of key advice on different topics; Special talks by Anitha Kurup and Arvind Gupta to know about really exciting work that they both are doing in their individual spheres; Poster sessions — to know about science and to know people as well. Last but not the least, PDF satellite meeting — talks by institutional representatives to gain insight about the diverse ecosystem of Indian science and talks by PDFs to know about the amazing work that they are involved in. Looking forward to YIM2019.