At the 9th India Alliance Fellows' Meeting, held between 13 – 15 June, 2019, in Bengaluru, scientists spanning disciplines and career stages came together with policy-makers and funding agency representatives to discuss science as well as to deliberate on matters of immediate relevance to the Indian scientific community.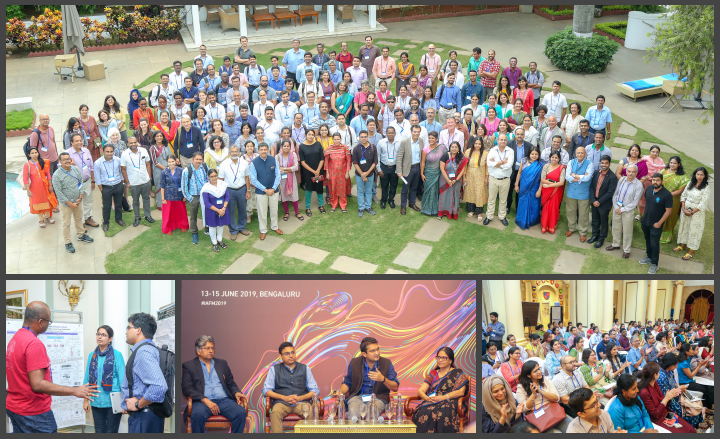 The 9th India Alliance Fellows' Meeting was held from 13 ‑15 June, 2019, in Bengaluru. Over the two and half days of the meeting, India Alliance Fellows at different stages of their career presented their research plans and findings through talks and poster sessions. Keynote lectures, science talks, and interactive sessions on topics ranging from research management and policy engagement to managing stress at the workplace added vibrancy to the proceedings.
The Annual Fellows' Meeting by Wellcome Trust/​DBT India Alliance (India Alliance or IA) brings together India Alliance Fellows from both basic biomedical and clinical and public health research areas, Fellowship Selection Committee Members, eminent scientists, members of the national and international research community, and India Alliance Staff. These meetings function as platforms where feedback on research can be sought, potential collaborations can be explored, fellowship-related matters can be discussed, and collective deliberations on enhancing the Indian research ecosystem can be held.
The meeting started with a welcome note by Shahid Jameel, CEO, India Alliance, who spoke about India Alliance's trajectory over the last decade and the plans for the next phase of the organisation. In 2018, India Alliance completed 10 years of its existence as a key biomedical research funding organisation in the country. The next phase promises a greater diversity of initiatives with Team Science Grants, Clinical and Public Health Research Centres, and Clinical Research Training Programmes along with the existing fellowships for Basic Biomedical and Clinical and Public Health Research. While the first phase of the India Alliance fellowships programme saw an equal partnership between the Wellcome Trust, UK, and Department of Biotechnology (DBT), Government of India, the new phase of funding marks a greater involvement of the latter.
Simon Kay, Head International Operations and Partnerships, Wellcome Trust, UK, and Renu Swarup, Secretary, DBT, discussed their vision for the second phase and initiatives to strengthen the research ecosystem in India. Kay highlighted some of the key thrust areas that were important for Wellcome Trust such as mental health, development of snake-bite initiative, planetary health, and cross- and multidisciplinary research funding. Swarup emphasized the importance of capacity building in new areas of research, providing better opportunities to early career researchers, and connecting MSc programmes with this research ecosystem. Both Kay and Swarup commended this decade-old partnership with a promise for deep engagement in the next phase.
The meeting included 13 research talks by India Alliance Fellows representing different categories of fellowships (Basic Biomedical Research, Clinical and Public Health Research, and the erstwhile Margdarshi Fellowships) and 95 posters presented across three sessions. The topics ranged from understanding how tuberculosis bacteria alter host RNA splicing mechanism, to mosquito sensory functions, to examining associations between cardiovascular traits in the Indian population, to using music for mental health, to observing morphological changes in ovarian cancer stages, to tobacco control policies in India, and more.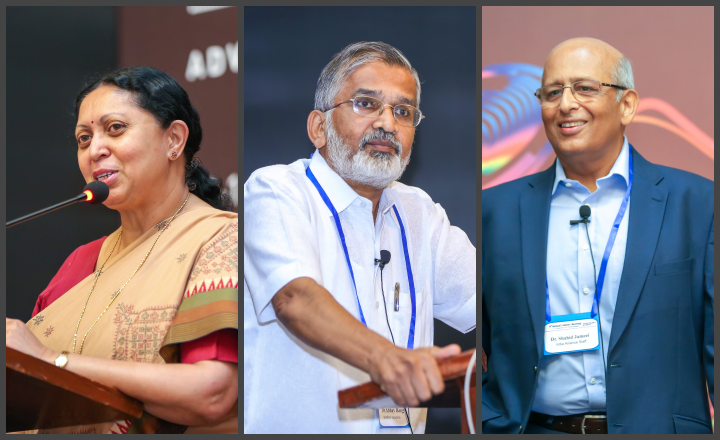 Like the last two editions, this meeting also saw representatives from DELTAS (Developing Excellence in Leadership, Training and Science), Africa, an initiative to foster south-south collaborations. Joel Bargul (THRiVE DELTAS Fellow) gave an overview of the different programmes under the African Academy of Sciences (AAS) and the possibilities of improving research capacities and leadership in Africa and India through this initiative.
Usha Menon, University College London, spoke about the development of an Ovarian Cancer Risk algorithm and how this collaborative trial of cancer screening (UKCTCOS- UK Collaborative Trial of Ovarian Cancer Screening) has been a major achievement for clinical science in the National Health Service (NHS).
This year the Keynote Lecture was delivered by Abhay Bang, Founder, Society for Education, Action and Research in Community Health (SEARCH). Bang mesmerized the audience for an hour and half with his incredible journey in public health research in one of the poorest districts in India. In his journey of learning, un-learning and re-learning he emphasized on doing ​"Research with the people" exemplified by the following quote: ​"People should need it, people should understand it, people should participate in it, people should use it, and finally, people should own it". Bang's contributions in health research, including home-based new-born care, have not only benefitted the local communities but have also been scaled up and used across the country to reduce neonate mortalities.
Wendy Bickmore, Institute of Genetics and Molecular Medicine, University of Edinburgh, UK, kickstarted the second day with a talk on how folding of the genome controls their function in normal and diseased scenarios. The second day also saw a number of sessions focused on strengthening research ecosystems and ensuring mental health and well-being.
An interactive session on ​"Strengthening research ecosystems through Leadership, Research Management and Policy Engagement" brought in a diversity of perspectives by the speakers. While N K Arora, the INCLEN Trust, spoke about the important pillars of leadership, Savita Ayyar, Jaquaranda Tree Consulting, presented the journey of India Research Management Initiative (IRMI), which has been an important platform for transforming research management in India. Devaki Nambiar, The George Institute for Global Health, shared important aspects of translating research evidence to policy.
Sonal Mathur from Sangath, Goa, spoke about how it's ​"OK to talk" about mental health, the ways in which one can manage stress at workplace, as well as the need to develop a clear mental health policy on how organisations promote well-being.
The day wrapped up with a session on ​"Space about science" by Jahnavi Phalkey, Director, Science Gallery, Bengaluru, who spoke about the development of a collaborative space for science, art and culture to foster a change in the perception of science. The Science Gallery, Bengaluru is scheduled to open its doors in 2021 with a vision to inspire the young and enable them to be future innovators.
An interesting feature of the last day was a panel discussion on the role of incubation centres, an emerging space in India that provides a crucial platform for translating scientific research. Aseem Mishra, CEO/Co-founder of Prantae solutions, Vijay Chandru, Strand Life Sciences, and Deepanwita Chattopadhyay, Chairman and CEO, IKP Knowledge Park, Hyderabad, each shared their personal journeys as well as the challenges and solutions in the context of linking science to the commercial world. The panel discussion was moderated by Taslimarif Saiyed, CEO and Director of Centre for Cellular and Molecular Platforms (C‑CAMP).
Akhilesh Pandey, Margdarshi Fellow, National Institute of Mental Health & Neuro Sciences (NIMHANS) and Kidwai Memorial Institute of Oncology, Bengaluru, recounted the establishment of the Centre for Molecular Medicine in NIMHANS and the work being carried out by his ​"molecular detectives" in decoding the molecular basis for disease syndromes. Satyajit Mayor, National Centre for Biological Sciences (NCBS), Bengaluru, revealed the fascinating world of the cell membrane and the molecular machinery which makes it more than just a lipid bilayer.
The meeting ended with closing remarks by Jameel on what the future may look like for the next phase of the organisation, how bringing in other kinds of funding into the programme can add diversification, and whether this platform could facilitate building a South Asia Alliance.
---
Videos of the talks and panel discussions at the meeting can be found here.
---
Did you enjoy this article? Please let us know in the comments below.