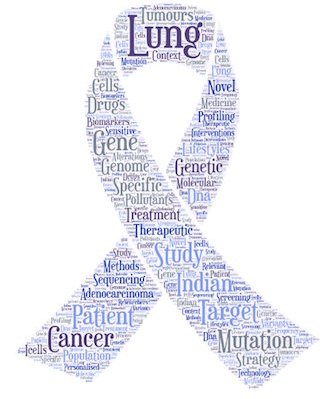 As lifestyles change, and an increasing number of people get exposed to rising pollutants, the susceptibility towards non-communicable diseases like lung cancer has also increased. Therapeutic interventions for lung cancer include surgery, chemotherapy, radiation therapy and targeting known genetic mutations. The treatment plan depends on the type of cancer a patient has. Lung adenocarcinoma, for example, begins near the outer parts of the lung, and accounts for over 40% of all lung cancers. Genetic mutations in specific biomarkers have been recently found in this type of cancer, allowing for molecular profiling of patients and specific drugs that target these mutations. It is in this area that advances in sequencing methods have permitted for a wider screening of gene alterations in lung cancer patients. In the era of personalised medicine, this is quite relevant in approaching patient specific treatment strategies.
Specific to the Indian context, a recent study published in the Annals of Oncology provides a spectrum of these mutations in tumours derived from Indian population. The study, led by Amit Dutt from Advanced Centre for Treatment, Research and Education in Cancer (ACTREC) at Tata Memorial Centre, Navi Mumbai also discovered a novel mutation in a sizeable proportion of patients (5.5%) with adenocarcinoma of lung. ​"We set out to meet two important goals in this study," says Dutt. ​"One was to find additional therapeutic targets linked to lung cancer development. Secondly, we looked to profile alterations in known targets in the Indian population. This would aid in classifying patients based on mutations they have and route towards appropriate treatment strategy".
The authors initially sampled 45 lung adenocarcinoma tumours to find variations occurring in the genome of cancerous cells. The attrition of sample quality is quite high due to degradation in these tissues. To overcome this, the authors utilised a sensitive technology that allows working with even picograms of DNA sample for genome sequencing. After identifying the genomic variants in these cells, they validated a subset of therapeutically relevant mutations using a cohort of 363 lung adenocarcinoma tumours. This large study sample allowed them to identify — for the first time — the various lung cancer mutations with their frequency of occurrence in the Indian population. Among the prominent gene mutations were EGFR, KRAS along with previously unreported mutation of FGFR3 as well as other lesser occurring mutations.
The researchers then went on to characterise the oncogenic property of the novel mutation of FGFR3 in fibroblast cell lines (in vitro) as well as in immunodeficient mice (in vivo). In both the cases, cells expressing this mutation outgrew the wild type by many folds. These cells were also sensitive to treatment with FGFR inhibitor. Tumour size in vivo and cell survival in vitro markedly reduced upon treatment with blockers of activity of the protein. These results further validated the role of FGFR in development of lung adenocarcinoma. ​"Our results show the first comprehensive actionable alterations that could be used to rationalise targeted therapy," elaborates Dutt. With FGFR inhibitors under clinical trials for other type of cancers, these results hold promise of extending the usability of these drugs for lung adenocarcinoma patients as well.
Paturu Kondaiah from Indian Institute of Science agrees, ​"This is quite a good study, both with respect to the cohort size as well as applying the results to personalising cancer treatment." He is cautious though in interpreting the results as ethnicity specific. ​"I also would have liked the oncogenic property of FGFR3 to be shown in a lung specific cell line," he continues, ​"especially since immortalised lung epithelial lines are available."
From a therapeutic point of view, both Dutt and Kondaiah believe in the potential of specific pathway inhibitors for treatment options. Since many cancers develop resistance to drugs, finding additional targets would help in increasing the survival time of patients. As part of his future plans, Dutt hopes to replicate the results in clinical trials as well.