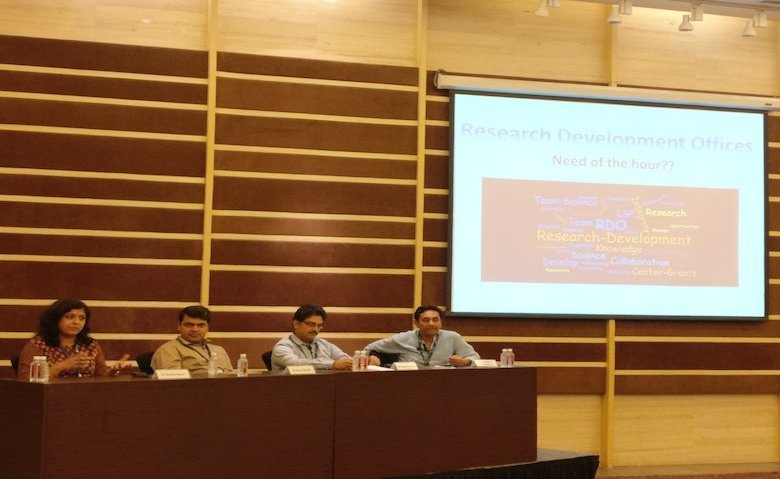 The 7th annual India Alliance (IA) fellows' meeting was held in Hyderabad from May 18 – 20th. An annual event, this meeting is a great opportunity for IA fellows to interact. The meeting was centred around scientific talks, poster sessions and panel discussions. The fellows presented their latest research in diverse fields like cancer biology, neuroscience, intracellular signalling, ecology, public health and genomics; giving an insight into the high-quality scientific output that the fellowship enables. The meeting also provided an opportunity for newly funded fellows to talk about their research plans.
The Wellcome Trust/​DBT India Alliance research fellowships were launched in 2008 and have continued to provide stable funding to researchers in India, since then. The Welcome Trust, UK and the Department of Biotechnology, Government of India are equal partners in these fellowships, which are highly coveted by both, young and established researchers in India. The fellowship supports scientists at various stages of their career; early, intermediate & senior and in three broad areas; basic biomedical research, clinical and public health research and for building new research programs in research institutes in India. Apart from providing funds, the fellowship also facilitates capacity building by helping the fellows network, train and explore new areas.
One of the highlights of this year's meeting was the presence of delegates from African Alliance for Accelerating Excellence in Science in Africa (AESA). The Welcome Trust plans to bring close cooperation between Wellcome Trust/​DBT India Alliance and their counterparts in Africa. Alphonsus Neba, program coordinator of AESA spoke about the goals of his organisation and the challenges in promoting biomedical research in Africa. Simon Kay, head of International operations and partnerships of Wellcome Trust also spoke about his organisation's continuing commitment to enabling the biomedical research community in India and shared his plans for funding research in priority areas like infectious diseases.
K VijayaRaghavan, secretary of the Department of Biotechnology addressed the meeting over Skype and reiterated the need for scientists to work with the political systems to improve infrastructure and output. He also mentioned the need to look beyond the metrics in science to produce high-quality and high-impact science in India.
The last day of the meeting kickstarted with Sarah Iqbal, Public Engagement Officer, IA, highlighting their efforts to communicate science to the general public.
One of the unique features of this meeting were the sessions on practical non-scientific issues that the young scientists face in conducting their research in India. A discussion on lab management, by a panel of experts including Amit Singh of IISc Bangalore, Bushra Ateeq of IIT Kanpur, Roop Mallik of TIFR, Mumbai, Rupinder Kaur of CDFD, Hyderabad and Vaskar Saha of TMC, Kolkata was well received by the fellows. Another discussion on the need for a research development office in academic institutions was conducted by Arun Shukla of IIT Kanpur, Naresh Sharma of IISER Pune, Shantanu Chowdhury of CSIR-IGIB, New Delhi and Savita Ayyar of NCBS, Bangalore. They discussed the merits of a dedicated office for international affairs and grants management, which being a nascent culture in India was welcomed by the fellows.
The final panel discussion was on communicating science to the public which was moderated by Abi T Vanak of ATREE, Bangalore. In this interactive session R Prasad from The Hindu, Sandhya Sekhar from IISc Media Centre and Dinesh Sharma from India Science Wire discussed issues pertaining to both scientists and journalists, while communicating with each other and to the general public.
Finally, the meeting ended with the CEO of Wellcome Trust/​DBT India Alliance, Shahid Jameel addressing the fellows. He announced new plans to invite graduate students and post-doctoral scholars in the fellows' lab which led to a big applause and drew the curtains to this fruitful and innovative meeting.