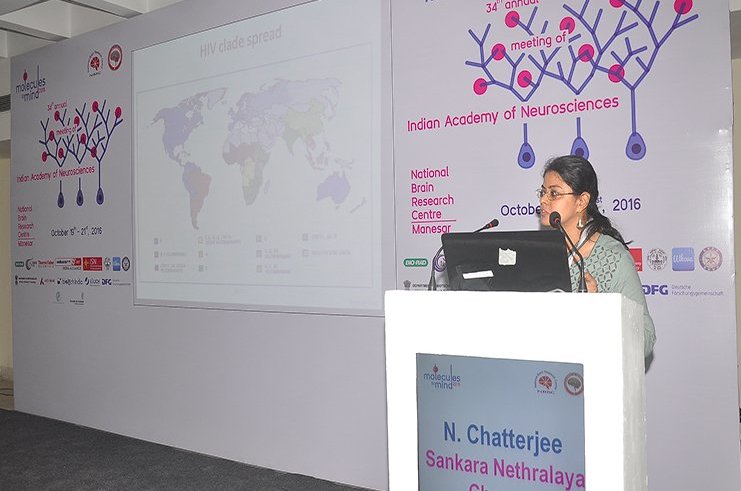 The largest meeting of neuroscientists in India took place in Manesar as the National Brain Research Centre hosted the 34th annual meeting of the Indian academy of neurosciences (IAN 2016) from 19 — 21 of October. More than 300 researchers from all over the world came together for talks and discussions on a wide variety topics in neuroscience. The topics covered the gamut of latest neuroscience research topics; sleep, bilingualism, yoga, herbal neuroprotective agents, neuroinflammation, multi-sensory perception, adult neurogenesis, neurodegenerative disorders etc.
The meeting started with pre-conference workshops for students to equip themselves for a career in neuroscience research. The DBT/​Wellcome Trust India Alliance conducted a hands-on workshop on science communication, where students were trained to write manuscripts and research grants. A component of the workshop also involved a talk that introduced options in alternate careers in science. The second workshop was for researchers on neurostereology and pain assessment in animals, which was conducted by the department of neurophysiology and anatomy at the All India Institute of Medical Sciences (AIIMS), New Delhi.
The meeting kicked off on 19th with a plenary talk by Gaiti Hasan of National Centre for Biological Sciences (NCBS), Bangalore. She talked about the role of intra-cellular calcium dynamics in the normal neural development. Her research showed some striking phenotypes in drosophila which were deficient in proteins involved in intra-cellular calcium dynamics.
The NBRC campus was bustling with activity as parallel sessions were conducted in three venues. On the first day, a session on role of non-nicotinic acetylcholine receptors in nicotine dependence discussed the implications of this research in cessation of smoking. Another session showcased research on genetic and environmental perturbation and its influence on psychiatric developmental disorders.
A symposium on multi-level integration of brain function was conducted with invited talks from some of the leading systems neuroscientists in the country. The first talk was on how the visual system interprets the world around us by Arun Sripati of Centre for Neural Science (CNS), Indian Institute of Science (IISc). This was followed by a talk on mu-opiod receptor modulation of vocal behavior in zebra finches by Soumya Iyengar of NBRC. She showed how manipulating the mu-opiod system in live birds caused them to cease their singing behavior. Next, James Gomes of IIT Delhi talked about modelling biological networks using sequential sub-theory.
The second day started with the ISN Wiley Blackwell JNC international lecture by Kendal Swartz from NINDS USA. He talked about the structure and function of heat sensing channel TRPV1 and its role in temperature sensing capacity of skin. Following which, Aditya Murthy of CNS, IISc talked about the computational mechanisms underlying simple and complex movements. Abutalebi Jubin of Vita Salute San Raffaele, Milan, Italy shared results from his research on the neuroprotective role of multilingualism. He showed how people who speak many languages have healthier brains and can protect from neurodegeneration and normal aging process.
Amid serious scientific sessions that saw spirited scholarly discussions, hundreds of children from various local schools were invited to pack the auditorium for an interaction with the scientists. The session started with a short talk by Nihar Jana of NBRC on brain plasticity, following which the students asked questions to a panel of scientists. The evening also saw a special lecture from Brigitte Roeder from University of Hamburg who talked about how the multi-sensory systems brain develops with experience during early childhood.
On the final day, there were three plenary lectures; Ted Abel talked about the molecular and cellular mechanisms of long term memory storage, Chitra Sarkar on the molecular mechanisms of Gliomas and Vidita Vaidhya on the modulation of adult neurogenesis by norepinephrine and thyroid hormone. The final day also saw competitions for the best oral presentations for the DM Kar Prize and Tulsabai Somani Educational Trust Prize which are given out annually at the IAN meetings. The competition was open to young scientists from all over India and was hotly contested.
Another special attraction was a symposium organised by IAN-FOANS symposium on brain health. Scientists from Japan, Sri Lanka and India presented research on the connection between herbs and mental health. Talks discussed the neuroprotective and somnogenic properties of many drugs including Ashwagandha and Ceylon tea. Another session dedicated to popularising yoga was introduced, where practitioners of yoga talked about its benefit and a demonstration was also held.
The meeting ended with an anecdotal recollection of the history of the IAN by PK Seth, eminent neuroscientist and one of the founding members of the academy. After three days of intense talks and activities, the students and scientists left the campus looking forward to reuniting next year at the Ravenshaw University at Cuttack, Odisha.