International Summit on Atmanirbhar Bharat
Event Details
ICMR Centre for Innovation and Bio-Design (CIBioD)' located in Post-Graduate Institute of Medical Education and Research (PGIMER), Chandigarh (India), is a platform to Incubate, Prototype, Commercialize Novel Ideas in Healthcare which are both affordable and scalable.
It aims to promote innovation by creating conducive ecosystem with involvement of multiple premier technology institutes in collaboration with PGIMER with following goals:
Devising indigenous technologies, instruments and devices for affordable health care.
Designing, development and deployment of indigenous medical devices.
Establishing solutions and approaches for various prevalent medical problems

CIBioD provides exposure of research methodology to researchers, students and faculty of various institutes to inculcate the culture of innovation and learning as a Social Responsibility Measure.
CIBioD is patterned by an Advisory Board, Task Group and Innovation Council consisting of Medical Professionals, Scientists, Industry Professionals & Investors to guide and execute the activities. CIBioD's Brain Trust includes 14 different institutes/​industry like Panjab University, IIT (Ropar), NIT (Jalandhar), CSIR-CSIO, IIM (Calcutta), Thapar Institute, NCKUH (Taiwan), RMS Technologies, DY Patil University.
CIBioD has already applied for 08 Patents and 10 IPR under processing stage. It offers ​'Promotion of Innovation & Entrepreneurship (PIE)' programme along with Short Term Attachment Programme. Various projects like Quantitative Sensory Testing (QST) Device, E‑Stethoscope (Wireless Digital Stethoscope), EMR (Electronic Medical Record), Intelligent Patient Care System (i‑BED), E‑OPD, NAMO Gamcha, Ventilator, Tele-Cardiology, Project Muskan, Rakshak Disinfection Tunnel, Swachh Kamal, Aarogya Prahari, Censy, Bachav are at different stages of development.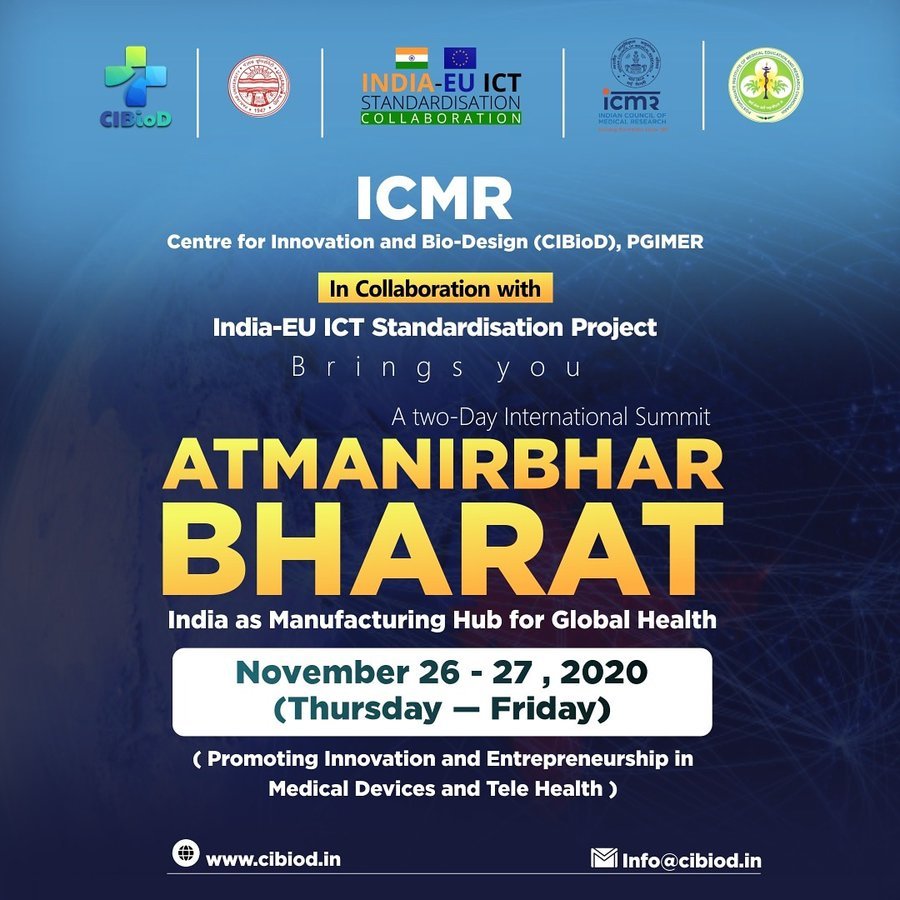 Click here for more information.