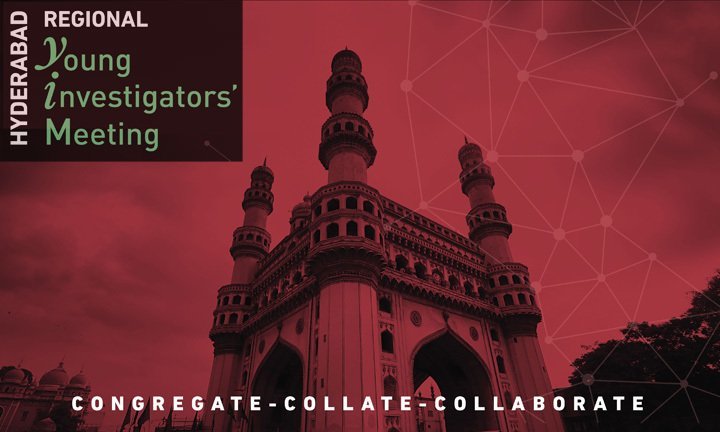 After ten successful years of Young Investigators Meetings (YIM) – national meetings organized by IndiaBioscience to bring together early career life science researchers from all over India to network, share best practices or challenges, and build collaborations – erupted the need to have local scientific networks within India's major cities. Researchers in Hyderabad led the initiative with the first ever Regional Young Investigators Meeting – RYIM 2018, in which they were supported by IndiaBioscience.
The meeting was held on 18th-19th August, 2018, at the School of Life Sciences, University of Hyderabad (UoH). It focused on bringing together academicians, industries and start-ups together on one platform with an aim to Congregate – Collate – Collaborate.​"If you are active in science, you are young enough to be in the meeting", said Bindu Madhava Reddy, Assistant Professor at UoH and one of the 7 co-organizers of the meeting from different research/research-enabling organizations in the city.
The meeting was attended by roughly 100 registered participants from 16 academic institutes (including 3 undergraduate educators), 3 clinical research institutes, 4 science/​research/​discovery promoters, 16 representatives from industry and start-ups, and 2 freelance scientists. 6 of the attending institutes showcased their infrastructure available for use to outsiders to maximise utilization. The diversity in interests and affiliations of the attendees provided a fertile ground for seeking collaborations in exploratory as well as translational research. Via its ​'breakout sessions' the meeting also enabled assemblages of expertise and interests with the hope of facilitating large scale collaborative research projects in the city.
G Padmanaban, former director and now honorary professor at the Indian Institute of Science (IISc), Bangalore, set the tone of the meeting in his inaugural talk, advising the attendees to build collaborative mega projects among scientists in the city leveraging each other's strengths. D Balasubramanian, former research director and now distinguished scientist at the LV Prasad Eye Institute (LVPEI), emphasized the need for more openness regarding infrastructural facilities available in the city, beginning with the institutes represented in the meeting.
The keynote speaker, Muralidhar Kambadur, Jawaharlal Nehru Chair Professor at School of Life Sciences, UoH, laid paramount importance on prioritizing high quality original research. He pointed out that as bandwagon research and the need to publish in certain journals has taken over science, the focus has shifted to infrastructure rather than originality of the idea. Unlike other scientific fields in India, he says, life science researchers have focused on procuring but not building their own infrastructure – an aspect that proves quite expensive in the current scenario. He strongly suggested that the community should now shift focus from capacity building in techniques to nurturing originality of ideas.
Educators are indispensable if such a shift in mind-set has to happen. The educators present at the meeting discussed the need of educational content that the undergraduate students in the city can understand and relate to better. They also pointed out the lack of clarity among young students about different opportunities that emerge from a training in science. These discussions highlighted a need for consolidating the different school and college science outreach and teacher training programs running in the city, and strengthening them as a community.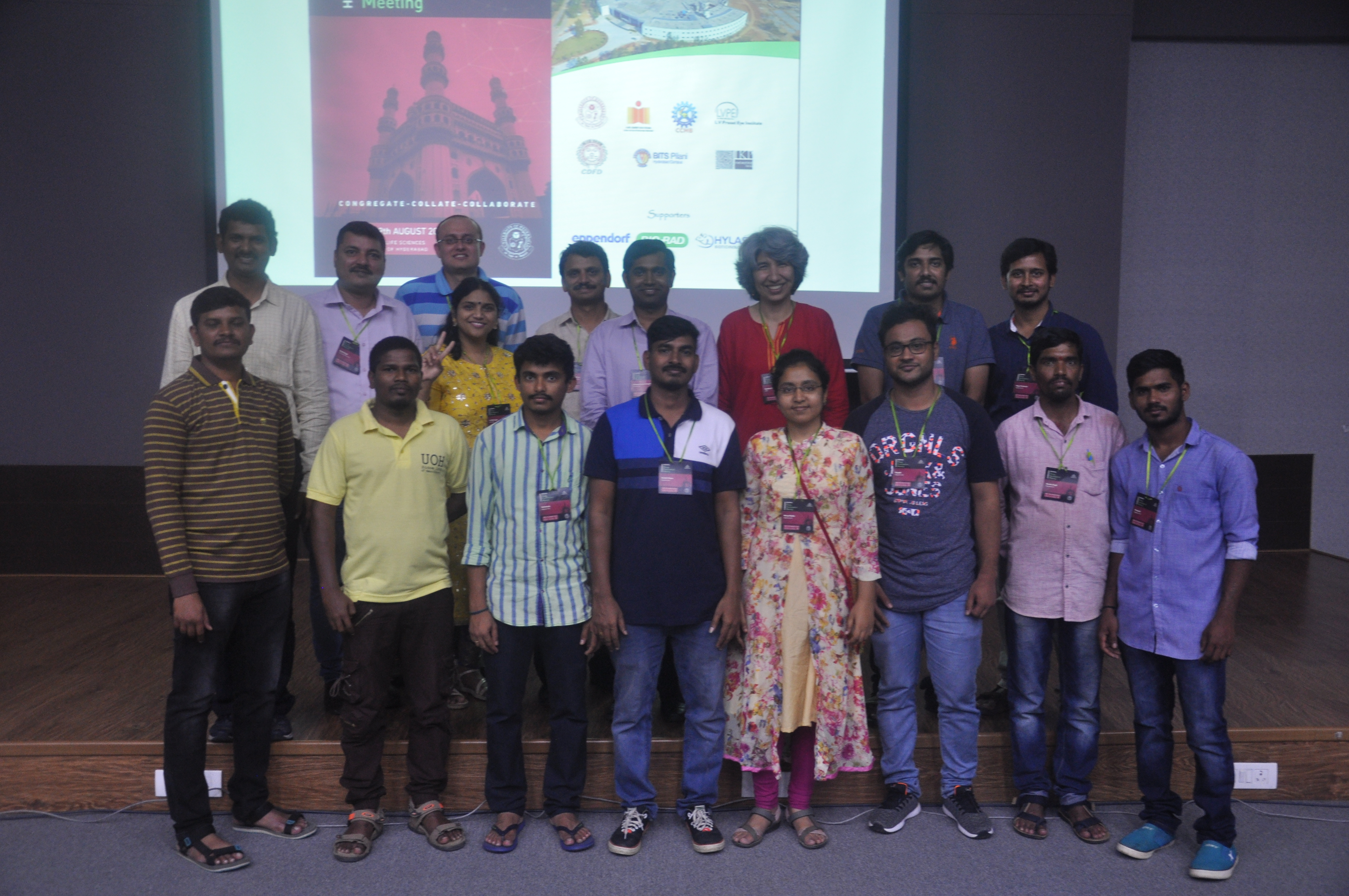 The meeting also included a panel discussion with administrators from eminent educational, research and research-enabling organizations in Hyderabad. Panellists included Appa Rao Podile, Vice Chancellor, UoH, Rakesh Mishra, Director, CSIR — Centre for Cellular and Molecular Biology, Debashish Mitra, Director, Centre for DNA Fingerprinting and Diagnostics, Reddanna Pallu, President, Federation of Asian Biotech Association and professor at UoH, Subeer Majumdar, Director, National Institute of Animal Biotechnology, Shivaji Sisinthy, Director-Research, LVPEI, and Deepanwita Chattopadhyay, CEO, IKP Knowledge Park. The discussion was moderated by Uday Saxena, Chief Mentor, Dr Reddy's Institute of Life Sciences.

Delays in procuring grant money even after it has been sanctioned is a common problem that academic researchers unanimously complain of. Touching upon this in the panel discussion, Mishra acknowledged the complexity of the problem and said it is the institute's responsibility to keep aside funds to support a researcher in his/​her initial five years to establish his/​her lab without worrying about grants. An unequivocal gap between academia and industry was touched upon in the discussion. Mishra also emphasized the need for Indian academia to start seeking funds from industry for research. Chattopadhyay spoke on the disconnect between the two sectors due to lack of understanding of industry standards such as regulatory affairs and clinical trials among the academicians. Saxena wrapped up the discussion urging academicians to shed their shyness and be more proactive in discussing their ideas with industries. He suggested that academicians should rely on industries for judging an idea's maturity to suit industry's needs.
The meeting also focused on identifying gaps between academic research and translation. Multiple sessions were dedicated to discussing how to develop a conducive environment for translation and entrepreneurship in Indian cities. There were also discussions on understanding the need and procedure of patent filing better and the role of business developers and service providers in research institutes. Representatives from start-up enablers mentioned the need for scientists to mentor start-ups as subject matter experts.

As Ron Vale, professor at University of California, San Francisco, IndiaBioscience board member, and long-standing proponent of efficient scientific networking and collaboration, mentioned in his address to the attendees, this RYIM should catalyse a sense of leadership beyond the few days of the meeting. With Kolkata and Srinagar hosting two more RYIMs, Indian research space is coming of age with setting long-term goals and shared vision for the community, as well as working towards engaging various key stakeholders in education and industry more actively.