M.M. Chaturvedi is a Professor at the Department of Zoology, Delhi University. In addition to teaching and research, he is enthusiastic about science outreach. He shares his views on undergraduate education and the shape it would take in the near future.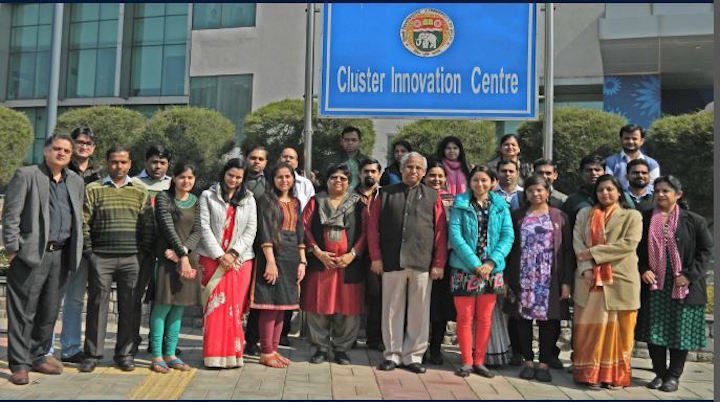 Tell us a bit about your academic journey.
I was born in a remote village of eastern UP. Till the age of 7, I did not attend formal schooling — my mother was my teacher. I was later educated at Banaras Hindu University, Varanasi (BHU).
My school teacher, Late B.K. Tiwari, introduced me to molecular biology in 1968 (the year Dr. Har Gobind Khorana got Nobel Prize). Dr. Tiwari taught Biology as a scientific field shaping around us.
I was introduced to the fascinating field of scientific research by my PhD mentor, Late Madhu Sudan Kanungo — a focused and determined researcher. His motivation drove him to be active in lab until a week before his death (at the age of 87 years).
As a post-doctoral fellow at the Institute of Molecular Biology at University of Zurich, I witnessed the best of contemporary science under the guidance of Charles Weissmann.
These three teachers-scientists have had a founder role in my career.
I joined my alma mater, BHU, as a lecturer and taught Biochemistry, Molecular Biology and Molecular Genetics. In 2003, I shifted to the Department of Zoology, University of Delhi (DU).
In addition to teaching and research, I have headed the Cluster Innovation Centre – an innovation-oriented learning centre with an entrepreneurial dimension. I was also Dean Research- Life Sciences for a period of 4 years.
I have had a very fulfilling experience as a student, teacher, and researcher.
What is your teaching mantra?
My teaching relies heavily on analytical research bent — I have never enjoyed teaching facts.
I discuss concepts and encourage students to develop hypothesis and design experiments to assess hypothesis. I enjoy this learner-centric teaching where I engage students in discussion. My teaching heavily uses internet and other social media. I do not stop student from using their smartphones; rather I ask them to use it during our discussion to search for an answer.
Do you think networking is important in teaching? How can students benefit from networking?
Biological phenomenon depends on a minimum of two interaction systems — no science can be done in isolation. Scientific validation needs authentication and validation by a group of unbiased scientists. New ideas and new interpretations emerge during meetings, seminars and conferences.
In coming times, a teacher is important, but the time and space of teaching might not be important. Therefore, contemporary teaching will have to rely on teacher networks.
No single institution can fulfil the requirements of today's learner. Therefore, a concept of meta-University and meta-college has to be created through networking. We has tested this concept at the Cluster Innovation Centre.
Do you know of any conferences that take place for teachers of STEM in India? Do you think having these conferences is a good idea?
Many conferences are regularly organized for Indian STEM teachers. Two organizations that are doing great job in this direction; Mathematical Science Foundation, New Delhi, and Homi Bhabha Center for Science Education (TIFR) at Mumbai. At Center for Science Education and Communication (DU), I, as the Director, had organized many workshops for teachers and students.
What has been your experience of teacher training workshops?
Not easy in India. As the Director of Center for Professional Development in Higher Education (CPDHE), DU, I had mentioned in every workshop that it was very difficult to train teachers.
The primary goal of all training programs is reduced to issuance of a ​'Certificate,' which the teacher could use for promotion. The excitement of teachers' conference is short-lived. Therefore, the outcome of such mentoring is hardly visible or noticed.
Social factors such as lack of jobs and poor recruitment processes are also responsible for poor outcome of such programs.
As the Dean Research ‑Life Science at DU, you have supported transdisciplinary innovation projects for undergraduates. Why do you think such projects are important and how has been the experience so far?
Supporting Undergraduate Innovative projects was a memorable experience during my stint as Dean. DU should have continued supporting these activities. It brought a research-based approach to UG teaching with students developing transdisciplinary problem-solving approach. Through such activities, students were equipped to understand the grand challenges of the society and were able to explore novel solutions for it.
What kind of teaching do you think is obsolete?
The biggest damage to biology education in our country is propagating subject titles — such as Zoology, Botany, Microbiology. It should replace with Natural Sciences and Biological Sciences. Further, education should focus on hands-on problem-solving approaches on socially relevant problems.
Your views on the draft education policy 2019 (https://​inno​vate​.mygov​.in/​n​e​w​-​e​d​u​c​a​t​i​o​n​-​p​o​l​i​c​y​-​2019/).
It is an exhaustive document prepared by a committee under the chairmanship of Dr. Kasturirangan and it deserves accolades on many aspects. The problems of school education have been well identified and the recommendations, if followed, would be helpful. This would also impact higher education.
One of the biggest challenges of higher education has been that the colleges are assigned to impart undergraduate education while universities focus on postgraduate education and research. Quality of research was also brought down when the API system was introduced for appointment and promotions in the higher education. Aimless planning to increase the number of PhD and research publications further reduces the research quality.
I was however disappointed by the recommendations for higher education. The committee has tried to incorporate a lot, and in turn, has failed to analyse the problems of higher education.
There is no clear demarcation between erstwhile polytechnic colleges and Universities. One of the very important responsibilities of higher education is to ignite the young mind, and I do not find clear direction in the recommendations. The problem of autonomy has been addressed, but no recommendation is presented — as the number of regulatory bodies have not been reduced.
In my opinion, undergraduate education should be addressed at par with postgraduate education and research.