The low number of women in leadership positions in science is a cause for concern for the scientific community worldwide. In India, a report by the Indian National Science Academy (INSA) showed that while quite a few women enrol in doctoral degrees in STEM, only a few women reach either faculty or higher administrative positions.
On International Women's Day, we interviewed a few women in science from different career levels to understand the most common factors that hinder women in science and some possible ways to improve this situation. This is the second article in a two-part series compiling these insights.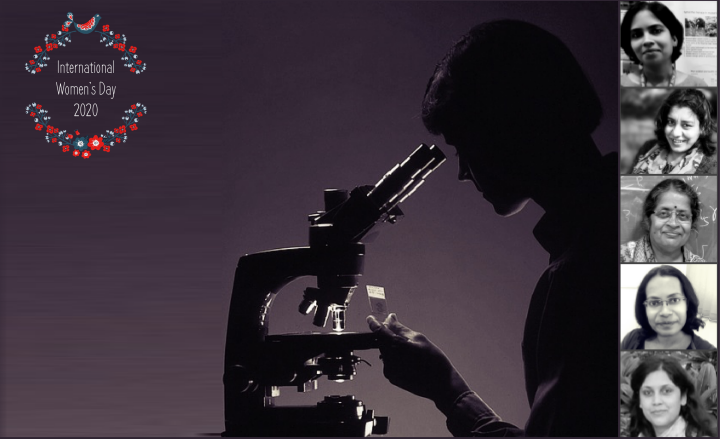 About the contributors:
Rohini Godbole is a Professor at the Indian Institute of Science, Bangalore and the editor of two popular books on women in Science (Lilavati's Daughters and The Girl's Guide to Life in Science). Manjari Jain is an ecologist and an Assistant Professor at Indian Institute of Science Education and Research (IISER) Mohali. Swati Subodh is a Senior Scientific Officer at India Health Fund, Co-founder of 1M1B (1 Million for 1 Billion) Foundation and Columnist. Lekha Bandopadhyay is the principal investigator of a project funded under DST's Women Scientist Scheme‑A at Bose Institute, Kolkata. Siuli Mitra is a Professional Expert (Science Communication & Public Relations) at Translational Health Science and Technology Institute, Faridabad.
We asked these women for suggestions related to schemes and policies that, if implemented at the institutional and national level, can result in greater numbers of women in science.
Rohini Godbole: To help women scientists deal with these challenges, one needs actions both at the societal level and policy level. One also needs to keep in mind that small numbers are a symptom and not the problem.
A widely held belief (with good justification) is that the steep drop-off in the number of women in science after PhD and reduced presence of women at higher levels is due to family responsibilities. As a result, most of the corrective policy measures that have been introduced are designed to help women come back to active science after breaks in their career.
But what is also required is to raise support structures at the societal and institutional level which will help young women scientists negotiate these early speed-breakers and avoid career breaks if they wish. It is equally important to realize that achieving work-life balance is not the responsibility of the woman alone but that of the couple and hence these policies should be made gender-neutral, as far as possible. For example, childcare leave can be renamed as parental leave with the option for either parent to avail it. Even the schemes to come back to science after a career break can be made gender-neutral. They will still be used mostly by women but the ​'secondary citizen'/stepchild status that institutions/​scientists often give to these schemes will change.
There need to be support structures at the societal and institutional level which will help young women scientists avoid career breaks if they wish.
One can also think of women-friendly tenure policies where a woman can ask for tenure consideration to be deferred by a year or so if she feels that childbearing has affected her professional impact. Again, implementing this in a gender-neutral way might reduce the backlash on women who opt for it. Similarly, the need for a crèche is usually looked upon as a woman's need, while it should be looked at in a gender-neutral way.
While such measures are necessary they are not sufficient. Policies implemented at the level of government can target certain invisible biases. But equally (or perhaps even more) important are steps that institutions can take and the mindset changes that we need to bring about at the level of society and the scientific community.
Awareness that it is not impossible to achieve career and family balance in a science career needs to spread to parents, families, and science practitioners alike. This sensitisation needs to start early and it needs to be made clear that this advocacy of gender balance is not just so that women's abilities in science find expression, but because any diversity can only add to the progress of creative processes of science.
Some Institute-based efforts might be more fruitful than schemes which are implemented centrally. For example, institutes can certainly put their minds and efforts into helping couples solve dual-career issues. The solution is not to necessarily give both the partners jobs, but to at least not deny it out of hand. Instead, the decisions should be based on merit. Further, a proactive attitude where the prospective applicants feel that the institute is alive to these issues can actually go a long way towards a happy resolution of the issue through the combined efforts of the individual and the institution.
Institutions can also set themselves targets of women's share in faculty, positions of authority etc. and then take proactive steps to achieve them. The targets could be different for different disciplines reflecting the presence of women among practitioners. The definitions of equity and efforts to achieve it will also change a lot from discipline to discipline and institution to institution. An up-to-date national survey of women working in science careers is also a basic necessity for undertaking such efforts professionally.
Athena SWAN (Scientific Women's Academic Network) charter in Great Britain is one such wonderful initiative. These are evaluation/​accreditation programs where the institutes are charged and encouraged to make efforts to enhance gender equity. Conducting gender audits, proactively looking at ways to create an inclusive work environment are some of the steps.
Even in scientific institutions which are alive to the need for gender sensitisation, it is perceived that sensitisation of ​

'

sexual harassment' is all that is necessary
Hiring committees can also be made aware of how invisible biases can affect the questions we put to a prospective candidate and how to make these questions gender-neutral (e.g. women are often asked if it would be possible for their family to relocate if they are offered a job, while male candidates are almost never asked this) Instructing the committee to avoid such obvious biases can make the institution more gender-neutral and woman-friendly.

Institutions can also make it a practice to have gender sensitization training on entry for all. Quite often, even in scientific institutions which are alive to the need of sensitisation necessitated by the changing gender scenarios, it is perceived that sensitisation of ​'sexual harassment' is all that is necessary, which sadly is not the case. Even in that limited context, quite often the scientific community is cagey talking about the ​'elephant in the room'.
In principle, the issue of how the community should create a woman-friendly and safe workplace needs to find a place even in basic discussions of academic ethics. These considerations need to always be at the back of our minds and not just restricted to the ​'International Day for Women and Girls in Science' or ​'National Science Day' or ​'International Women's day'. Then and only then, will we come up with solutions that will work for us in India.

Manjari Jain:
Undertake active efforts to ensure some parity in hiring (normalized to ratios of women vs men candidates in the given field where hiring is taking place).
Provide on-campus accommodation preferentially to young mothers (as pointed out by Rohini Godbole in a talk organized at IISER Mohali on ​

"

A Life in Science") and a good, reliable crèche facility.
Actively avoid biases in giving recognition and awards and stop piling awards on the same set of one or two women (this happens with far more severity with women than it happens with men, leading one to believe that these are done merely to tick the box). Instead, include more women and a diverse set of them when giving recognition. Awards may not alter one's potential for work but will certainly boost confidence and even encourage individuals who are new to science
Swati Subodh: In research,there are various schemes introduced by the government for mid-career women scientists, including re-entry grants. These schemes are a great way of bringing women back to a productive career. However, this is not enough. Due to various factors, most women shy away from actively seeking opportunities for better projects, assignments, collaborations and positions; this affects their visibility in their respective domain in addition to the biases that already exist against them.
To enable more women to thrive rather than just survive in this space, an accelerated mentorship program should be made part of the re-entry grants, at least for the initial 5 years. Senior scientists or colleagues, irrespective of their gender, should be engaged in the mentorship program for scientific guidance and professional growth trajectory of young women scientists.. This would hopefully not just enable women in science to have flourishing careers but prevent many bright minds from sinking into oblivion.
On-campus accommodation and childcare facility have been spoken about but not implemented well enough in most cases. Making child-friendly zones within campuses will enable many women researchers to manage two of their very important duties — being a mother and scientist at the same time!
To enable more women to thrive rather than just survive in this space, an accelerated mentorship program should be made part of the re-entry grants
In careers in science where women are not required to be in a lab at all times, like science communication, data analysis etc., provision should be given to have flexible working hours or to work from home. This will be especially important for young mothers. In these cases, favourable workplace practices are the immediate need rather than imposing policy interventions.
Having said this, participation from the male partners cannot be ignored and they should certainly not be left out of the equation. The challenges women face in professional life can be abrogated if this support is strengthened. Although a lot depends on a couple's personal preferences and beliefs, policies should empower young fathers to be equally participative whenever and wherever required.

Lekha Bandopadhyay:
Crèche should be a basic facility in any academic or research institution.
The age bar clause should be erased in job advertisements in academia (for both men and women).
There are two good schemes at present to encourage retention of women in science — DBT BioCARe and DST Women Scientist Scheme — A, B and C. Instead of starting new schemes, it is better to fine-tune these existing ones, e.g. in terms of easing communication with the funding body, regularising fund transfer, and providing overall support.
Siuli Mitra: There exist schemes and policies for women who wish to go on maternity leave or have a break in the career for childcare, though these may not be enough. Being a single woman, I (and others like me) face a different situation. For example, if I need to look after my parents who are old, I would need the organization to be accommodative of that, even if I do not have a child. I think the flexibility of work hours and work location are going to be (still are) more important for women as their needs change. Undoubtedly, more can be done to enable such flexibility.
In the first part of this article, we asked these women in science what, according to them, are the factors that hinder women in science from reaching their full potential.