From the IBS desk
Dear readers,
Our last month's series of interviews with med-tech entrepreneurs made us want to dig deeper into the idea of science entrepreneurship. We tried to imagine what goes through the mind of a would-be science entrepreneur? And so, this November we will continue with our theme on entrepreneurship and try to look at it from another lens.
We will bring in experts to share their opinion about how to tread the path of science entrepreneurship successfully? Some of the questions we hope to explore through our articles are- what makes a cool scientific idea into a successful entrepreneurial venture? How to find support and community on your entrepreneurial journey?
We will be joined by Praveen Vemula of inStem as a guest editor. Not only will he contribute an article but will also help shape the ideas included in this series. We look forward to seeing you read and discuss these articles.
Videos from our Careers in Science workshop at IISc are now available on the website and our youtube channel. Do watch them and share with others, especially students.
And now, the stories we've chased all October. Happy reading.
Team IndiaBioscience.
News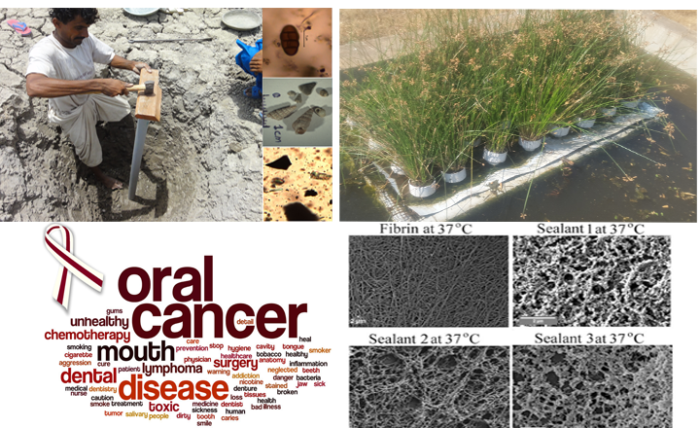 Nature-inspired artificial peptides for faster blood clotting
Ranjini Raghunath
Mimicking the body's natural blood coagulants, scientists fashion artificial peptides with superior clotting properties.
Paleoecological clues help understand ecological history of Banni grasslands
Priyanka Runwal
Organic matter, snail shells, fungal spores and charcoal grains buried deep in the soil provide insights to ecological dynamics of Banni grasslands of western India.
Biomarker for early identification of oral cancer
Bidisha Ghosh
Newly identified biomarker may help patients with oral cancer avoid surgery, thereby lessening morbidity and cost of treatment.
Combination of aquatic herbs offers hope in treatment of dye contaminated water
Sarah Iqbal
Scientists from Shivaji University, Kolhapur use beds of floating plants for bioremediation of dye contaminated water.
Columns
Pushing for medical innovation in India
Urvashi Bhattacharyya
Doctor-innovator, Jagdish Chaturvedi talks about strategies that can push forward innovation in medical technology.
The making of Sohum: a device for screening hearing impairment in newborns
Urvashi Bhattacharyya
Nitin Sisodia, founder of Sohum Innovation Labs talks about building a company that hopes to make hearing screening available to every newborn in India.
Cyclops: the med-tech startup for diagnosis of dizziness and balance disorders
Urvashi Bhattacharyya
Niranjan Subbarao, a co-founder at Cyclops MedTech explains why is it important to accurately diagnose balance disorders and how their startup is helping solve this problem.
Sattva Medtech: measuring fetal heart rate more easily and reliably
Urvashi Bhattacharyya
Sumedh Kaulgud, co-founder of Sattva MedTech talks about making an ECG-based device for monitoring fetal heart rate.

Grants
Travelling Fellowships
The Company of Biologists
30 November 2017
SERB Distinguished Fellowship
Science and Engineering Research Board
30 November 2017
More grants..
Jobs
Faculty Position in Biology
Ashoka University
Open deadline
Scientist B (Non- Medical)
National Institute for Research in Reproductive Health
6 November 2017
More jobs.
Events
Natural and Artificial Molecular Machines
Department of Biosciences and Bioengineering, IIT-B
20 December 2017
Art in Cell Biology
International Congress of Cell Biology, 2018
30 November 2017
More events.