Sohum Innovation Labs is a MedTech company that provides an affordable neonatal screening system for hearing impairment. The device works on the principle of recording electrical signals from the brain, known as evoked potentials. IndiaBioscience spoke to Nitin Sisodia, the founder and CEO of Sohum, about what led to the idea of Sohum and how well is it getting accepted in the market.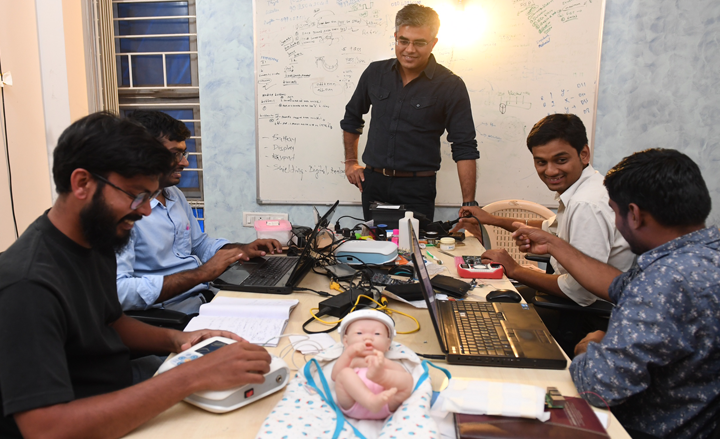 How did you first conceive the idea of making a device for screening hearing impairment?

About 5 years back, I was a part of this fellowship program called the Stanford India Biodesign. During that program I spent almost a year at Stanford and then came back to All India Institute of Medical Sciences, Delhi, to understand unmet clinical needs of India. I am not from a medical background so during my stay at AIIMS, I spent a lot of time shadowing doctors and nurses who go to some of the community centres and tried to find problems they face in general. These could be from the point of view of a physician, a service provider or even someone who does imaging. At one of the child development clinics, a parent from Hisar walked in with his 5‑year-old son and told the doctors that his son doesn't speak. After examining the child, the doctor concluded that his inability to speak stemmed from his inability to hear. Since the condition was not diagnosed at a younger age when brain plasticity is maximum, the doctor was unable to help the child. He said it was already too late for intervention like hearing aids or cochlear implants.
That was a very insightful moment for me. A bit of research also revealed that hearing screening is not provided en-masse in India. This is unlike the west, where babies get screened for hearing disorders at the time of birth and a proper intervention is provided early on. So, this was the trigger point that led to the idea of Sohum.
You said that your background was not medical but Sohum depends on collecting the auditory evoked potentials from the brainstem. How did you bridge that gap to build your technology?
I studied electrical engineering at college and then did a masters in design from National Institute of Design, Ahmedabad, so of course, I had to take a lot of help (from biologists). I visited almost every institute that is connected to audiology or provides related services. I went to All India Institute of Speech and Hearing Mysore initially. Then I went to Manipal Audiology Centre and spent a lot of time interacting with the experts. Most of the biology-related learning happened there. I also understood why despite us having these institutions, we are not able to provide hearing screening as a modality at birth.
Can you elaborate on that? Why such a gap exists?
I think it is a stakeholder issue. This is something which should fall under paediatricians' bucket. They should be making parents aware of this condition, just the way they make them aware about vaccinations. Doctors in tier – I city inform parents of the need for hearing screening, but this information isn't passed down to the underprivileged. Part of the reason is that they don't have facilities to screen babies. Most available technologies are prohibitive in cost, require disposables, maybe an extra burden on the parents or may not even work in noisy settings. So there is a technology and a product gap for the have-nots, making the availability of screening unsuitable in these resource-constrained settings.
What bottlenecks did you face at different stages of product development – conception of the idea, designing the product and marketing it?
The market is not entirely ready for startups so developing such a technology is full of challenges. The product has to be state of the art and competitive with similar technologies from across the world. This requires a meditative effort as you need to have resources, an understanding of time, methods to prove your technology in the right way, understand the market needs and ensure funding acquisition etc. So it is an intense affair with a lot of hurdles. I was fortunate to get some support because of my association with Stanford India Biodesign and AIIMS. But in India, there is in general very limited support. Innovation is still not a big part of the ecosystem, where people take a leap of faith and build something on their own. So hiring good candidates from top places like IITs or IISc is tough and expensive. You need a good network that can get you in touch with the right kind of people. Even HR is not well groomed to look at the problem from a holistic point of view. As a result, the ecosystem forces you to undergo many experiments to get one thing right.

Which brings me to the next question, what constitutes the best team for a startup?
It is difficult to know who is the right person, but there have to be 2 – 3 core people in the company who are experts at their job. It is hard to find people who have a background in audiology innovation. So you knock at many doors to get that one right person. In India e‑portals or seminars don't offer that great an avenue to connect. Physical presence, networking, being on your toes and thinking on your feet helps get you that person.
How did you approach the business strategy?
One of my advisors told me long back that the job of an entrepreneur is not to take risk, but to mitigate it. So I have tried to take the path where a problem could be solved in the easiest way. We collaborated with multiple partners, like Medtronic India, and other channel partners to take their expertise in successfully marketing our product. They already have people working in this area, so there was no need to reinvent the wheel.
What has been the feedback to the screening device? How easy or tough has its adoption in the market been?
We are segmenting our market into four categories– maternity homes, paediatricians, ENT doctors and audiologists. The device is proving to be a boon for audiologists as they did not have a tool to detect hearing impairments till now. We are leasing out the device to them as well as to local entrepreneurs who in turn provide hearing detection as a service on behalf of Sohum. This approach is also useful in creating jobs at local level. The audiologists who were just providing hearing aids will now also be spreading the message of newborn screening to maternity homes, paediatricians, clinics and many other places like their own camps. So they are acting as our partners in spreading the word about Sohum as a screening and diagnostic device.
Could you tell us about the global reach of Sohum?
131 million babies are born every year across the world. Out of which 90% are born in the developing world. At present, there are no modalities to screen these children when they are born. So most of our queries are from the developing world. For example, we have 2 devices installed at Guatemala. They were quite curious about the device and technology as there is only one audiologist in entire Guatemala. Then there are our neighbours like Nepal who have enquired about the product as well. We want to create a full care cycle in these markets and not just an avenue for screening, so we are looking at the right kind of partners to associate with.
Your device was recently launched by Department of Biotechnology. Readers would love to know more about that.
It was the Department of Biotechnology that sponsored my training at Stanford India Biodesign and the AIIMS fellowship program. They were essentially the assignees for the IP of the product, which was further licensed out to my company. So they were involved in the whole process of inventing our device. The launch was their proposal. It provided us with a good platform for product outreach and authentication and we are building on that further. Many state governments have enquired about the device. Some agreed to use it in their universal hearing screening initiative.
What is next in the pipeline for Sohum?
Our device is based on a bio-signaling platform. This technology is not a focus area for many companies, so, there is a potential for products based on similar technology. Problems related to sleep cycle disruption, collecting ECG or EEG signals for issues related to morbidity or mortality etc could be future areas of application.