Cyclops MedTech builds products for easy diagnosis of dizziness and balance disorders, such as vertigo. They use eye-tracking technology and have recently launched their first product, ​'BalanceEye'. In an interview with IndiaBioscience, Niranjan Subbarao, a co-founder at Cyclops explains why is it important to diagnose balance disorders and how their startup is solving this problem.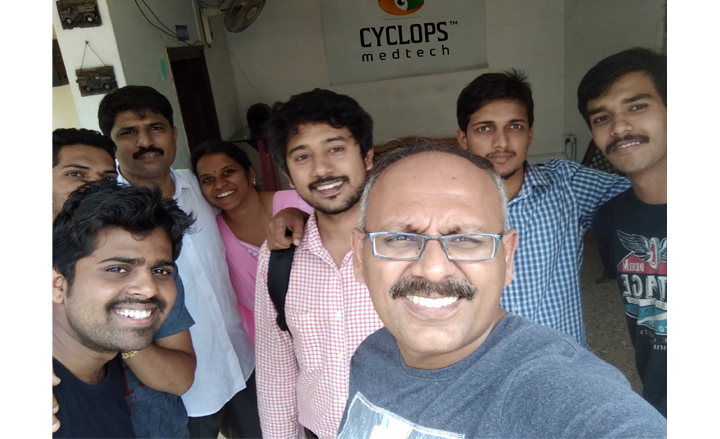 The choice of vertigo is quite unconventional. What influenced your team to tackle this ailment?

Choice of vertigo might sound unconventional since people don't look at it as a lifestyle disease. But, there are two aspects of the problem (vertigo), that are quite relevant. First, from the point of view of just numbers, the disease is quite prevalent. Chronic sufferers in the US are 1 in 20 and these numbers are similar across the world. The second and more important aspect is that at the end of the day, vertigo is essentially a symptom. What causes these symptoms though, is of greater interest to the medical community and important for the patient as well. Anything can cause dizziness. It can be a simple variation in blood pressure, a cardiac issue or other vestibular or neurological reasons. While cardiological reasons are pretty well defined and can be tackled, or at least identified at a physician level, vestibular and neurological reasons are difficult to diagnose. Between these two causes, it is very important to narrow down what exactly is leading to dizziness. If the cause is vestibular, then the treatment path would be less aggressive, would involve more of medication and physiotherapy and surgery in very rare cases. But if the cause is more neurological, then a more focused effort is required with both surgical and non-surgical intervention. Our device primarily helps clinicians narrow down on what exactly is causing dizziness. This makes a huge difference, as the sooner one figures out what is wrong (with the patient), the better it is.
What are the different products that your company is building?
We launched our first product- Balance Eye– this year in March and have got a good initial traction. We have completed 50 plus installations, till now. We have a presence in 26 cities across 3 countries. We are also working on the next generation of the same device as well as a couple of other products – one is in the screening space and the other one is for rehabilitation.
Your website also mentions wearable eyeglasses and Internet of Things. Can you tell us about them?
The wearable glass is essentially to capture data pertaining to episodic neurological events as they occur. So, while, the current device is more for clinical assessment, the wearable glasses are more for capturing real-time episodic data.
And, this involves eye tracking and measuring other physiological parameters from the patient's body?
Correct. Even our current product, Balance Eye, is predominantly based on eye tracking.
What was the cost difference between other commercially available eye trackers and the one you built? How well has your tracker been received in the market?
On an average, our device costs four-times less than other eye trackers available in and Europe. Apart from the cost, there are other competitive advantages that our product offers. For example, several other eye trackers require specific, dedicated infrastructure, light settings and complicated system of interpreting the results. We have simplified all of this to a great extent allowing for easy diagnosis anywhere. Our users have also indicated that the low price of our product coupled with technical support and training backup from our side makes it easier to get this device in their clinics. We are fortunate to have identified this sweet spot. At any given point of time we have 7 – 8 pending installations, so we are mostly focusing on fulfilling the back orders.
What does the team at Cyclops look like?
We have 10 employees now, including the co-founding team. The co-founders comprise of myself and two doctors, Srinivas and Ravi Nayar. Both are ENT specialists. Srinivas handles most of product innovation and development. Since our approach towards product development is more from the perspective of medical needs rather than technological capabilities, everything that we have designed is based entirely on years of clinical expertise. We address the gaps identified from the umpteen number of interviews and discussion with clinicians. Then, we have a team of engineers specialising in computer vision and image processing, led by Ajith Rao, our software architect. They develop most of the image processing and pupil tracking algorithms. That entire team sits here in Bangalore. I drive business development, channel partnerships and strategic planning. Our CTO, Shekar Tippur is based out of San Diego in the USA. His team is building our machine learning modules and our entire cloud backbone.
Please talk about the challenges you faced in starting Cyclops, not just from the technological perspective, but also on the business side.
Most of the challenges we faced were operational in nature, such as getting the right set of resources, hardware designing, getting access to the right set of prototyping opportunities and then acquiring talent in those spaces. We also struggled with access to components and funds. As far as product functionality was concerned, we didn't really face too many issues. Thankfully, we haven't faced many issues with getting the interpupillary distance right in our tracker. This is because we have designed a universal goggle which fits all facial contours and all faces. It required quite a few iterations to get that as well as the angulation of the camera in the correct configuration. This is unlike other systems where camera parts are movable.
What kind of technical feedback did you get from doctors who used your prototype equipment?
During our pilot phase, a lot of changes were recommended by the doctors, but having two doctors in the co-founding team, meant that we had already anticipated most of the suggestions. I would say, there weren't any suggestions for a major modification. but most recommendations were related to ergonomics and functionality. For example, initially, we had a strap made of elastic and velcro. We replaced that with silicone strap.
What kind of help and support has Cyclops been able to get from its advisors?
If you get the right advisors on board, they are of immense help. In our case, Shyam Vasudev Rao, who is a medical doctor and the founder of Forus Health (P) Ltd, is one of our primary advisors and mentors. Being from the industry and having done extensive work in eye based imaging, he brought in a lot of connects and network. He helped us identify and outsource our manufacturing partners and also helped us with our very initial team.
You have raised seed round money. How did it help?
The money we raised helped us complete development of our first product.We are sustaining on revenues for the last 5 – 6 months and getting closer to our desired revenue mark.
What are your immediate strategies from here?
As I mentioned earlier, we have two new products in the development pipeline. For Balance Eye, we are aggressively looking at scaling up sales in India as well as the ASEAN region.We are focusing heavily on channel partnerships. In fact, we just signed our distribution partner in India. On the operations side, whenever we go for an installation, we train both the clinician (ENT specialist) and the technician. Earlier, the entire test procedure and interpretation of results were dependent on the clinicians. We have segregated that a bit. We have made the entire process of testing extremely simple, so, even a technician can run the test. Clinicians can now focus only on interpreting the results which can free up a lot of their time.