From the IBS desk
Dear readers,
Welcome to the April edition of our monthly newsletter!
In this issue, we have some exciting updates on our science initiatives, job opportunities, and upcoming events that we think you'll find interesting. We also highlight the recent activities at IndiaBioscience, as well as resources and articles we featured on our website in the past month. Thank you for being part of our community, and happy reading!
And if you'd like to contribute an article, produce a podcast or organise a joint event with us, drop a mail at hello[at]indiabioscience[dot]org. Connect with us on social media (Twitter, Facebook, LinkedIn, Instagram, YouTube) and join our mailing list to stay in the loop.

Stay Engaged and Enable Change!
Networking and Mentorship
RYIM Grants 2023-2024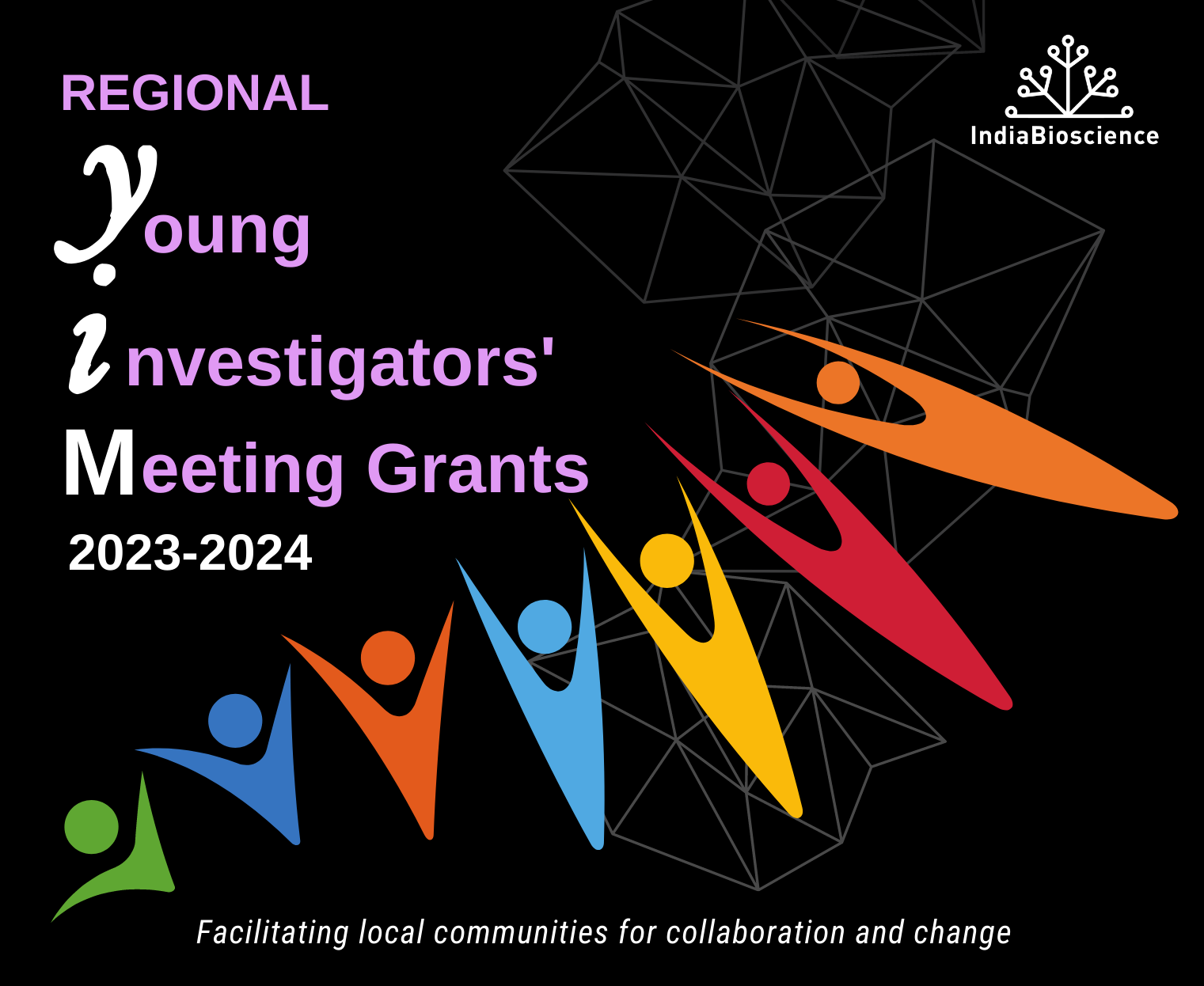 Last month, we announced the launch of our highly-anticipated RYIM Grants 2023-2024. These grants are a part of our Regional YIMs initiative, which aims to promote collaboration and change within the scientific community by fostering local networks of scientists and science professionals. We're excited to continue the impact of the RYIMs across India by inviting applications from Regional Young Investigator Teams for the Regional Young Investigators' Meeting Grants (RYIM Grants) 2023 – 2024.
If you're interested in applying, please visit our website for more information. But don't wait too long, the last date to apply is 25th May 2023 (11:59 p.m. IST). We also conducted an informational webinar to address questions about the RYIM Grants 2023-2024. If you missed it, don't worry, you can find the webinar recording on our YouTube channel.

Celebrating 15 years of the Young Investigator Meeting (YIM)
To mark the 15th YIM (13 to 17 Feb 2023, Ahmedabad University and IIT Gandhinagar) we released this short video that captures the highlights of this 15-year-long journey. Watch on and stay inspired!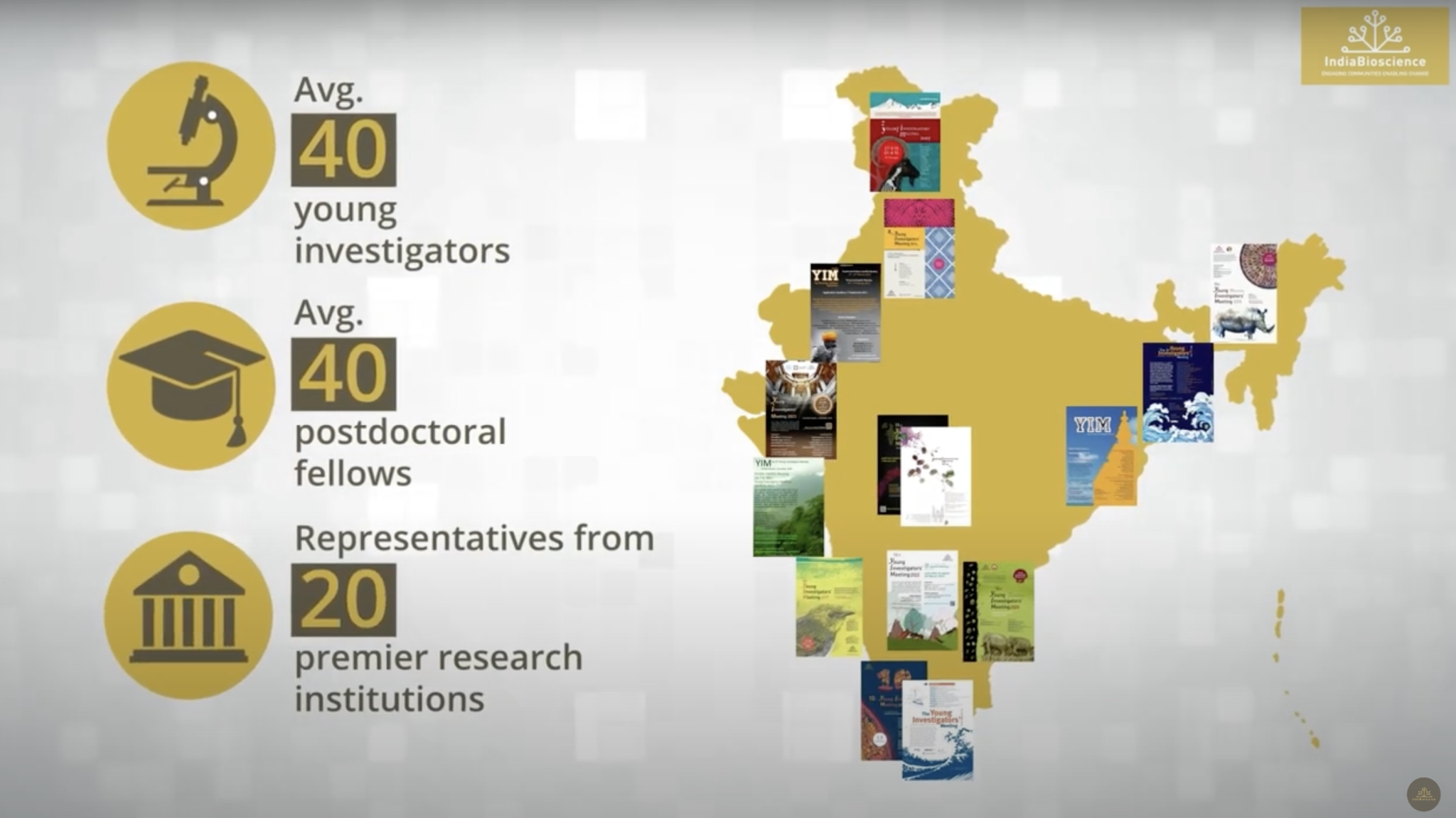 COMMUNITY BUILDING
Skill Building Session for IOG awardees
Since the launch of the IndiaBioscience Outreach Grant (IOG) in 2020, IndiaBioscience has been dedicated to building a community of independent researchers who are passionate about science outreach and are willing to collaborate with other communities to make a difference. We're presently in our third cycle of grants, and towards this, we hosted a skill-building session focused on 'Building a Sustainable Model for Science Outreach' with H.S. Sudhira from Gubbi Labs as our guest speaker.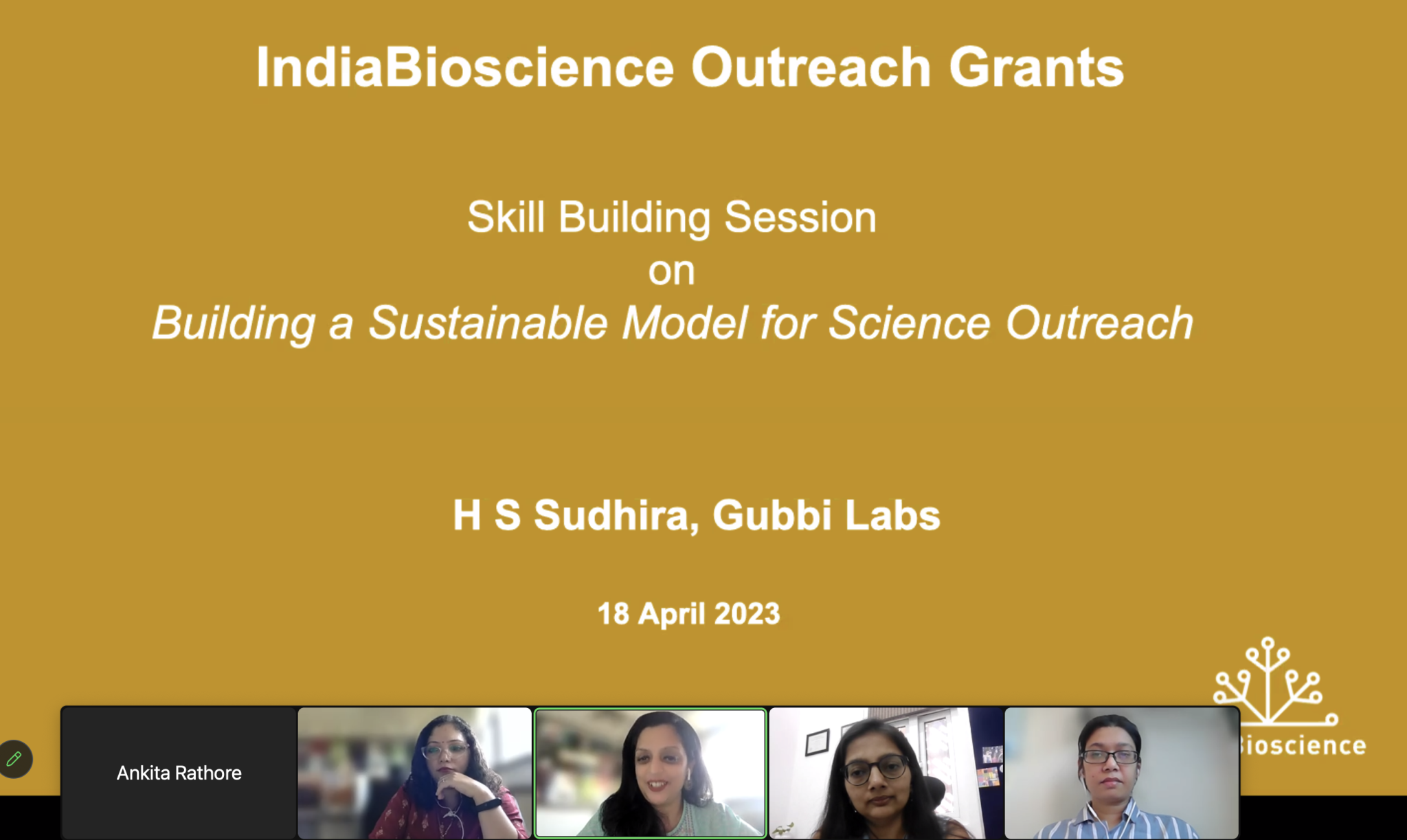 The 4th IOG call will be opening soon, so keep your outreach ideas ready! We look forward to growing our IOG community!

Twitter Space Chat with the authors of 'Lab Hopping' and Penguin India
We recently hosted our very first Twitter Space in collaboration with Penguin India! This event featured a captivating conversation with the authors of the newly published book, 'Lab Hopping'. In this book, Aashima Dogra and Nandita Jayaraj explore the gender gap in science by engaging in thought-provoking conversations with renowned scientists across Indian science laboratories. Our Twitter Space allowed us to bring this engaging discussion to you, and we hope you enjoyed it as much as we did.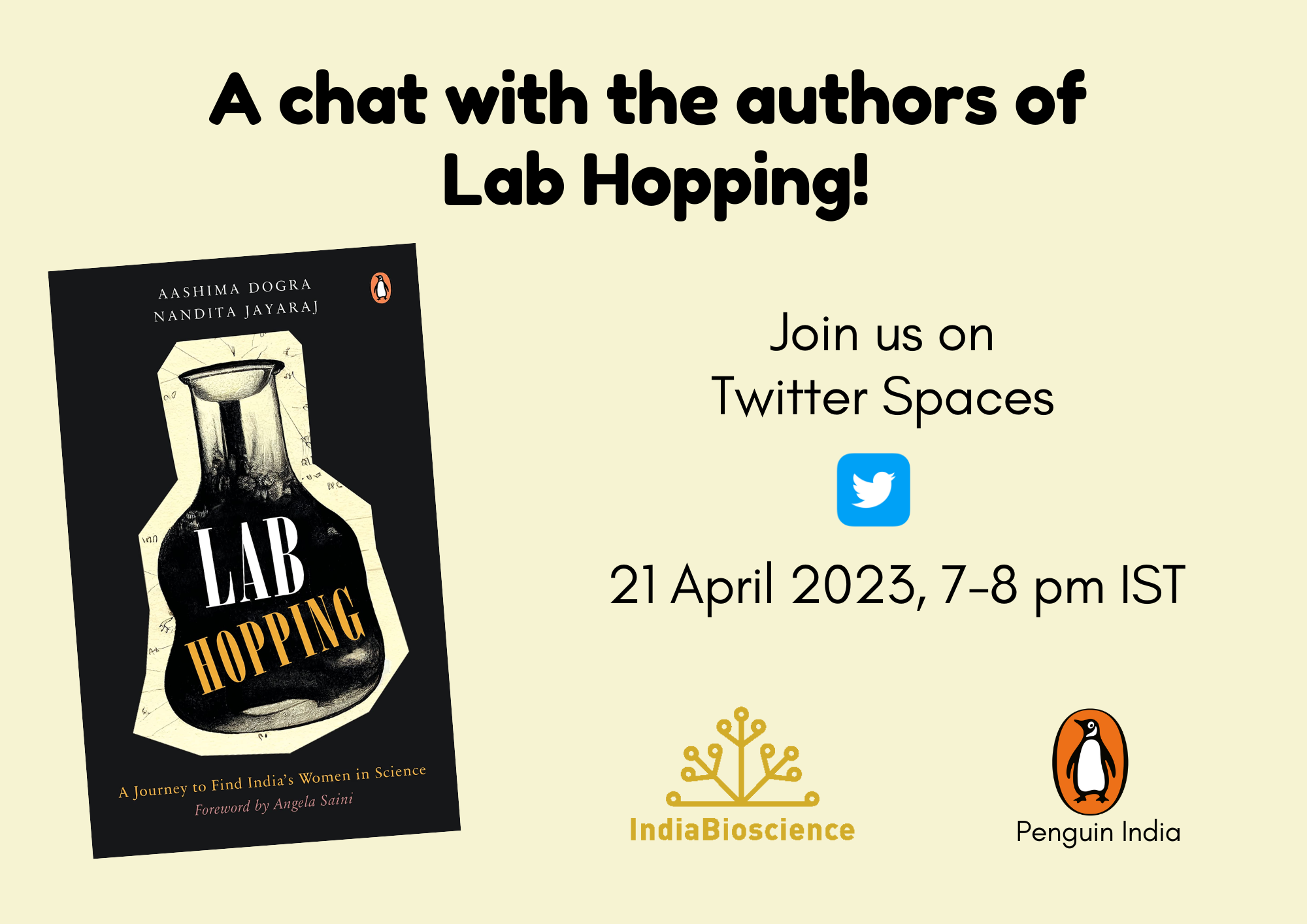 As a thank you for your support, we will be hosting a 'Lab Hopping' book giveaway soon, so keep an eye out on our Twitter page for more details. And don't forget, this is just the beginning of our Twitter Space journey - we have many more exciting events planned for the future!
Digital Initiatives
IndiaBiostreams: YI Huddle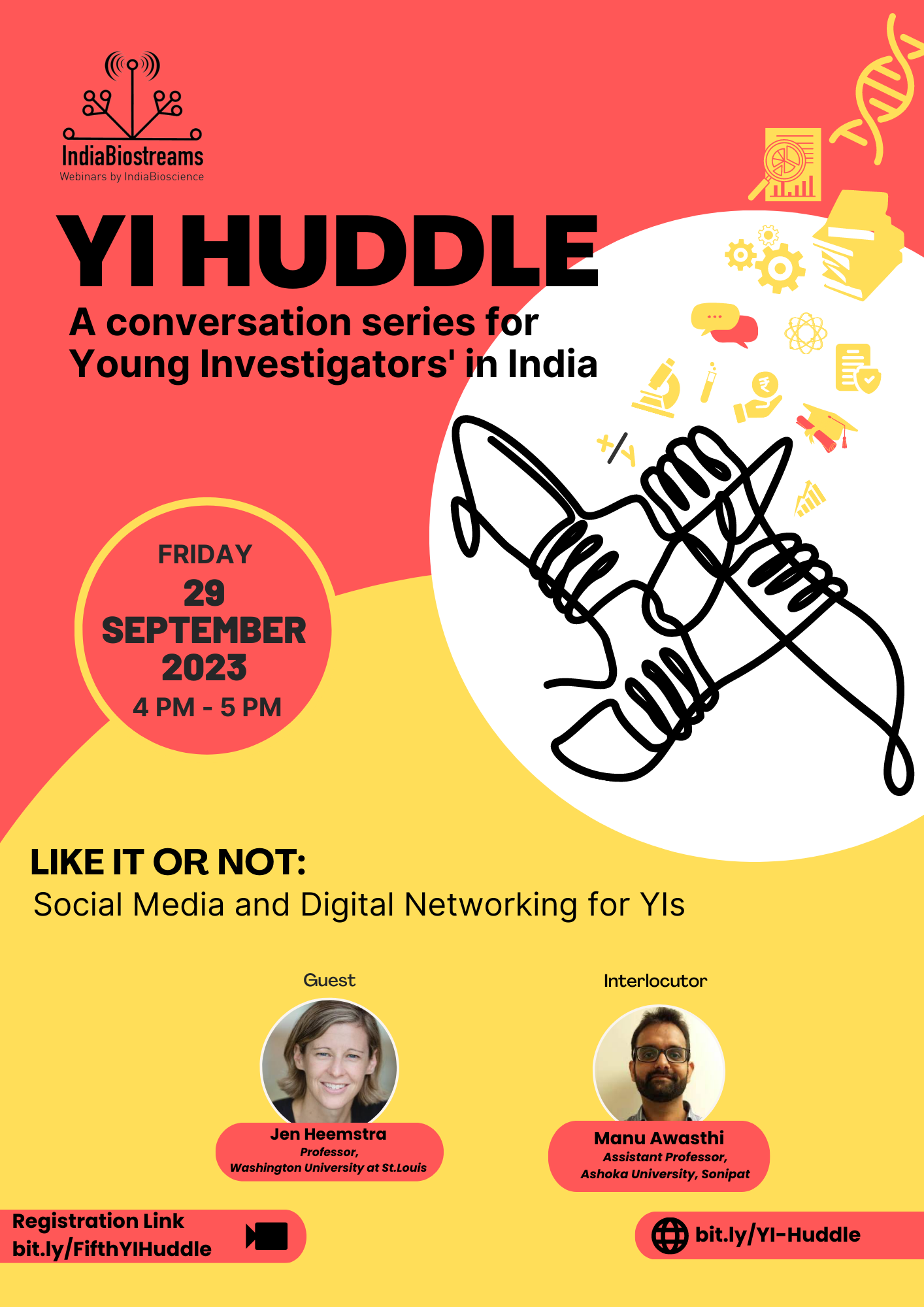 We're excited to announce the launch of 'YI Huddle: A discussion series for Young Investigators' in India'. This year-long webinar series is designed to take Young Investigators (YIs) on a comprehensive journey on all matters relevant to doing science in India. Importantly, these sessions will be hosted by YIs, in an informal and conversational style!
In the first YI Huddle, 'Starting out: Going from research project to research program', we're thrilled to have guests Anindita Bhadra (IISER Kolkata) and Durba Sengupta (CSIR-NCL, Pune), and interlocutor Rohan Khadilkar (ACTREC, Mumbai). They will discuss building a research focus area, collaborations, hiring and recruitment, and much more. Register here for the first YI Huddle on May 26th from 4:00 - 5:00 P.M. IST. Also, check out the entire schedule of YI Huddle here!

Program Manager - Digital Initiatives
We are looking for a member for our efficient and diverse team as Program Manager - Digital Initiatives. The last date to apply is 20th May 2023, find more details here and send in your application soon!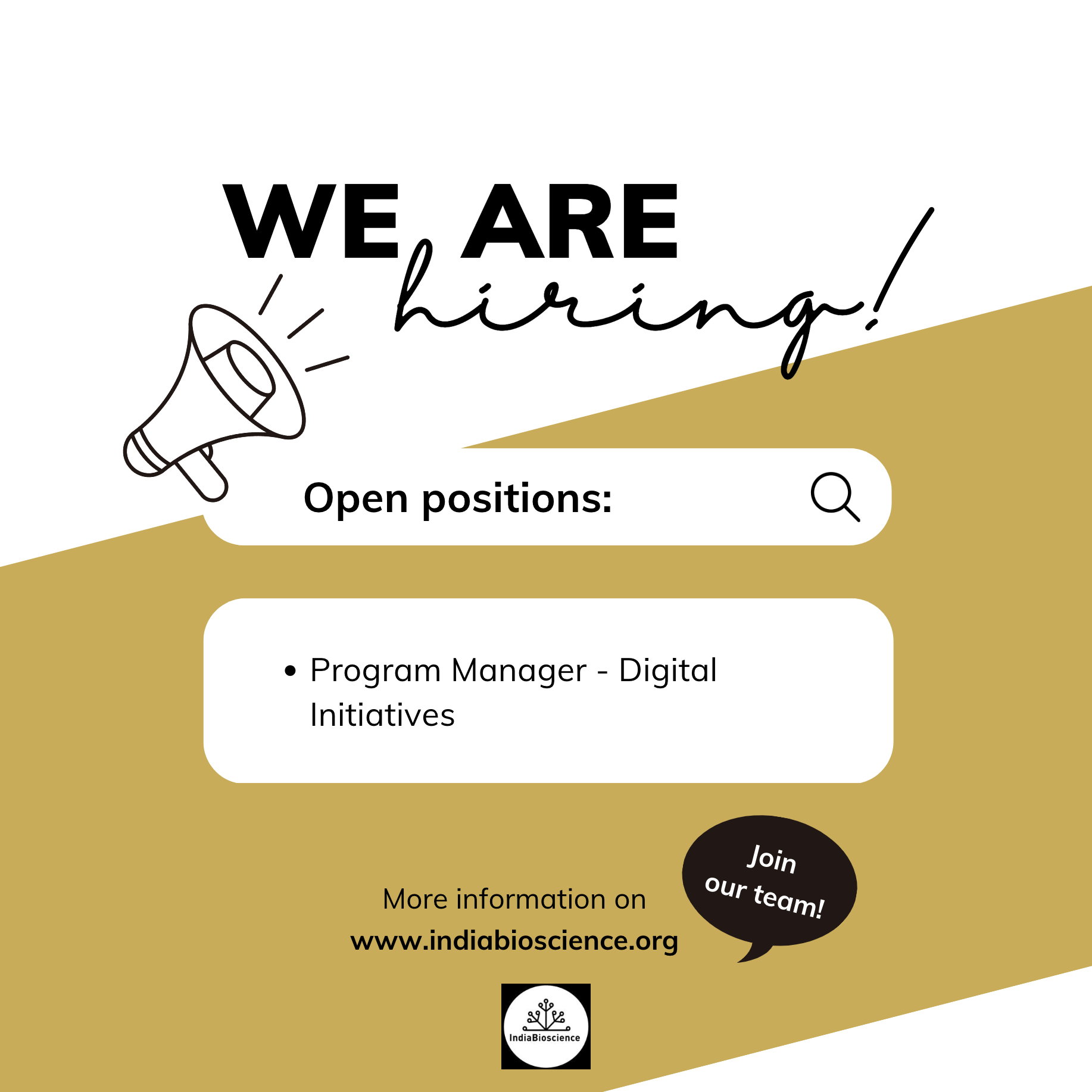 SKILL BUILDING
HFSP Postdoctoral fellowship webinar
We are excited to share that on April 24, 2023, we hosted a webinar as part of our iGAP (International Grants Awareness Program) program, which focused on HFSP postdoctoral fellowships. The event featured Anjana Badrinarayanan, Barbara Pauly, Garima Rani, and Vatsala Thirumalai, who provided valuable insights on two types of HFSP fellowships, tips for a successful application, perspectives from previous awardees and an HFSP reviewer.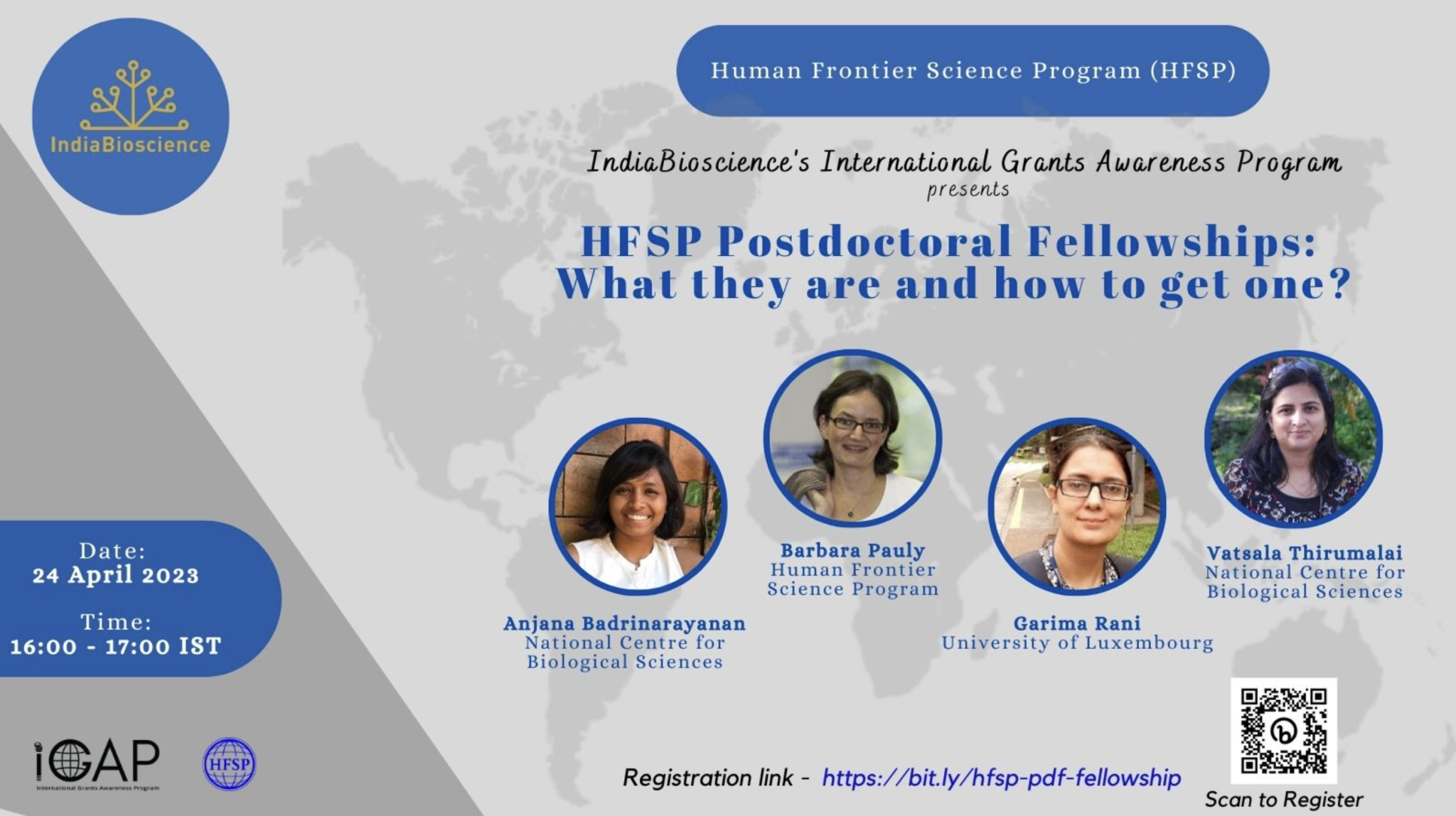 The primary objective of the webinar was to guide and assist Indian applicants in preparing strong applications for HFSP fellowships. We were pleased to have 174 unique attendees, and the participants were actively engaged, with numerous questions during the event. The recording of the one-hour webinar is now available on our YouTube channel.
COLUMNS
A drawing scientist is a happy scientist
Ankita Rathore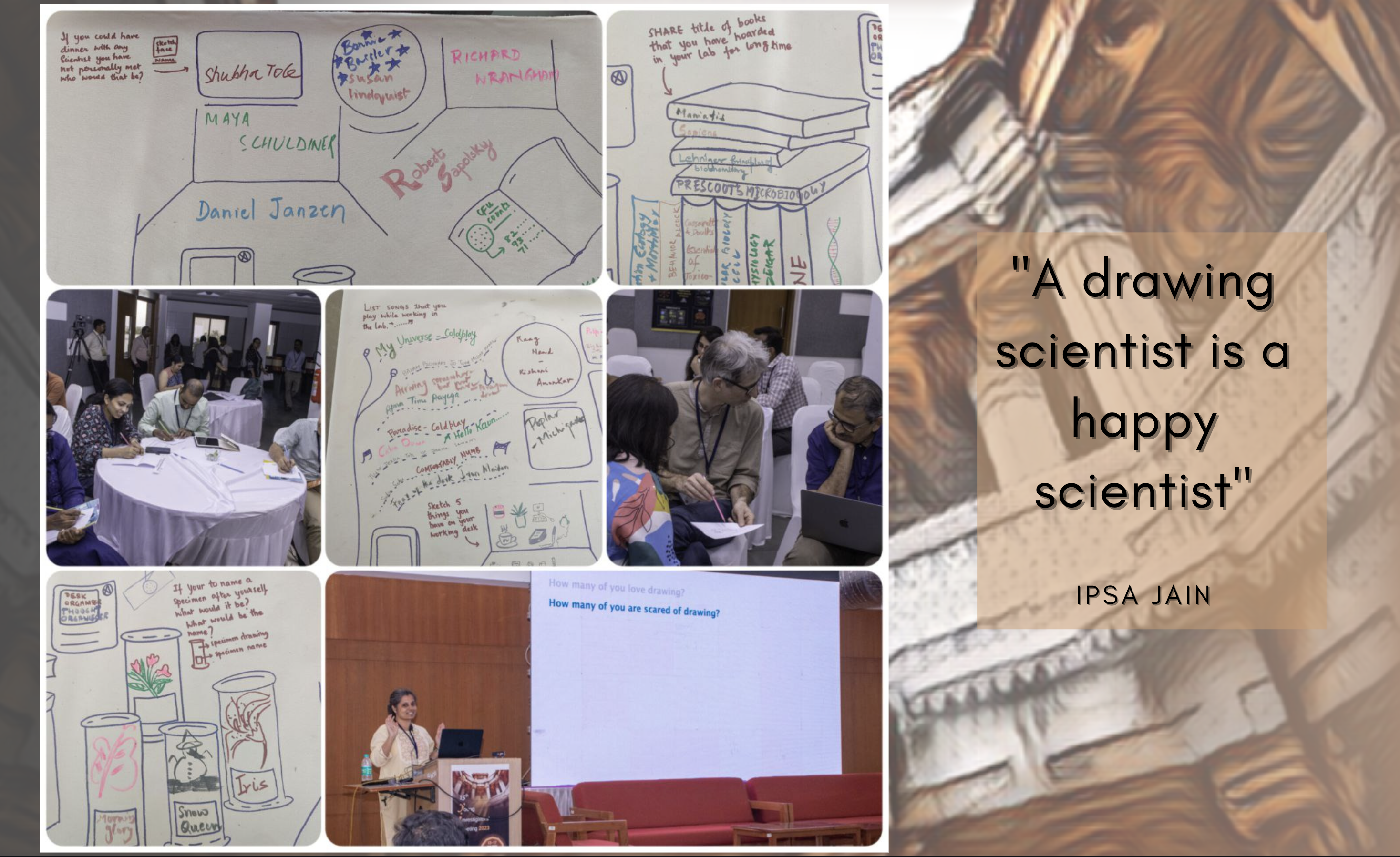 From sketches on the back of napkins to detailed scientific illustrations, drawing has long been a powerful tool for scientists to communicate their research and ideas. This article explored the importance of drawing in science from the talks of Ipsa Jain, Srishti Manipal Institute of Art, Design and Technology, Bengaluru and Carsten Janke, Institut Curie, France at YIM 2023, and included glimpses of drawings made by participants at the meeting.

Behind the scenes: Bringing India Science Festival to life!
Shruti Sundaresan & Sarah Iqbal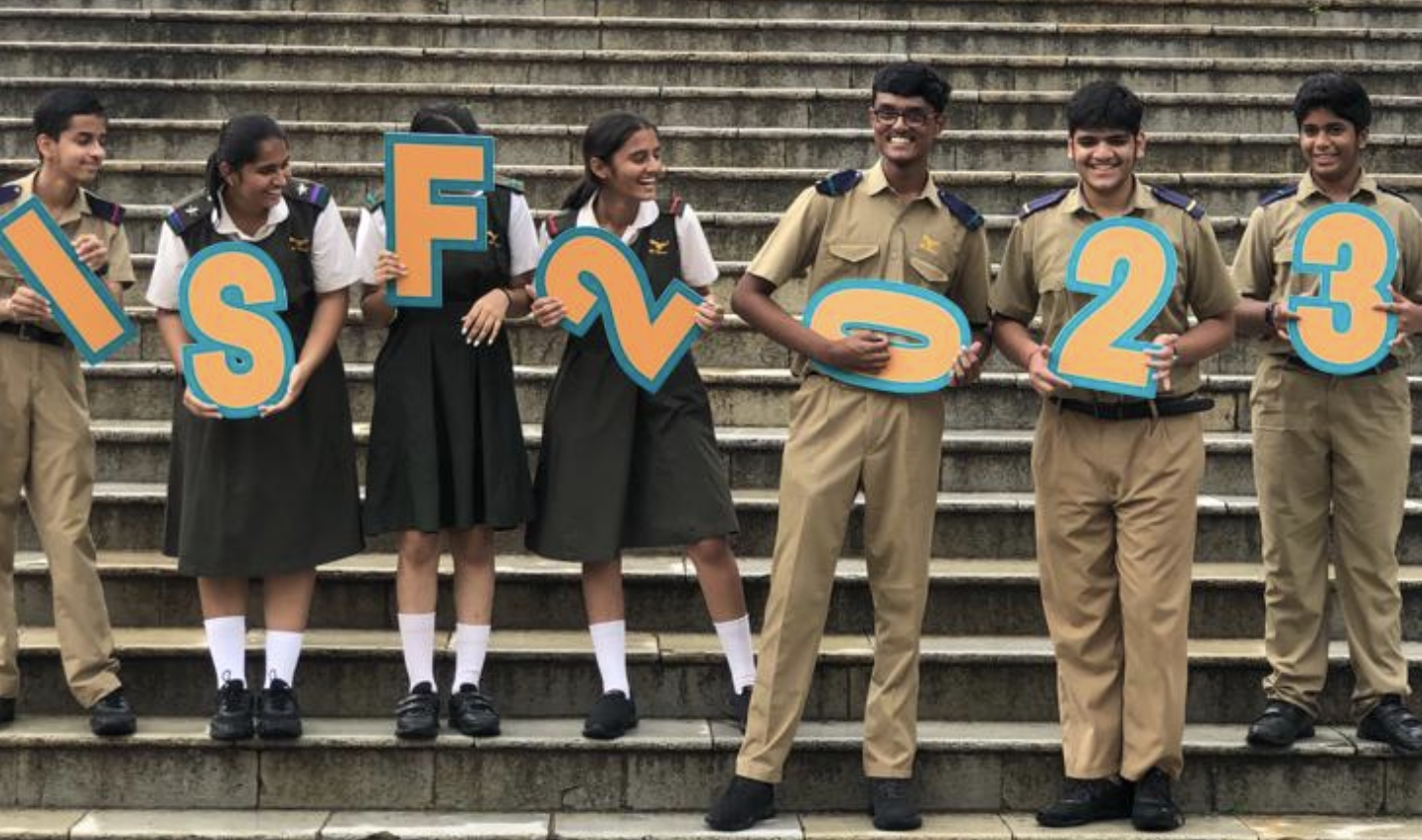 Science festivals have become increasingly popular in India, drawing in thousands of people every year. But have you ever wondered what goes on behind the scenes to make these events a success? We spoke with organisers of India Science Festival 2023 (by Foundation for Advancing Science and Technology FAST India) to learn more about their experiences organising this exciting event. From the challenges they face to the most rewarding aspects of their work, read on to discover the inside scoop on what it takes to bring science to the masses in India.

My PhD journey as a woman wildlife researcher on a motorbike
Brinky Desai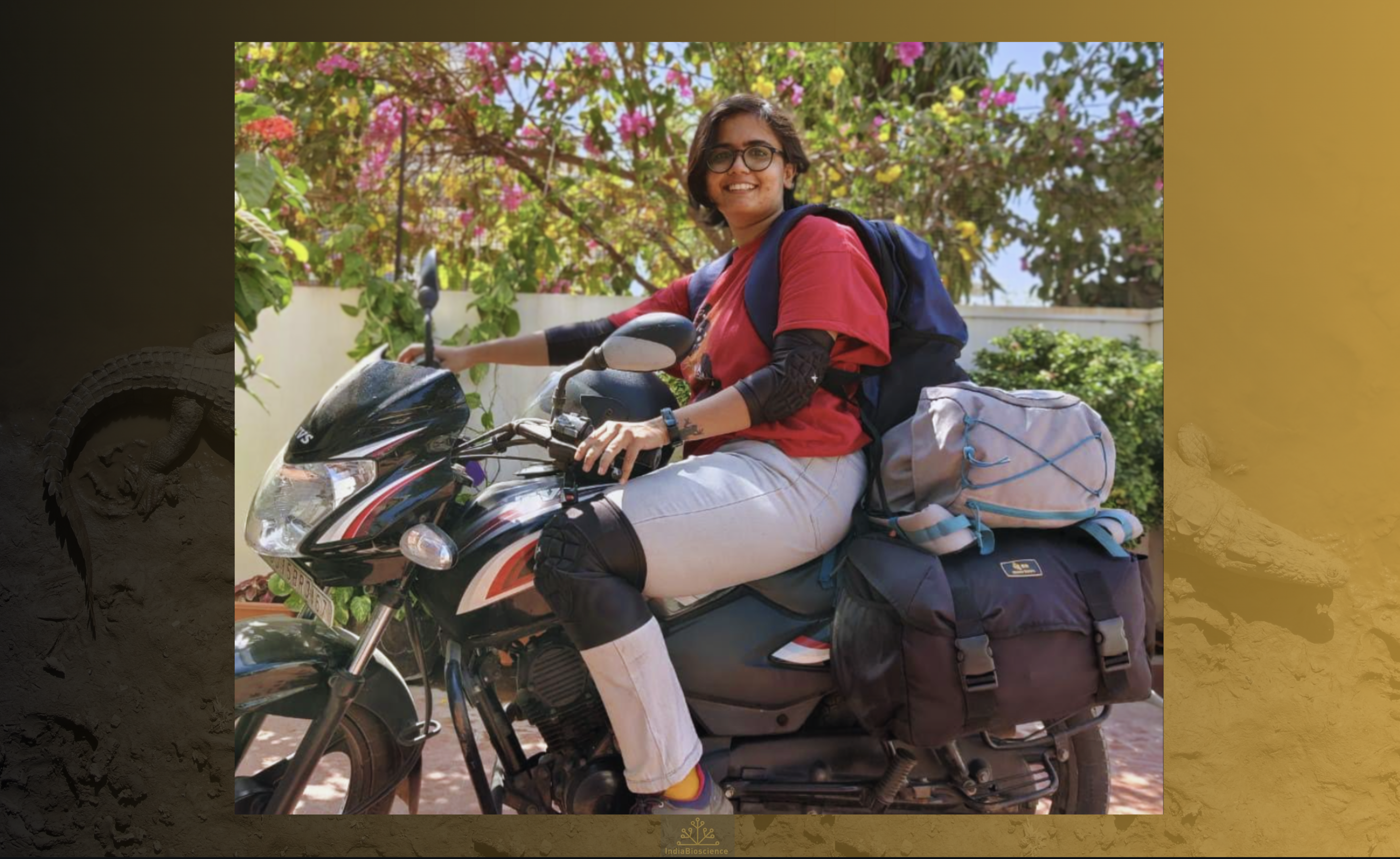 Brinky Desai, a PhD student at Ahmedabad University, shared her challenges as a woman researcher conducting fieldwork on Mugger crocodiles in the remote areas of Gujarat. In the first article of this year's PhD Café series, she describes the physical and mental strain of fieldwork, particularly during the COVID pandemic, including the challenges of working with crocodiles and navigating hygiene facilities as a woman researcher in the field.
EDUCATION
Community of practice — Coming together to make sense of the elephant!
Asim Auti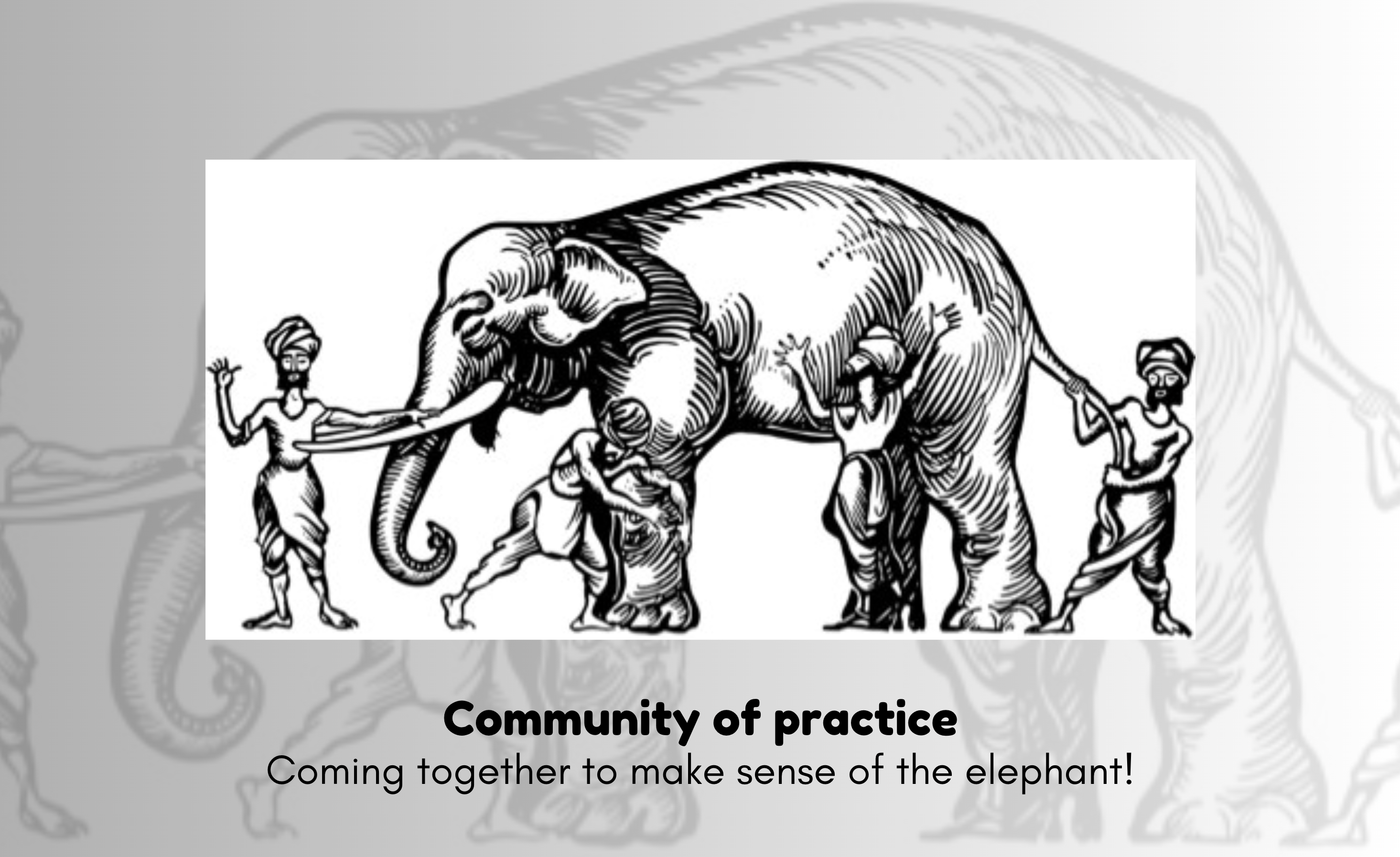 This article by Asim Auti, IISER Pune, explores the concept of building a ​'community of practice' for science educators and details how it could potentially transform the teaching and learning experience for educators and students alike.
Climate Change
TROP ICSU
On Earth Day 2023, we highlighted TROP ICSU, an expansive set of climate change education material from the community. This project equips teachers and students with resources to study climate change, across multiple perspectives and contexts.
EVENTS
Mitochondria in Biology and Medicine
Centre for DNA Fingerprinting and Diagnostics (CDFD)
May 30, 2023
The Centre for DNA Fingerprinting and Diagnostics (CDFD), in collaboration with the Society for Mitochondrial Research and Medicine, India (SMRM) is organizing the 9th Annual Conference of the SMRM on the theme ​"Mitochondria in Biology and Medicine" during 21 — 23 June 2023. Find more details about this conference here.

Understanding Behaviour 2023 (Behaviour, Ecology and Evolution in India)
Indian Institute of Science Education and Research — Kolkata
May 25, 2023
The Understanding Behaviour 2023 conference aims to bring together enthusiasts of behaviour, ecology and evolution from across India for four days (26-29 June 2023) to the green campus of IISER Kolkata. The conference will have a series of invited and contributed talks, plenaries and a keynote address by Prof. Raghavendra Gadagkar. There will be poster sessions and workshops for students. The early bird registration deadline is 7 May. Registration will continue beyond this date too. Abstract submission is open until 25 May. Find more details about this conference here.

More Events
GRANTS AND FELLOWSHIPS
India Science Book Fellowship (FAST India)
The Foundation for Advancing Science and Technology
May 30, 2023
India Science Book Fellowship has been recently launched by the Foundation for Advancing Science and Technology (FAST India) to promote popular science books as a prominent literary genre in India, and in the long term, develop a cadre of high-quality science writers in the country. More details here.

EMBO Global Investigator Network
EMBO
June 01, 2023
Global Investigators are members of the EMBO Young Investigator Network, which also includes Young Investigators and Installation Grantees. Applications to the EMBO Global Investigator Network are accepted annually via an online system (which opens by mid-March 2023). Find more details here.

More Grants and Fellowships
JOBS
Scientist B
IPCA Centre for Waste Management and Research
May 30, 2023
Research Associate/​Project Assistant
Ashoka University
May 25, 2023
PhD positions
Centre for Brain Research
May 15, 2023
More Jobs