A team of researchers at the SRM Institute of Science and Technology, Chennai, identified a natural compound, cordycepin, to be protective against cadmium-induced toxicity in zebrafish. They found that cordycepin alleviates the gut inflammation, tissue damage, and developmental deficits caused by cadmium exposure in zebrafish. This work holds therapeutic potential for cordycepin in treating cadmium-induced toxicity.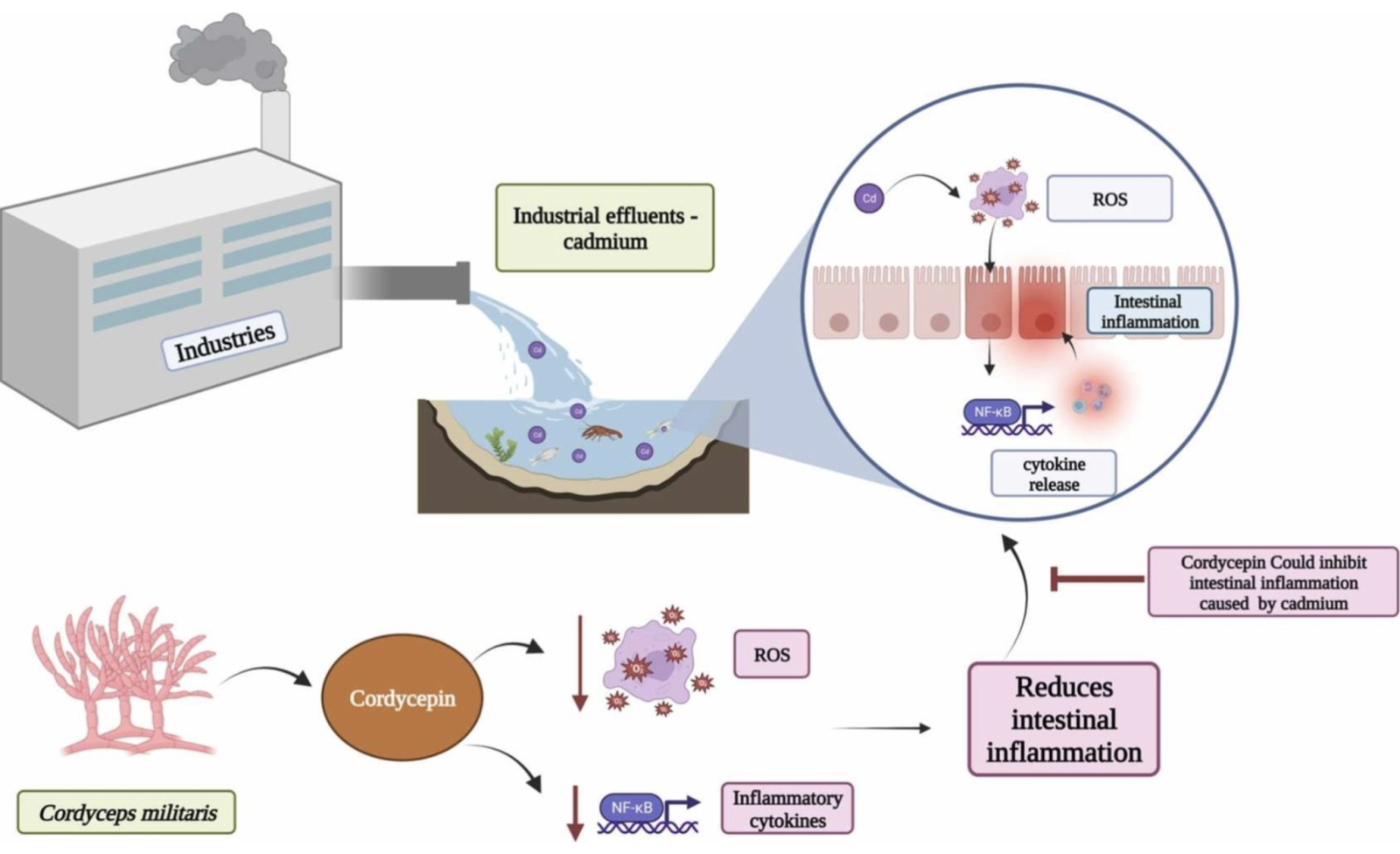 Heavy metal contamination poses a significant risk to one's health. Most heavy metals, like cadmium, arsenic, lead, mercury, etc., accumulate over time in living organisms (bioaccumulation) and are lethal even in small amounts. They can be found in mining, industrial production, untreated sewage sludge, and coal-burning power plant combustion byproducts. Cadmium is one of the accumulative toxicants with carcinogenic properties, which, when released into water bodies, can accumulate in aquatic life and enter the food chain.
A recent study led by Jesu Arockiaraj, Professor, Department of Biotechnology, SRM Institute of Science and Technology, Chennai, identified the protective action of a natural compound, cordycepin, against cadmium-induced toxicity in zebrafish.
Cadmium exposure in humans induces an inflammatory response, oxidative stress, tissue damage, and disruption of the intestinal lining, leading to increased cadmium absorption. Its prolonged exposure in the gut can lead to the development of inflammatory bowel diseases, such as Crohn's disease, ulcerative colitis, and Itai-itai disease, which are characterised by osteomalacia (bone softening), causing severe bone pain and kidney dysfunction.
P. Snega Priya, graduate student and the first author of the study, believes that though several treatment options, such as chelation therapy, antioxidant supplements, and probiotics, are available for cadmium toxicity in the gut, finding a remedy using natural compounds seems promising as it can aid in cost-effective treatment by avoiding adverse side effects.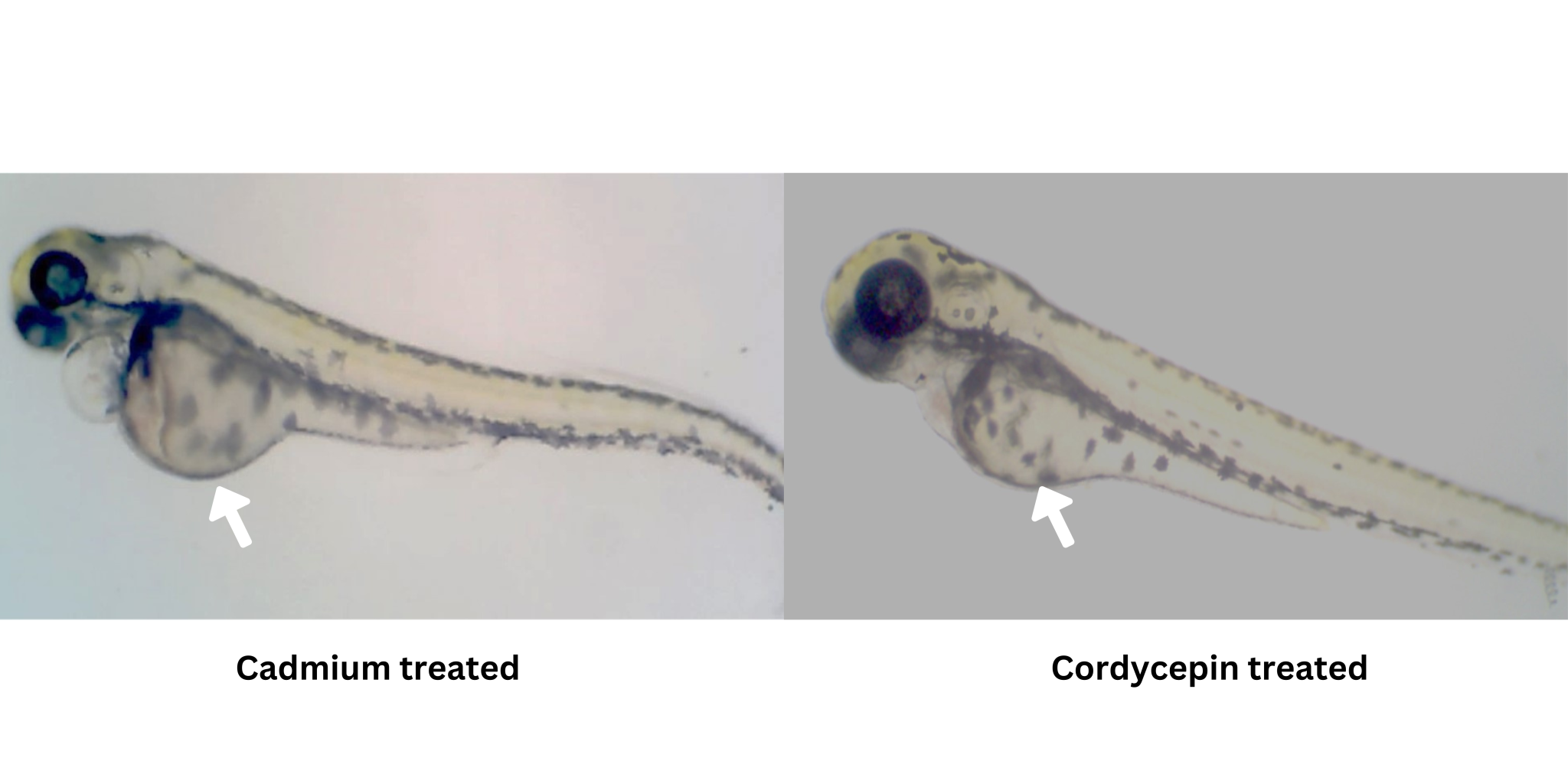 The researchers screened several plant-derived compounds against cadmium-induced gut toxicity and found cordycepin to be the most efficient compound. Cordycepin is a bioactive agent found in a fungus, Cordyceps militaris. This compound is known to have a wide array of therapeutic roles, including anti-fungal, anti-inflammatory, immunomodulatory, antioxidant, anti-ageing, anticancer, and antiviral activity.
The authors observed a decline in developmental deficits caused by cadmium exposure in zebrafish embryos when cordycepin was used.
Primarily, cadmium causes inflammation by generating reactive oxygen species (ROS), leading to oxidative stress and, in turn, tissue damage in zebrafish larvae, which was significantly alleviated by cordycepin. It also reduced the expression of inflammation-related genes and reversed the effect of cadmium, thus demonstrating its anti-inflammatory role.
Cadmium exposure led to the shrinkage of tissues and intestinal damage in zebrafish larvae, which was primarily reversed upon treatment with cordycepin. It also reduced the cadmium absorption in the larvae, suggesting a possible cadmium-chelating role.
Kavita Dubey, research scholar at the CSIR-Indian Institute of Toxicology Research, Lucknow, who was not associated with the study, said,
Contamination of heavy metals has been observed across the nation. Since cadmium accumulates in the gut, the toxicity study done using zebrafish larvae is important to understand its impact.
As cordycepin is a natural compound with known antibacterial, anti-inflammatory and gastroprotective roles, Dubey thinks it can also recede the use of conventional chelating drugs. However, ​"Studying DNA damage and chromosomal aberration in zebrafish larvae could have added more impact to this study," she added.
"This study can be helpful in treating a plethora of diseases caused by heavy metal toxicity, such as gastrointestinal and kidney malfunction, nervous system abnormalities, skin lesions, etc. Early detection of diseases caused by toxic metals can aid in medical planning and saving valuable lives," said Ishfaq Ahmad Mir, Senior Geologist, Geological Survey of India, Bengaluru, who was not associated with the study.
"Cordycepin's ease of incorporation into food or oral administration renders it a highly promising avenue for combatting cadmium-induced gut inflammation," said Snega Priya. Thus, this study demonstrates that cordycepin could be a potential therapeutic agent in inflammatory disorders.