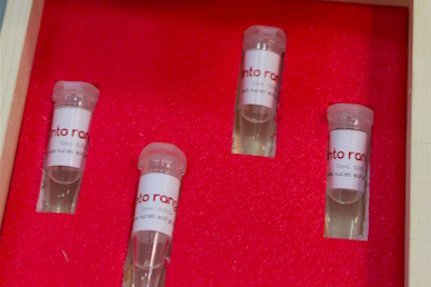 A patent-pending nucleic acid gel stain called tintorangTM developed from a plant source was recently unveiled by J Fathima Benazir, Co-founder and CEO, Azooka Life Sciences. Azooka Life Sciences is a Bangalore-based start-up venture, which focuses on bringing safe fluorescent stains for application in biological sciences and genomics. It was born out of the Society for Innovation and Development, Indian Institute of Science.
Biologists have long been using carcinogenic and toxic stains to visualise DNA — many labs run a few gels a day — notwithstanding concerns over effects of their exposure. Fathima explained, ​"tintorangTM is the first ever food-grade nucleic acid stain, making it the safest option currently available in the market." Currently available nucleic acid stains like SYBR Gold and Ethidium Bromide are known to cause mutations and adversely affect health while altering the structure of the DNA due to their strong interactions. There are ongoing efforts worldwide to develop safer stains that are also sensitive and affordable.
HS Savithri, Department of Biochemistry, IISc, who closely advised the research team at Azooka said that tintorangTM can be used multiple times without the DNA structure being altered. She added that it is the world's safest and fastest DNA/RNA stain — it takes only 30 seconds to stain and is 7 times more sensitive than stains currently being used in laboratories.
Alex D Paul, Co-founder and President, Azooka Life Sciences said, ​"tintorangTM will be available for researchers and businesses in molecular diagnosis space in India by second quarter of 2016." The team is also ready with a global plan — tintorangTM will be made available in key markets via select distributors and partners by the year end. The local production and easy availability of tintorangTM will help eliminate import and excise duty costs bringing down the costs incurred by molecular diagnostics at the same time causing less damage to the environment.