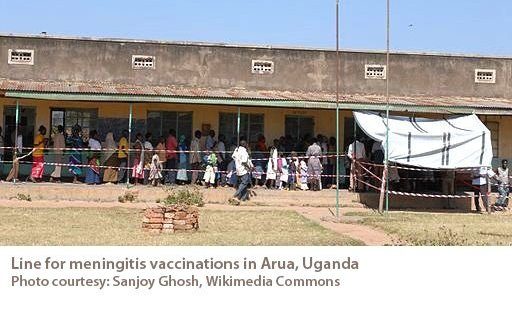 Have you ever relied on a shot to prevent infections? I am sure the answer is an astounding yes. Now if we were to list the characteristics of an ideal vaccine, it would probably read
Addresses an immediate and pressing need
Single dose confers lifelong protection
Leaves serological trail post immunisation i.e. at any point one can detect what one has been immunised with
Effective in children, adults and elderly
Cheap
Amenable to local conditions
The last point in the wish-list is especially important in a large part of the world where refrigeration or maintaining a cold chain poses problems due to lack of electricity, frequent power cuts, high cost, transportation, etc.
"Made in India" vaccine for meningitis, MenAfriVac is a viable effective vaccine that overcomes resource poor settings addressing an epidemic at very low cost.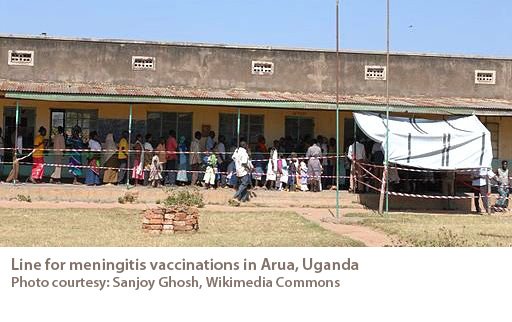 The need: 1997 saw the largest meningitis epidemic sweep across sub Saharan Africa, in worst cases in Sahel killing upto a third of the affected population. Remaining survivors were left deaf, dumb and visually impaired. Repeated outbreaks of meningitis in the ​"Meningitis Belt" led to the formation of Meningitis Vaccine Project – an alliance between PATH, WHO, GATES foundation committed to developing a vaccine against Nesseria meningitis, the major cause of meningococcal infections. The vaccine had to be priced at less than $0.5 per dose in order to be sustainable in low income countries.
Serum Institute of India Limited steps in: Exercising frugality and prudence right from the start, Serum developed the vaccine at 1/​10th of current vaccine development cost, in less than $ 0.5 million. However, a bigger challenge lay in easing its adoption. Maintaining a vaccine in cold chain (2−8oC) requires continuous power supply, equipments, ice pack manufacturing — a challenge in resource poor settings. The only way left is to produce and clinically test the vaccine at higher temperatures. Serum rose to the challenge by manufacturing the world's 1st vaccine that could be kept unrefrigerated. MenAfriVac can be stored at 40oC for as long as 4 days. This means that the vaccines only need to be cold and stored at a central node before adoption at rural areas. In similar vein relooking at heat stability data for current vaccines might yield more cost effective solutions.
The Arduous Journey and the fitting finale: 2005 saw the vaccine clearing Phase I clinical trials in healthy individuals in India demonstrating safety. Phase II trials in 2006 in Africa coincided with an epidemic wave in which the vaccine proved its efficacy. In 2010, the Drugs Controller General of India gave the regulatory approval for the export and use of the vaccine.
December 2012 saw this revolutionary vaccine being administered to the 100 millionth person, a significant milestone. In 2 years of its adoption now stretching out to 10 countries, the vaccine has drastically reduced meningitis in administered regions. Burkina Faso where MenAfriVac was first administered has shown the lowest rate of meningitis in 15 years.
Perhaps more than anything the MenAfriVac Public Private Partnership shows realisation of commitment by Governments, Industry, Organisations of mission they all believed in.
Further reading:
http://​www​.sci​encedi​rect​.com/​s​c​i​e​n​c​e​/​a​r​t​i​c​l​e​/​p​i​i​/​S​0​2​6​4​4​1​0​X​1​1​0​20226
http://​www​.path​.org/​m​e​n​a​f​r​i​v​a​c​/​a​b​o​u​t​-​m​v​p.php
http://​www​.path​.org/​n​e​w​s​/​p​r​1​2​1​2​0​3​-​m​e​n​a​f​r​i​v​a​c.php
http://​apps​.who​.int/​i​m​m​u​n​i​z​a​t​i​o​n​_​d​e​l​i​v​e​r​y​/​o​p​t​i​m​i​z​e​/​O​p​t​i​m​i​z​e​-​n​e​w​s​l​e​t​t​e​r​-​A​p​r​i​l​-​2​0​1​2.pdf
http://​www​.who​.int/​i​m​m​u​n​i​z​a​t​i​o​n​/​n​e​w​s​r​o​o​m​/​m​e​n​a​f​r​i​v​a​c​_​2​0​1​2​1​1​1​4​/​e​n​/​i​n​d​e​x​.html
http://​www​.eurekalert​.org/​p​u​b​_​r​e​l​e​a​s​e​s​/2012 – 11/bc-mav111212.php
http://​www​.mening​vax​.org/​f​i​l​e​s​/​P​r​e​s​s​R​e​l​e​a​s​e​P​A​T​H​_​W​H​O​_​M​V​P​-​1​4​N​o​v​2​0​1​2​.​E​n.pdf