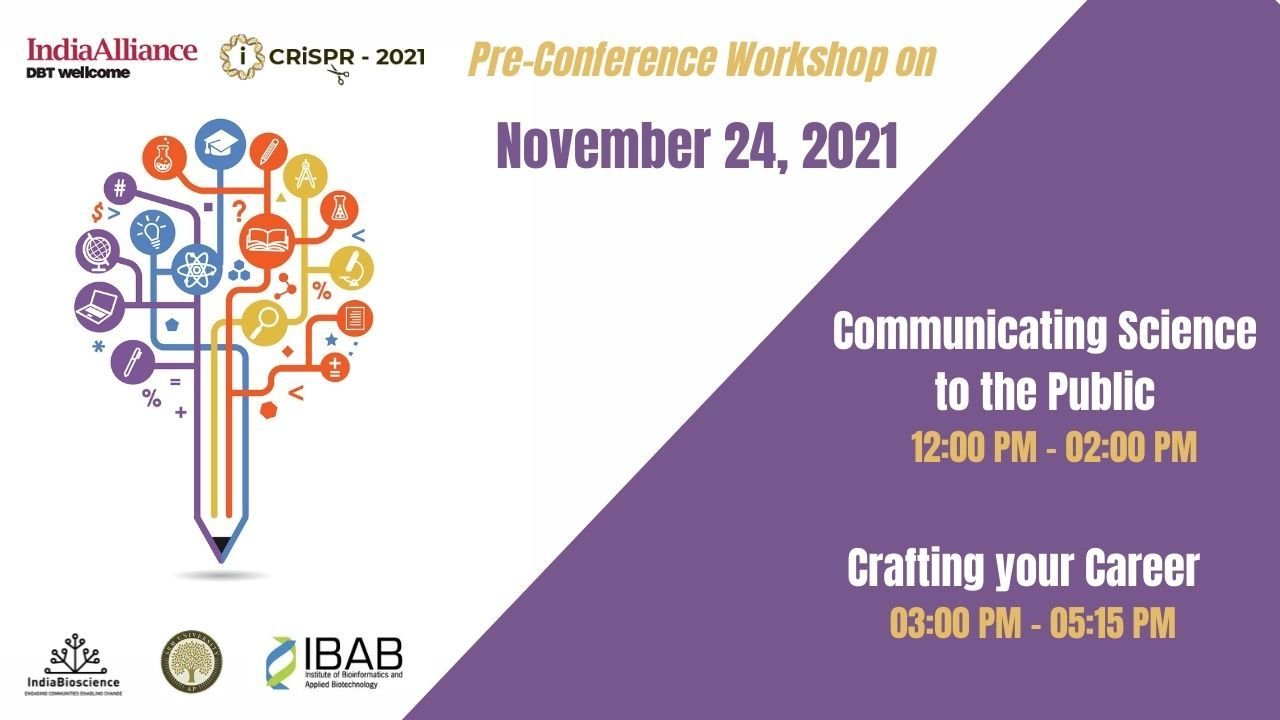 IndiaBioscience is an organization that fills a unique niche in the ecosystem of the life sciences in India, by being a catalyst to promote changes that affect the culture and practice of the field, through engagement with academia, government, and industry at various levels. We are actively committed to providing avenues for the life science community to enhance their skill sets via skill-building workshops such as this one.
In partnership with SRM University AP, Mangalagiri, and IBAB, Bangalore, we are conducting a pre-conference skill-building workshop before the National ​'CRISPR/​Cas: From Biology to Technology' conference. This virtual workshop will consist of two parts: 1. Communicating Science to the Public and 2. Crafting your Career in science. Read below for more details.
Workshop Date & Time:

Wednesday, November 24, 2021

Part 1: Communicating Science to the Public
12.00 PM — 02.00 PM (IST)
Part 2: Crafting your Career
03.00 PM — 5.15 PM (IST)
This workshop is organised by IndiaBioscience in partnership with SRM University AP, Mangalagiri, and IBAB, Bangalore.

---

---

Part 1- Communicating Science to the Public

Topics: Introduction to Science Communication, Overview of the types of science communication, Examples of good and bad science communication, Identifying good stories, Building a narrative, Exercises, Guest talk by Somdatta Karak

---

---

---

Part 2- Crafting Your Career

Topics: Choosing a career path, Building skills for career path, Navigating the job application process, The science and art of networking, Exercises

---
The workshop will be hosted over Zoom.
This workshop is only open to preselected participants. The meeting link will be shared with workshop attendees via email.
Guest Speaker
Somdatta Karak
Science Communication and Public Outreach Officer at Centre for Cellular and Molecular Biology

Somdatta Karak is a science communicator, working towards making science accessible to all. She leads science communication and outreach projects that connect active science research and researchers of India with the communities around them. She works towards creating educational content for students and educators, and deconstructing science and technology for policymakers and the public.
Somdatta Karak
Trainers
1. Shantala Hari Dass (Associate Director, IndiaBioscience)
Shantala completed her PhD in neuroscience from Dr Ajai Vyas's lab at NTU, Singapore studying the fascinating induction of a fatal attraction in rats upon Toxoplasma infection. She moved to Dr Michael Meaney's lab at McGill, Canada for her postdoctoral studies. Across the continents and research questions, her interest in communicating science and building and supporting a scientific community has stayed strong. In this phase of growth at IndiaBioscience, she is keen to expand their activities bringing greater national and international visibility to the Indian life science community.
2. Vijeta Raghuram (Program Manager — Education, IndiaBioscience)
Vijeta did her PhD in biophysics at the Centre for Cellular and Molecular Biology (CCMB), Hyderabad, and postdoctoral research in molecular neuroscience at the Vollum Institute, Portland, Oregon, USA. Her strong interest in science communication and education drew her to IndiaBioscience, where she aims to grow the nationwide network of biology educators at the undergraduate level and showcase their experiences and opinions, and the latest innovations in pedagogy. She is also an associate editor of a bi-annual science magazine for school teachers called ​"i wonder…", published by Azim Premji University. The magazine presents basic science concepts in a new light through storytelling, classroom activities, interviews, and more. Through her contributions to the magazine, Vijeta hopes to reinvigorate science education in schools.
3. Zill-e-Anam (Program Coordinator Outreach, IndiaBioscience)
Zill-e-Anam did her PhD in Directed Evolution and Codon Shuffling from Special Centre for Molecular Medicine, Jawaharlal Nehru University, New Delhi. She worked on developing peptide-based therapies for the treatment of Malaria. Her strong interest in making science accessible and inclusive led her to venture into science communication and outreach, which she continues to work on. She also has experience in science policy. At IndiaBioscience, she contributes to the outreach activities, IndiaBioscience Outreach Grant, and International Grants Awareness Program. Through her work, she aims to raise awareness about outreach activities in India, international grants, and the success rate of applications from India. She is also an avid traveler and an advocate of mental health.

Shantala Hari Dass

Executive Director, IndiaBioscience


Vijeta Raghuram

Zill-e-Anam

Program Coordinator, Outreach, IndiaBioscience